Some Of Christian Bale's Favorite Thor: Love And Thunder Scenes Didn't Survive The Edit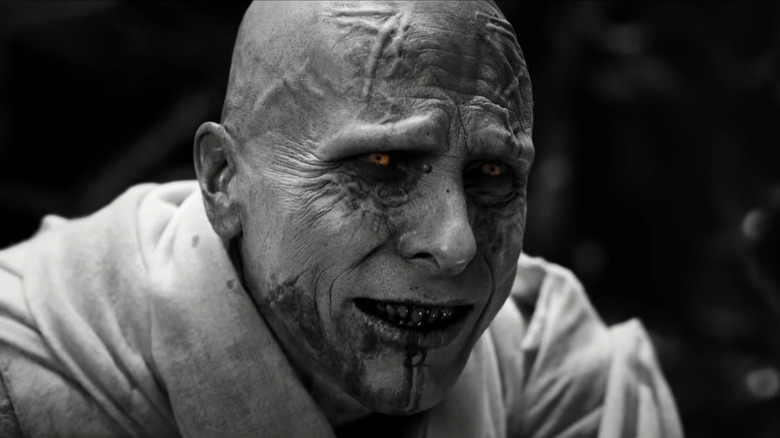 Marvel Studios
"Thor: Love and Thunder" is finally in theaters, but we're not going to get to see everything that was shot — at least not until the Blu-ray release. There has been no info on what deleted scenes or other materials will be included when the film comes out on physical media yet, but from what some of the actors have been saying, there was some great stuff on the cutting room floor. Even cameos from Peter Dinklage's Eitri and Jeff Goldblum's Grandmaster didn't make it in. Director Taika Waititi has said he finds his movies "in post," meaning a lot more is filmed before it's trimmed down in the edit bay.
Natalie Portman, who plays Jane Foster/Mighty Thor, commented on it in an interview with IndieWire, saying:
 "It's just amazing how much great material is not in the film, considering how much great material is in it. Usually, it's like, you're just trying to get enough good stuff to put in the film, and this had overflow. So that was really surprising."
Portman wasn't the only one who talked about it. Christian Bale spoke to Collider and discussed how much didn't make the final cut for the Marvel Cinematic Universe film.
' ... So much gold that's on the cutting room floor'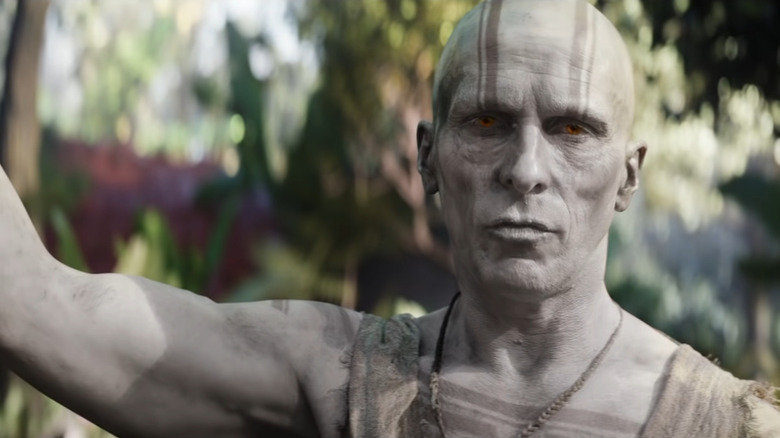 Marvel Studios
Christian Bale was asked about what he was looking forward to audiences seeing in "Thor: Love and Thunder," or something he couldn't believe was in it. It's a good question, as he'd mentioned in an earlier interview with Total Film that there had been a planned Gorr the God Butcher dance to a Kate Bush song that was rehearsed but didn't get shot. That certainly would have been something to watch.
In answer to the question about what he wanted people to see, he explained there was an "awful lot" he wished was in the film, but that you can't have one that's four hours long. He said:
"There's so much gold that's on the cutting room floor, hilarious stuff, and creepy as hell stuff, but that was perhaps pushing it to a realm where maybe it wouldn't have been able to be family-friendly, which we always wanted it to be."
I would be really interested to see what wasn't family-friendly in the deleted takes. In fact, I wonder what an R-rated version of the film would be, not that it had any chance of happening. Bale also praised Taika Waititi's work and his humor in the interview, then added:
" ... He's got great sincerity as well. He's a real artist. And so, man, it's moving. That is the bloody surprising thing with this film. It's a very moving film and then two seconds later, you're laughing your a** off." 
Gorr drives a Honda?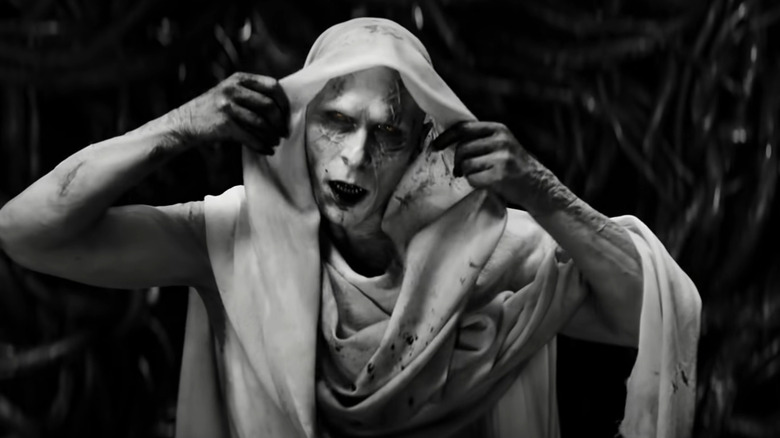 Marvel Studios
Although some reviews have criticized the swinging back and forth between comedy and sadness, I think it works. It feels like life. You laugh when you shouldn't sometimes, even when things are difficult. It's one of the things I actually loved the best about "Love and Thunder," its laughter in what seems like the wrong moments.
Christian Bale was also asked about whether or not he wanted to just walk out to Starbucks in his Gorr the God Butcher get-up. Bale said he was "dying to do that." He explained that some of the call times they had for the shoot were close enough to each other that it didn't seem worth it to take off the makeup. The higher-ups were not okay with that, telling him, "Please, God, don't be driving home in your makeup because we don't want the first image of Gorr to be driving your Honda Civic up the street."
That wouldn't have been ideal for Marvel Studios, but wow, someone on the road next to him would have had quite a story to tell.
"Thor: Love and Thunder" is in theaters now.