Taika Waititi Let Actors Improvise Major Plot Points In Thor: Love And Thunder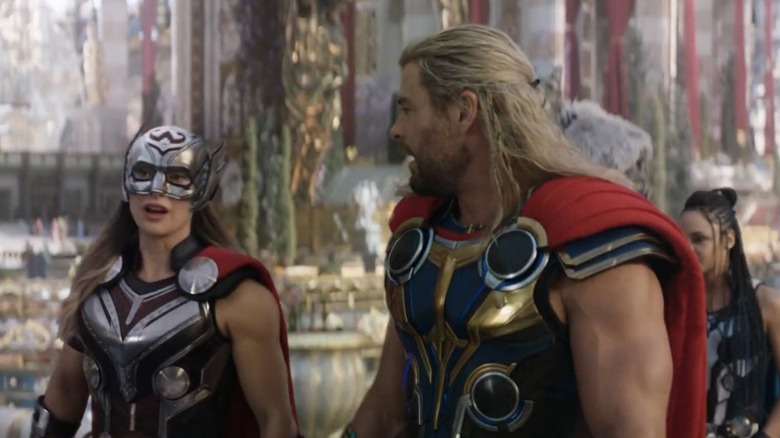 Disney
Prior to Taika Waititi's 2017 film "Thor: Ragnarok," the title character had always felt weirdly distant. Thor was, after all, a full-blown Norse deity somehow roped into fighting alongside small potatoes like a man on steroids, a 50-something guy in a robot suit, an ordinary man with a bow and arrow, and a regular, freelance spy. When you are nigh indestructible and can harness the power of lightning, a single dude with a handheld shield will certainly seem beneath you. "Ragnarok" had the clever idea of turning Thor into a comedic character, and in that film, Thor was stripped of his magical hammer — along with his long blonde locks — and dumped onto a distant alien world strewn with garbage where he was forced to fight in gladiatorial combat. He was out of his element, and a literal god could suddenly be an underdog. The film was light and embraced the bizarre presence of Thor in a bonkers sci-fi universe of superheroes and aliens. 
Waititi's follow-up, "Thor: Love and Thunder," in theaters on July 8, continues to push the silliness of "Ragnarok," putting Thor (Chris Hemsworth) in a constant state of romantic awkwardness. Most of Thor's scenes are opposite his eight-years-ago human ex-girlfriend Dr. Foster (Natalie Portman) who has managed to salvage his lost magical hammer and, in so doing, become a second Thor. She is essentially dating his ex (the hammers in this movie are talked to like living beings). 
According to Portman, in an interview with IndieWire, Waititi was very loose on set, letting his actors take control of various scenes, riff with one another, and discover their relationships on the fly. This is certainly an unorthodox approach to a film series that typically rides on interconnectivity and long-term plans. 
The gutsy move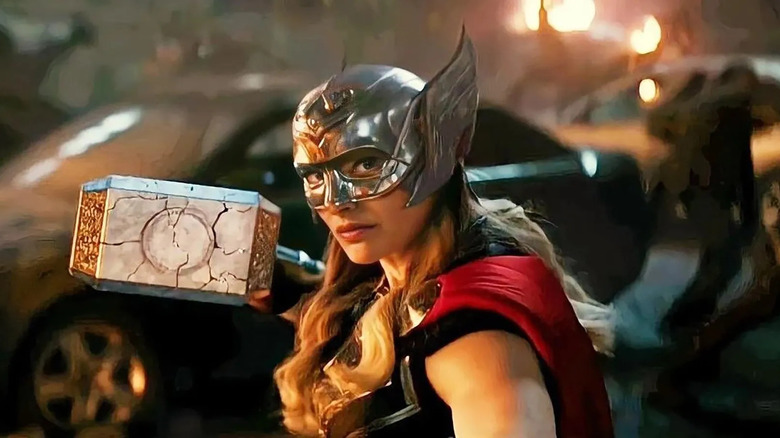 Disney
Waititi, in addition to his Thor movies, is best known as a executive producer behind the vampire mockumentary series "What We Do in the Shadows" and the queer pirate show "Our Flag Means Death." He also won an Academy Award for the screenplay to his World War II comedy "Jojo Rabbit," in which he played a fantasy version of Adolf Hitler. Waititi is no stranger to broad humor and slapstick silliness, and his working ethos appears to be one of improvisation and finding humor in the moment. Portman confirmed as much in the IndieWire:
"Taika was pretty gutsy about just letting us seriously change the plot because of certain choices we made in the scene and certain places we decided to go. Some of it was right and some of it was not right. Some of it ended up in the film, some of it did not, but it was pretty incredible to get to play and to get to have that latitude in the emotional stuff, as well as the comedic stuff."
All the riffing led the film into some pretty weird places, and, according to Portman, a good deal of footage had to be cut from the final film. Indeed, characters, settings, and sequences were riffed up, conceived, and filmed, but then ultimately had to be abandoned. 
What's not in the film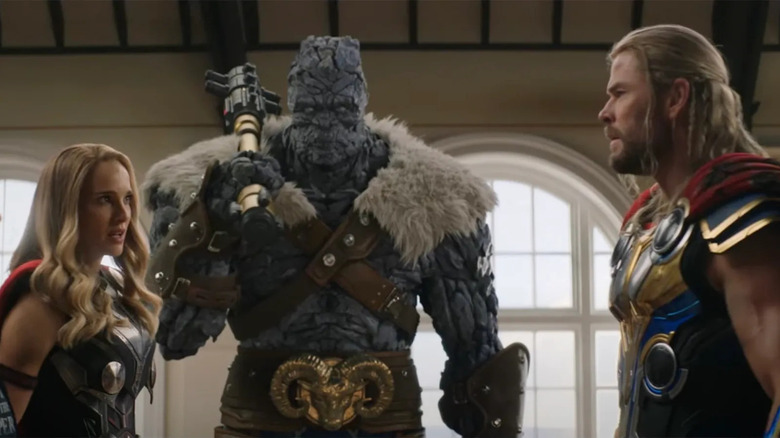 Disney
Reports have recently emerged that several characters were removed from the final cut of "Love and Thunder," so Portman's following claims — about sequences and setting being removed from the movie — are most certainly true. One might have something to look forward to when the "Love and Thunder" Blu-ray is released and those sequences could potentially be included as special features. Says Portman: 
"There were whole sequences, planets, characters, and worlds that didn't end up in the movie that were hilarious and amazing and [that] we spent a lot of time and energy on, and certainly the entire crew also designing and conceiving. It's just amazing how much great material is not in the film, considering how much great material is in it. Usually, it's like, you're just trying to get enough good stuff to put in the film, and this had overflow. So that was really surprising."
Portman was certainly grateful to be trusted with so much of such a high profile movie. Her character transforms from an ailing human being (Dr. Foster is afflicted with stage four cancer) into a buff, blonde warrior goddess. This was an interesting step for a character that had previously been a side character at best throughout the MCU. 
"It was really Taika who came to me, which was so incredible because he's a director and creative human I so admire. He came with the comic books where Jane becomes the Mighty Thor and was like, 'What do you think about this?' So it was this kind of a twofold opportunity, one to work with him and the other to get to have Jane evolve into this superhero, which was really exciting.
"Thor: Love and Thunder" opens in theaters on July 8, 2022. It is the 29th film in the MCU.