Luck Trailer: A Talking Cat, A Magic Penny, And Some Really Bad Luck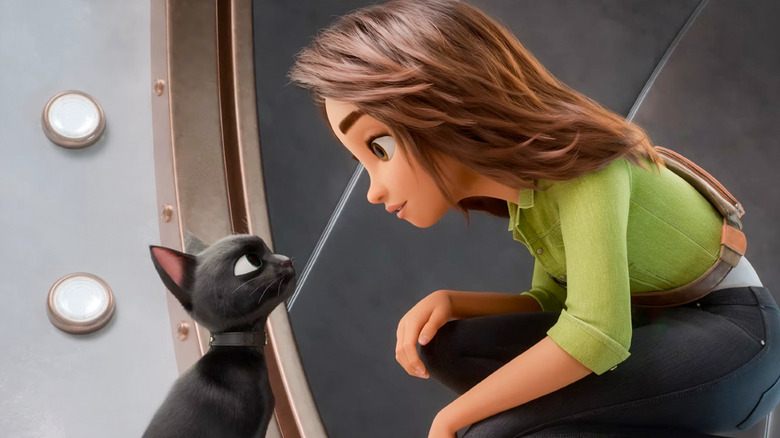 Apple TV+
Once you see the new trailer for Skydance Animation's upcoming film "Luck," you're going to wonder how no one in the animation world has based a movie on this concept. I immediately did. Either way, the comedy looks quite fun, sleek, and smart — and with a bit of luck (pun intended), it might be a hit for the studio.
The cheerful and smartly-drawn sneak peek introduces audiences to the main character Sam, who has been plagued by bad luck for as long as she can remember. One day, she stumbles upon a lucky penny, and things start really looking up for her. But when she accidentally flushes the relic down the toilet, she attempts to do whatever she can to regain the luck she found.
The trailer brings the audience into Sam's world, but also even deeper into the "land of luck," a mystical place that the character is drawn into by an Irish talking cat. The design of the magical land is very fun and already has a clear identity, even from just the small amount of footage we get in this trailer. Specificity in world-building is essential, and it's plain to see that "Luck" is going to follow that golden rule in spades.
Luck trailer
"Luck" marks the first project in the Skydance Animation and Apple TV+ partnership, which promises several films to come. However, the movie has been fraught with controversy. In 2019, Skydance hired John Lasseter to replace former head of Skydance Animation Bill Damaschke just days after his contract with Disney expired. Lasseter, the former chief creative officer of Pixar, had been forced to step down following multiple allegations of sexual misconduct. Barely a few weeks later, Emma Thompson resigned from "Luck," where she was voicing one of the characters, after refusing to work with Lasseter.
In 2020, original "Luck" director Alessandro Carloni, who is known for his work on "Kung Fu Panda 3," was replaced with Peggy Holmes. Holmes previously worked on two of the Disney Fairies movies with Lasseter. Additionally, the original "Luck" screenwriters, Jonathan Aibel and Glenn Berger, were also quietly replaced by "Cars" writer Kiel Murray.
Despite the complicated internal workings of the studio, "Luck" looks like it could be promising. The synopsis for the film reads:
From Apple Original Films and Skydance Animation comes the story of Sam Greenfield, the unluckiest person in the world, who when she stumbles into the never-before-seen Land of Luck, sets out on a quest to bring some good luck home for her best friend. But with humans not allowed, her only chance is teaming up with the magical creatures who live there to do it.
"Luck" is directed by Peggy Holmes and written by Kiel Murray. The film stars Eva Noblezada, Simon Pegg, Whoopi Goldberg, Jane Fonda, Lil Rey Howery, and Pixar favorite John Ratzenberger. It will premiere globally on Apple TV+ on August 5, 2022.