Ron Howard Was All It Took To Sell Chris Hemsworth On Rush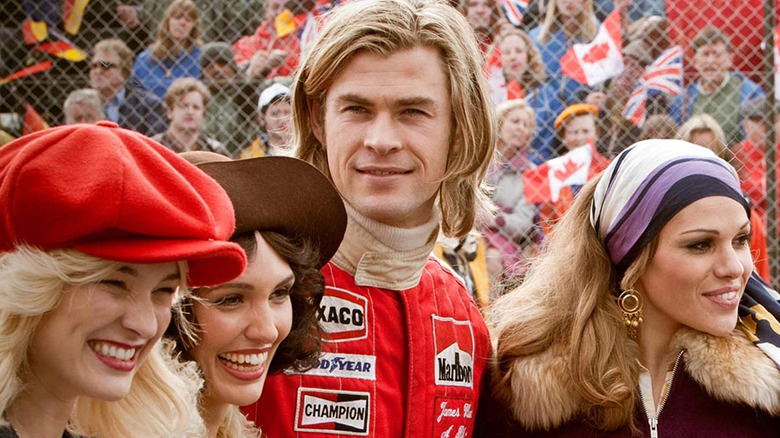 Universal Pictures
For as often as he directs vanilla Oscar bait and "hooey" Robert Langdon movies, Ron Howard sometimes pulls out a film like "Rush" and reminds us he's capable of making genuinely exciting pictures. Chris Hemsworth and Daniel Brühl bring a fiery energy to their on-screen rivalry in the 2013 film as Formula One drivers James Hunt and Niki Lauda, two alpha male types (one a swaggering hedonist, the other disciplined and focused) who butt heads in the 1970s. As is often the case with biopics, the movie take liberties with the facts, portraying the duo as frenemies. In truth, the real Hunt maintained they were "mates" off the racing track and remained so until his death at only 45 in 1993.
Prior to the film, Hemsworth had only just begun to establish himself as an actor in the U.S. Having joined the Marvel Cinematic Universe as Thor in 2011 and shot "The Avengers" and "Snow White and the Huntsman" back-to-back that same year, he was looking to challenge himself with roles outside of the blockbuster arena. As such, the one-two punch of Howard directing "Rush" from a script by Peter Morgan ("The Queen," "Frost/Nixon") was all it took to convince Hemsworth to come aboard. Speaking to Variety in 2013, the actor recalled:
"I was shooting 'The Avengers' at the time I read the script. And the idea of working with Ron (Howard) and a film that was written by Peter Morgan was a no-brainer."
'It was such a team effort'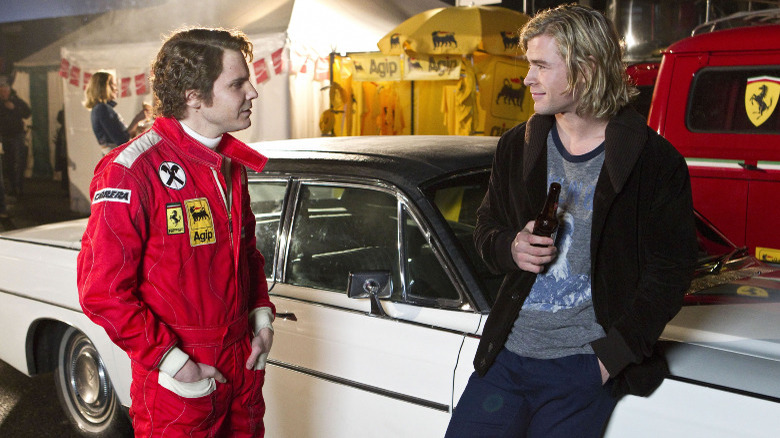 Universal Pictures
Ron Howard might not be an expert stylist like Ridley Scott, but the pair are similar in that they're capable of working movie magic with the right script and crew. Such has been the case with Howard's best films throughout his career, including the 1995 docudrama-thriller "Apollo 13." Even 2018's "Solo: A Star Wars Story," in which Howard notoriously replaced Phil Lord and Chris Miller mid-shooting, benefits from pairing Howard's aptitude for thrilling set pieces with the boldly muddy tones of Bradford Young's cinematography.
When it came to "Rush," Howard's collaborators included Anthony Dod Mantle, the director of photography behind the exhilarating, vibrant visuals of so many Danny Boyle films. Dod Mantle was only just coming off crafting the stylized bloody mayhem of "Dredd" when he teamed up with Howard for the first time. Also worth highlighting is the sharp design of the racing scenes in "Rush," courtesy of Daniel Hanley and Mike Hill (Howard's steady editors going back to "Night Shift" in 1982). "It was such a team effort," Hemsworth told Variety.
Coming from an acting background, Howard is also known for giving actors the freedom they need to really dig down into their roles on-set. Hemsworth praised him for doing as much on "Rush," saying he and his co-stars felt they had the space to make "the magic" happen during shooting. Howard, Hemsworth, and Dod Mantle would reunite for "In the Heart of the Sea" two years later, which just goes to show how much they truly enjoyed working with one another.
"Rush" is currently available to stream on Netflix.