'In The Heart Of The Sea' Set Visit: How Ron Howard Crafted His Whale Of A Tale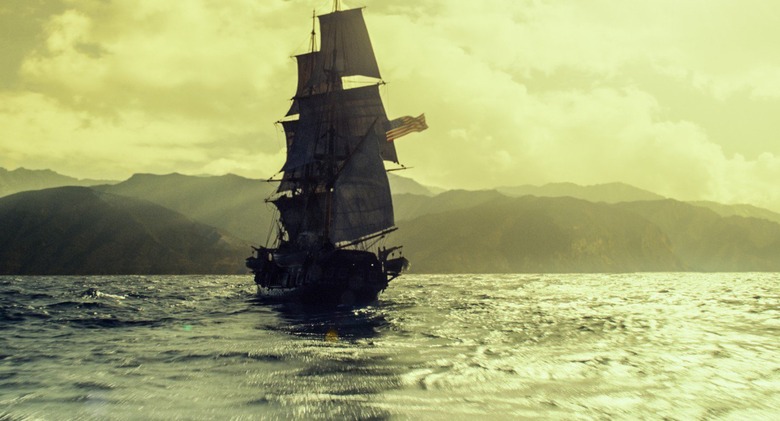 Everyone knows the tale of Moby-Dick, but far fewer people know that it was inspired by a true story. And it's that true story which serves as the basis of Ron Howard's new movie, In the Heart of the Sea. In 1820, a whaling ship called the Essex was destroyed after an encounter with a massive whale, leaving the crew — including captain George Pollard (played by Benjamin Walker in the movie), first mate Owen Chase (Chris Hemsworth), and cabin boy Thomas Nickerson (Tom Holland) stranded thousands of miles off the coast of South America. Howard's film chronicles the desperation and despair that followed.
Nearly two years ago, I and several other journalists embarked on our own, much more pleasant, and far less eventful journey across the ocean to the London set of In the Heart of the Sea. On set, however, it was difficult to tell we were in London, or for that matter the year 2015, at all — we walked right onto a detailed life-size replica of a busy street in 19th century Nantucket. The irony that we American journalists had had to travel 3,500 miles to visit a fake version of an island located just 300 miles from New York was not lost on us.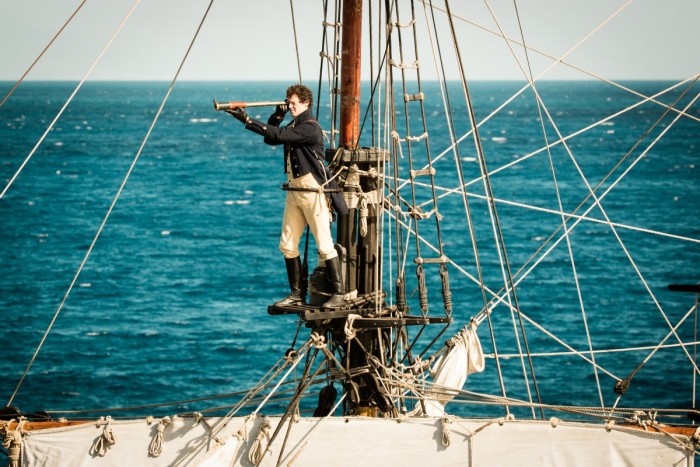 Preparing for Five Weeks of Hell
Not that we were were in any position to complain. When we caught Howard and his cast and crew, they were nearing the end of a two-month shoot in London, after which point they'd head south to the Canary Islands for five grueling weeks to shoot scenes of the characters stranded at sea. To prepare, the actors were in the middle of a strict diet consisting of just 1,000 calories a day, and working their way down to a paltry 500 calories a day. Nevertheless, the cast, when we caught them, seemed to be in high spirits.
"The next five weeks are gonna be, what's the word, hell," Walker cheerfully predicted. "I mean it's kind of lame to complain about it considering there are actually people starving around the world; we just have to eat quinoa every once in a while. Also these guys, the fact that they actually did it, it's kind of the least we could do to tell their story." Even Hemsworth — who was about 30 pounds lighter than he'd been in Thor: The Dark World — found a silver lining. "You don't have to convince yourself [on camera] that you're exhausted and hungry; you feel it," he said. "So yeah, I think you definitely use it."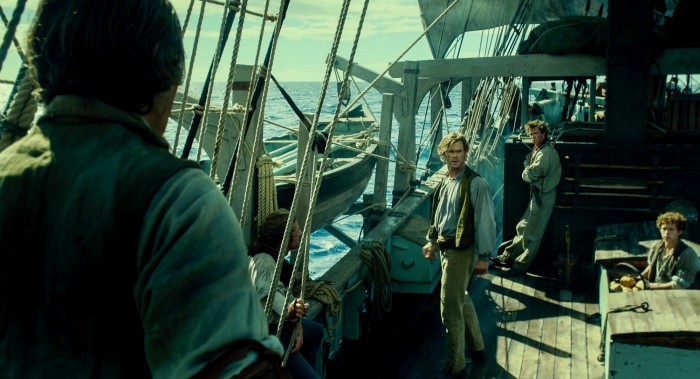 Chase and Pollard's Rivalry and Mutual Respect
On the day of our visit, though, the actors were working on a much less harrowing sequence, in which Hemsworth's Chase finally returns home to Nantucket. Waiting for Chase are his wife (Charlotte Riley) and what seems like the entire town, played by 350 extras — including his captain, Pollard. "It's a sad reunion because we have some issues to resolve about whether or not we tell people about the whale," Walker explained. "We're gonna discuss whether or not we're going to fully disclose that a whale brought down the ship, which could in theory wreck the whaling market."
But all that, of course, all comes toward the end of the movie. Chase and Pollard begin the movie at odds with each other, because while Chase is the more experienced of the two, it's Pollard who gets to captain the ship thanks to good old-fashioned nepotism. Hemsworth likened the competitiveness between the two characters to the Lauda / Hunt rivalry at the center of Rush, his last film with Howard. "Me and Ron talk about often being one of the most successful things, or one of the most exciting things, about that relationship was the fact that you don't have that kind of competitiveness towards someone unless there's an amount of respect to it," he said. "Respect comes with that."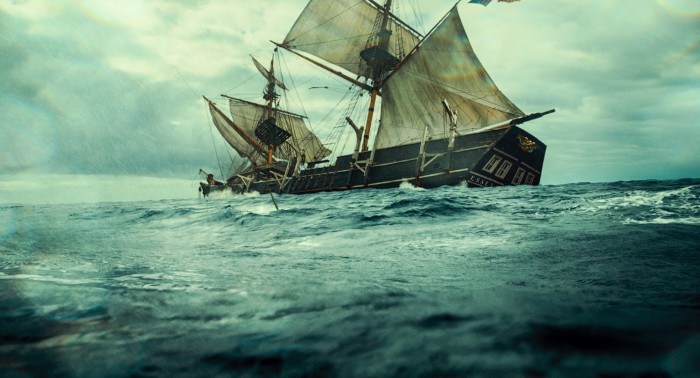 How Deadliest Catch Influenced In the Heart of the Sea
To bring this classic tale of adventure, survival, and masculine competition to life, the In the Heart of the Sea team used a mix of old and new technology and style. The sets were practical, with no detail too small for the design team. The muddy path was lined with all the establishments you might find in a 19th century whaling town, and the air smelled of fresh seafood. But it was also one of Howard's first films to shoot digitally. "To me, it's liberating," he told us. "I'm getting closer to what I had in my mind, quicker. I also find that experimentation is a little less daunting a decision to allow. I think it facilitates people taking even more risks. And that's something that I'm really enjoying."
To shoot the scenes at sea, Howard and cinematographer Anthony Dod Mantle referenced, among other things, the 2012 fishing documentary Leviathan and the Discovery series Deadliest Catch. "Rather than doing a sort of BBC classical period sort of thing, the way we're shooting it is much more like a sports documentary," explained production designer Mark Tildesley. Added Howard: "We want the authenticity to be there, but we don't want to approach it as a classic. We want to approach it as though a modern group was somehow transported back and able to get this story on film."
***
On the next page, find out how In the Heart of the Sea came together after over 10 years, and why the whale reminds the VFX team of Clint Eastwood.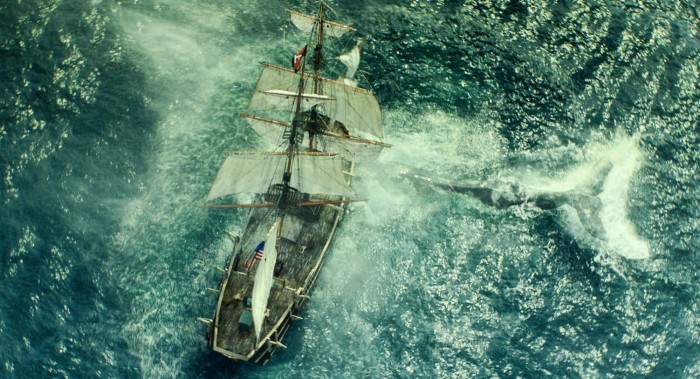 Crafting the "Clint Eastwood"-Like Whale
The whale, meanwhile, is almost an entirely CG creation. But that doesn't mean he can't have a personality of his own. VFX supervisor Jody Johnson gave us the rundown on the digital behemoth, which they'd nicknamed "Moby":
We've been working on his design, his character, trying to understand what his motivations are, and that will help drive our performance. ... He's a bit of a high-plains drifter, he's quoted as being a bit like Clint Eastwood, he's a sociopath, but he needs to remain the right side of real. So all his behaviors, and his movements and his instincts are all driven by what happens in nature.
Johnson stressed that despite the destruction he causes, "Moby" was not intended to be a monster. "He's a creature, you know, he's a real animal, and we need to keep him that way," he said.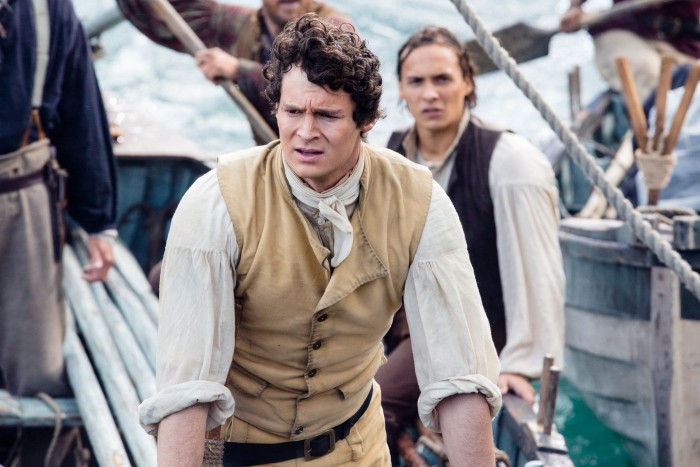 The Awesomeness of Nature and the Greediness of Humanity
Although the whale attack and the subsequent struggle for survival are the main focus of In the Heart of the Sea, it aims to hit home by hitting upon some more familiar themes as well.
"It's the story of man and nature and all the issues we're dealing with now and facing in our lives," said producer Paula Weinstein. "It's men and their fathers and their jobs, and how they relate to each other and compete and a sense of excellence. And it's about the greed of taking everything on Earth as if it's our destiny rather than a privilege."
That last part seems especially pertinent, as Weinstein compared the Essex disaster to a modern-day oil spill.
"What's at the bottom of it is, how do we produce?" she said. "And our fault is, how do we consume? How do we consume?" Producer Will Ward added, "There's a great line in the script where old Nickerson says, 'I hear they found oil in the ground. Imagine that,' and it certainly says a lot."
How the Film Came Together After 10+ Years of Development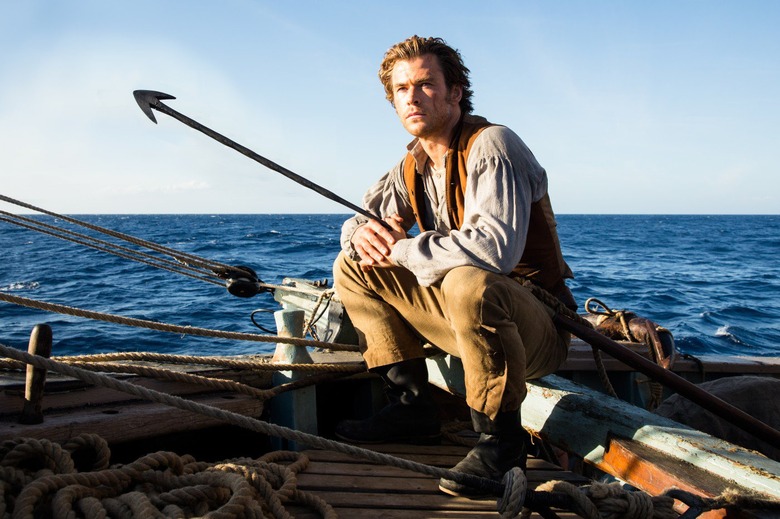 The two-hour movie we'll be seeing in just a few weeks is the product of over a decade of development. Weinstein got interested in Nathaniel Philbrick's book of the same title before it was even published in 2001, and began "what became a 12-year development on the script," she said.
In a roundabout way, it was Hemsworth's work in Snow White and the Huntsman was the film that led him to In the Heart of the Sea. He caught the attention of executive producer Palak Patel on that film, and Patel and Weinstein quickly moved to get him on board. Hemsworth and his manager Will Ward, in turn, helped bring Howard on board.
"After I saw the first screening of Rush, I called Ron right away and said, wait a minute, will you just take a look at this, not thinking in a million years we could get him to do it," said Ward.
At this point, it's been close to 15 years since Weinstein first set eyes on Philbrick's book. But she seemed confident the story would be worth the wait.
"[T]he time is right now in terms of the world and the kind of stories we like being told, and this is an epic adventure and we haven't had many of those in a long time," she said. "The romance of the sea."
***
In the Heart of the Sea is in theaters December 11.