Baymax! Star Scott Adsit On Finding That Distinctive Voice And The Power Of Community [Interview]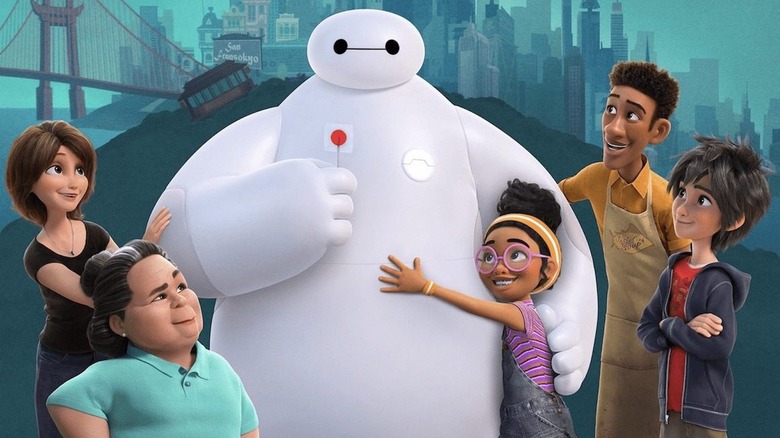 Disney+
Since arriving in the city of San Fransokyo in 2014 courtesy of the Academy Award-winning film "Big Hero 6," the lovable, huggable healthcare companion Baymax has been fighting alongside Hiro Hamada, Honey Lemon, Wasabi, Go Go, and Fred to keep the city safe against supervillains. Their armor-clad heroics continued in the Disney XD show "Big Hero 6: The Series," which ran from November 2017 to February 2021.
However, in the latest Disney+ series, titled "Baymax," fans follow the compassionate robot as our titular hero fulfills his primary directive of helping everyday people. And as he sets out to heal the physical ailments of the city's citizens, Baymax helps his new friends in more ways than they anticipated.
Ahead of the show's premiere on the House of Mouse's streamer, we had the chance to speak to the voice of Bayax himself, Scott Adsit. The actor, known for his roles in "30 Rock," "Veep," and "Moral Orel," discussed his journey with the character, where Baymax's voice comes from, and the beauty of people actually helping and caring for each other's well being.
Hello, I am Baymax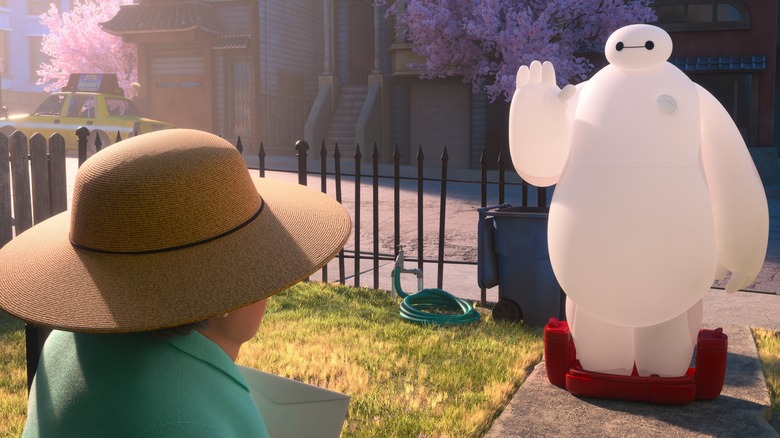 Disney+
You've been involved in the "Big Hero 6" franchise every step of the way from the OG movie to the animated series to various video games and now Baymax's own show. What has been your favorite part or maybe the most surprising part about the journey for this character?
Well, the most fun I think is being in the studio with the directors. Figuring out the mystery of the storytelling and finding, on my level, the proper way to say things and, on their level, the proper way to tell the story we want to tell. The process of the movie was always changing and the focus would alter what the heart and the core of the movie would be. It was fun to be on that roller coaster of changing perspectives.
And then I think the most surprising thing is that people really kind of latch on emotionally to this robot who can't display a lot of emotion himself. I think they project a lot of emotion onto him because they recognize themselves in all of his good aspects. And so I think people look at him and recognize how they're good in themselves.
Baymax finds his voice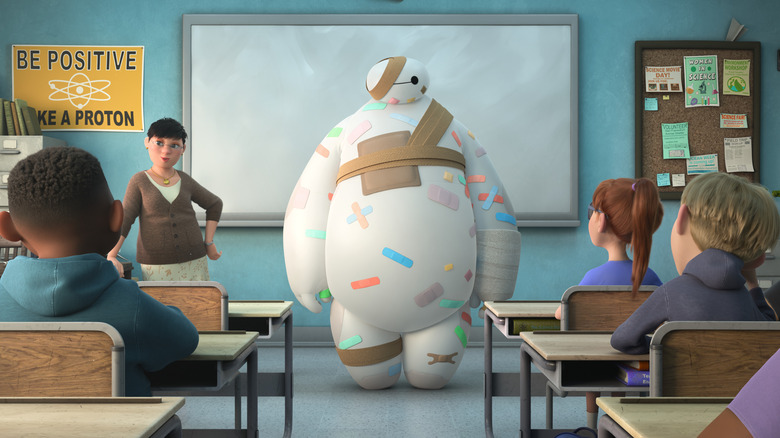 Disney+
Speaking of Baymax's streamlined design, like you said, he doesn't necessarily show emotion in the conventional sense, yet it still comes across due to your performance. What's the formula that you concocted to bring him to life with such compassion, innocence, and love?
I think it's just that he's available and he listens, and he can understand what is needed of him. Though he may not be able to express it emotionally, he is devoted to making other people feel good and helping them. And so my performance kind of rides the line between being just programming and being emotional. He's a very well-built robot with a great AI, so when you do hear some emotion coming from him, you maybe question, "Is that just good programming or is something else happening there?" And I know in my perspective, which is only one, I think he's got an emotional life buried in the center of him, but being a robot, he can't express it like you and I do, so it comes out technically.
Were there any famous movie robots or TV robots that you looked to while developing Baymax?
No, I looked more toward just kind people I know and the kind of people who are selflessly helpful. That voice came out of just the kindest aspect of myself, where I don't have any judgment and I don't have any agenda. I just am there to help. There's a part of me that is that, and that part of me has this voice where it's just very kind and has no sharp edges.
Satisfied with their care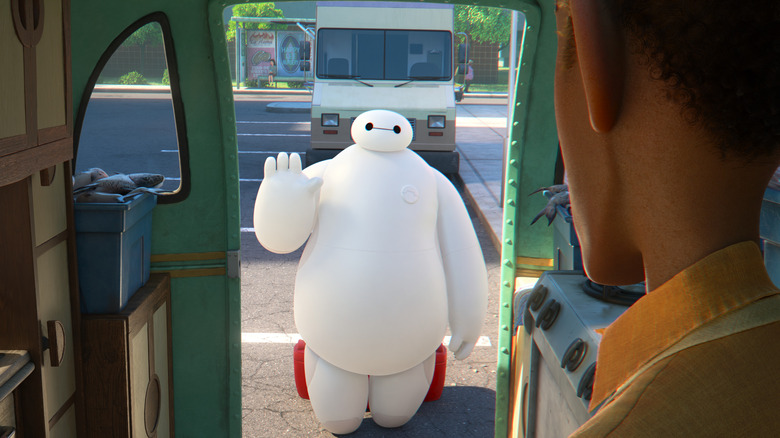 Disney+
Where in the "Big Hero 6" timeline does this show take place? Is it after the movie and before "Big Hero 6: The Series?" Or is it after both?
It could be. It's certainly after the movie. It could be within the timeline of the other series because that series primarily focused on superheroes, then this is what Baymax does in his off hours as a superhero when he goes out and is just a nurse superhero. So I would say it's taking place now. And maybe the other series is taking place now as well. I would say whenever you're watching, it is taking place right now.
In this series, it seems like there's a point in the final episode that could have led to the appearance of the original team. Why do you think it was more important for the real people of San Fransokyo to be the heroes of this mission as opposed to the superheroes?
I think because there's a community to be found when people help each other. Baymax was the connecting tissue between these strangers. They realized and appreciated what Baymax had done for them. They all had that in common and they, without hesitation, jumped in to help him when he needed help. And that's beautiful. They became their own team and very successful.
Some assembly required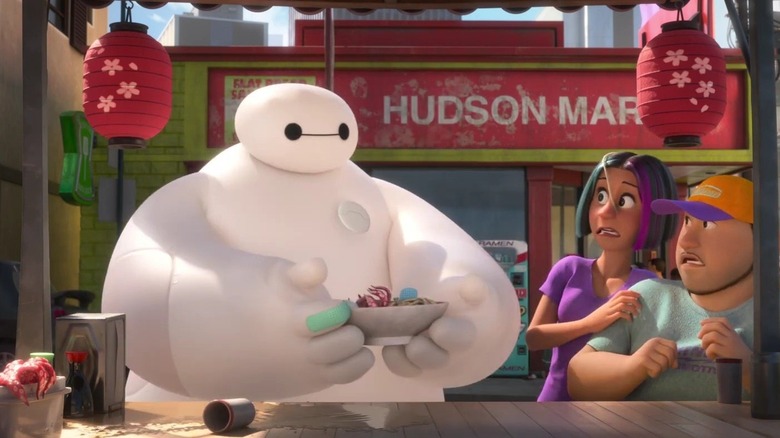 Disney+
"Big Hero 6" has generated a ton of great merch since the movie debuted, both officially licensed and otherwise. Do you have a favorite piece of Baymax merch? Or maybe, what has been the weirdest piece of merch you've seen and made you go, "Why does this exist?"
I like anything with my voice coming out of it. [Laughs] It's just mind-blowing to me. So all of those are great and I have a transforming one that you fold and unfold. I like that one because it's kind of clunky and it doesn't quite look like Baymax when he's fully out, but it's necessary for it to fold up correctly. So I like that aspect of it because it's not quite perfect, but it's serving a great little function of being able to fold up.
The popularity of Baymax and "Big Hero 6" has been consistent enough over the years to spawn this project. Now that we've seen this side of Baymax, is there anything in the works to bring the original team back together and get Baymax back in his armor?
Well, I do know that all the people who create it love the whole team at "Big Hero 6." Nobody's talked to me about a sequel or about another series of "Baymax!" and maybe having the team come visit, but that would be a dream. I mean, I would love to do that. The six of us became close. Once the movie opened, we find ourselves together quite a lot. We love being together and I'm sure we'd want to do it again. But as far as I know, they don't have any plans. But there's a lot that goes on before they tell the actors.
Well, fingers crossed that we get more from "Big Hero 6" in the future.
I'm with you.
"Baymax" premieres on Disney+ on June 29, 2022.