Baymax! Premiere Review: Walt Disney Animation's First Ever TV Show Is Cute, Unimpressive [Annecy 2022]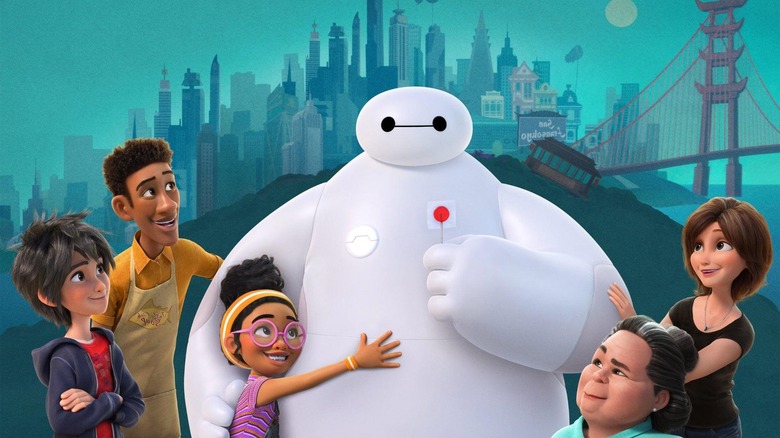 Disney+
Walt Disney Animation Studios has revolutionized the industry, and reinvented itself, over and over again since the studio was founded almost 100 years ago. But while it has covered a wide arrange of stories and genres, Disney Animation has never really entered the world of television, instead leaving the task of producing spin-offs of its most popular movies to other studios. That changes this year, with Disney+ providing an avenue for Walt Disney Animation Studios to make feature-quality TV shows.
Which makes it kind of baffling that the studio is debuting on the TV medium with a show based on ... "Big Hero 6." The sci-fi film, very, very loosely based on a Marvel comic book series of the same name, follows a young kid called Hiro Hamada, who happens to be a robotics genius. He finds his late brother's nursing robot, Baymax, and equips him with armor and weapons to help fight crime and solve the brother's murder.
"Big Hero 6" was successful, and it even won an Academy Award (despite going up against "How to Train Your Dragon 2," "Song of the Sea," and "The Tale of the Princess Kaguya"). Though we never got an official sequel, the film did get a Disney XD spin-off series with most of the voice cast returning. What makes "Baymax!" different is that it is produced by most of the same crew who worked on the feature film. It follows the titular robot, Baymax, as he tries to fulfill his original programming: nursing. Each of the six episode shorts will follow Baymax trying to care for someone in need. During the Annecy International Animation Film Festival, /Film got to see an episode of "Baymax!" ahead of its Disney+ debut, alongside the first episode of "Zootopia+."
From hero to barista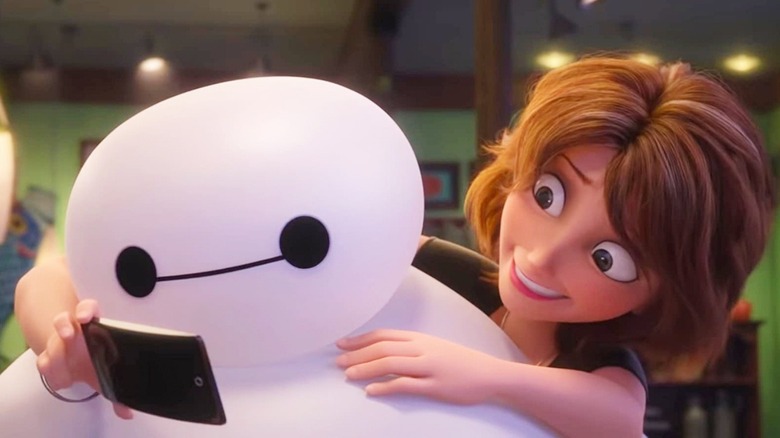 Disney+
The episode of "Baymax!" focused on Cass, Hiro's aunt, and the owner of the Lucky Cat Café. We see her go through her morning routine, tending clients, making sure everyone's cup is filled, giving special attention to every single client, asking about their personal life and remembering their last conversation or other details — all while keeping a pristine shop. Things change when she accidentally sprains her ankle, and rather than call for help, she immediately tells her customers to keep quiet or he'll find out — meaning Baymax, who instantly runs down to the café in a moment of hilarious tension (like the first time the T-Rex appears in "Jurassic Park") to tend to Cass. 
Baymax tells her that she needs to close down the shop for at least a week in order to properly heal, but she cannot do that, her customers depend on her. Baymax, ever the marshmallow-shaped healthcare assistant, promises to take over running the café, whether Cass wants it or not. The short manages to get a lot of mileage out of Baymax's huge and cuddly shape and his absurdly slow movements amid the rapid-fire pace of the service industry. Bayman seems fascinated with a caramel sauce dispenser and pours an obsessive amount on a cup, and spends what feels like 45 minutes facing his greatest enemy yet — a plastic lid. Like with the film, the humor comes out of Baymax being just totally inept at doing any meaningful task (which we can't blame him for since his fingers are inflatable). But also like the film, there is a huge heart at the core of "Baymax!" 
Nothing we haven't seen before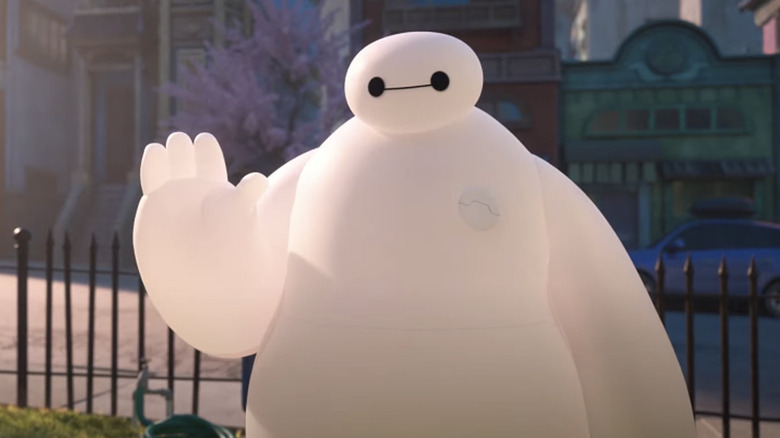 Disney+
In the case of this first episode, it boils down to how much Cass cares about her customers, and how much they care about her. Even in a short episode (less than 10 minutes long), "Baymax!" manages to be funny, cute, and heartwarming. But is that enough? It's not even a huge expansion of the film, but quick bite-sized (or Quibi-sized, if you will) versions of scenes already in the film. We already know Baymax wants to take care of people, we already know he's clumsy, adorable, and very slow. 
There is virtually nothing new or that impressive in "Baymax!" — at least, not for the first ever TV show from Walt Disney Animation Studios. Expectations are high considering that Walt Disney Television Animation has been delivering exciting, fresh, innovative work for years (even in spite of absurd notes from Disney executives). 
"Baymax!" launches June 29, 2022, on Disney+.