'Big Hero 6' One-Hour TV Movie To Launch New Animated Series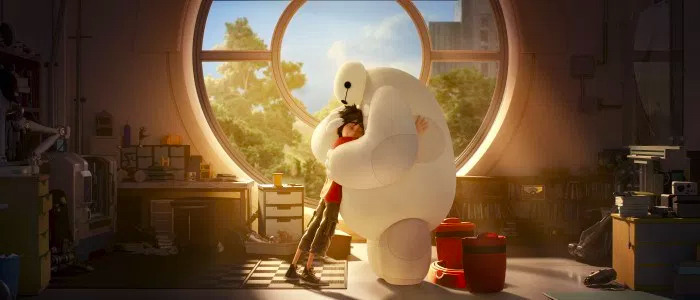 Disney's Big Hero 6 is about to launch a brand new TV series based on the film and to kick-off the series, Disney XD and Disney Channel will simultaneously air a new one-hour movie in November. The film, Baymax Returns, will usher in several shorts and previews ahead of the series' premiere for 2018. Get the Big Hero 6 series info below.
Disney Animation Studios are about to bring their Academy Award winning film Big Hero 6 from the big screen to the small with a new TV series. Big Hero 6 The Series will premiere in earnest in 2018, but if you're impatient for that Big Hero action sooner rather than later, you're in luck. Deadline reports a one-hour film, Baymax Returns, will debut simultaneously on Disney XD and Disney Channel on November 20. And that's not all – immediately following the film, Disney will debut two special full-length preview episodes of Big Hero 6 The Series exclusively on the DisneyNOW app and Disney XD VOD. Then, starting November 24, series shorts will air every Friday for six weeks on Disney XD, the DisneyNOW app and Disney XD YouTube. All of this will lead into the actual series in 2018. Sounds exhausting!
Based on a Marvel comic, the Big Hero 6 film followed robotics prodigy Hiro living in the city of San Fransokyo. Hiro's best friend is Baymax, an extremely helpful robot. A series of events suddenly leads to Hiro turning his other friends and Baymax into a team of high-tech superheroes. Also, there are plenty of scenes that will make you weep copious amounts of tears, because that's how these things work.
Deadline says Baymax Returns will pick up immediately following the events of the feature film, and "bridge the movie and the series following the moment Hiro discovers the chip his brother Tadashi designed to create Baymax. The 14-year-old tech genius begins school as the new prodigy at San Fransokyo Institute of Technology and uses the chip to rebuild Baymax, but his overconfidence and penchant for taking shortcuts leads to trouble."
Big Hero 6 The Series will be executive produced by Kim Possible creators Mark McCorkle and Bob Schooley, with Nicholas Filippi serving as supervising director. When the series was first announced, Gary Marsh, president and chief creative officer of Disney Channels Worldwide, said:
Our colleagues at Walt Disney Animation Studios have created a brilliant new world, inspired by Marvel, with vivid, unique characters. We are thrilled to have the opportunity to further develop these characters into a world class animated series — full of fun, action and the kind of endearing storytelling that only Mark, Bob — and Baymax — can deliver.
Baymax Returns airs on Disney XD and Disney Channel November 20, 2o17.