Superhero Bits: Thor Spin-Off Talk, Susan Sarandon Wraps Filming Blue Beetle & More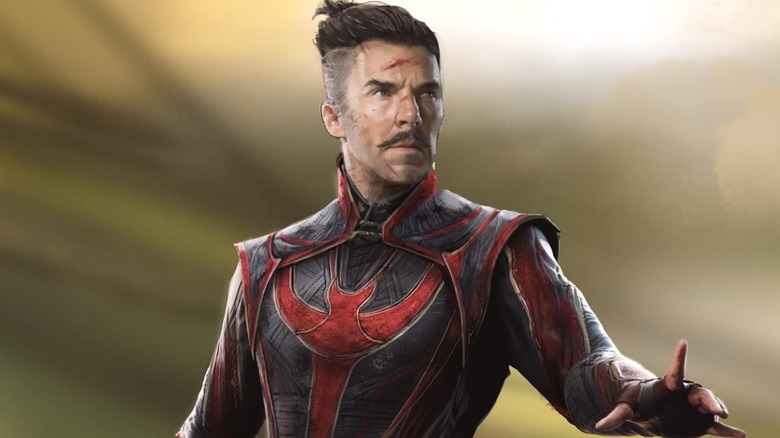 Marvel Studios
(Superhero Bits is a collection of stories, updates, and videos about anything and everything inspired by the comics of Marvel, DC, and more. For comic book movies, TV shows, merchandise, events, and whatever catches our eye, this is the place to find anything that falls through the cracks.)
In this edition of Superhero Bits:
A look at the many versions of Doctor Strange in "Multiverse of Madness."
Robin takes the spotlight in a new "Gotham Knights" trailer.
Taika Waititi is open to doing some "Thor" spin-offs.
The X-Men are going back to the future of 2099 this summer.
New X-Men 2099 lineup debuting in August
Marvel Comics is celebrating the 30th anniversary of the 2099 imprint this year, which sees heroes from the universe in the distant future. Currently, "Spider-Man 2099: Exodus" is where these new stories are taking place and, as announced by the publisher, the X-Men 2099 are getting in on the fun for the fifth issue. What's more, it will be a new lineup, which you can get a glimpse at above. The logline for the issue reads as follows:
Spider-Man: Exodus #5 reveals that at the epicenter of the Celestial's Garden is a mutant, somehow fallen from the stars. The nomadic X-Men fight to claim the Garden as their new home but will Spider-Man respect their claim? Or will he try to take the Garden for humans? And even if they can co-exist, what'll Spider-Man and the X-Men do about the Cabal Sentinels breathing down their necks?
"Spider-Man 2099: Exodus" #5 hits shelves on August 3.
Thor Marvel ARTFX statue from Kotobukiya
The folks at Kotoboukiya have unveiled their latest Marvel collaboration in the form of the above Thor ARTFX statue. The idea behind this line is to harken back to the stylings of the 90s and early 2000s, with this God of Thunder looking more akin to his comic book counterpart, rather than the Chris Hemsworth version from the MCU. The figure is set to arrive in December of this year and retails for $189.99. Full details can be obtained from the company's website by clicking here.
Gotham Knights Robin character trailer
DC has released a brand new trailer for the upcoming "Gotham Knights" video game (which was announced back in 2020), and one that puts the spotlight squarely on the Boy Wonder himself, Robin. The game will take place in the aftermath of Bruce Wayne's death with Nightwing, Batgirl, Red Hood, and Robin all having to pick up the pieces in Gotham City. Here, we get to focus specifically on Robin, with some gameplay footage and a slightly better sense of how his storyline is going to play out in the game. The game is set to arrive on October 25. Be sure to check out the full trailer for yourself above.
Multiverse of Madness writer clears up an important villain detail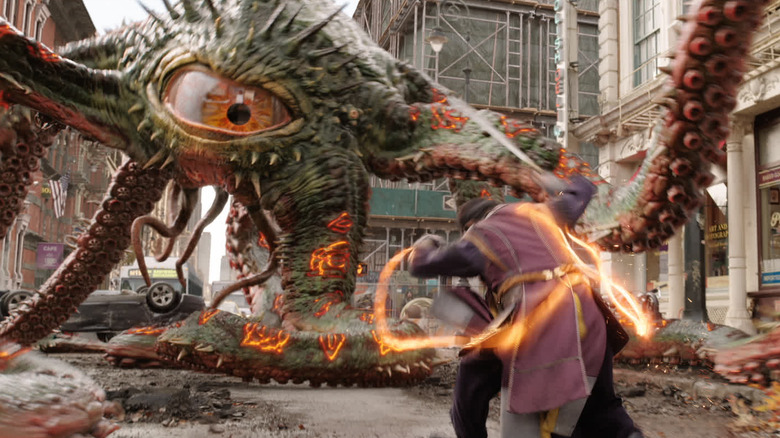 Marvel Studios
Screenwriter Michael Waldron has cleared up something interesting about "Doctor Strange in the Multiverse of Madness." In the film's commentary track (per Heroic Hollywood), Waldron explains that the monster that Strange fights in the first act of the film is Gargantos. "This is the monster Gargantos, not to be confused with Shuma-Gorath." This is important as early bits of leaked marketing led us to believe it was Shuma-Gorath. However, actually confirming that this is Gargantos means that Shuma-Gortah, a similar giant beast from Marvel Comics, could be out there somewhere as well.
Susan Sarandon has wrapped filming on DC's Blue Beetle movie
DC's "Blue Beetle" movie is well on its way to becoming a reality and, as further evidence of that, Susan Sarandon has revealed that she's wrapped her part as the villain in the film. "And that's a wrap on Victoria Kord!" Sarandon shared the news on Instagram with a photo in Puerto Rico. Unfortunately, it doesn't reveal anything from the film itself, but it's a big stepping stone in the film's production timeline. Sarandon replaced Sharon Stone, who had originally been tapped to play the part. Angel Manuel Soto is directing with Xolo Maridueña in the title role. The film is currently scheduled to hit theaters on August 18, 2023.
Thor: Love and Thunder's Taika Waititi would like to see Valkyrie and Korg spin-offs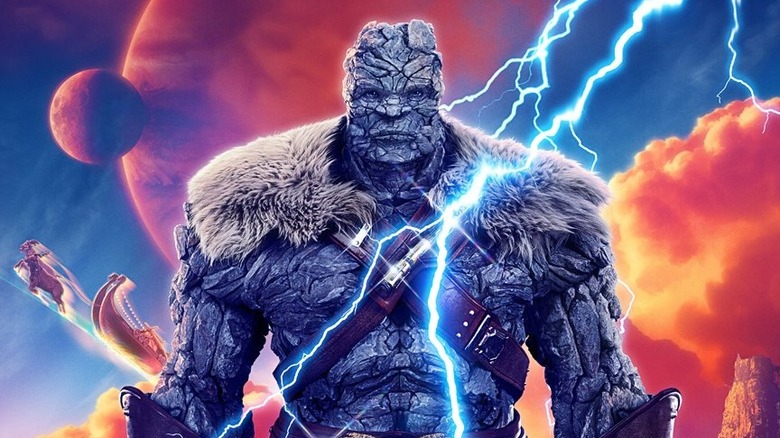 Marvel Studios
The MCU is an ever-expanding, multi-faceted beast with lots of moving parts. This to say, it's a little tough to say what the future might hold. That said, if "Thor: Love and Thunder" director Taikia Waititi gets a say, he would like to see a couple of characters, namely Valkyrie and Korg, get spin-offs. Speaking with Fandom recently, Waititi revealed "I'd love to see a Valkyrie spinoff ... A Korg spinoff would be good as well." Waititi, aside from directing the last two "Thor" films, also plays Korg in the MCU, so that one he might have some sway over. Valkyrie would rely on Tessa Thompson to get on board. But stranger things have happened.
Lots of people watched Doctor Strange in the Multiverse of Madness on Disney+
Per the folks at Samba TV, 2.1 million people streamed "Doctor Strange in the Multiverse of Madness" in its first five days of availability on Disney+. What's more, it also topped the streaming charts on Fandango, meaning Disney sold/rented quite a few copies as well, not to mention that the movie is going to pass $950 million at the box office before its run is over with. All of this to say, Sam Raimi's sequel was very much a success from just about every measurable metric.
The many Doctor Strange looks in Multiverse of Madness featurette
Lastly, today brings a new featurette that pulls back the curtain on the many incarnations of Doctor Strange in "Multiverse of Madness." Ian Joyner, the film's Visual Development Supervisor, goes over the many various different versions of the character we see in the sequel, from Defender Strange to zombie Strange, and explains how exactly they all came about. Not only that, but we get looks at concept art as well as the comic book art that inspired the looks. Be sure to check out it in its entirety for yourself above.