The Best And Worst Moments In Elvis, Ranked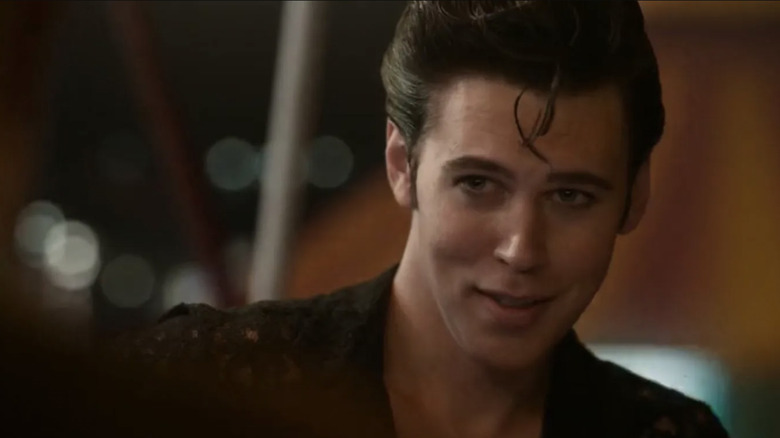 Warner Bros.
This article contains spoilers for "Elvis." 
Music biopics are a dime a dozen. Some of them play it safe, like the Academy Award-winning "Bohemian Rhapsody." Others, like "Great Balls of Fire," are the definition of predictable. Thankfully, Baz Luhrmann's "Elvis" doesn't play by the genre's rulebook. Featuring everything from MTV-inspired musical sequences to Tom Hanks in a hospital nightgown walking around an abandoned casino, Luhrmann goes out of his way to showcase the pop culture frenzy surrounding the King of Rock and Roll. Sure, some of Luhrmann's artistic choices get in the way of the film's more poignant elements, but nothing can derail Austin Butler's stunning performance nor the genuine, heartfelt emotion at the film's center. 
Now that we've all had a chance to see it, it's time to dive deeply into all of the wild, delightful, and genuinely awe-inspiring elements that make Luhrmann's "Elvis" such a ride. From the movie's most crowd-pleasing scenes to the ones that left our eyes rolling in frustration, let's stroll through Baz's latest release and discover the moments that make this biopic a fascinating, if somewhat messy, journey into the life of Mr. Elvis Presley.
Worst: The Colonel's introduction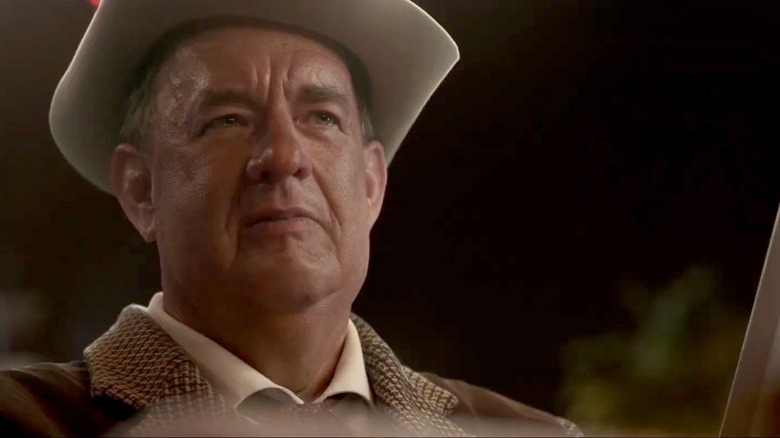 Warner Bros.
While it would make logical sense to open a movie about the King with, you know, Elvis himself, Luhrmann's movie doesn't go that route. Instead, the film takes us into the glittering, chaotic world of Las Vegas in 1997. There, we get a glimpse at the awkward narrator of our story, Colonel Tom Parker, played by Tom Hanks. Near the end of his life, news headlines label the Colonel a conman, leading Parker to begin defending his actions. From then on, we jump back and forth through the decades as Parker attempts to prove that, without his influence, the world would have never experienced Elvis Presley.
With its cartoonish pacing and Tom Hanks' "Saturday Night Live"-esque performance as the Colonel, this opening sequence makes for a bumpy start to Luhrmann's film. It attempts to present a multifaceted look at the controversial figure, but often comes across more like a Looney Tunes short. In addition, considering the film's almost 3-hour runtime, sequences like this, which add up to little more than meaningless fluff, could have been trimmed in favor of anchoring the narrative in Elvis' perspective.
Best: Elvis' first performance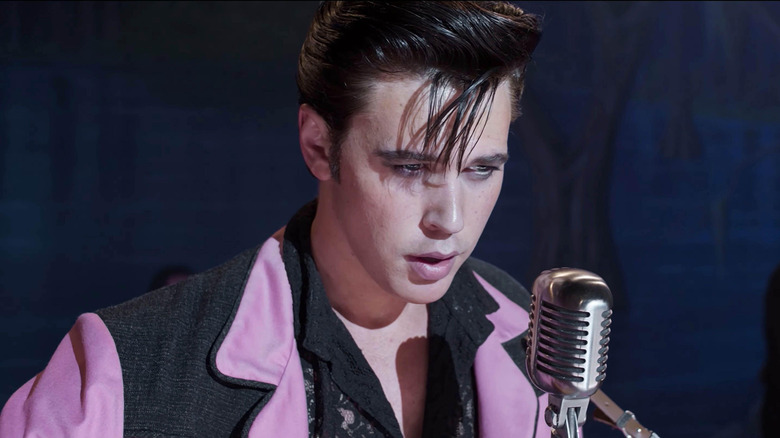 Warner Bros.
Elvis' first performance in the movie is spectacular. We first see the young Mississippi-born singer covered in shadow, giving a mysterious quality to the soon-to-be legend. As various family members try to comfort him, Elvis' shy boy exterior slowly unravels, and he becomes quite a powerhouse on stage, attracting the attention of both Colonel Parker and the audience. With the combination of this memorable performance and energetic flashbacks to Elvis' childhood, everything comes together, creating an electric introduction for this larger-than-life figure.
And yet, what truly makes this sequence unique are the reaction shots of the crowd, seen from Parker's perspective. From the chaotic glee on the faces of multiple young women to Elvis' mother, Gladys Presley (Helen Thomson), realizing that the audience is overwhelmingly attracted to her son, every element adds to the scene's epic nature. Overall, this moment is a beautiful tribute to the qualities that made Elvis a magnetic performer right from the get-go. He crafted a stage persona that was one part rebel and one part fairy tale prince, resulting in an entertainment experience that shook the foundations of American pop culture.
Worst: Elvis' fascination with Beale Street
Throughout the first act of "Elvis," viewers see snapshots of the superstar's life. But one sequence, in which viewers learn about Elvis' interest in the culture of Memphis' Beale Street, features a puzzling montage. Here, we see the young singer record music at Sun Records while taking in the era's fashion trends. On the surface, that's fine, but this moment lands on the "worst" list for two reasons: its purpose, and the music it features. 
While Elvis has been fairly criticized for imitating Black musicians, this scene tries to diminish that controversy by showing the "influence" that artists like Ellie Mae "Big Mama" Thornton had on Presley. Yet, by using Doja Cat's song extremely modern track "Vegas" throughout, the sequence feels like it's taking a juvenile approach to Elvis' history, focusing more on the singer's misfit nature than what Thornton and other artists did for his career. Thankfully, later moments better address this aspect of the King's journey, but this scene could (and should) have done more than cover his past in an MTV gloss. 
Best: The first Vegas performance
One of the most parodied aspects of Elvis' career is his residency at the International Hotel, now known as the Westgate, in Las Vegas. From the bedazzled costumes to the over-the-top dance moves, these shows not only changed the way fans saw Elvis, but also helped morph Las Vegas into the entertainment capital it is today. Yet as much as movies like "Bubba Ho-Tep" and "3000 Miles to Graceland" pay wacky tribute to this phase of Elvis' life, there's a reason that these concerts have become so legendary. Baz Luhrmann's "Elvis" captures why in great detail, especially during the sequence in which Elvis performs his first of 57 shows. 
Featuring fantastic rhythm and even more proof of Austin Butler's star power, this sequence perfectly captures the electricity of Elvis' concerts. Yet it's the juxtaposition of the Colonel's villainous choices about Elvis' future and the King's magnetic performance that makes the scene a delicious piece of cinema from beginning to end. It also proves that Luhrmann's greatest directorial strength is matching the action with the right tune, just like he did in the "El Tango de Roxanne" sequence from his 2003 hit, "Moulin Rouge."
Worst: The beginning of Elvis and Priscilla's relationship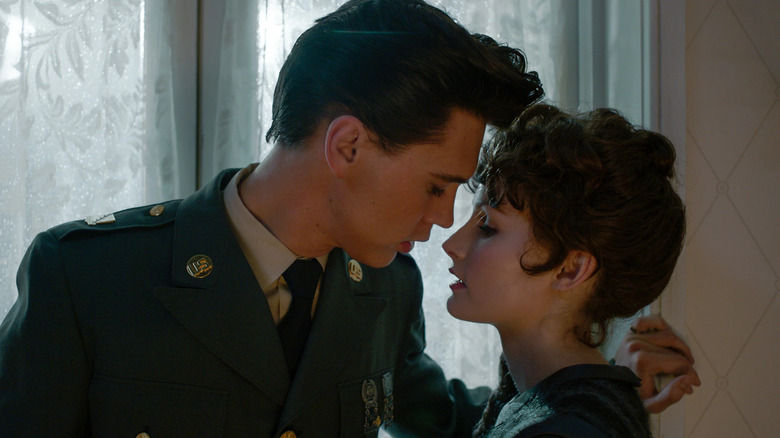 Warner Bros.
Another often talked about aspect of Elvis' story is his relationship with his ex-wife, Priscilla Presley (portrayed in the film by Olivia DeJonge). The two met in 1959 while Elvis was stationed in West Germany, leading them to embark on a whirlwind romance that left quite an impact — not least because Priscilla was only 14 when she met the then 24-year-old King of Rock and Roll. While Luhrmann's "Elvis" does address some elements of Priscilla and Elvis' relationship, it doesn't give us quite the whole picture, especially in their first sequence together on screen. 
From the vague narration that describes Priscilla as the teenage daughter of a U.S. officer to the focus on Elvis' past relationship with Natalie Wood, this scene seems to go out of its way to skirt around the age gap. As the film progresses, this decision makes many of the other big moments between the two seem very strange, especially when Elvis is seen kissing other women during his Vegas residency. However, regardless of how Priscilla and Elvis' story plays out in the film, it's clear that the controversial details of Elvis' romance weren't at the forefront of Luhrmann's mind.
Best: Elvis watches Little Richard and talks to B.B. King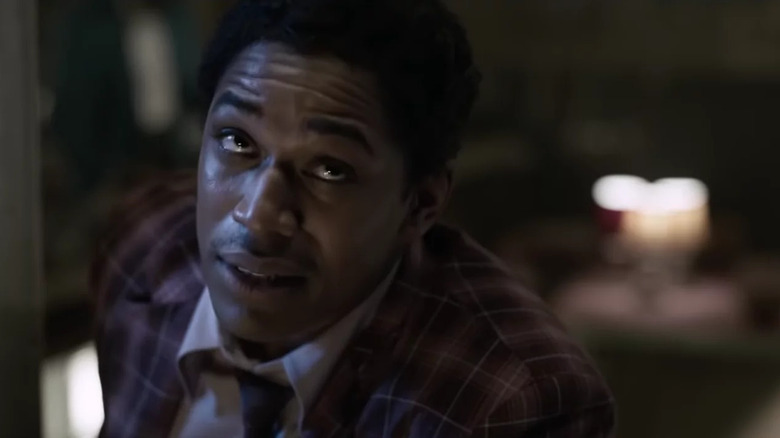 Warner Bros.
Throughout "Elvis," audiences see the titular performer meet other memorable entertainers of the time. One such scene finds Elvis entering a crowded Beale Street nightclub, where he engages with some iconic Black artists. As B.B. King (played by Kelvin Harrison Jr.), Little Richard (Alton Mason), and the creator of rock and roll herself, Sister Rosetta Tharpe (Yola), take the stage, Elvis' eyes go wide with glee. The performances in the scene make it an essential part of Luhrmann's movie. 
From Mason's incredible energy as Richard to Harrison Jr.'s calculated portrayal of King, this scene confirms the importance of these Black entertainers, and does so with much more respect than earlier moments in the film. Still, it's Tharpe's inclusion that really makes the moment sizzle. Without Tharpe's accomplishments, artists like Elvis wouldn't exist in the first place, and it's fantastic to see Yola get a chance to shine as the trailblazer. While the movie doesn't get everything rightabout Elvis' ties to Black musicians, this scene proves that they deserve all the respect in the world.
Worst: The death of Elvis' mother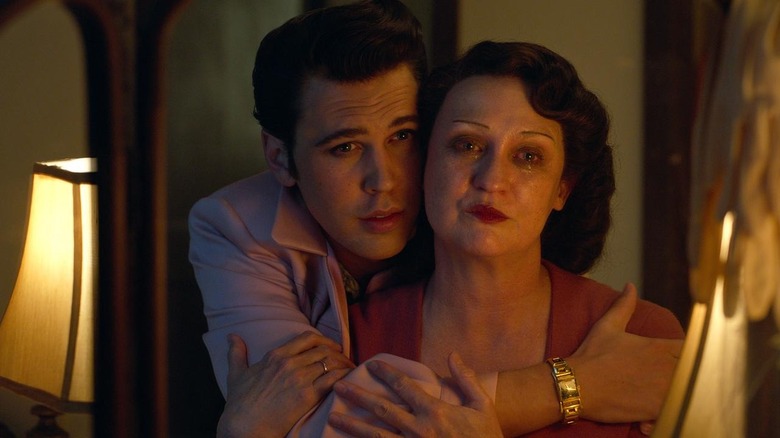 Warner Bros.
One of the most significant relationships in Elvis' life was the one he had with his mother, Gladys Presley (played by Helen Thomson). Known for her overprotective nature, Glady made quite the impact on her son, something that the movie highlights lovingly and gracefully. However, in a sequence that centers on Gladys' final moments, Luhrmann's poignant handling of the film's characters seems to fly out the window.
In the movie, Elvis leaves to serve in Germany, leading Gladys to turn to alcohol to numb her pain. This results in her death. Now, sure, at first glance the scene might seem harmless, but the combination of the melodramatic lighting and staging and Tom Hanks' ridiculous narration makes Gladys' final moments feel like something out of a Lifetime movie, not a Baz Luhrmann flick. In addition, the knowledge that Gladys actually died of a heart attack, not a Disney-esque "broken heart," makes the whole scene seem silly, not genuinely tragic.
Best: Elvis and Priscilla's long goodbye
While Luhrmann's movie doesn't get every aspect of Elvis and Priscilla's relationship quite right, it has a handful of sequences that are fascinating to watch regardless. From the moment when the pair steals a smooch on stage to the scenes in their trailer, the film does a great job of showing how important Priscilla was to the King. One scene, however, which occurs near the end of the film, is perhaps the most poignant of all. 
After the couple splits, we see Elvis drop off Lisa Marie (their daughter) at an airport to be with Priscilla. Before Elvis boards his plane, the former lovers have a heart-to-heart, one that establishes what they meant to each other, and that foreshadows Elvis' untimely end. The reason why this scene is one of the best in the film is Butler's heartbreaking performance. As he whispers his final farewell to Priscilla, Butler seems to be carrying the entire weight of Elvis' past on his shoulders, leading to a gut-wrenching goodbye. Thanks to Mandy Walker's fantastic cinematography, the scene stands out as a beautiful send-off to this famous, controversial relationship.
Worst: The Colonel and the Christmas Special
A large chunk of "Elvis" is about filming the King's 1968 Comeback Special, during which he tried to get back into the public's good graces following a string of less-than-stellar films. However, as the film depicts, the program was initially meant to be a Christmas special for NBC, something that Colonel Tom Parker becomes fixated on as the movie's second act progresses. That obsession over yuletide perfection becomes as annoying to the film's viewers as it probably was to Elvis himself. 
From the Colonel showing off a TV set diagram of Elvis to putting Christmas sweaters in the studio's every nook and cranny, this element of the story is a bit of tonal whiplash. Yes, it's crucial to establish the Colonel's drive to please the special's producers, but after the fourth or fifth time that Hanks belligerently screams about "Here Comes Santa Claus" the sequence becomes the definition of tiresome, making it a blessing when the film moves its attention back to Elvis' history-making performance.
Best: Elvis' movie life
When "Elvis" enters its second act, audiences are transported to the colorful and glamorous '60s, a time when the King made many movies (some more successful than others) in the hopes of becoming a Hollywood star. Despite the inconsistency of Elvis' own cinematic career, Luhrmann's interpretation of this leg of his journey is nothing short of spectacular, especially when it comes to the music choices and the editing.
From the use of colorful text to the hilarious explanation of Elvis' entourage, "the Memphis Mafia," this section of the film goes above and beyond to recreate the era's aesthetics. The remixes of Elvis' classic songs, which are blended with melodies from Britney Spears' "Toxic" and other memorable pop hits, make the sequence downright hypnotic. However, it is when that bright and energetic presentation is juxtaposed with Dr. Martin Luther King Jr.'s assassination that the entire experience becomes a real cinematic gut punch, one that perfectly sets the groundwork for what's to come.
Worst: The Colonel and Elvis' carnival ride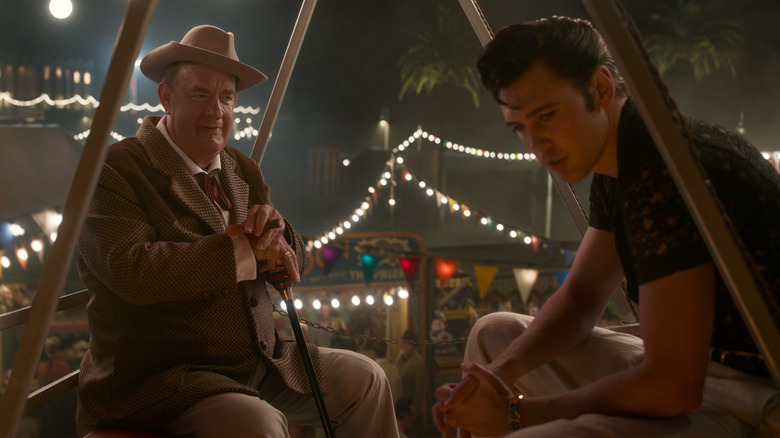 Warner Bros.
Shortly after introducing the Colonel, "Elvis" quickly informs us of his carny past. As such, it makes sense that one of the film's oddest, yet most important, sequences occurs in a familiar setting. In the scene, Parker finds Elvis walking through an (obviously metaphorical) house of mirrors. The two then converse on a Ferris wheel, where Parker tells the young singer that he can help his star rise, leading to their controversial partnership.
Perhaps it is the way the scene is staged, the way it's edited, or Hanks' mixed bag of a performance, but this sequence just doesn't work. Sure, it's easy to see what Luhrmann and the film's various screenwriters were trying to do, but the way that the final result is edited focuses too heavily on how creepy Parker is, making it seem like a spoof rather than a moment that's meant to be taken seriously. Ultimately, the carnival tricks should have been dialed down so that the audience could focus more on the significance of the moment.
Best: The old Elvis returns
Once Elvis' star begins to rise, America has a mixed reaction to the singer. Some — for example, teenage girls — find him to be an absolute dream. Others, like Senator James Eastland (Nicholas Bell), feel quite the opposite, going out of their way to tear down Elvis in any way they can. So, when Elvis is told to not wiggle (even his finger) at an outdoor concert, the young artist takes his "censored" performance in a very different direction.
With violent camera movements and energetic editing by Matt Villa and Jonathan Redmond, this scene perfectly represents the cultural shift that Elvis led in the mid- to late '50s. He challenged how rebellion was depicted in pop culture, and embraced sexually-charged energy in a country that was afraid talk about what happens in the bedroom. While the scene in question didn't play out exactly like that in real life, it's still an excellent example of what makes this movie special.
Worst: Whenever modern music plays
One of Baz Luhrmann's best-known directorial quirks is his love of incorporating modern music into all of his films, regardless of when they take place. Whether it be a twist on a classic story, like "Romeo + Juliet," or something as wacky as his adaptation of "The Great Gatsby," the appearance of current-day pop artists on the soundtrack has become one of Luhrmann's signature moves. 
However, in the case of "Elvis," this trick doesn't work quite as well as it does in Luhrmann's other projects. In interviews, Luhrmann has explained that his use of contemporary music is a way for younger audiences to understand Elvis' impact on pop culture. During certain moments, like when Elvis' songs are combined with those from artists like the Backstreet Boys, it makes sense. However, when new tracks by Eminem and CeeLo Green enter the mix, the film becomes the Steve Buscemi meme of music biopics. It's a choice that makes it feel like Luhrmann is so desperate to make his film relevant that he's forgotten that it already was, even without the "dope beats."
Best: The performance of If I Can Dream
There are some sequences in movies that leave us speechless. That might sound a bit over-the-top to casual viewers, but true film fanatics know what we're talking about. What does this have to do with "Elvis," you ask? Well, one particular scene in the film has the makings of a truly legendary moment. 
In the movie, Elvis is pressured by Parker to sing a Christmas song during his NBC special. However, focused more on making an impact than selling yuletide cheer, the King makes a big move and performs "If I Can Dream" instead, a decision that would define Elvis' career for the rest of his life. 
First of all, when an audience begins to cheer in a movie theater as if it's watching a live concert, you know that you're seeing something special. Second, Butler makes this scene something else. Much like Elvis himself, he clearly pours his heart and soul into this performance, and his dedication shows in every frame. Overall, this scene encapsulates the best qualities of Luhrmann's film and, like the King himself, will hopefully stand the test of time.