John Hughes Took The Brute Force Approach To Writing Ferris Bueller's Day Off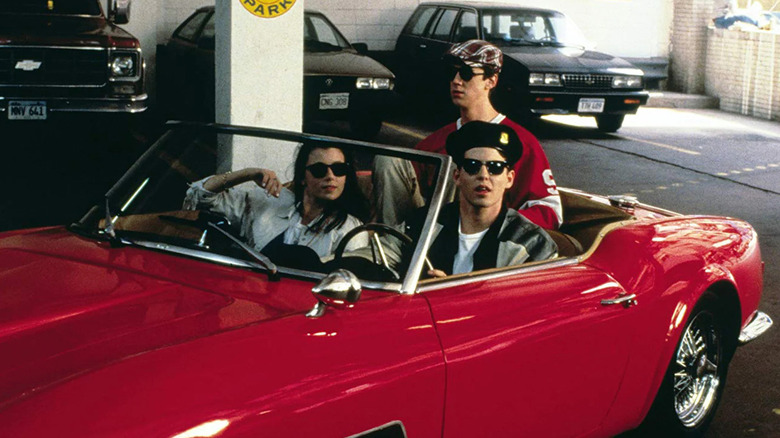 Paramount Pictures
In "Ferris Bueller's Day Off" the titular character famously opines, "Life moves pretty fast, you don't stop and look around once in a while you could miss it." For "Bueller" writer and director John Hughes, truer words had never been spoken — or perhaps written. Because the story behind how Hughes came up with "Ferris Bueller's Day Off" sounds like something straight out of a teenager's caffeine-fueled overnight sleepover.
Which is fitting for Hughes. The filmmaker had a brilliant knack for capturing teen angst in his filmography that also includes "Sixteen Candles" and "The Breakfast Club." In "Ferris Bueller's Day Off" a perpetually charming suburban Chicago teen Ferris (Matthew Broderick) convinces his forlorn best bud Cameron (Alan Ruck), already home from school sick, to spend the day taking in all that Chicago has to offer, in Cameron's dad's exotic Ferrari, no less.
And much like Ferris' race against time at the end of the movie, Hughes found himself up against a hard deadline and turned in an unforgettable script just in the nick of time.
Hughes wrote the script in two days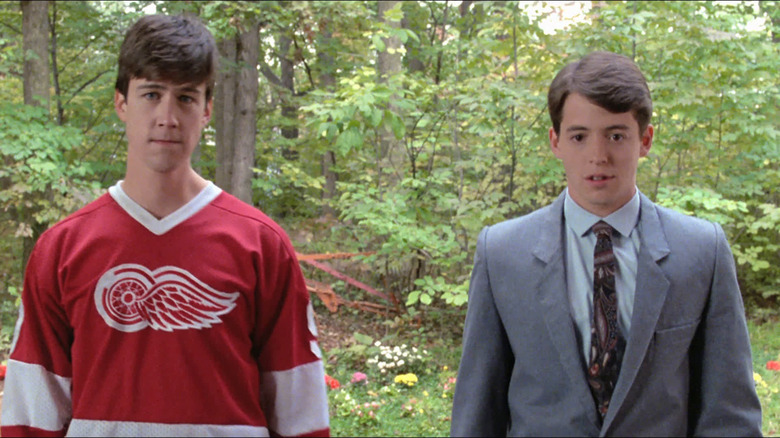 Paramount Pictures
In the book "You Couldn't Ignore Me If You Tried: The Brat Pack, John Hughes, and Their Impact on a Generation," Susannah Gora discusses the frantic pace at which Hughes came up with the "Ferris Bueller's Day Off" concept and script. Setting a scene that sounds more like Cosmo Kramer in a "Seinfeld" episode, Gora explains how Hughes burst into a Paramount Pictures executive's office, excited for an idea about a guy taking a day off from school.
While the executive liked the premise, the movie industry was a mere 36 hours away from a strike by the Writers Guild of America, which included Hughes. At the time Hughes was hosting Howard Deutch, director of "Some Kind of Wonderful," which Hughes wrote and was producing. The pair planned on working on re-writes of the script, but Hughes never got that far. Gora writes:
"Deutch fell asleep on Hughes's couch at midnight. At five-thirty in the morning, Hughes woke him up. The music was blasting, and Hughes was chain-smoking. 'He hands me this thick thing,' Deutch recalls. The stack of papers Hughes handed Deutch was the first fifty pages of 'Ferris Bueller's Day Off' and they were so good that Hughes barely changed them."
With just a kernel of an idea and with a writer's strike approaching, Hughes managed to pack layers of detail into the screenplay that included a strong character arc for the protagonist, memorable minor characters, and an ode to "The Second City."
Hughes' love letter to Chicago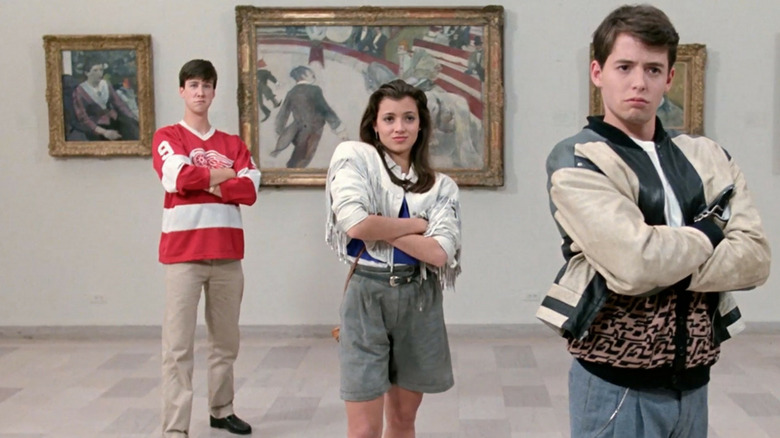 Paramount Pictures
Even though Hughes hammered out the script for "Ferris Bueller's Day Off" in a matter of days, it didn't stop him from paying tribute to his hometown. In an interview with Seventeen Magazine, Hughes revealed that parts of the movie were filmed in a school he attended, Glenbrook North High School, in his teenage hometown of Northbrook, Illinois.
The movie is set in Chicago, but there was something more important than just locations. Per Insider, Hughes said, "It was my city, and I really wanted to show it at its best. I really wanted to capture as much of Chicago as I could, not just in the architecture and landscape but the spirit."
"Ferris Bueller's Day Off" shows the genius of Hughes as a screenwriter, encapsulating the spirit of a city through an eclectic cast of characters, not to mention the clever fourth wall breaks and memorable one-liners ("Bueller? Bueller?"). He presents a sly protagonist — Ferris — who begins the film with the simplistic goal of taking the day off from school. As the narrative unfolds, Ferris' plans morph into helping his long-suffering pal Cameron find some self-esteem. Consider it a hero's journey for the modern day slacker.
There's a love interest as well, but I would argue that the movie is a platonic love story between Ferris and Cameron. After all, it's Cameron that Ferris serenades rather than his girlfriend Sloane (Mia Sara) in the Von Steuben Day parade.
And as for the looming writer's strike hanging over Hughes' head? Like Ferris rushing to beat his parents' home at the end of the movie, Hughes completed the screenplay the following night and delivered it to Paramount at 11:50 p.m. The movie turned into an instant classic and '80s movie staple, quickly thrusting itself into the pop culture zeitgeist. It even inspired a three-day festival celebrating the film's 30th anniversary. /Film considers "Ferris Bueller's Day Off" as John Hughes' best film.
Now go home ... go on ... the article is over.