Celebrate 'Ferris Bueller's Day Off' 30th Anniversay With Ferris Fest In Chicago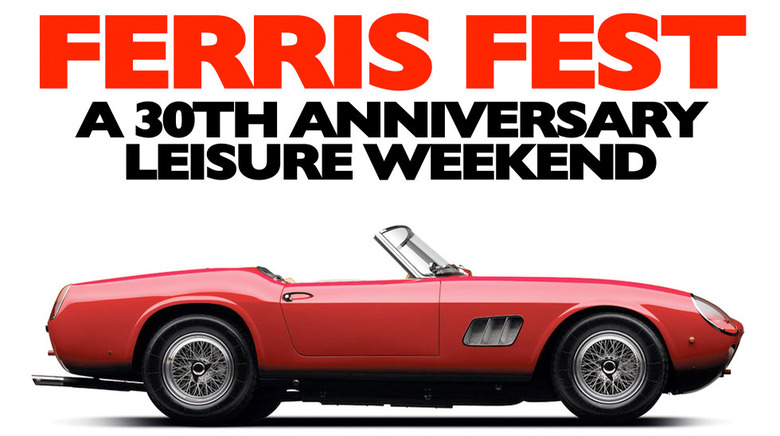 In case you didn't notice, this year marks the 30th anniversary of Ferris Bueller's Day Off, the classic John Hughes film about one high school kid's glorious day ditching school with his friends. And if you want to do more than just watch the movie again at home, there's a way you can commemorate the milestone anniversary with a three-day event called Ferris Fest. However, you'll only be able to attend if you happen to be in the Chicago area, where the movie was actually filmed, this summer.
Get the details on Ferris Fest after the jump.
Ferris Fest will take place May 20th-22nd this summer and Time Out reveals that it includes a variety of Ferris Bueller's Day Off events. First off, there will be a special screening of the movie at the John and Nancy Hughes Theater in Lake Forest, hosted by Chicago film critic Richard Roeper, on May 21st. Special guests include Cindy Pickett, Lyman Ward (Ferris Bueller's parents) and Jonathan Schmock (the French restaurant maître d') in attendance for a Q&A. But if you can't make the screening, there will be other attractions through the rest of the weekend.
If you're anxious to recreate the big day off that Ferris Bueller (Matthew Broderick) took with his girlfriend Sloane (Mia Sara) and best friend Cameron (Alan Ruck), there will be a tour that will stop by the Art Institute of Chicago,
Willis
Sears Tower and Wrigley Field, where you'll be able to sit in the same seats that the trio watched the game from (sa-wing batta!). Other stops will include the Glenbrook North High School parking lot, Cameron's house in Highland Park and the Northbrook water tower which once had "Save Ferris" painted on it. That doesn't sound like the most exciting tour, but it's still better than just sitting at home.
In addition, there will be a reenactment of the "Twist and Shout" parade sequence allowing attendees to participate, a 1961 Ferrari 250 GT California Spyder and an intricately detailed recreation of Ferris Bueller's room. The latter exhibit was previously featured as part of the Gladstone Hotel's annual "Come Up To My Room" design festival in Toronto, created by Sarah Keenlyside and Joseph Clement. It features everything you'd expect, right down to the old snoring stereo, coughing keyboard and the IBM computer that Ferris received instead of a car.
For ticketing and more details, head over to the event page for Ferris Fest right here. Stay tuned to the official website for the event for more information as it becomes available.