Christopher Walken's Catch Me If You Can Performance Was A Little Too Good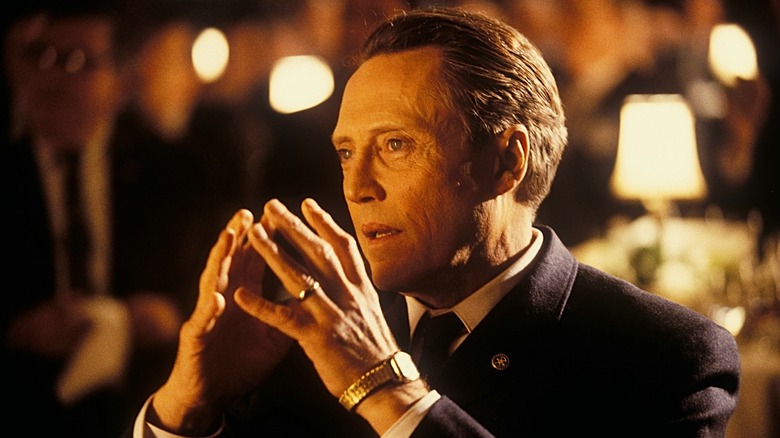 DreamWorks Pictures
Christopher Walken had a reputation for playing villains in the first several decades of his career, but stepped out of his pigeonhole for Steven Spielberg's 2002 crime film "Catch Me If You Can." Walken starred opposite Leonardo DiCaprio and Tom Hanks, and his performance was unforgettable. His acting was so realistic that he managed to terrify his younger co-star.
The movie is based on a true story about Frank Abagnale Jr (DiCaprio), a teenager in the '60s who scammed nearly every major bank and airline in America by cashing false checks and impersonating a Pan-Am pilot. He plays a game of cat-and-mouse with an FBI agent (Hanks) that desperately pursues him for several years. Christopher Walken plays DiCaprio's father, Frank Abagnale Sr.
To play a father was an unusual role for Walken at the time. The character is not without his flaws, but ultimately loves his son. This was an easy role for Walken because of his pre-existing relationship with DiCaprio. The two met right after the release of his breakout film, "What's Eating Gilbert Grape" (1993) and had a mutual admiration ever since. Walken "always thought [DiCaprio] was a great actor and been proud of him, y'know as if I was related to him," the actor tells Charlie Rose.
The feelings of respect and familiarity are mutual between DiCaprio and Walken. DiCaprio has inexplicably "always wanted [Walken] to play my father," he confesses to IGN. "There's something about that man. He picks up on cosmic messages, and it's shown through his acting." This emotional connection between the two great performers made their onscreen father-son relationship feel all the more authentic.
DiCaprio thought something was wrong with Walken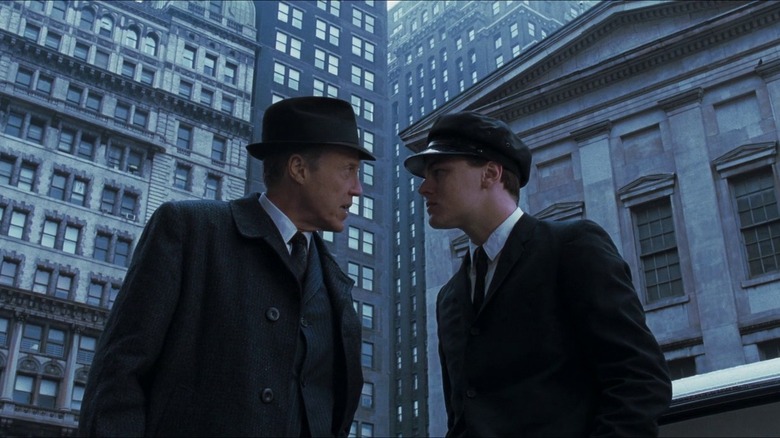 DreamWorks Pictures
Walken is such an incredible actor that he managed to genuinely scare his co-star. In the scene where Frank Jr. returns home to his father, Walken begins to hyperventilate. DiCaprio says this was "completely unexpected. It wasn't in the script. It was ... completely his own doing." Walken's performance was so compelling that DiCaprio was momentarily convinced it was not a performance at all. "I thought the man was having a heart attack in front of me," DiCaprio says. "I honestly was about two seconds away from saying, 'Cut! There's something wrong with Chris!'"
Christopher Walken does his best to diversify every take "with a different sort of angle on it" rather than try to improve upon the same sort of performance every time, the actor tells Charlie Rose. He knows that "he does things during [a] take that nobody's ever gonna use," but finds that "doing something unexpected takes you to another place, and that's the part they're gonna be able to use." If he offers the director and editor "some sort of variety," they will then compile his takes into "something I never would've even thought of," Walken explains. A famous example of this occurred in Tarantino's "Pulp Fiction," which features Walken as Captain Koons.
This unconventional approach makes for an eclectic performance that builds the character's depth. Walken is a very distinctive persona, but he still manages to shock even his fellow actors. He has demonstrated immense range, from playing a troubled soldier in "The Deer Hunter" (1978) to a goofy father in "Hairspray" (2007), and often demonstrates this range within a single scene. The authenticity and complexity that he brings to each role are entirely fresh every time, and it's impossible to be bored when he is onscreen.