Two Twilight Zone Episodes Actually Started As Pilots For CBS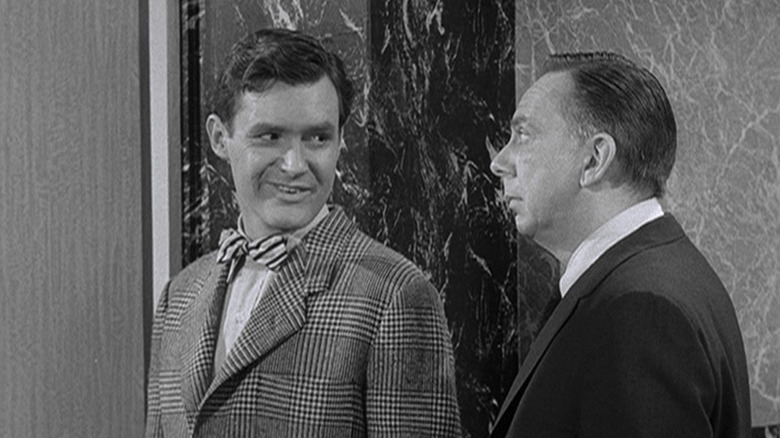 Paramount
Uttering the television series title "The Twilight Zone" usually conjures up imagery of its most serious episodes; classic episodes like "The Monsters Are Due on Maple Street" were spirited call-outs on man's embarrassing ability to fail themselves and each other, over and over again. While series creator Rod Serling tapped into his hallowed influences from Edgar Allen Poe to Ray Bradbury for his monochrome anthology show, his comedic flare-up episodes didn't land as well as the stranger genre trips he was known for (wrongfully, says this writer). Two goofy episodes in particular originally had aims for their own series.
"The Twilight Zone" had paid off for Serling, who had earned an Emmy for writing the series by the conclusion of season one's production in the spring of 1960 (his fourth such award to date). Racism, xenophobia, and hubris were all made digestible through aliens, sentient machines, and anything the fifth dimension could summon. Marty McGee and Don Presnell's reference work "A Critical History of Television's The Twilight Zone, 1959-1964" reveals the proposed pilots that eventually spawned a loose pair of mid-tier series episodes:
"'Cavender Is Coming' was the second of two series pilots — the first was 'Mr. Bevis' that Serling was contractually bound to create for CBS. The proposed title of this second series was 'The Side of the Angels.' Whereas The 'Mr. Bevis' series would have dealt with the same recurring title character and his guardian angel, 'The Side of the Angels' would have followed Cavender's misadventures and predicaments with different persons each week. CBS didn't care for either 'Bevis' or 'Cavender,' and neither left the ground as a series."
Mr. Bevis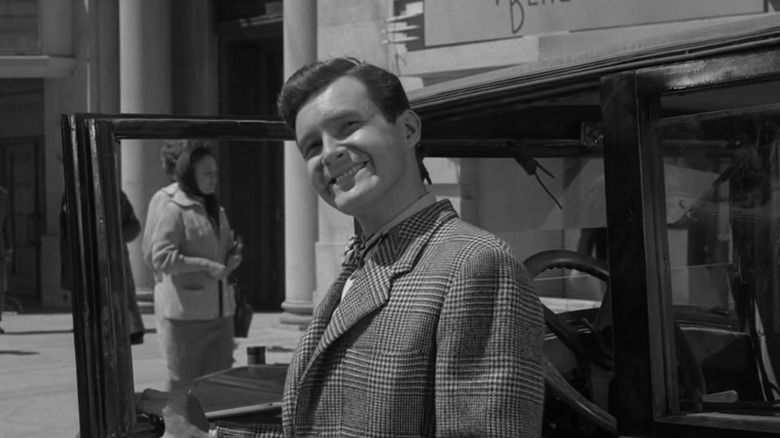 Paramount
Chronologically, "Mr. Bevis" was the first. It aired amid instability on June 3, 1960, two days after the Lake Bodom murders and nearly two weeks removed from any resolution on an eight-month Writers Guild of America strike. Its director was William Asher, helmsman of several AIP beach party pictures of the decade. The show didn't feature Annette Funicello traveling through dimensions, but "Mr. Bevis" did have a triviality to it that made for a strange contrast with the rest of the series. Serling's spoken intro reveres his goofy star:
"But this can be said of our Mr. Bevis: Without him, without his warmth, without his kindness, the world would be a considerably poorer place, albeit perhaps a little saner ... should it not be obvious by now, James B.W. Bevis is a fixture in his own, private, optimistic, hopeful little world, a world which has long ceased being surprised by him."
Amid the aforementioned instability, and with Sen. Joseph McCarthy's Red Scare still visible in the rearview mirror, Serling felt that true individuality came at a premium, and sometimes it could redeem you entirely. Bevis, played by aw-shucks Orson Bean, is assigned a guardian angel, one J. Hardy Hempstead (Henry Jones). All the money in the world can't give Bevis true happiness if he loses the oddball energy that endears his entire community to him. Bean's character is corny, but the episode stands as a nice counterweight to all the show's self-destruction episodes ("What You Need," "The Fever"). "Mr. Bevis" proves that it's not all doom and gloom beyond the boundaries of imagination. You can turn your whole franchise around if you just shut up and read the room — evergreen advice, especially in times like these.
Starring Burgess Meredith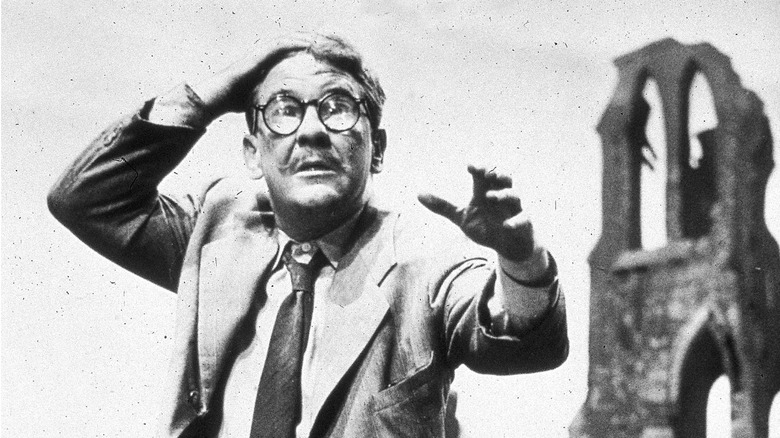 Paramount
Given a series as Rod Serling wanted, "Mr. Bevis" would have dealt with the same title character every week and his misadventures with his guardian angel. Marc Scott Zicree's "Twilight Zone Companion" book pulls the curtain back more:
"Originally, Serling intended 'Mr. Bevis' as a pilot for a series starring Burgess Meredith, wherein each week the angel would get Bevis out of yet another scrape. But Meredith was unwilling to commit to a series, and turned the offer down."
Meredith was already a beacon of the series, having had four "Twilight Zone" appearances, including the unfair top 10 episode "Time Enough At Last" (his character's name? Henry Bemis). Going back to humor, Serling's "Mr. Dingle, the Strong" sees Meredith as a hapless vacuum salesman who finds his 15 minutes of fame when gifted superstrength by big-brained aliens. Peering through the episode's Looney Tunes physics and Don Rickles' delightful humiliation, Meredith's range comes into focus; he's a real smug weenie when empowered, flashing the kind of disaffected puffed-up grin, one that earns a swift swirlie in some regions.
Luther Dingle's inverse, bookworm Bemis of "Time Enough At Last," lets the vulnerability seep out of his bottle-thick eyeglasses — an exposure that weeps just under the husky grump and gruff of Meredith's Micky Goldmill in "Rocky." Daydreaming about it all, a "Mr. Bemis" series episode would have been as sentimental as the "Twilight Zone" episode. Dreaming a little deeper, Meredith would have married that Bemis tenderness to Dingle's grin to emerge in a prototype of William H. Macy's Frank Gallagher, the colossal screw-up of "Shameless." If greed screed "A Most Unusual Camera" or "What You Need" are any clues, it's a safe bet Serling isn't scared to make his characters self-destruct.
Cavender Is Coming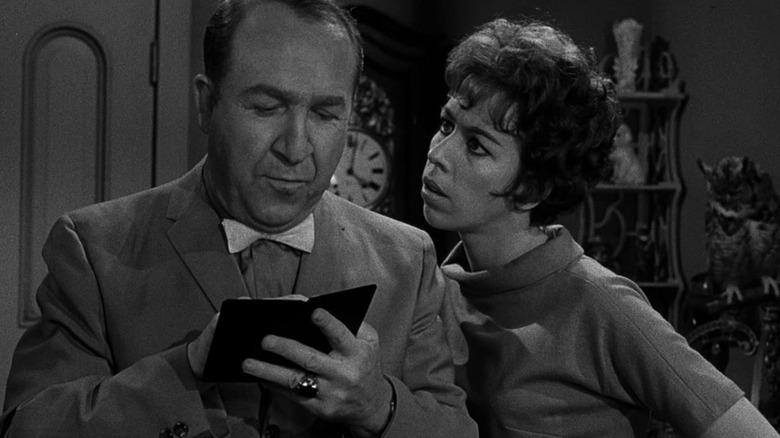 Paramount
"Cavender is Coming" was the latter of the comedic series pilots Rod Serling drafted. It came near the end of season three, when the "Twilight Zone" fanbase had grown and Serling had picked up another Emmy for penning the bulk of the episodes. A lot weighed on Serling, whose plate was full with what would end up being 37 episodes, and who would begin recycling concepts like the guardian-angel conceit.
A surprise self-parodying appearance on "The Garry Moore Show" had Serling not only acknowledging his stardom — his face as recognizable as Alfred Hitchcock's silhouette by this time — but linking up with comedian Carol Burnett, who played opposite Serling in the segment. Gordon F. Sanders' book "Serling: The Rise and Twilight of TV's Last Angry Man" chronicles the collaboration as it grew, in which Burnett recalls Serling asking her, over burgers, to do a guest appearance on his show:
"After we taped Garry's show, went out and got a burger and went bowling, I think. Then Rod asked if I would do a guest appearance on his show. Of course, I was delighted to do it."
Serling's teleplay is directed by Chris Nyby (the director behind Quentin Tarantino's favorite "The Thing from Another World"), resurrecting the highlights of the "Mr. Bevis" pilot-turned-episode with a gender-flipped protagonist. Burnett stars as the unemployed Agnes Grep, a fixer-upper case for one Harmon Cavender (Jesse White), an apprentice angel who must earn his wings by shepherding the clumsy woman (Burnett also happened to work as an usherette at a miserable job, the "Serling" book reveals). Unlike the "Mr. Bemis" series and its proposed casting of Meredith in the lead, "Cavender Is Coming" didn't get that far into planning when the studio nixed it. Would Burnett have been up for it?