Christian Bale Would Return To The Role Of Batman On One Condition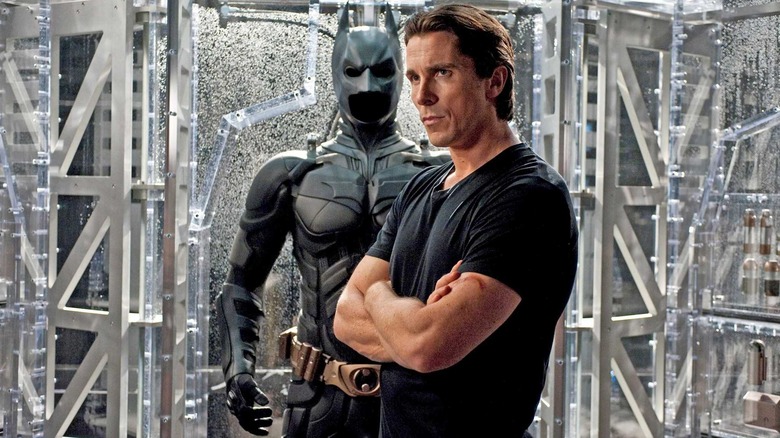 Warner Bros.
It's been 10 long years since Christian Bale last suited up as Batman in Christopher Nolan's "The Dark Knight" trilogy. In the time since, the actor has gone on to work with several acclaimed directors such as David O. Russell, Ridley Scott, Adam McKay, Terrence Malick, Scott Cooper, and James Mangold, heavily suggesting that his predominant interest moving forward remains accepting compelling roles with some of the most prestigious and biggest name-brand filmmakers. Even with Taika Waititi involved, few comic book fans ever expected the actor to jump back into the comic book movie "genre" with something like "Thor: Love and Thunder," but Marvel Studios came calling and Bale clearly didn't hesitate to pick up the phone.
But what if Nolan came calling for one more round in the Batsuit? Fans have long envisioned the potential of a "Dark Knight Returns"-inspired story set in Nolan's specific vision of Gotham City, with an older Bale returning to put on the suit one more time in a story based on one of the comics' most seminal stories. Yes, that's always been incredibly unrealistic, as Nolan has shown precisely zero indications that he'd ever be willing to return for a fourth "The Dark Knight" movie. In a recent interview with Screen Rant, Bale splashed some more cold water on that hypothetical.
"No. No one's ever mentioned it to me. No one's brought it up. [...] Occasionally people say to me, 'Oh, I hear you were approached and offered all this.' And I'm like, 'That's news to me. No one's ever said that.'"
But if someone did ever bring that up to Bale? Well, he'd apparently have to make one exception.
'If he wished to tell that story with me, I'd be in'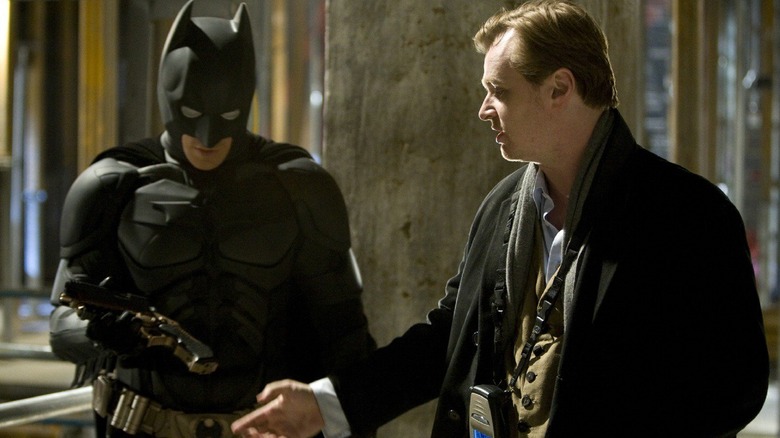 Warner Bros.
Everything old is new again, folks. The biggest blockbuster in the world just reunited the old school trio of "Jurassic Park" stars for some reason. (I think it was locust-related?) Chris Evans was almost brought back for a cameo in "Moon Knight." And fellow Batman actors Michael Keaton and Ben Affleck are set to return to their famous roles in "The Flash." In light of all that, what's stopping Christian Bale from doing the same after playing Bruce Wayne to such acclaim throughout Christopher Nolan's "The Dark Knight" trilogy? Well, the actor himself provided the answer to that: Christopher Nolan.
More to the point, only the filmmaker himself could ever convince Bale that the story — so definitively brought to its conclusion, which is refreshing in this age of endless shared universes — somehow justified that he reprise his role and put on the cape and cowl once more for a fourth film. In the same interview with Screen Rant, Bale had this to say:
"I had a pact with Chris Nolan. We said, 'Hey, look. Let's make three films, if we're lucky enough to get to do that. And then let's walk away. Let's not linger too long.' In my mind, it would be something if Chris Nolan ever said to himself, 'You know what, I've got another story to tell.' And if he wished to tell that story with me, I'd be in."
Well, we're not holding our breath for this scenario to come true (although stranger things have happened), but did we expect any other answer? Who knows if Bale will ever star in another superhero movie again, but savor his appearance in "Thor: Love and Thunder" when it releases on July 8, 2022.