Taika Waititi Played Music Non-Stop On The Set Of Thor: Love And Thunder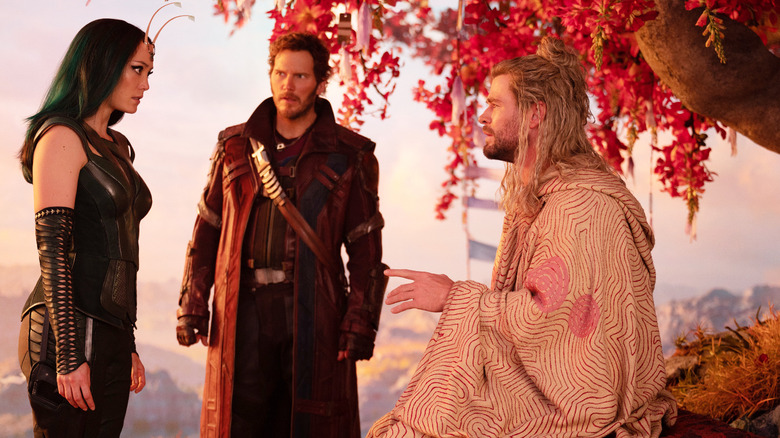 Marvel Studios
Italian filmmaker Sergio Leone famously had Ennio Morricone write his scores ahead of shooting and would play them on-set while making movies like "The Good, the Bad and the Ugly." This not only allowed his actors to better get into character, but it also helped set the mood and establish an internal rhythm for any given scene. 
Given the now-classic results, it's little wonder directors have continued to emulate Leone's approach to this day, even on big-budget film tentpoles and TV shows as far removed as "Jurassic World: Fallen Kingdom" and "Obi-Wan Kenobi." In many ways, though, that's only fitting. Modern blockbusters tend to rely just as much on their booming, exhilarating scores to create tension and excitement as Leone's westerns and period pieces leaned on Morricone's leitmotifs to heighten the emotions of their stories.
You can add "Thor: Love and Thunder" to the list of movies that have followed Leone's lead in that regard. Speaking at a press conference attended by /Film, co-star Christian Bale (who portrays Gorr the God-Butcher) voiced his appreciation for director Taika Waititi, noting he would play music non-stop to get his cast in the right frame of mind during production. As the Oscar-winner put it:
"What I liked a lot [about working with Taika Waititi] is — emotion comes through the ears, right? And he plays music nonstop on the set. And that was fantastic."
Kate Bush to the rescue again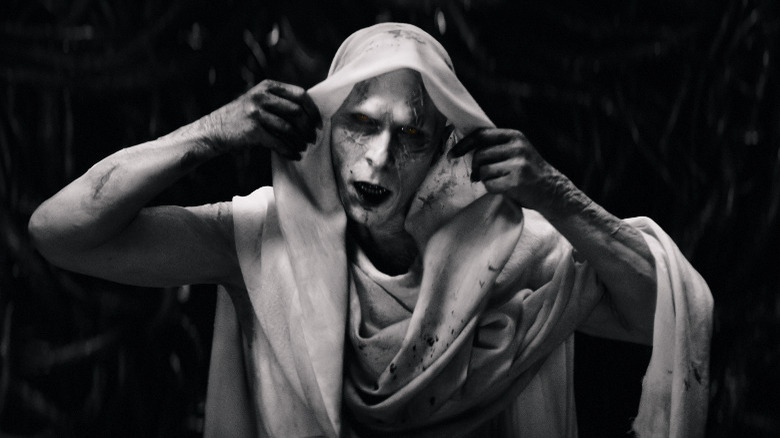 Marvel Studios
Christian Bale has spoken before about the influence of certain older musicians on "Thor: Love and Thunder," revealing that Gorr nearly got a Kate Bush-style dance scene before he and Taika Waititi decided it "was probably never going to end up [in the film]." (To quote Werner Herzog, "You are cowards. Leave it.") Turns out, Waititi also played Bush's music during production, along with the work of other artists that felt appropriate for the sequel. Bale explained:
"So I'd arrive and it'd be playing like, what was it, "Tubular Bells" quite often. That was one of [Taika's] favorites. And quite a bit of Kate Bush, thank you very much for that. Favorite. But then also, I discovered Bruce Haack. Right, makes his own synthesizers. And he [has a] very Gorr-like sensibility, a dude from the '70s and so he would chuck that on as well. Very helpful, very funny. Comedy and tragedy hand in hand."
As many reading this surely recall, Led Zeppelin's "Immigrant Song" had a major role in Waititi's first "Thor" film, "Thor: Ragnarok," playing in two key scenes that echo one another visually and narratively. The trailers for "Love and Thunder" have made similar use of Guns N' Roses' "Sweet Child o' Mine," linking the two movies through their similar musical tastes. Combined with the film's '80s rock aesthetic and Waititi's use of music on-set, it seems "Love and Thunder," in particular, draws just as much from the auditory arts as the visual kind to achieve its unique vibe. One imagines Leone would approve.
"Thor: Love and Thunder" rocks theaters on July 8, 2022.