Solar Opposites Season 3 Trailer: Pancakes And What Now?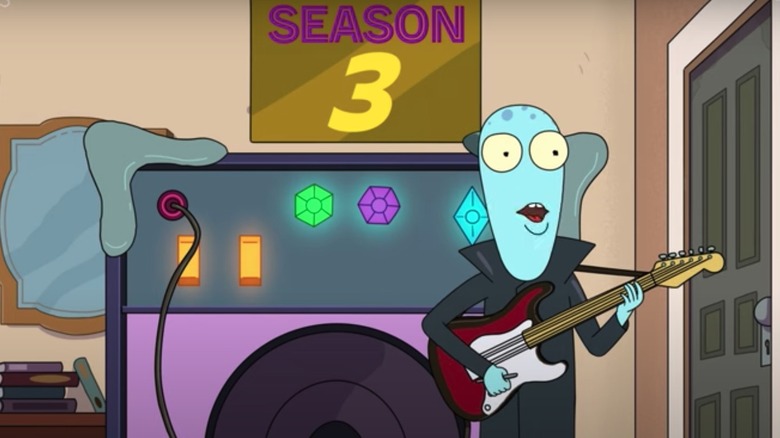 20th Television
Today we have a new trailer for the upcoming third season of the Hulu animated series "Solar Opposites." I will fully admit that I haven't watched this show yet, and now I think I'm going to have to. The series is doing well enough that, unlike the first two seasons which only had eight episodes each, this new season has 11. It's also been renewed for a fourth season before the third season has even aired. 
I watched the trailer, and let's just say the opening lines about how to celebrate a third season had me scratching my head and rewinding so I could make sure I heard what I heard. If you haven't watched it yet either, let me help you out with what I've learned. There are four aliens and a pupa who have come to earth, and can't decide whether our planet is "awful or awesome." I mean, I can help you out with that. It's awful. Problem solved. 
That isn't the only story though. There is a group of humans who have been shrunk down by one of the aliens and now live in a terrarium. You see why I need to watch this now? 
I guess that's one way to celebrate
I haven't ventured into these waters yet because though co-creator Justin Roiland's "Rick & Morty" does have very funny jokes, everyone seems to be yelling all the time. Just yelling every line. It's why I can't watch "Archer," even though I know that's hysterical as well. Still, despite the yelling here, this trailer might have broken through that wall for me. 
Here is the official info for you:
Co-created by Justin Roiland ("Rick & Morty") and Mike McMahan ("Rick & Morty", "Star Trek: Lower Decks"), "Solar Opposites" centers around a team of four aliens who are evenly split on whether Earth is awful or awesome. Korvo (Justin Roiland) and Yumyulack (Sean Giambrone) only see the pollution, crass consumerism, and human frailty while Terry (Thomas Middleditch) and Jesse (Mary Mack) love TV, junk food and fun stuff. In season three, this alien team strives to be less of a team and more of a family team.
I'm mildly concerned that a family is saying the things about pancakes and crepes that this alien group does in the trailer, but hey, if they do it that much, they must be happy about it. Yes, I must watch this series. I'm glad you all knew me before my brain explodes.
"Solar Opposites" season 3 premieres Wednesday, July 13, on Hulu.