The Umbrella Academy Brought In Some Help To Make Sure Viktor's Transition Story Was Respectful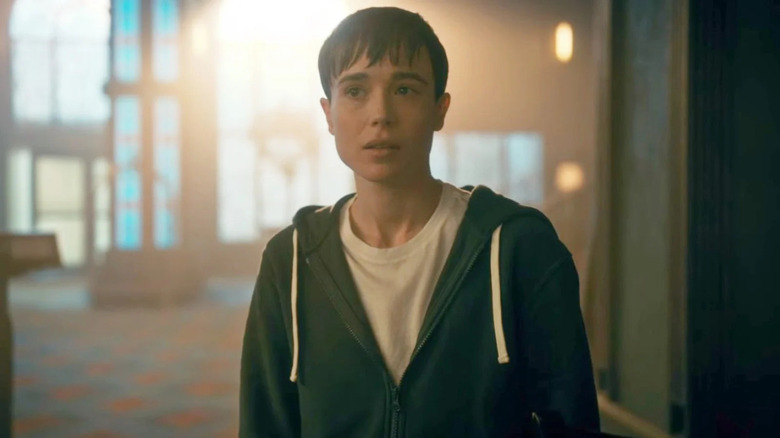 Netflix
This post contains minor spoilers for "The Umbrella Academy" season 3.
When Elliot Page came out as transgender back in December of 2020, he was only a few months removed from the end of the second season airing of "The Umbrella Academy." In the midst of an onslaught of encouraging comments, Netflix updating his past credits, and the unfortunately common transphobia that run rampant whenever trans people dare to exist, there was also a lot of concern regarding what would happen with his character on "The Umbrella Academy," who was written as a cisgender woman. Fortunately, rather than force Page to essentially act "in drag" or force him to continue acting in roles outside of his gender identity, the folks at "The Umbrella Academy" made the wise decision to have his character transition as well.
I'll admit, I was apprehensive about how "The Umbrella Academy" would handle introducing us to Viktor Hargreeves, as television doesn't have the best track record with introducing transgender storylines. I wasn't worried that "The Umbrella Academy" was going to go full "Friends," "Family Guy," or "South Park" by making his transition something worthy of panic or mockery, but I was concerned that there was going to be some clunky "Love is Love" style cringe. Netflix has established an infuriating reputation over the last few years with their prioritization of blatant transphobia, so safe to say, the bar I had for them was so low it was in hell. 
Fortunately, "The Umbrella Academy" did such a remarkable job handling Viktor's transition, that they have officially set the bar in terms of how to respectfully showcase a transition story.
Bringing in experts
During an interview on Late Night with Seth Meyers, Page made it known that the production team brought on transgender author and boxer Thomas Page McGee to consult on the show. McGee was the first trans man to box in Madison Square Garden, and is a groundbreaking force in the world of journalism. Page met him while working on a miniseries called "Tales of the City," where McGee served as a writer. "Thomas came on board and helped out and I feel proud of it and excited for people to see it," said Page.
At the risk of sounding glib, it's really not hard to write a respectful trans story, especially if actual trans people are involved in the writing process to include their perspectives and experience as a trans person. Full disclosure, any time I write about trans issues in the media, I have my wife, a transgender woman, give it a quick pass to make sure I'm not talking out of turn, and this is coming from a LGBTQIA+ Safe Zone facilitator. If you're going to tell trans stories, hire trans people. It's just that simple. The fact "The Umbrella Academy" hired a transgender consultant as well as consulted with Elliot Page is apparent in the way Viktor's transition is presented, and the show is better because of it.
Viktor's transition is seamlessly incorporated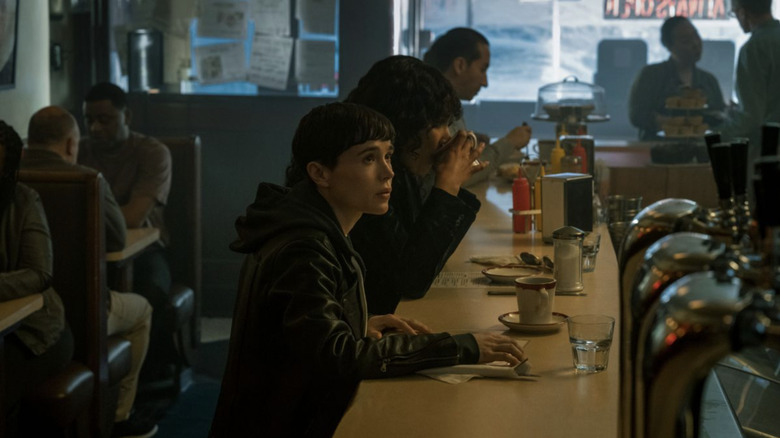 Netflix
Viktor's transition fits in perfectly within the realm of "The Umbrella Academy" and doesn't even crack the top 100 in terms of "surprising changes" experienced by the characters. Rather than tack on a random "SURPRISE, VIKTOR'S TRANS!" moment, the story is related to Viktor's relationship with Sissy in the 1963 timeline of season 2. "She saw me for who I really am," Viktor says in the first episode of season 3. Now in a new timeline, Sissy only exists in Viktor's memories. He sees a poster advertising men's haircuts and recalls something Sissy had said to him: "You don't even notice the box that you're in until someone comes along and lets you out."
The first season saw Viktor completely stifled and borderline shunned by his family, as Sir Reginald Hargreeves was not only selfishly bitter that Viktor shared similar interests as his late wife, but also terrified of Viktor's true power. He kept Viktor at an arm's length from the other super siblings, convincing him that he was "ordinary," rather than encouraging the truth of his being and allowing him to be his true self. When Viktor introduces himself to the family, the siblings compliment his haircut, and his himbo supreme brother Diego incidentally deadnames him, to which he replies "It's Viktor." Diego, confused, asks "Who's Viktor?" to which he asserts, "I am. It's who I've always been. Is that an issue for anyone?" It's not. The supersibs love Viktor as much as they did before, and his identity is immediately affirmed. The signs were always there.
Affirming Viktor is affirming Elliot Page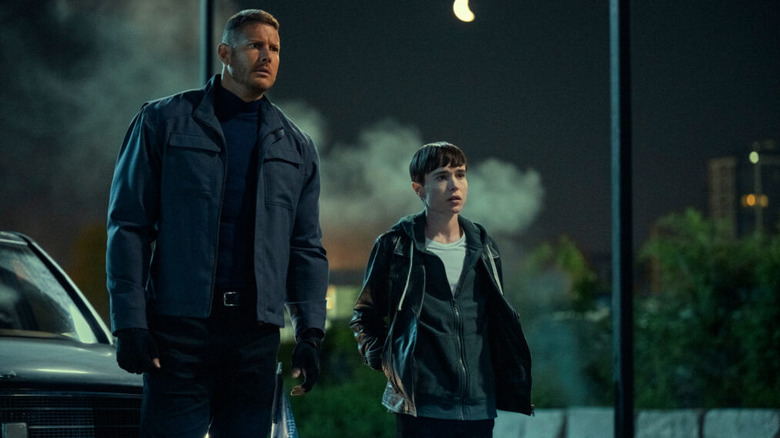 Netflix
Not only is the introduction of Viktor a huge win for transmasc representation in the mainstream media, it's also a huge deal for Elliot Page. This is Page's first role since his transition, and to see it handled with such grace and simplicity is refreshingly poetic. Before transitioning, Viktor's character looked so uncomfortable and unsure of who they were at every turn, but Viktor? He's thriving. Page's performance has excelled in Viktor's skin, delivering some of his best work in the entire series. Every time one of the supersibs compliments Viktor on his new hair or the new energy he's putting out into the world, you can't help but see Viktor's reaction as an extension of how Page is also feeling. Viktor can finally be the leader of the Umbrella Academy as he was always destined to be, and it's because he's finally able to be who he has always been. And Luther was right, the number 10 haircut was a good choice. It does frame Viktor's face quite nicely.
Season 3 of"The Umbrella Academy" is currently available to stream on Netflix.