Ms. Marvel's Matt Lintz Was 'In The Top' Choices For The MCU's Spider-Man At One Point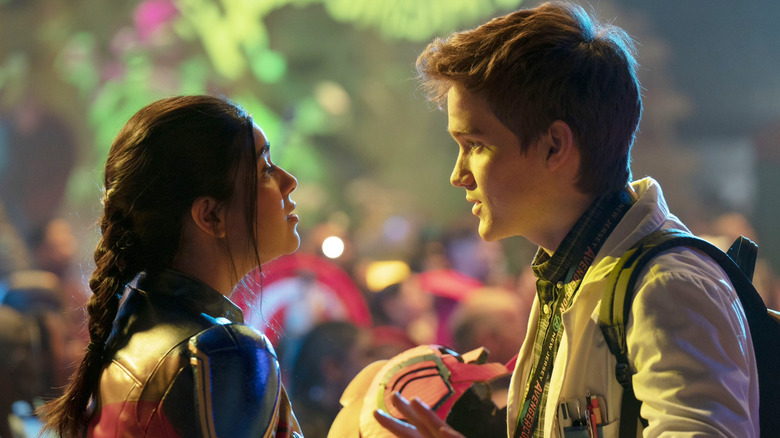 Disney+/Marvel Studios
Time for another round of "Which Marvel Cinematic Universe role did this actor almost play before they joined the MCU?" Yes, it seems the franchise is full of near-misses when it comes to casting — from Loki himself, Tom Hiddleston, auditioning for Thor with blonde locks and everything (don't take my word for it — watch the footage for yourselves) to Sebastian Stan trying out for Captain America before signing on as Bucky Barnes. By and large, though, Marvel Studios has rarely missed when it comes to its casting picks, if not always on purpose.
Such is the case with "Ms. Marvel," which features a pitch-perfect Iman Vellani as Avengers expert and Captain Marvel fangirl Kamala Khan. The actors around her are equally well-suited to their roles, starting with Matt Lintz as Bruno Carrelli, Kamala's best friend who not-so-subtly harbors a crush on his bestie. Given how Lintz makes it easy to buy into Bruno's earnest support for Kamala and his general nerdy teen awkwardness, one could readily picture him excelling just as much in the role of New York's friendly working-class superhero Peter Parker.
According to Lintz, Marvel Studios actually had that very idea at one point. "I was in the top for Spider-Man, which eventually went to this guy, Tom Holland," the actor quipped during an interview with Insider. He playfully added, "I don't know if you know who he is."
'Life has come full circle'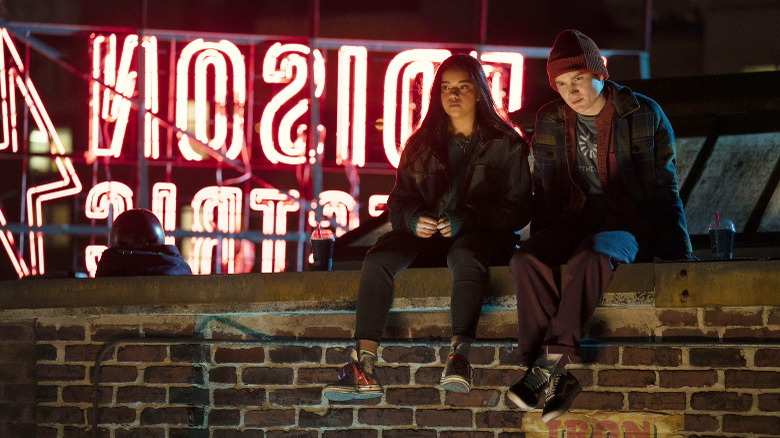 Disney+/Marvel Studios
Both Tom Holland and Matt Lintz had been acting in films and TV for years by the time they auditioned to play Spider-Man in the Marvel Cinematic Universe. Lintz got his start when he was only eight years old with a role in Rob Zombie's decidedly un-kid-friendly 2009 sequel "Halloween II." In fact, acting in horror projects was kinda his thing for a while. He went on to co-star in Breck Eisner's "The Crazies" remake in 2010 before popping up in John Gulager's horror-comedy sequel "Piranha 3DD" two years later. Lintz even had a recurring stint on "The Walking Dead" right before joining "Ms. Marvel."
One would imagine Holland's age (he's five years older than Lintz), combined with his athletic prowess, gave him an advantage over his fellow would-be Peter Parkers. Far from being sore about it, Lintz said he was excited to meet Holland when he paid the "Ms. Marvel" cast a visit during production on "Spider-Man: No Way Home" (which filmed in Atlanta at the same time as "Ms. Marvel"):
"It was cool because he ended up coming to one of our sets one day and I just got to speak to him, and I look up to him in so many ways. He's such an amazing person and an actor and it seems like life has come full circle."
Quite right. As, again, has often been the case for the MCU, the right actors ended up in the right roles. Lintz is doing a great job opposite Iman Vellani on "Ms. Marvel," and Holland has proven himself a worthy successor to the Spider-Man throne. Now, if only he could curb his habit of blabbing spoilers... (Just kidding. Like anyone really wants that?)
New episodes of "Ms. Marvel" premiere on Wednesdays on Disney+.