They/Them Teaser: Kevin Bacon Returns To The Summer Camp Slasher Genre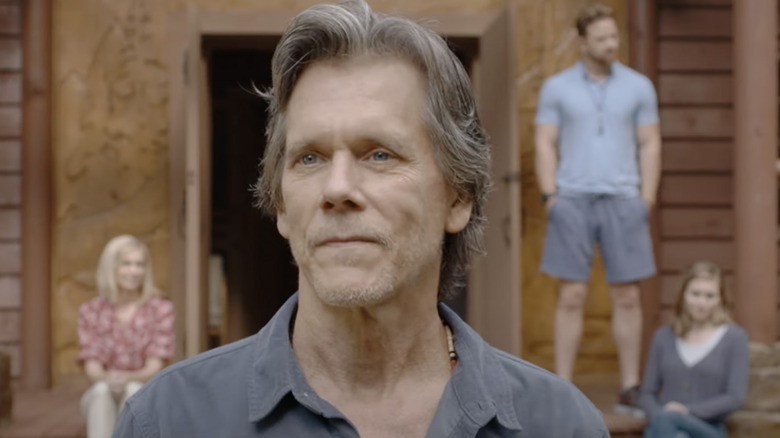 Peacock
You can take the boy out of the camp slasher, but you can't take the camp slasher out of the boy. Kevin Bacon was a young star on the rise when he booked a sweet gig in a little low-budget horror movie about a bunch of horny camp counselors setting up for camping season on the traditionally unlucky date of Friday the 13th. The rest is history! Bacon found mainstream success shortly thereafter, but to his credit hasn't shied away from horror in the years since, appearing in stuff like "Tremors," "Hollow Man," and "Stir of Echoes." But now he's going back to camp in this new film from Blumhouse and Peacock called "They/Them," a masked killer movie set at a conversation camp for LGBTQ+ clients.
That's already a horror story based solely on the premise. Gay conversion treatment is notoriously barbaric and ineffective, but with the recent legislative attacks on the LGBTQ+ community, a horror movie set at a conversion camp where the queer and non-binary characters are under both physical and psychological attack is about as timely as you can get.
The movie is slated to debut on Peacock on August 5, 2022, and they've released the very first trailer, which you can watch below.
A slasher of a different color
One thing of note, "They/Them" is the directorial debut of John Logan, one of the industry's best screenwriters. He wrote "The Aviator," "Gladiator," "Hugo," "Skyfall," and one of the best unproduced projects I've ever read, a screenplay adaptation of the video game "Bioshock" that Gore Verbinski was supposed to direct right after the third "Pirates of the Caribbean" film. 
Being a good screenwriter doesn't automatically mean you'll be a good director, but we know the script for "They/Them" should be super solid at the very least and every once in a while you'll get a Christopher McQuarrie out of that particular path. From the trailer, I can already see a bit of style showing through, and he cast it very well. Not only do you have Bacon, but you also have Anna Chlumsky ("Veep") and I'll always be happy to see her onscreen. 
The official synopsis describes the movie as "an empowering slasher film," which is also a bit of a relief. We want our gay and queer characters on screen to be flawed and vulnerable, especially in a horror movie, but there's also the danger of getting a little too gleeful in watching a bunch of queer kids getting slaughtered. Perhaps that's the twist? Maybe it's not the youth on the chopping block this time out, but rather the older creeps running the conversion camp? 
I guess we'll see this August!