Why The Black Phone Author Joe Hill Will Be Forever Grateful To Daniel Radcliffe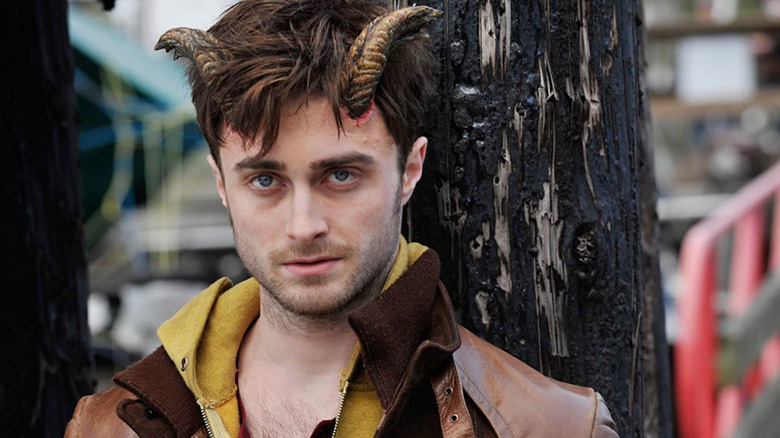 Dimension Films/RADiUS-TWC
If you asked your average non-Daniel Radcliffe super-fan what they thought of his movie "Horns," they would probably give you a blank or confused look. Director Alexandre Aja's horror-comedy bombed at the box office in 2013, grossing a meager $3.9 million. Critics were also tepid on the film as a whole, although it certainly has its admirers. Their ranks include /Film's Hannah Shaw-Williams, who included "Horns" among her favorite movies of all time. Calling it a "a strangely lovely film about finding that one oasis of happiness in an ugly world," Hannah argued that Aja, Radcliffe, and writer Keith Bunin "miraculously" managed to nail the "balance of bitterness and sweetness" of Joe Hill's original 2010 novel.
Adaptations of Hill's writing have become all the rage since "Horns" hit theaters, between films like "In the Tall Grass" and the TV series "NOS4A2" and "Locke & Key." /Film's Jacob Hall recently got to talk to Hill about the latest project based on his work, "The Black Phone," giving him the chance to ask the multi-hyphenate how he would even go about defining "a Joe Hill project." Admitting he didn't have a simple answer to the question, Hill instead voiced his gratitude to Radcliffe and Aja:
"Oh boy, I don't know. I don't know. That's a tougher one. I've been very lucky in terms of the adaptations in that I think everyone has approached them with good faith and love and energy, and that all of them have been pretty good. I'm especially grateful, I'll always be grateful to Daniel Radcliffe and Alexandre Aja for making 'Horns.' I think if they didn't make that film, probably none of these other films and TV shows happen, this tremendous leap of faith."
The dark side of success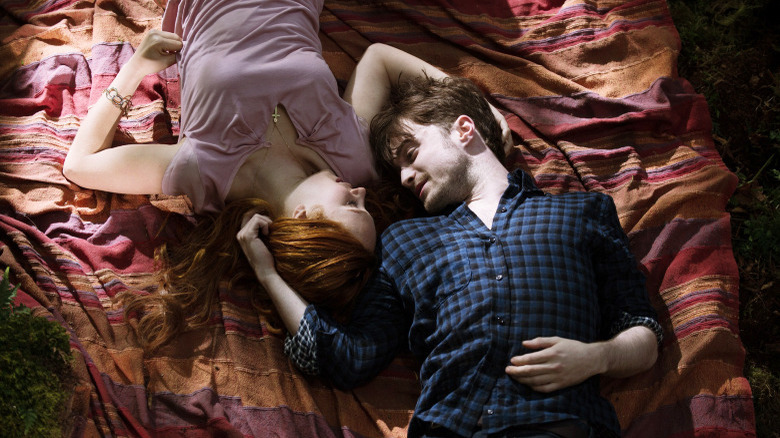 Dimension Films/RADiUS-TWC
"Horns" centers on Ig Perrish (played by Daniel Radcliffe in the film version), a young man whose community wrongly suspects him of raping and murdering his girlfriend Merrin Williams (Juno Temple). After a heavy night of drinking on the one-year anniversary of her death, Ig awakens to find he's grown a magical pair of horns, allowing him to not only influence others to give in to their worst impulses but also confess their darkest secrets. If it sounds like the kind of story that came from a place of unhappiness, that's because it is.
As Joe Hill explained, it all started with the success of his first published novel, "Heart-Shaped Box," in 2007 after his years of writing short stories and novellas:
"And afterwards, I got very depressed. And I mean, it's so corny. It's like, isn't it a big cliche, right? It's a cliche for a reason though. I mean, I couldn't write anything. I couldn't think of any good ideas, and I didn't know how to do another novel, and my marriage broke up, and I was in this depressive tailspin and everything."
Even after coming up with the idea for "Horns," Hill admitted he had a hard time shaking off those feelings of depression:
"And then I got the idea for 'Horns,' and every page was hard. Everything about it was difficult. It was no fun at all. And my editor, Jennifer Brehl, and me made that a good book, but I didn't really know it was good and it didn't feel good. It came out, and people liked it and stuff, and it sold pretty well, but in my heart, I thought, ah, my second book is terrible."
'Maybe it actually is a good book'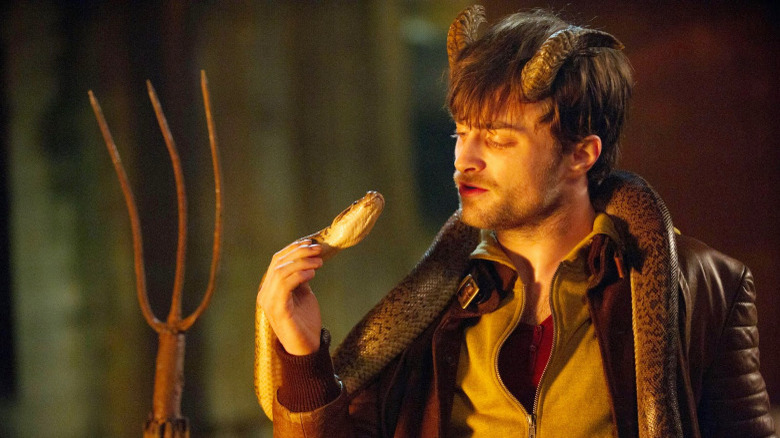 Dimension Films/RADiUS-TWC
It wasn't until Daniel Radcliffe and Alexandre Aja approached him about turning "Horns" into a film that Joe Hill began to think better of the book:
"And then Daniel Radcliffe and Alexandre Aja wanted to make a movie out of it. I started to think, wait a minute, maybe it actually is a good book. And gradually, I've come to feel that 'Horns' is a good novel. The novel was good, I just wasn't happy when I wrote it. The two things are totally disconnected from one another. How you feel when you write a book doesn't necessarily have any basis on its quality at all."
When Jacob Hall said you could feel the difference reading "Horns" between the author who wrote it and the one who wrote Hill's third novel, "NOS4A2" (stating it feels like the work of someone who is "more comfortable in their skin"), Hill very much agreed:
"Absolutely, absolutely. I was about 50 pages into 'NOS4A2,' I had learned how to ride a motorcycle and I had a motorcycle, and I was about 50 pages into 'NOS4A2' and that book suddenly started to feel like going out for a ride on a summer day. You know, I just kind of glided through the pages. I was like, oh yeah, this is how it feels. This is what it's all about. That was a really fun book to write, and actually, 'Horns' was sort of a, touch wood, it's kind of a one time experience. It's mostly all been pretty fun since then."
With "The Black Phone" (which is based on Hill's 2004 short story) getting an enthusiastic reception from critics, it seems those good feelings will only continue for Hill. The film opens in theaters on June 24, 2022.