Frank Grillo Learned An Important Lesson Thanks To Minority Report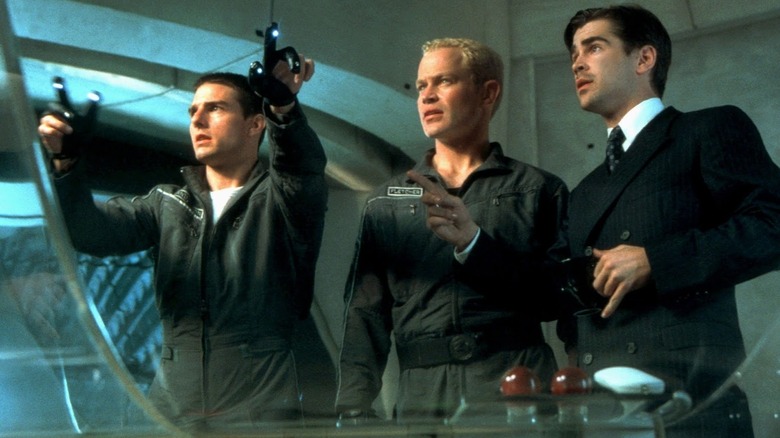 DreamWorks
Readers might recognize actor Frank Grillo from ... well, not from Steven Spielberg's 2002 science fiction thriller "Minority Report." Grillo is perhaps better known for his roles in the depressive survival film "The Grey," the dystopian horror movie "The Purge: Anarchy," as Crossbones in "Captain America: Civil War," or from any number of myriad action films besides; Grillo racked up nine film credits in 2021 alone. And while he does appear on camera in "Minority Report," Grillo has no spoken dialogue in the film's final cut, the actor reading more or less as an extra. He plays one of the many pre-crime cops that works with John Anderton (Tom Cruise) in a future police force dependent on clairvoyance. 
Grillo has been acting in films and TV since the early 1990s, having made his big-screen debut in Arne Glimcher's 1992 musical "The Mambo Kings," and his TV debut the following year on an episode of "Silk Stalkings." He appeared on 110 episodes of the exceedingly long-running (and sadly now-defunct) "Guiding Light," and on several "Law & Order" and "CSI" shows to boot. Because of his expert scowl and handsome "tough guy" look, Grillo had comfortably lived in a niche for the bulk of career, something he is only sometimes comfortable with. In a 2015 interview with Backstage Magazine, Grillo talked about how playing supporting roles is always more interesting to him, but also recalled the time he realized he was hired for his looks and not his talent working on "Minority Report."
The third guy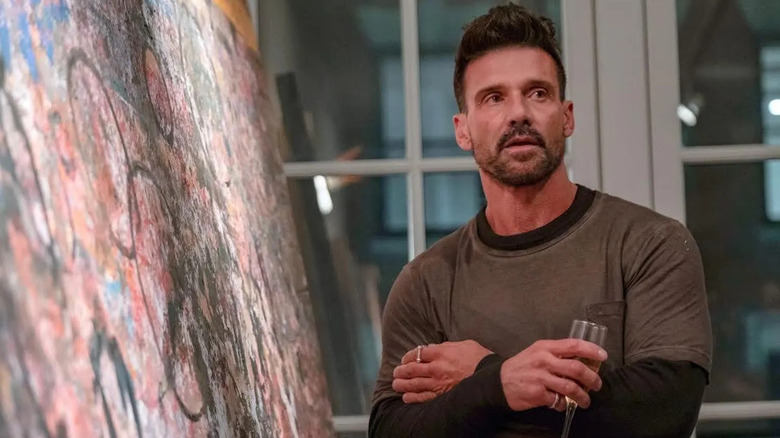 Paramount
Frank Grillo, it seems, is offered bland "leading man" roles on TV shows with regularity. Grillo understands a fundamental problem with protagonists, however: Because they are meant to stand in for the audience, they must possess a particular lack of personality. It's better than a leading man be at least 20% cipher as a means to allow the viewer to relate to them. He prefers characters a little bit further down on the casting sheet. 
"A lot of times, especially with TV, I would get these scripts and I'm like, 'Oh, they want me to be the good-looking guy who's a little bit of a rascal,' It's just boring. I like the third guy: He doesn't say very much, but there's something about him. You can create a character."
The problem with auditioning for slightly-off-to-the-side characters, according to Grillo, is casting agents tend to seek actors who have a slightly-off-to-the-side look. Grillo, with his awesome hair fighter's physique and handsome features, has too much of a "leading man" look to play the kinds of roles he wants. It's a fact of show business that many people are hired merely for the way they look. In the Backstage interview, Grillo revealed that his agent told him as much to his face: 
"My agents would say, 'OK, here's your problem, Frank: You look this way. They want a quirky guy for that role, and they don't see you as a quirky guy.' That was my dilemma."
Call it Brad Pitt syndrome. He was too handsome to play "weird."
I never want to feel this again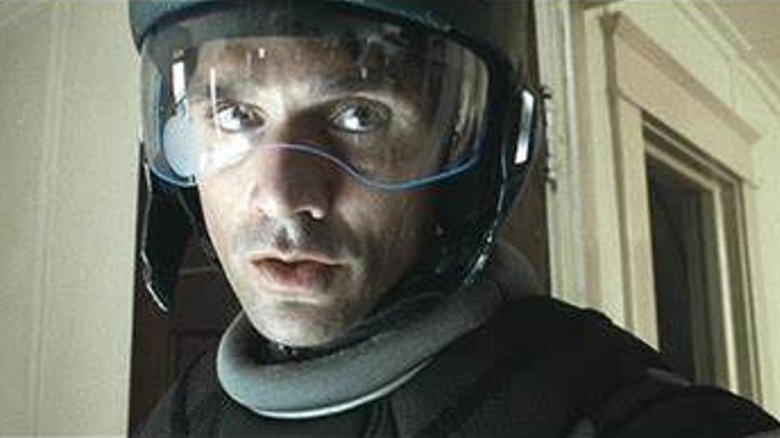 DreamWorks
In 2001, Frank Grillo didn't have to audition for his small part in Steven Spielberg's "Minority Report." It seems, he said in Backstage, that Spielberg requested him specifically. In his words he had "three big scenes" wherein he would have some notable dialogue. Rather than be flattered, though, Grillo found he was, once again, being cast for his face and not his talent. Shooting, he says, was a very positive experience, and he was treated well by the director and the leading man. But he began to feel like another background character:
"Steven was great, and Tom Cruise was great, and everybody was nice. But [my part] had nothing to do with acting. There was nothing actable about it." 
When Grillo went to the premiere of "Minority Report" in June 2002, he found his "three big scenes" had been cut from the final movie, most certainly shunting him off to the side, leaving him feeling, it seems, kind of disposed of. "I was like, 'OK, I never wanna feel this again. It took me a while to understand when I need to say no."
Tactfully saying no seems to have done well for Grillo, and his plentiful and varied film and TV projects seem to have borne that out. His next project is playing the lead character in "Lamborghini," a biopic of Ferruccio Lamborghini, the inventor of the high-end sports cars. Jonathan Pryce will play Enzo Ferrari.