Brad Pitt Isn't Exactly Proud Of His Performance In Troy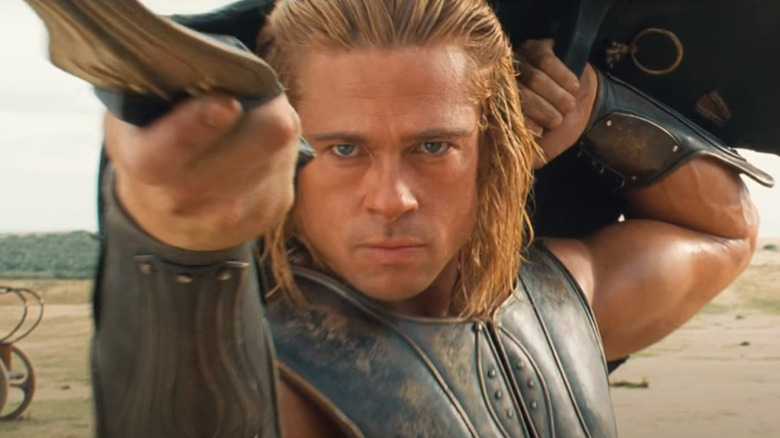 Warner Bros.
Wolfgang Petersen's 2004 peplum flick "Troy" is a large, clunky, gorgeous hunk of oiled-up idiocy that, while financially successful, failed to gain traction in the critical consciousness. Petersen's version of "The Iliad" was a Hollywood-ready battle movie with Orlando Bloom as Paris, Brian Cox as Agamemnon, Eric Bana as Hector, Sean Bean as Odysseus, and Diane Kruger as Helen of Troy. Petersen even used modern CGI to create the thousand ships launched by her face. Brad Pitt, who also served as executive producer, starred as Achilles, the broody warrior whose invulnerability made battle ironically dull to watch. A centerpiece of the original story, in "Troy,"  Achilles' best friend and lover Patroclus (Garrett Hedlund) was made merely a cousin. 
Another common criticism of "Troy" was the noticeable absence of gods. In "The Iliad," the gods interfere in battle at every available opportunity, and their petty caprices often change the tides of the war between the Greeks and the Trojans. Viewing mythical characters like Achilles and Helen as mere human beings made the story less exciting when compared to its source material — and make no mistake, Petersen was aiming for excitement, not a realistic war drama. Overall, the general feeling about "Troy" was one of mild disappointment. 
In a 2019 interview with The New York Times Magazine, Pitt confessed that he, too, wasn't so impressed with "Troy." He didn't feel he gave a very good performance, and the whole experience led him to re-evaluate the way he made career decisions.
The center of the frame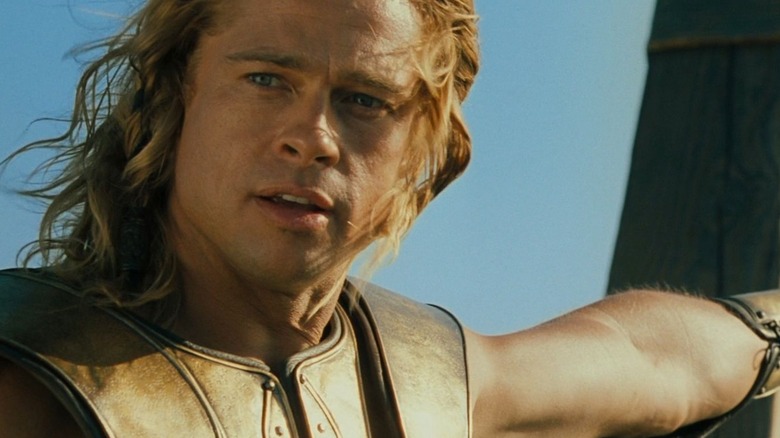 Warner Bros.
The interviewer notes that Pitt's career shifted sometime around 2004 when he began appearing in a wider variety of films, often made by notable auteurs. Pitt says that before "Troy," he followed some perhaps-not-excellent advice on where to take his career, eschewing some more interesting films to focus on commercially viable projects. 
"It was really a turn on 'Troy.' I was disappointed in it. When you're trying to figure things out in your career, you get a lot of advice. People are telling you that you should be doing this, and other people are saying you should be doing that. There was this defining film I never got to do, a Coen Brothers film called 'To the White Sea.' We had an opportunity to go, and then it was shut down. Then another interesting opportunity arose, and instead I was talked into: 'No, you need to be doing this other thing. You can get to your art project later.' I ended up taking that advice."
Pitt says that "Troy" wasn't the film that interrupted other projects — he was already contractually committed — but experiencing "Troy" and the way Petersen made it caused Pitt to come to an important realization about how he is physically filmed, how leading men are treated by a camera, and how movie stardom is not the same thing as story. As a "handsome leading man" type, Pitt takes more of "Troy's" screen time than expected:
"What am I trying to say about 'Troy?' I could not get out of the middle of the frame. It was driving me crazy. I'd become spoiled working with David Fincher. It's no slight on Wolfgang Petersen; 'Das Boot' is one of the all-time great films. But somewhere in it, 'Troy' became a commercial kind of thing. Every shot was like, 'Here's the hero!' There was no mystery. So about that time I made a decision that I was only going to invest in quality stories, for lack of a better term. It was a distinct shift that led to the next decade of films."
Working with Fincher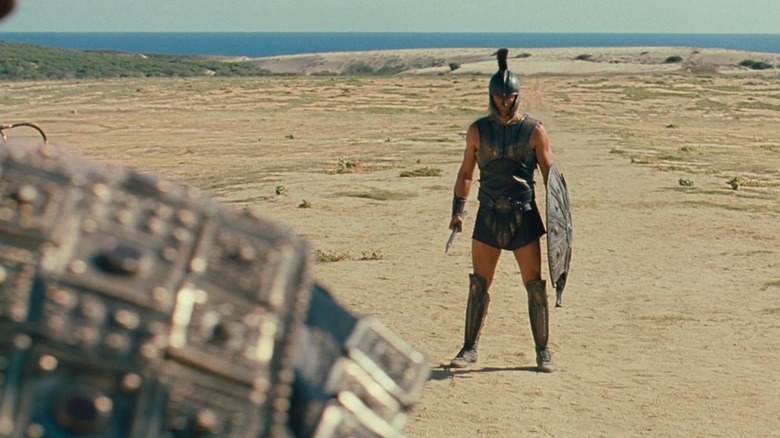 Warner Bros.
Although it was made by his own production company, Pitt seems to have been a little blindsided by how its director transformed it into a mystery-free tale of bland Hollywood heroism. There are many ways to film "The Iliad," and Pitt seems to have expected something a little artier or classier:
"['Troy'] really made me think, I'm following my gut from here on out. I had to do 'Troy' because — I guess I can say all this now — I pulled out of another movie and then had to do something for the studio. So I was put in 'Troy.' It wasn't painful, but I realized that the way that movie was being told was not how I wanted it to be. I made my own mistakes in it."
Following "Troy," Pitt appeared in a few other commercial projects ("Ocean's 12," "Mr. and Mrs. Smith") before moving onto more interesting projects like "Babel," "The Assassination of Jesse James by the Coward Robert Ford," and "Burn After Reading." After a while, auteur-forward prestige films like "The Tree of Life," "Moneyball," "Fury," and "The Big Short" became the norm for Pitt. If he did appear in the occasional blockbuster, it was to send up his image as a Hollywood leading man. His cameo in "Deadpool 2" is hilarious, as is his fate in 2022's "The Lost City." 
As a producer, Pitt's production company Plan B has handled some of the more striking high-profile indie films of recent years, including "12 Years a Slave," "Moonlight," "If Beale Street Could Talk," Bong Joon-ho's "Okja," Miranda July's "Kajillionaire," and Lee Isaac Chung's "Minari." The studio's next films will be Maria Schrader's "She Said," Sarah Polley's "Women Talking," and the already controversial "Blonde." That's an A24-caliber lineup.
Notably, in 2019, he won an Academy Award for his role in "Once Upon a Time in... Hollywood." It seems that the lessons from "Troy" were taken to heart.