The Assassination Of Jesse James Director Says There's A Longer, Better Cut — But We Won't Get To See It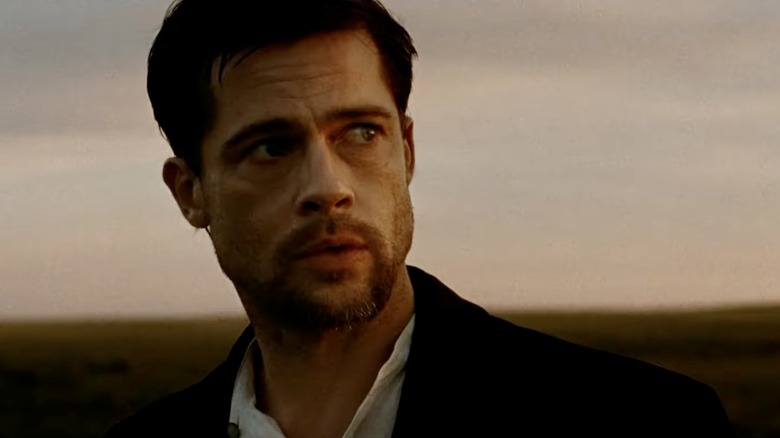 Warner Bros.
Writer-director Andrew Dominik only had one feature film under his belt when he teamed with Brad Pitt and Casey Affleck for "The Assassination of Jesse James by the Coward Robert Ford," a revisionist 2007 Western that put its characters at the intersection between celebrity and notoriety and interrogated the myth-making behind the titular outlaw and his eventual killer. The film was not a commercial success; according to Box Office Mojo, it only recouped half of its $30 million budget. However, it marked an assured sophomore effort for Dominik, and in the 15 years since its theatrical release, esteem for it has grown to where its legacy now encompasses an open range of cinephiles across the world.
With a running time of 2 hours and 40 minutes, "The Assassination of Jesse James by the Coward Robert Ford" unfolds as a meditative, Malickian character study, complete with magic-hour cinematography by Roger Deakins, who received an Oscar nomination for his work. Pitt had co-starred in "Troy" with Eric Bana, who served as Dominik's leading man for the 2000 crime drama "Chopper," and Pitt and Dominik would reteam for "Killing Them Softly" in 2012. Yet even with a star like Pitt in his corner, Dominik faced a great deal of studio interference during the editing process of "The Assassination of Jesse James by the Coward Robert Ford."
Dominik, Pitt, co-producer Ridley Scott, and editors Dylan Tichenor and Curtiss Clayton reportedly worked up numerous test versions of the film. Speaking to Collider, Deakins at one point mentioned that there was "a four-hour version," and that he saw and fell in love with another cut that was "over three hours." While promoting his Nick Cave and Warren Ellis documentary, "This Much I Know to Be True," and his upcoming Marilyn Monroe biopic, "Blonde," starring Ana de Armas, Dominik recently said:
"Listen, we tried to get Warner Bros. to allow us to release a longer version of it. They're not interested in doing it, and I think somebody tried to petition Criterion to do it. Criterion were not interested in Jesse James. There is a better version of Jesse James—in my opinion—that's about 15 minutes longer. And that's the one that Roger was talking about."
What's missing from the theatrical version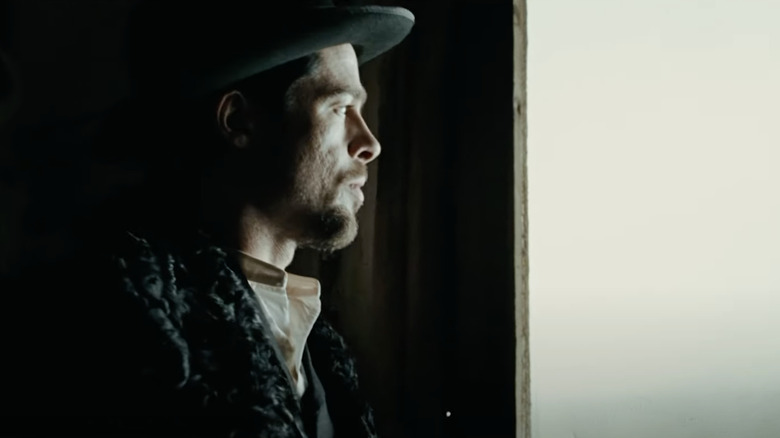 Warner Bros.
Dominik added that he even once contemplated doing a director's cut of "The Assassination of Jesse James by the Coward Robert Ford," with the catch that it would only be available to rent from one video store near his home in the Los Feliz neighborhood of Los Angeles. Though Deakins said Dominik "was quite happy with the version that got released," Dominik himself revealed that there was a missing scene in the theatrical version that he felt would have made the film better. He said:
"The problem with it was—the really good scene in the film, it sat in the version that was 15 minutes longer. It didn't sit in the version that was only five minutes longer. Although, I think in that version, we used a truncated version of the scene, but there's the moment where the film was done, in my opinion. That was the one that was 15 minutes longer."
Video stores may largely be a thing of the past now (not unlike the Old West), and "The Assassination of Jesse James by the Coward Robert Ford" is not currently available to stream anywhere. However, you can still rent it from digital outlets like iTunes or purchase it on physical media. Though we may never see the three-hour cut of Dominik's film, any way you slice it in the editing room, "The Assassination of Jesse James by the Coward Robert Ford" still turned out pretty great and is worth revisiting sometime this year as it celebrates its 15th anniversary.