How Bill Murray's Ghostbusters Performance Inspired Bruce Willis' Breakout Role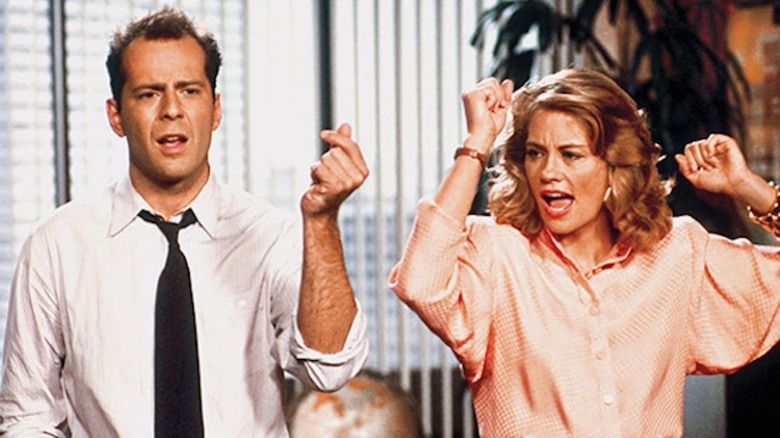 ABC
Bruce Willis is typically most associated with the film franchise "Die Hard," and unless you were around in the 1980s, that was likely your introduction to him. But before becoming a Hollywood A-lister, Willis paid his dues on the groundbreaking television series "Moonlighting." The show ran for five seasons on ABC and costarred Cybil Shepherd.
The premise of the romantic comedy paired opposites Maddie Hayes (Shepherd) and David Addison (Willis) at the Blue Moon Detective Agency. Hayes was a bankrupt former model while Addison was the head of the failing detective agency owned by Hayes. The two proved to be a dramatic, often comical crime-solving duo, with a will-they-won't-they subplot that ran throughout the majority of the series. The show was meta in the way it defied conventional TV rules, including breaking the fourth wall with snarky character commentaries.
They make for an odd couple because Hayes was responsible and put-together while Addison was wisecracking and carefree, a trend that mirrored what was happening at the time with Hollywood heroes. In fact, a well-known character from a wildly popular movie the prior year left Willis seemingly moonlighting as Bill Murray during the show's run, helping Willis create his longstanding Hollywood persona.
'Television as if it was a movie'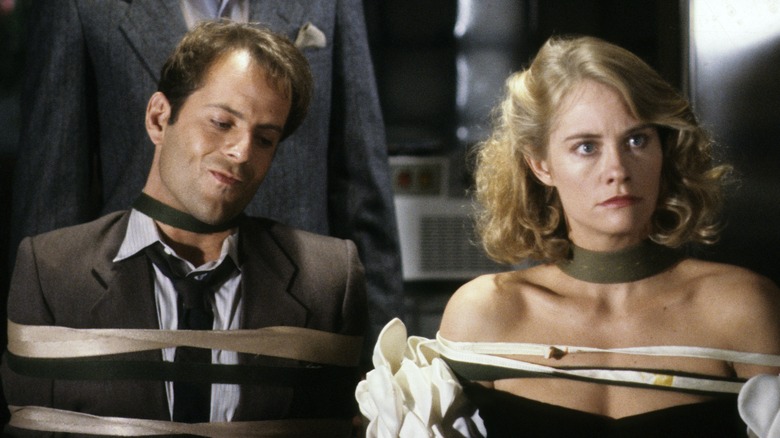 ABC
Bruce Willis wasted no time putting his stamp on the character. As Salon described David Addison in the series: "Watching [Willis] in this show is to immediately grasp the entire Bruce Willis 'thing,' to understand the fount of his charm and why he will be dishing out one-liners for the rest of his life." But the "thing" Salon refers to didn't start with Willis or even "Moonlighting."
Series creator and veteran TV writer and producer Glenn Gordon Caron wanted to be in the film business, but by 1985 the closest he'd gotten was writing the made-for-TV movie "Concrete Beat." After writing several episodes and serving as supervising producer for a dozen episodes of the popular Pierce Brosnan TV series "Remington Steele," Caron was ready for the next step, and that opportunity came in "Moonlighting."
Instead of waiting for Hollywood, he'd bring Hollywood to television. Caron pitched the series that featured complex characters and narratives not typical in television to ABC. According to Vanity Fair, the idea was to put the relationship between the detectives at the forefront, with a focus on an emerging new character type. Caron said:
"Just before I sat down to write 'Moonlighting' I saw 'Ghostbusters,' and the amazing performance that Bill Murray gave. It was just a style of comedy going on with young actors like Tom Hanks. It was an irreverence, but that irreverence wasn't reflected in prime-time television at all. At that moment in time, the place that would have me was television. So I thought, 'Well, I'm going to do television as if it was a movie.'"
The character Caron created for Willis helped turn the actor into a megastar in just a few short years.
A new action hero for the 1980s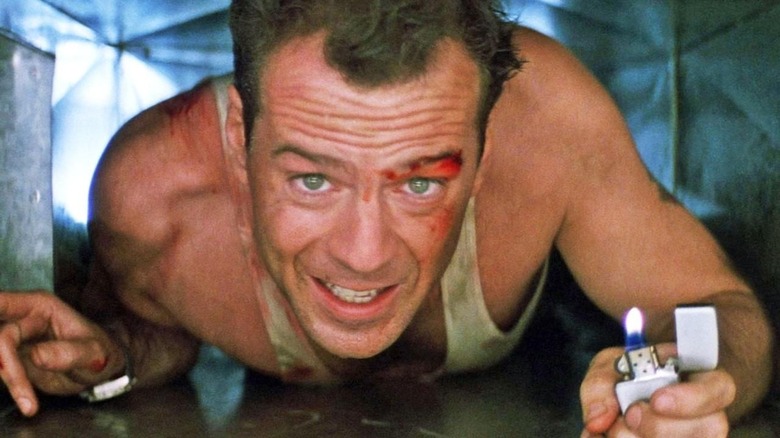 Twentieth Century Fox
"Moonlighting" was a smart, quirky, progressive show that was built on Willis' portrayal of the new antihero being forged in Hollywood. A strange hybrid of Sylvester Stallone and Woody Allen emerged in the early 1980s, creating a quick-witted, flawed, less masculine action hero archetype. You could argue it began with Han Solo in "Star Wars," a charismatic hero as likely to talk his way out of trouble as he was to fight (or blast) his way out of it. The character would be further developed by comedic actors like Bill Murray as Peter Venkman in "Ghostbusters" and finally perfected by Willis as John McClane in "Die Hard."
David Addison's DNA certainly looms large in John McLane and future Willis characters in movies like "Hudson Hawk" and "The Last Boy Scout." The irony of Willis' growing success in the late '80s is that it partially led to the end of "Moonlighting." By the third season, Shepherd's pregnancy and on-set squabbles coupled with busy schedules meant infrequent episodes or episodes without the stars appearing on screen together. Willis starred in 1987's "Blind Date" before the career-making role of John McLane in "Die Hard" the following year.
In the spring of 1989 "Moonlighting" limped to a fifth and final season, and by then Willis' status as Hollywood's hottest new leading man was cemented. In what would become a nearly four-decade career in Hollywood, Willis would revisit the John McClane character often, starring in five "Die Hard" movies. The character's origins date back to a shift in what a modern action hero looks like, with some help along the way from a sometimes forgotten '80s television series.