The 12 Best Bruce Willis Movies, According To Letterboxd — Did They Get It Right?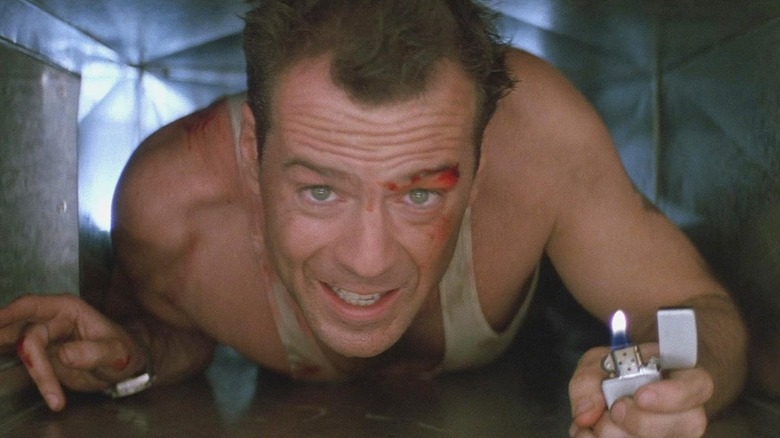 20th Century Fox
Walter Bruce Willis is one of the great movie stars of our lifetime. Though he may have recently retired, he's left us with a rich, varied, and thoroughly entertaining body of work. From big, action-heavy hits to sci-fi stunners to indie darlings, he's brought his low-key, blue-collar-hero swagger to all manner of films, and the world is simply better off for it.
Letterboxd is a social media site for film lovers, self-proclaimed film geeks, and anyone else just wanting to log on and review movies in a social setting. It's been growing in popularity, and with it, a steady stream of data has been logged, resulting in crowdsourced rankings of films that can be sorted by genre, year, filmmaker, or star, including the aforementioned Bruce Willis.
All that leads us to this article that essentially serves as an investigation into whether or not Letterboxd's ranking of the 12 best Bruce Willis movies holds up under a microscope. Let's dive in and find out.
1. Pulp Fiction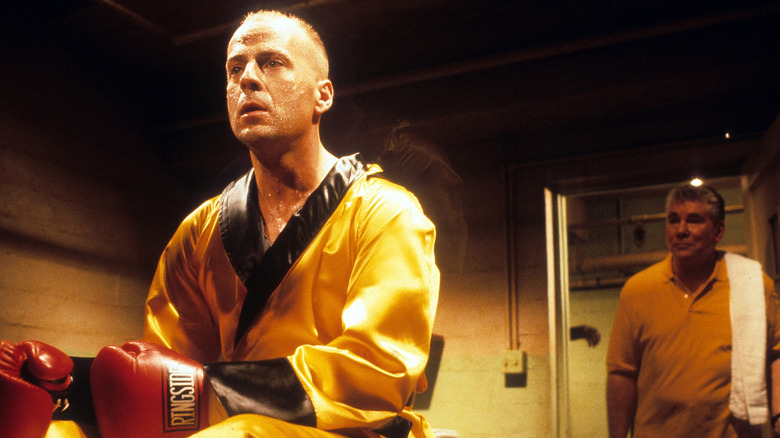 Miramax
The No. 1 best Bruce Willis movie according to Letterboxd is "Pulp Fiction." It's a result that's hard to argue with. Quentin Tarantino's ensemble-led, commercial breakout film earned the director his first Academy Award nominations and first win for Best Screenplay, helped revitalize the career of John Travolta, made a star out of Uma Thurman, and gifted us with some iconic scenes and performances along the way.
The profanity-laden, graphically-violent black comedy indie was a little bit of a departure for Willis, who was already a big action star at the time thanks to his role in "Die Hard," but his portrayal of the tender-hearted boxer Butch Coolidge in "Pulp Fiction" added an extra layer of emotional resonance to the film in addition to infusing with it subversively cool star power that helped give it validity.
"Pulp Fiction" is widely considered to be a touchstone of postmodern cinema, and as mentioned earlier, it's hard to argue with it being the best Bruce Willis movie, though one could also argue that "Die Hard" might be the better choice, and that's just what this writer is about to do.
2. Die Hard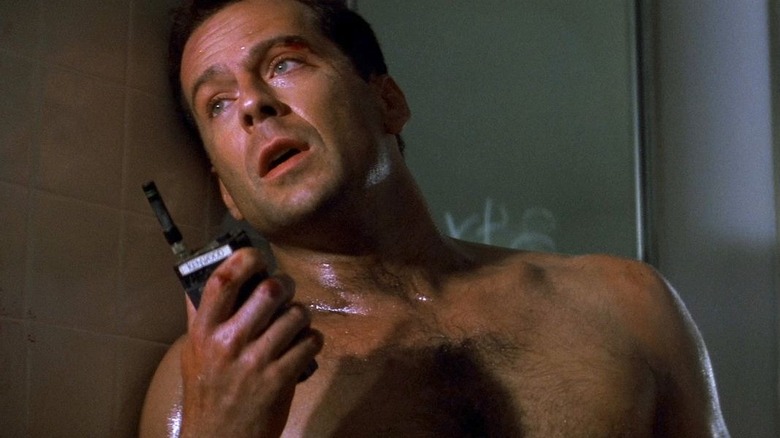 20th Century Fox
Though clocking in at No. 2 in current Letterboxd rankings, "Die Hard" is, in this writer's opinion, the absolute best Bruce Willis movie. That's right, kids, in this instance, Letterboxd is quite simply wrong.
After having broken out in the comedic TV series "Moonlighting" opposite Cybill Shepherd, Willis appeared in the romantic comedy film "Blind Date" and a largely forgettable Blake Edwards film, "Sunset," but his role as NYPD detective John McClane in the action classic "Die Hard" launched him into mega-star territory, melding his natural low-key charisma and everyman hero persona with a perfect screenplay and some unforgettable set pieces. It's a beloved action blockbuster that remains a Christmas movie staple as well, and it's hard to imagine it being as great of a film with anyone other than Willis in the starring role.
Pitting McClane against a group of terrorists who have taken over the Nakatomi Plaza building on Christmas Eve, "Die Hard" makes for thoroughly entertaining fare. Having just picked up a tip to make "fists with your toes" to help combat his stress, McClane ends up shoeless as he navigates an elevator shaft, taunts terrorists, and jumps off the rooftop of a skyscraper. There's so much to love about "Die Hard," and McClane is a guy you simply want to root for. That one of the hostages happens to be his estranged wife (Bonnie Bedelia) adds a level of bittersweet romance to the proceedings. Alan Rickman as lead terrorist, Hans Gruber, makes for the perfect villain, and (spoiler alert) his demise remains one of the classic death scenes in cinema history. It all makes for an endlessly rewatchable cinematic gem.
3. Moonrise Kingdom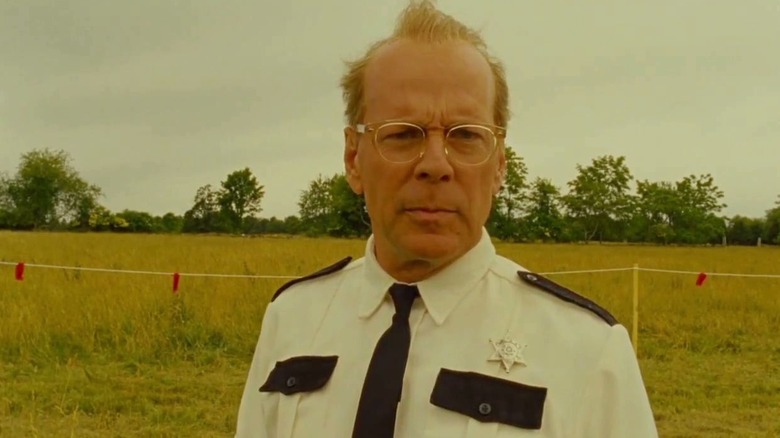 Focus Features
Landing at No. 3 on Letterboxd's ranking of the best Bruce Willis movies is Wes Anderson's celebration of the awkwardness of young love, "Moonrise Kingdom." It's a solid ranking for a whimsically great film. However, considering that "Moonrise Kingdom" isn't Wes Anderson's best film (that title goes to "The Grand Budapest Hotel," but that's another story), does "Moonrise Kingdom" deserve its esteemed ranking as the third-best Bruce Willis movie? Perhaps.
But maybe this slot would have been better reserved for other Bruce Willis classics like "The Sixth Sense," "12 Monkeys" or "The Fifth Element?" Or maybe even the excellent Robert Zemeckis-directed black comedy, "Death Becomes Her?" Don't get me wrong, "Moonrise Kingdom" is a very sweet, smartly funny, and charming movie in its own right. As Paste Magazine astutely noted, Willis' role as the sweetly dumb policeman Captain Sharp is the "beating heart of the film" in addition to being "one of the last meaningful roles" the great actor would take on before his early retirement.
The story revolves around two 12-year-olds, Sam and Suzy, who run away together on the New England island of New Penzance. Captain Sharp, who is having an affair with Suzy's mother (Frances McDormand), is at the center of the search for the young couple and eventually becomes Sam's guardian. It's a subdued but poignant role that Willis embodies with touching ease. Still, I might have placed "Moonrise Kingdom" just ever so slightly lower on the list of Bruce Willis' best movies.
4. The Sixth Sense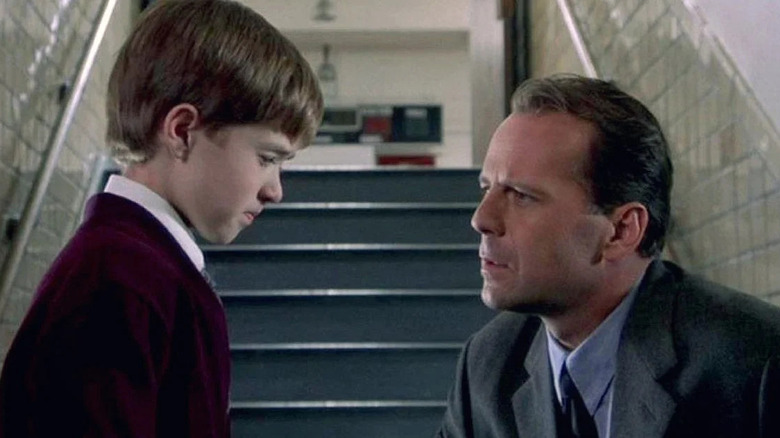 Buena Vista Pictures
"I see dead people." It was the whisper heard around the world back in 1999 when "The Sixth Sense" premiered in theaters and became an international box office sensation thanks to its spooky factor, its infamous twist ending, and its star, Bruce Willis.
Willis stars as Malcolm Crowe, a child psychologist assigned to the case of a 9-year-old boy named Cole Sears (Haley Joel Osmont), whose unnerving ability to see ghosts gives "The Sixth Sense" its title. The film frightened audiences everywhere and got everyone talking about its final act, which involves a shocking reveal that helped make writer-director M. Night Shyamalan a household name. Shyamalan would go on to include twist endings in his subsequent films, so much so that it became a hallmark of his work — for better or for worse.
That aside, "The Sixth Sense" is actually a pretty darned good movie that was nominated for six Oscars. It currently sits at No. 4 on Letterboxd's list of great Bruce Willis movies, and it certainly deserves its slot in the top five.
5. The Player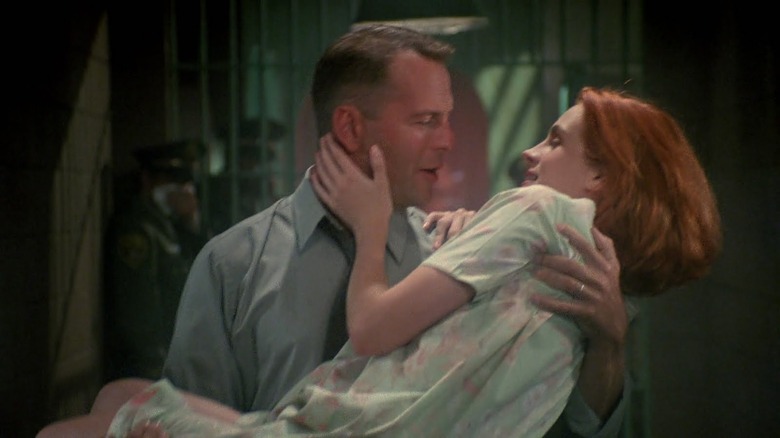 Fine Line Features
Robert Altman was one of the great auteurs of cinema, having been the filmmaker behind such classics as "M*A*S*H," "The Long Goodbye," "Nashville," and his scathing 1992 satire of Hollywood, "The Player," which stars Tim Robbins as Griffin Mill, a studio executive who finds himself in a precarious situation after murdering a screenwriter then proceeding to date his girlfriend (Greta Scacchi).
A hallmark of Altman's work was his use of large ensemble casts, and "The Player" is no exception. Among the expansive cast and many cameos, Bruce Willis plays a small but important role in the film essentially as himself. It's a running gag in the storyline that Bruce Willis and Julia Roberts are perfect for every role except for the film that Mill plans to make. The joke at the end of "The Player" is that the film (within a film) "Habeus Corpus" premieres, and it ends up starring guess who — Bruce Willis and Julia Roberts.
The nature of Bruce Willis' role in "The Player" is a testament to the power of his stardom at the time. Of all the stars in Hollywood, it was Willis (and Roberts) whose gravitational pull the rest revolved around. As far as "The Player" being the No. 5 best Bruce Willis movie, we'll buy it, but let's be honest, the spot could have just as easily gone to the next film on the list, "12 Monkeys."
6. 12 Monkeys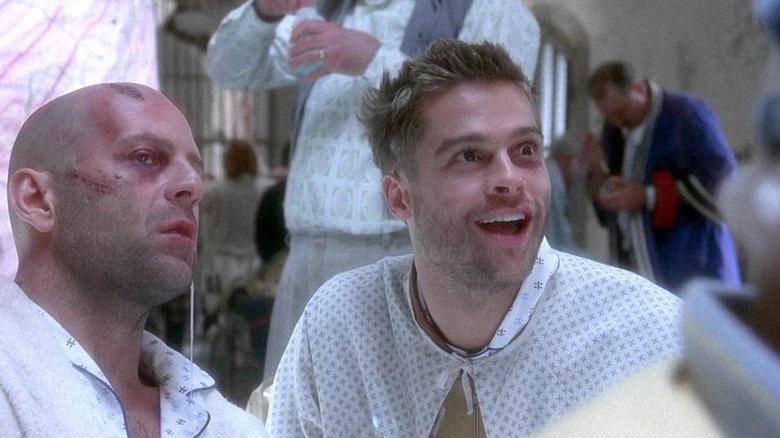 Universal
Letterboxd deserves credit for ranking Terry Gilliam's "12 Monkeys" at No. 6. Although I'd argue it just as easily belongs in top-five territory, the extremely weird, heady-yet-utterly-insane sci-fi thriller initially went over many critics' and audience members' heads, so it's great to see that it's found an appreciative fan base through the years.
The rather wild plot revolves around Bruce Willis as James Cole, a prisoner in the year 2035 sent back in time to gather information about the origins of a plague that wiped out most of humanity in 1996. When he inadvertently ends up in 1990 before the plague occurs, he ends up in a mental institution where he meets the bizarre James Goines (Brad Pitt, who was nominated for an Oscar for the role), who happens to be the son of a virus researcher and later becomes implicated in the plot to unleash the plague. The rest is a mind-trip of a sci-fi thrill ride that is not only thought-provokingly entertaining but, considering that we've been in the midst of our own worldwide plague, more relevant now than ever.
7. The Fifth Element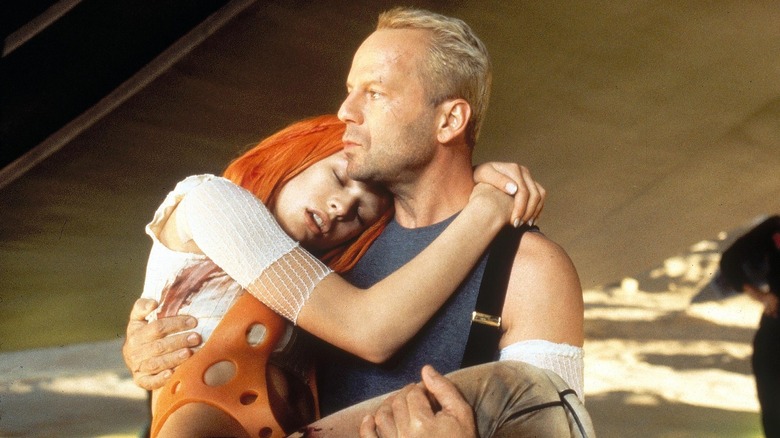 Columbia Pictures
Coming in at No. 7 on the list of best Bruce Willis films according to Letterboxd is Luc Besson's "The Fifth Element," a campy, over the top sci-fi-action feast for the senses.
Willis plays futuristic New York City cab driver Korben Dallas, who finds himself responsible for saving the planet after a young woman named Leeloo (Milla Jovovich) falls into his cab. Leeloo, as it turns out, is the titular fifth element, and she and Dallas along with the flamboyant Ruby Rhod (Chris Tucker) need to find the other four elements if they're going to save the world from Zorg (Gary Oldman) and evil.
An unwitting hero, Dallas is another perfect character for Willis and an extension of the same type of blue-collar protagonist audiences fell for in "Die Hard." A bonus is that "The Fifth Element" takes place both in the future and in space. It's an outrageously fun vehicle that deserves the No. 7 slot on Letterboxd's list of the best Bruce Willis movies.
8. Unbreakable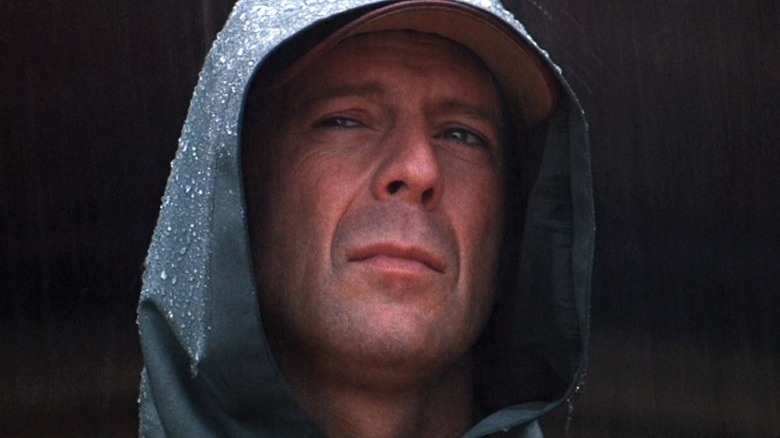 Universal
Released in 200, "Unbreakable" would see Bruce Willis re-teaming with "The Sixth Sense" director M. Night Shyamalan for another dark and twisted tale. This one is more of a gritty urban superhero-style affair.
The story revolves around Willis as David Dunn, a security guard who finds himself surprisingly unscathed after being involved in a terrible train crash in which he is the only survivor. Soon, he receives an invitation from comic book expert Elijah Price (Samuel L. Jackson), who convinces David that the reason he survived the crash unharmed is that he has superhuman abilities, including, as he later learns, the ability to see visions of crimes committed by people he touches.
In typical Shyamalan fashion, the plot holds a surprise reveal for the end. While "Unbreakable" has both its fans and detractors, it's generally considered one of Shyamalan's better works. It's also the only film of his to spawn a trilogy of sorts, including "Split" and "Glass." So does it belong at No. 8 on the list of best Bruce Willis movies? Yes. In this case, Letterboxd has it pretty much right.
9. Grindhouse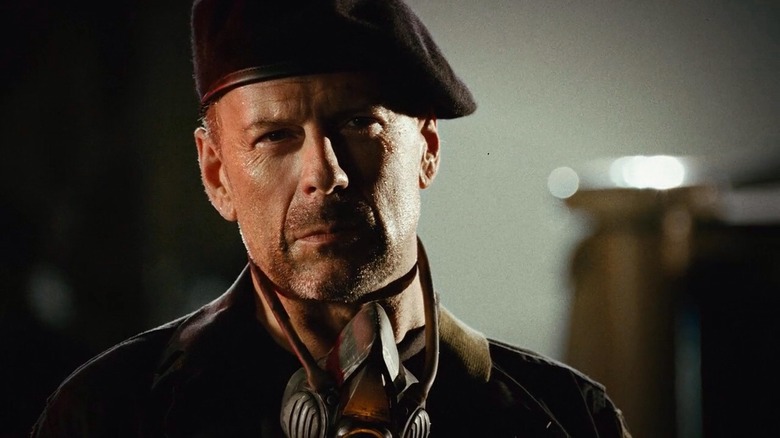 Dimension Films
2007 saw Quentin Tarantino and Robert Rodriguez teaming up for "Grindhouse," a double-feature throwback to a brand of pulpy exploitation entertainment that was popular in the '60s and '70s. The project involved two films, Rodriguez' horror-comedy "Planet Terror" and Tarantino's "Death Proof," with Willis appearing in the former.
Having previously starred in "Pulp Fiction" and "Sin City," Bruce Willis was a natural addition to the cast. But in traditional grindhouse style, the big-name star has only a relatively minor amount of screentime, providing marketing fodder and a name draw with minimal investment.
"Planet Terror" revolves around a go-go dancer (Rose McGowan) and her ex-boyfriend (Freddy Rodriguez) who have to battle a horde of infected townspeople known as "sickos" after a transaction between military operative Lt. Muldoon (Willis) and a scientist for a biochemical weapon goes awry. Willis tackles the small but critical role with aplomb, imbuing Muldoon with a deadly serious bravado in the face of much zombie grindhouse madness. It was another perfect role for the veteran actor and one he truly seemed to enjoy. For these reasons, this writer finds it fair that "Grindhouse" comes in at No. 9 on Letterboxd's list, though as a side note, I'm surprised we have yet to see the Robert Zemeckis' black comedy, "Death Becomes Her" on this list... 
10. Die Hard With a Vengeance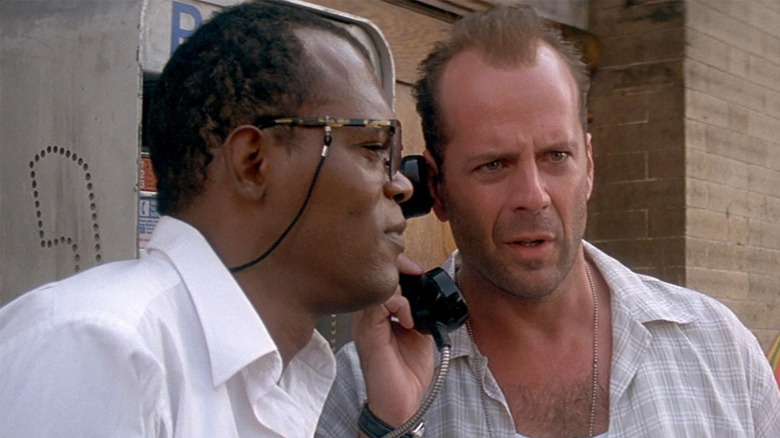 20th Century Fox
Let's face it. No attempt at recreating the magic of the original "Die Hard" is likely to succeed. However, the third installment of the franchise, "Die Hard with a Vengeance" did a bit better than its predecessor, "Die Hard 2."
This was likely because the third installment was directed by original "Die Hard" director John McTiernan and partly due to the addition of Samuel L. Jackson as Zeus Carver, an electrician who ends up teaming up with McClane to save New York City from terrorists led by Peter Krieg, aka. Simon Gruber (Jeremy Irons), who happens to be the brother of "Die Hard" villain Hans Gruber.
It's about as fun an adventure as you might imagine, with entertaining chemistry between the two leads as they try to navigate the tricky "Simon Says" inspired evil plot by doing things like solving math problems with water jugs. As far as the No.10 ranking for "Die Hard With a Vengeance," it feels okay to me.
11. Sin City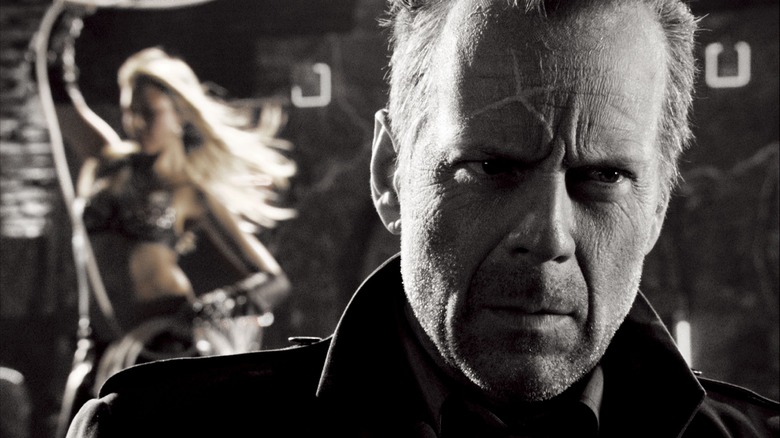 Miramax
Incredibly sleek, stylish, and imaginative, Robert Rodriguez and Frank Miller's neo-noir action fantasy "Sin City" is a visionary work that comes in at No. 11 on Letterboxd's rankings of Bruce Willis movies. I might have ranked it a wee bit higher on this list based on its stylistic flair alone.
Adapted from Frank Miller's comic book series of the same name, "Sin City" unfolds as an anthology consisting of a series of four intersecting stories set in the corrupt titular town. Willis stars as soon-to-retire cop John Hardigan, who risks his life to save a young girl from the serial child predator Roark Junior (Nick Stahl).
The ensemble cast features other big-name stars, including Mickey Rourke, Clive Owen, Jessica Alba, Benecio del Toro, and Rosario Dawson. Willis once again employs his tough-guy exterior with a soft heart persona to great effect, making him a standout in the film.
12. Nobody's Fool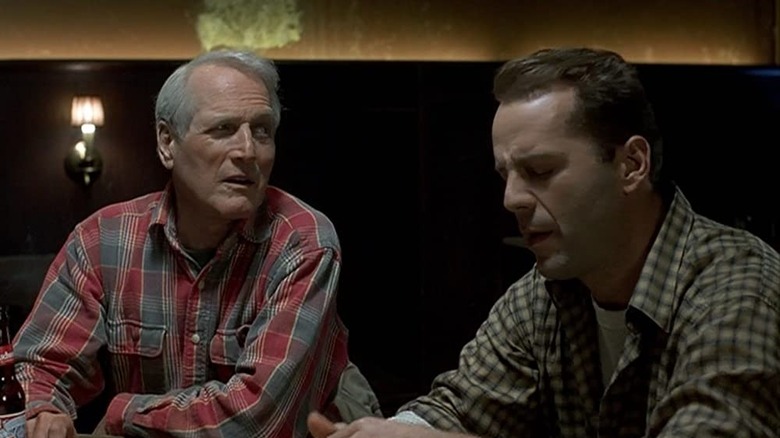 Paramount Pictures
Here's where this writer draws the line. We find ourselves at No. 12 on the Letterboxd list and not a sign of one of Bruce Willis' best films, the 1992 Robert Zemeckis-directed "Death Becomes Her," starring Goldie Hawn, Meryl Streep, and Bruce Willis!
"Nobody's Fool" might be considered by some to feature one of Paul Newman's better performances as Sully, an irresponsible 60-year-old construction worker and deadbeat dad. Bruce Willis does his usual fine job as a local contractor with whom Sully is constantly beefing, but honestly, who cares? What matters is the plot of "Death Becomes Her" in which aging youth and beauty-obsessed rivals Helen (Hawn) and Meredith (Streep) fight for the attention of Helen's plastic surgeon husband, Ernest Menville (Willis), leading them to take a potion that promises eternal youth — even in the event of death. It's a hilarious turn for Willis in a spookily fun movie that sees all three leads at the top of their game. Justice for "Death Becomes Her!"