20 Underrated Gangster Films You Need To Watch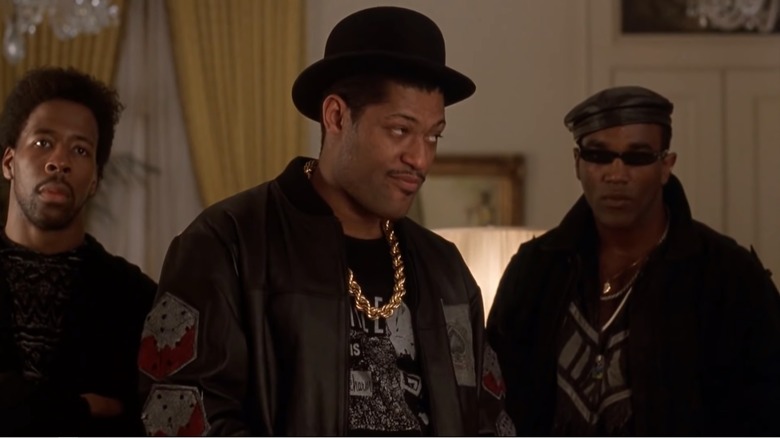 New Line Cinema
This year marks the 50th anniversary of one of the greatest films of all time: Francis Ford Coppola's "The Godfather." Coppola's gangster epic was re-released in theaters, giving film fans the chance to see it on the big screen. "The Godfather" changed American cinema forever. Based on the popular gangster novel by Mario Puzo, the film chronicles the exploits of the Corleone crime family in the 1940s. The family's patriarch, Don Vito Corleone (Marlon Brando), begins to train his son, Michael (Al Pacino), to be his successor. Michael is corrupted by his father's influence.
Although "The Godfather" has been celebrated as a classic, its production did not go smoothly. Coppola recently noted that if he hadn't won an Academy Award for writing "Patton," he most likely would have been fired as the director of "The Godfather." The tumultuous creative process behind "The Godfather" inspired the ongoing Paramount+ streaming series "The Offer." "The Offer" explores the relationship between the producer Albert S. Ruddy (Miles Teller), Paramount executive Robert Evans (Matthew Goode), and Coppola (Dan Fogler).
In the subsequent decades, Mafia films became even more popular. Most cinephiles have seen classics like "Goodfellas" and "Pulp Fiction," but there are also many underrated gangster films that are worth checking out. Here are 20 underrated gangster movies that you need to watch.
The Outfit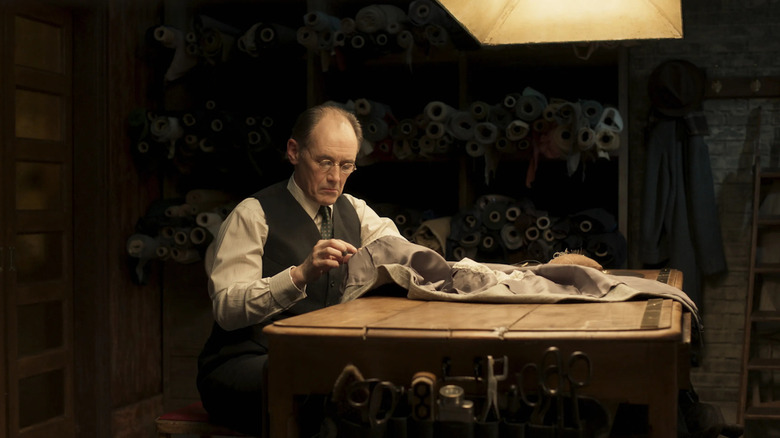 Focus Features
"The Godfather" was praised for its incredible scale and scope, but not every gangster film needs to be an epic. The underrated thriller. "The Outfit" does a great job at setting a gangster story within a confined environment. Writer-director Graham Moore creates a claustrophobic atmosphere, which makes the gangster characters even more intimidating. Imagine the thrilling restaurant assassination scene from "The Godfather." What if that was the premise for an entire movie?
"The Outfit" is set in Chicago, Illinois, in the 1950s. The film follows lonely British tailor Leonard Burling (Mark Rylance). Burling's small store is trapped in an area controlled by the Irish Mafia. Crime boss Roy Boyle (Simon Russell Beale) sends his son, Ritchie (Dylan O'Brien), and his enforcer, Francis (Johnny Flynn), to intimidate Burling. The two gangsters tell Burling that they are going to use his shop to stash dirty money. They are part of Al Capino's crime syndicate, known by gangsters as "The Outfit."
However, Ritchie is almost killed after a brawl with a rival crime family. He returns to Burling's shop and reunites with his girlfriend, Mable (Zoey Deutch). Although Mable is employed as Burling's assistant, she wants to leave Illinois with Ritchie. When Francis arrives to investigate, he discovers that Mable is secretly an FBI informant. She only began dating Ritchie to report his crimes to the authorities. Burling is forced to negotiate the intense standoff. However, the kind-hearted shopkeeper has more secrets than anyone realizes.
The Gentlemen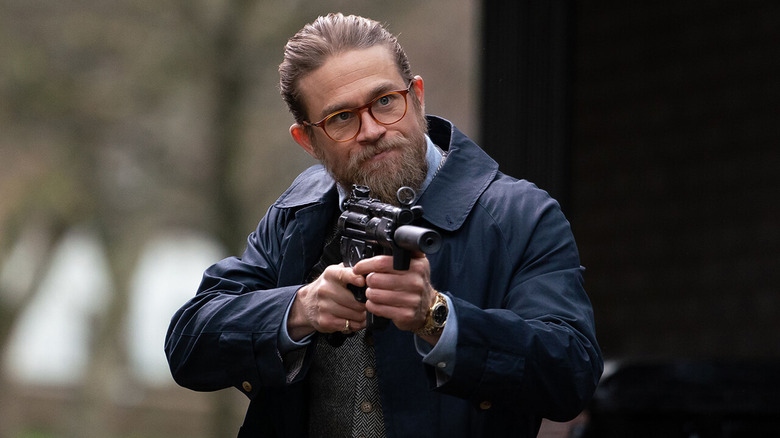 STX Films
British director Guy Ritchie helped to create an interesting subgenre of mob cinema. Ritchie's early films, including "Lock, Stock, and Two Smoking Barrels" and "Snatch," are set in the underground London crime scene. Ritchie later began to stray away from this genre and started directing mainstream Hollywood blockbusters. He stepped behind the camera to direct "Sherlock Holmes," "Sherlock Holmes: A Game of Shadows," "The Man From U.N.C.L.E.," "King Arthur: Legend of the Sword," and the live-action remake of "Aladdin."
Ritchie finally returned to his roots with the gangster comedy "The Gentlemen." "The Gentlemen" is Ritchie at his best. The story starts fairly straightforward but becomes very complicated when all of the characters start double-crossing each other. Ritchie makes the confusing nature of the story a running joke. At some points, the characters stop what they are doing, and try to figure out what is going on.
"The Gentlemen" is framed around an interview between enforcer Raymond Smith (Charlie Hunnam) and eccentric tabloid journalist Fletcher (Hugh Grant). Fletcher's boss, Big Dave (Eddie Marsden), orders him to investigate Raymond's connection to Oklahoma crime lord Mickey Pearson (Matthew McConaughey). Pearson and his wife, Rosalind (Michelle Dockery), have acquired a marijuana plantation. They plan on using it to fund their retirement. Although Chinese gangster Dry Eye (Henry Golding) approaches him to broker an alliance, Pearson refuses. Raymond must protect his employer from assassins.
The Gambler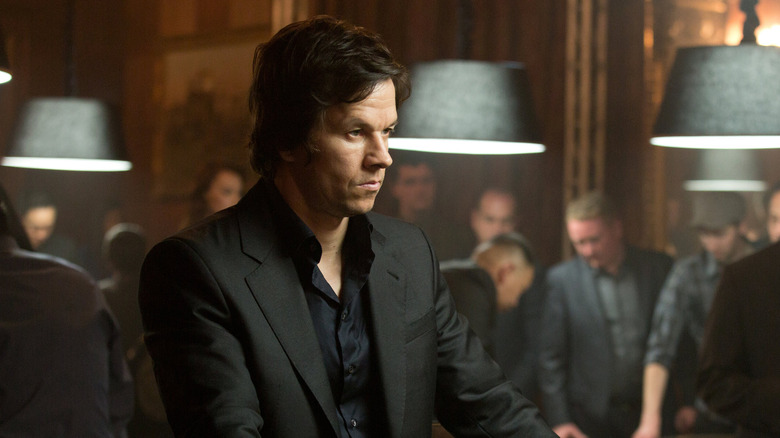 Paramount Pictures
"The Gambler" is one of the most essential gangster films of the 1970s. James Caan stars as Axel Freed, an English professor who gets in over his head after he racks up significant gambling debts. Axel is targeted by gangsters. It's a powerful examination of the consequences of greed and the addictive nature of gambling. It is only natural that fans would be skeptical about remaking such an iconic film. However, Rupert Wyatt's 2014 remake does a great job reframing the story in a modern context.
Mark Wahlberg steps into the lead role of Jim Bennett. like Axel, Jim is a college literature professor with significant gambling problems. Jim delivers eccentric lectures about Shakespeare's authorship in his classroom. He takes an interest in a quiet girl named Amy Phillips (Brie Larson), who is easily the brightest student in his class. Amy is surprised by Jim's kind words. She soon realizes that he is hiding something. During her shift working at a casino, Amy watches Jim lose almost all of his money. Jim must convince his mother, Roberta (Jessica Lange), to bail him out.
Wahlberg gives one of the most nuanced performances of his career. Jim is not an entirely likable character. He takes advantage of both Amy and his mother. However, Jim is humbled by his experience. He realizes how gambling has destroyed his life and seeks to make amends with Amy.
Made
Artisan Entertainment
Long before he became the director of blockbusters like "Iron Man" and "The Jungle Book," Jon Favreau began his career making independent films. After his screenplay for the romantic comedy "Swingers" became a hit, Favreau stepped behind the camera for a small-scale directorial debut. Favreau wrote, directed, and starred in the 2001 gangster comedy, "Made." He reunited with his "Swingers" co-star, Vince Vaughn.
Favreau gives one of the most empathetic performances of his career. Bobby Ricigliano is a former Mafia associate who is trying to make an honest living. Bobby wants to stay out of the dangerous crime scene so that he can take care of his young daughter, Chloe (Mackenzie Vega). He is barely able to provide for her and even takes a side job as an amateur boxer. Bobby is wary of his best friend, Ricky Slade (Vince Vaughn). Ricky is employed by Mex Reuben (Peter Falk), the most powerful crime boss in the area.
Max assigns Ricky and Bobby to negotiate a money-laundering deal in New York. They are dispatched to meet with Max's associate, Ruiz (P. Diddy). Bobby insists that this will be his last job. However, Ricky starts to get them into trouble. He can never keep his mouth shut. This infuriates Bobby. Favreau and Vaughn have hilarious chemistry, and it is clear that they are lifelong friends. Even though Bobby cares for his best friend, Ricky always seems to find a way to get under his skin.
Serpico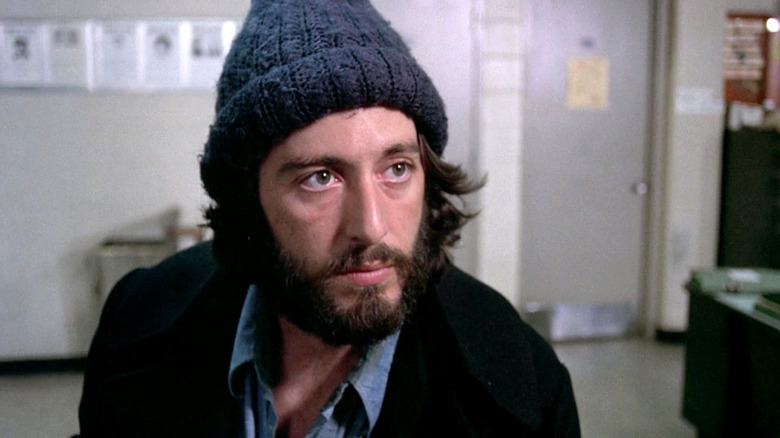 Paramount Pictures
"The Godfather" franchise isn't Al Pacino's only contribution to the gangster movie genre. In between the first two "The Godfather" films, Pacino appeared in the masterful 1973 thriller "Serpico." He received an Academy Award nomination for best actor. Detective Frank Serpico is the polar opposite of Michael Corleone. Serpico is a straight-laced cop who is caught in a corrupt world. Many crime films from the 1970s have not aged well. However, "Serpico's" commentary about police brutality, racial discrimination, and systematic corruption is even more relevant today than it was when the film was first released.
"Serpico" is based on a true story that inspired the book of the same name by Peter Maas. Legendary crime movie auteur Sidney Lumet stepped behind the camera and focused on Serpico's secret investigation into the NYPD. The NYPD has been covering up the misconduct of many officers, shielding them from any consequences. Serpico becomes furious. He is shocked to see his fellow cops beating up poor citizens on the streets. However, Serpico is overwhelmed by the extent of the NYPD's criminal ties. He realizes that he is fighting against an entire system.
"Serpico" features one of Pacino's strongest roles. Serpico's anger is justified, but he is not an idealist. The pivotal flashbacks of Serpico's training show how much he learns after joining the force. He is forced to watch his fellow officers manipulate the law.
The Counselor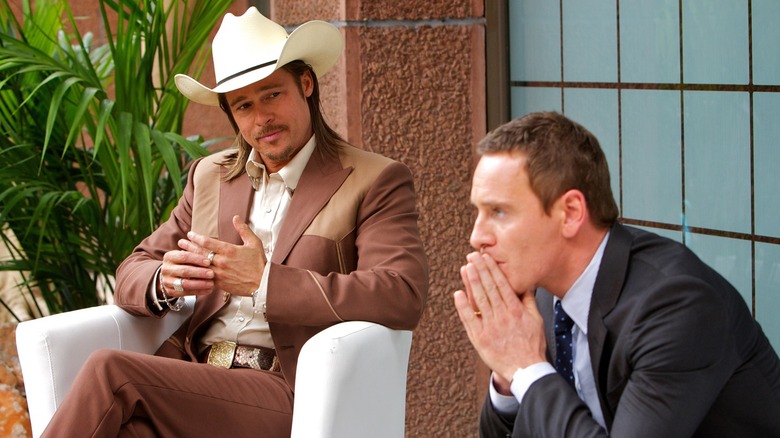 20th Century Fox
Many of the greatest gangster movies of all time are inspired by iconic pieces of literature. While "The Counselor" is not based on a book, it was written by acclaimed author Cormac McCarthy. McCarthy has written such classics as "No Country For Old Men," "The Road," and "Blood Meridian." "The Counselor" is about as unusual as gangster movies can get. Although it was marketed as a fast-paced action thriller, it is really an arthouse film. Neither McCarthy nor director Ridley Scott has been given enough credit for the risks that they took making this unique film.
"The Counselor" looks at the aftermath of a drug deal gone wrong. It shows how greed can lead to unintended consequences. Michael Fassbender stars as an unnamed lawyer, known only as "the Counselor." This enigmatic counselor plans to get engaged to his girlfriend, Laura (Penelope Cruz). He purchases an expensive diamond as an engagement present for her. However, the Counselor's diamond supplier, Reiner (Javier Bardem), has ties to the drug cartel. Reiner's girlfriend, Malkina (Cameron Diaz), steals a shipment from the cartel. After proposing to Laura, the Counselor receives word from Reiner's associate, Westray (Brad Pitt), that the cartel thinks that he is involved.
The dialogue in "The Counselor" is very unusual. There are often random, wide-ranging conversations that seemingly have no bearing on the actual plot. McCarthy shows the materialistic nature of these selfish characters. Despite his reputation as a successful lawyer, the Counselor is self-obsessed and cowardly.
Motherless Brooklyn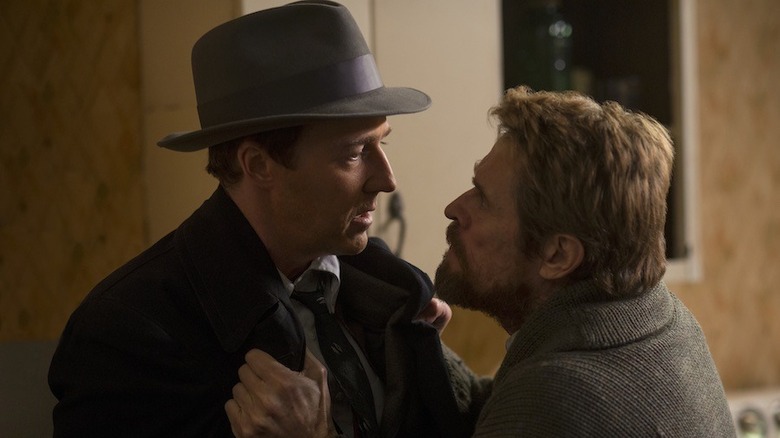 Warner Bros.
New York City is a popular setting for gangster movies. Jonathan Lethem's 1999 neo-noir novel, "Motherless Brooklyn," explores the history of New York and how various crime families influenced the creation of the city's modern infrastructure. Although it shows how this systematic corruption began, "Motherless Brooklyn" is a love letter to New York. It shows both the ugliness and beauty of the city. Edward Norton adapted Lethem's novel into a 2019 film of the same name. Although the novel is set during the present day, Norton's film moves the setting to the 1950s. This made "Motherless Brooklyn" feel like a classic mystery film.
Norton wrote, directed, and stars in the film as aspiring private eye Lionel Essrog. Lionel has Tourette syndrome and OCD and has struggled to be socially accepted. However, tenderhearted detective Frank Minna (Bruce Willis) is charmed by Lionel's eccentricities. He allows Lionel to join his detective agency. Frank is Lionel's hero. During a meeting with a client that turns violent, Frank is shot and killed. Lionel devotes himself to finding Frank's killers and who they are working for.
Lionel's investigation leads him to public official Moses Randolph (Alec Baldwin). Moses has been working to undermine the work of the mayor's office. As Lionel follows Frank's clues, he meets protestor Laura Rose (Gugu Mbatha-Raw). They begin to fall in love. At the end of the film, Lionel learns that Laura is actually Moses' daughter.
The Great Muppet Caper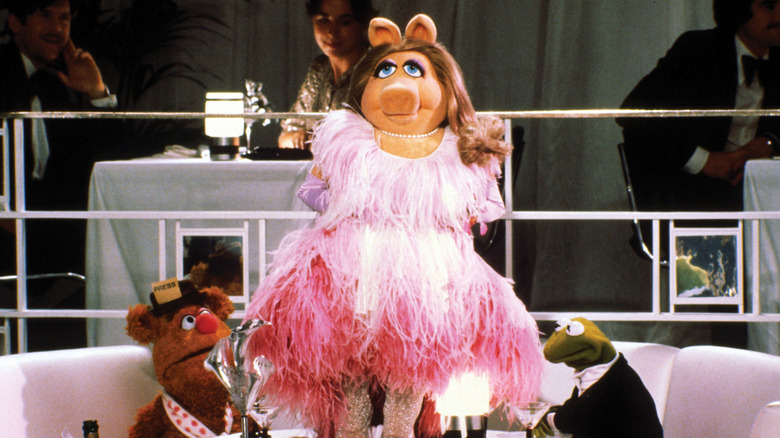 Universal Pictures
How do you make the gangster genre feel fresh again? It is simple. Just add the Muppets. 1981's "The Great Muppet Caper" is the second theatrically released film in "The Muppets" franchise. Unlike 1979's "The Muppet Movie," "The Great Muppet Caper" does not take place within the context of "The Muppet Show." The Muppets are placed in a London jewel heist and interact with criminals, gangsters, and thieves. It works as a hilarious gangster movie parody. 
In "The Great Muppet Caper," Kermit the Frog, Fozzie Bear, and Gonzo the Great are all employed as journalists for The Daily Chronicle newspaper. As you might expect, they get into a lot of shenanigans while they are working. The Daily Chronicle editor Mark Tarkanian (Jack Warden) sends the Muppets to travel to London to investigate a bank robbery. When Kermit goes to interview fashion designer Lady Holiday (Diana Rigg), he meets Miss Piggy, who is working as Holiday's assistant. Piggy poses as Holiday and goes on a date with Kermit. Meanwhile, the real Holiday's necklace is stolen by her brother Nicky (the later great Charles Grodin). Nicky blames Piggy for the crime, and the Muppets have to clear her name.
The Cotton Club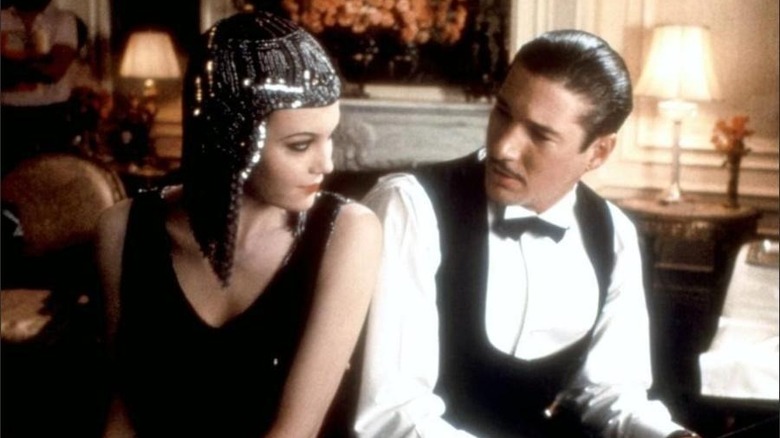 Orion Pictures
"The Godfather" isn't the only gangster movie classic that Francis Ford Coppola directed. Coppola also helmed the 1984 biographical crime film "The Cotton Club." Unfortunately, "The Cotton Club" failed to land with the same impact as "The Godfather." The film underperformed with critics and audiences, and Coppola didn't even get the chance to release his director's cut until 2019. It deserves to be ranked among his best films. "The Cotton Club" perfectly captures the Harlem jazz scene in the 1930s. While there is an old-fashioned charm to Coppola's methodical pacing, the film does not feel antiquated in the slightest.
"The Cotton Club" follows the rise and fall of the titular nightclub. Richard Gere stars as Dixie Dwyer, an aspiring trumpet player and former Mafia henchman. Dwyer wants to leave his past behind him and commit himself entirely to music. Dwyer's neighbor, Sandman Williams (Gregory Hines), introduces him to the Cotton Club. Dwyer feels right at home, even though he is one of the only white men who frequents the club.
However, Dwyer's rise to prominence in the club sparks unintended consequences. His success in Hollywood draws the attention of the Jewish-American gangster Dutch Schultz (James Remar). Dwyer is drawn into the conflict between the Jewish and Irish mobs when his brother, Vincent (Nicolas Cage), starts working for Schultz.
Our Kind Of Traitor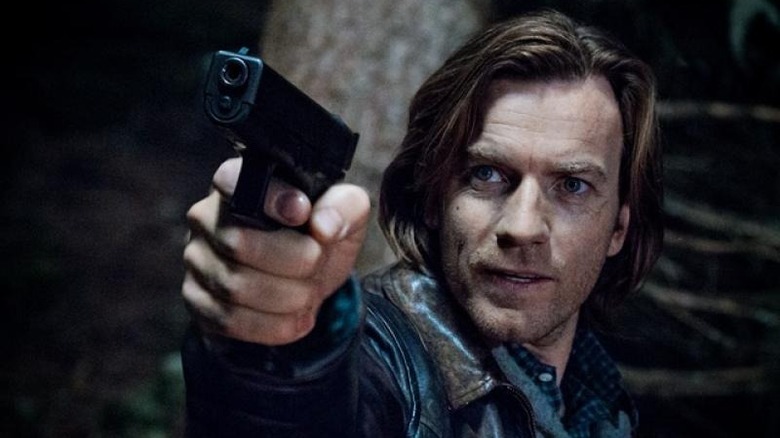 StudioCanal
Novelist John le Carre is best known for his contributions to the espionage genre. Le Carre's books have inspired many great films such as "The Constant Gardener," "Tinker Tailor Soldier Spy," "A Most Wanted Man," and "The Spy Who Came In From The Cold." "Our Kind Of Traitor" is set within the world of modern espionage but does not center on experienced spies. The book chronicles the adventures of literature professor Perry MacKendrick, who negotiates an intense standoff between MI6 and a band of Russian gangsters. Perry's unique perspective makes "Our Kind Of Traitor" feel distinct among Le Carre's many spy books. Susanna White directed an adaptation of the story in 2016 that retains the novel's interesting spin on the genre.
Ewan McGregor develops Perry's marital hardships. After having an affair with one of his students, Perry takes his wife, Gail (Naomie Harris), on a vacation to rekindle their relationship. During their extended stay in Morocco, Perry befriends Russian gangster Dima (Stellan Skarsgaard). Unlike other Le Carre adaptations, "Our Kind Of Traitor" has a sense of humor. Given their completely different backgrounds, Perry and Dimas' relationship is amusing.
Dima wants to ensure the safety of his family. He is willing to hand over potentially consequential knowledge to protect his children. Perry doesn't know anything about spy-craft, but he agrees to hand over a USB drive to MI6. After MI6 begins an investigation based on the information, Perry volunteers to deal with Dima.
Hot Summer Nights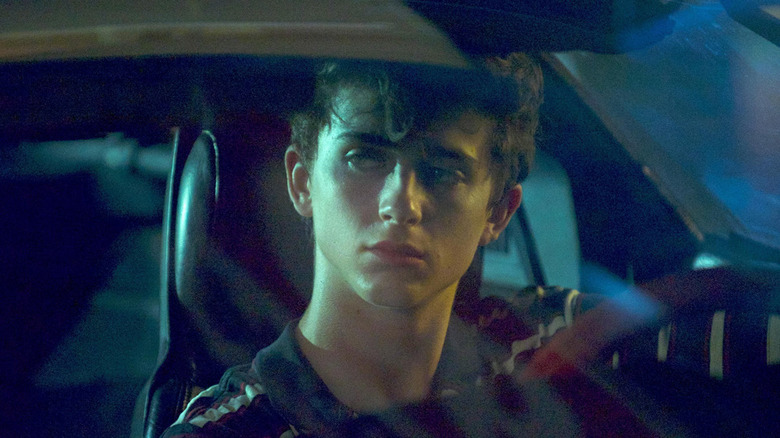 A24
The world of gangsters does not seem like it would be a good setting for a coming-of-age film. While combining the two genres may be unusual, the film "Hot Summer Nights" blends them. The perspective of an adolescent character gives the film a unique angle from which to approach the Mafia world. Young people are already going through a lot — having to deal with gangsters makes things even more complicated.
Timothee Chalamet is frequently cast in coming-of-age films, but his character Danny Middleton isn't quite as charismatic as "Lady Bird's" Kyle Scheible or "Call Me By Your Name's" Elio Perlman. Danny is aimless and lacks confidence. He can't stand up for what he wants, but at the same time, he doesn't have any long-term goals. Although Danny plans to just sit around during his family's summer trip to Cape Cod, he finds a surprising new profession: dealing drugs. Danny begins selling marijuana for the local dealer, Hunter Strawberry (Alex Roe).
Danny's real intention is to get closer to Hunter's sister, MaKayla (Maika Monroe). As he becomes infatuated with MaKayla, Danny rises in Hunter's gang. He doesn't realize the danger that he is in. Unbeknownst to his supplier, Dex (Emory Cohen), Danny begins selling cocaine. This takes the film in a dark direction. Dex seeks revenge on both Danny and Hunter. Hunter is forced to protect Danny to ensure his sister's safety. The ambiguous finale ends the film on a solemn note.
Legend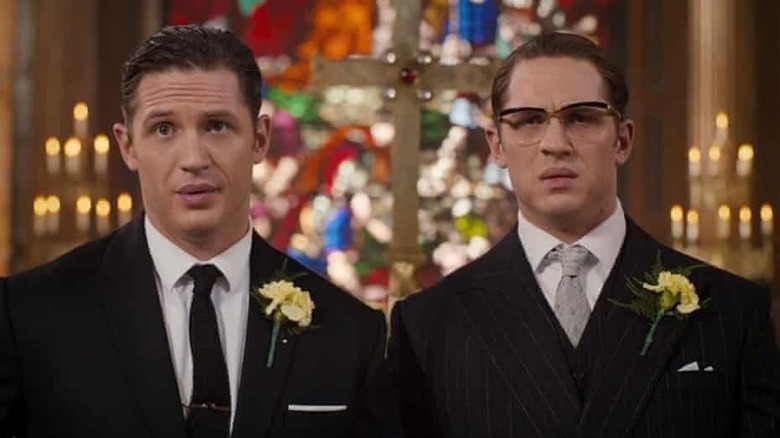 StudioCanal
There aren't many gangsters in history quite as eccentric as the Kray twins. Reggie and Ronald Kray were identical brothers who ran an organized crime syndicate in London for almost two decades. Tom Hardy stars as both of the Krays in the 2015 biographical thriller, "Legend." Playing two identical characters could have easily been a gimmick, but Hardy develops both of the Krays into distinct characters. It's an acting showcase for Hardy. He has to interact with himself for an extended amount of time. His ambitious performance elevates the film.
Ronald and Reggie have been working together for their entire lives, but they still end up arguing about the same things. Ronnie accuses Reggie of being selfish and indecisive. Reggie worries about Ronnie's fearsome rage. Despite their arguments, the Kray brothers begin to make a name for themselves in the London underground. To sustain their future within the business, the Krays take control of a nightclub. Reggie falls in love with his driver's sister, Frances Shea (Emily Browning), and asks for her hand in marriage.
After Reggie is sent to prison, everything falls apart. Ronald becomes unpredictable without his brother's guidance. Despite their bickering, the Krays are able to revitalize their business and even attract the attention of the American Mafia. Philadelphia crime boss Angelo Bruno (Chazz Palminteri) offers to help expand their operation. This only lands them in deeper trouble, as Ronnie's murderous streak sparks an investigation from Scotland Yard.
The Grifters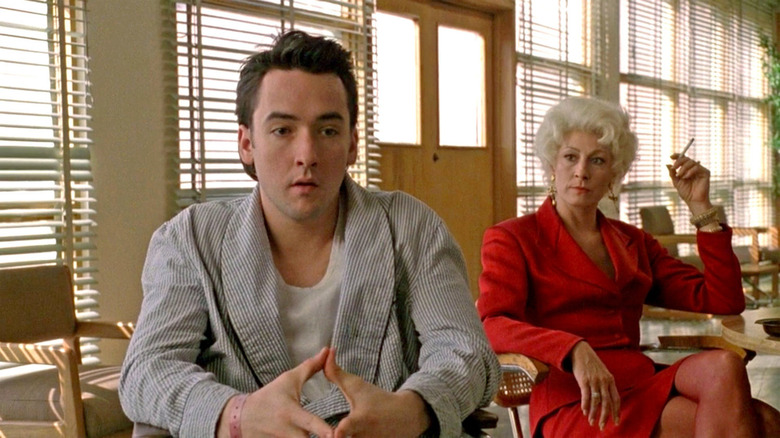 Miramax Films
Stephen Frears' 1990 film, "The Grifters," is one of the best depictions of con artists in cinema. Putting on different personas comes at a personal cost. The characters become lost in the people that they are pretending to be, and have difficulty defining their identities. Although many films about deception such as "Dirty Rotten Scoundrels" and "The Sting" take a comedic spin on con artists, "The Grifters" takes its subject material very seriously.
The stakes of "The Grifters" are personal. Lifelong swindler Lilly Dillon (Angelica Huston) has not seen her son, Roy (John Cusack), in almost a decade. Although they have never been close, Roy has fallen into the same line of work as his mother. A con gone wrong lands him in the hospital, where he almost bleeds to death. Lilly brings her son to safety. However, she has her doubts about Roy's girlfriend, Myra Langtry (Annette Bening). Her suspicions are proven correct. Myra is also a swindler. She attempts to entice Roy into joining her next scheme. They get caught up in a criminal conspiracy involving the FBI.
The relationship between Lilly and Roy is absolutely heartbreaking. Roy is destined to make the same mistakes that his mother did. Lilly does not realize the ramifications of her actions until the very end. Unfortunately, it is already too late for Roy. The somber ending closes the film in a grim yet realistic way.
A Most Violent Year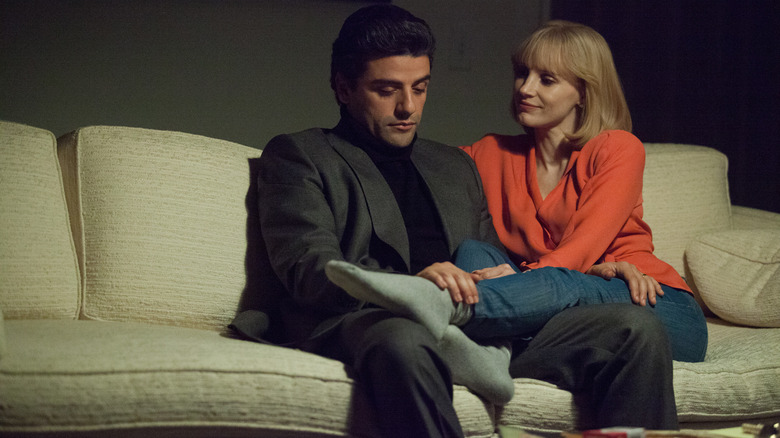 A24
While there are a lot of entertaining gangster films, most of them do not depict the Mafia in a very realistic way. Real-life is rarely as exciting as the movies. The most authentic crime films are the ones that show the gradual escalation of events. J.C. Chandor's 2014 film, "A Most Violent Year," examines how a good man is systematically corrupted over time.
Abel Morales (Oscar Isaac) holds on to his hopes of being the only good man in a corrupt town. Unfortunately, this isn't possible in New York during the 1980s. Abel and his wife, Anna (Jessica Chastain), run an independent heating oil business. Their trucks are constantly hijacked by mob-connected thieves. Anna realizes that the only way to protect their business is to break a few laws, but Abel refuses to accept reality. As Anna works behind his back to defend their business, Abel is investigated by the ambitious assistant district attorney, Lawrence (David Oyelowo).
Light Sleeper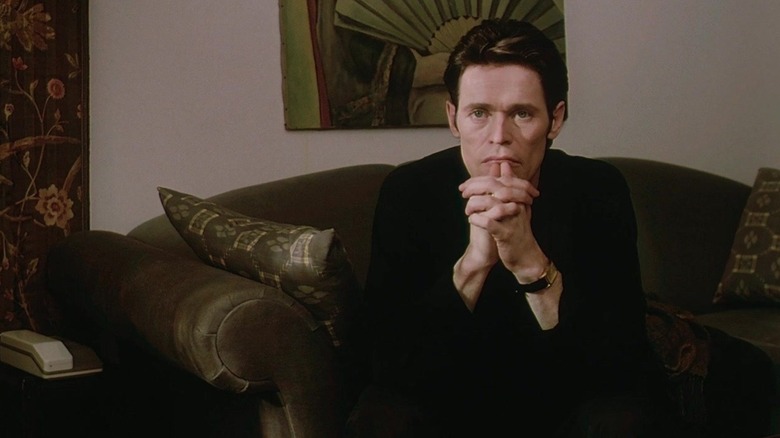 First Line Features
Martin Scorsese's name is synonymous with the crime movie genre. Scorsese's" Taxi Driver" screenwriter, Paul Schrader, is a great filmmaker in his own right. Like his frequent collaborator, Schrader often creates disturbing neo-noir films about the addictive nature of crime. 1992's "Light Sleeper" bears many similarities to Scorsese's classic films, but it does not tread familiar territory. Schrader takes a look at how difficult it is for a criminal to go straight.
John Le Tour (Willem Dafoe) is a drug dealer for high-end clients. John's stressful line of work takes a toll on his mental health. After briefly reuniting with his ex-wife, Marianne (Dana Delany), John decides to turn things around. Unfortunately, it is already too late. After an overdose, Marianne stumbles to her death.
John's only real relationship is with his supplier, Ann (Susan Sarandon). Although he allows himself to hold out hope that Ann will help him leave his past behind, John is investigated by the police. He is denied that closure that he seeks more than anything.
White Boy Rick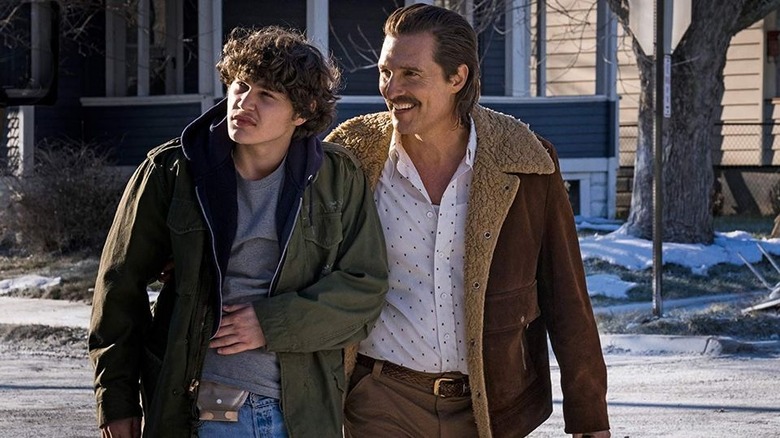 Sony Pictures
If "White Boy Rick" wasn't based on a true story, it would seem like one of Hollywood's craziest movie premises ever. The film chronicles the life of the youngest FBI informant in history, Richard Wershe Jr. (Richie Merritt). Rick was already a drug dealer, gangster, hustler, and rat before he reached his 15th birthday. Although Rick's rise to prominence is initially amusing, he is forced to face the consequences of getting involved with the mob.
"White Boy Rick" paints Rick's situation in a sympathetic light. His family lives in the slums of Detroit. Despite the hard work of Rick's father (Matthew McConaughey), they can barely make ends meet. At first, Rick starts selling drugs to provide for his family. The mob takes advantage of his ignorance. In real life, Richard Wershe Jr. spent the majority of his youth in prison. The film does not shy away from the dark ending of his story.
Gangster Squad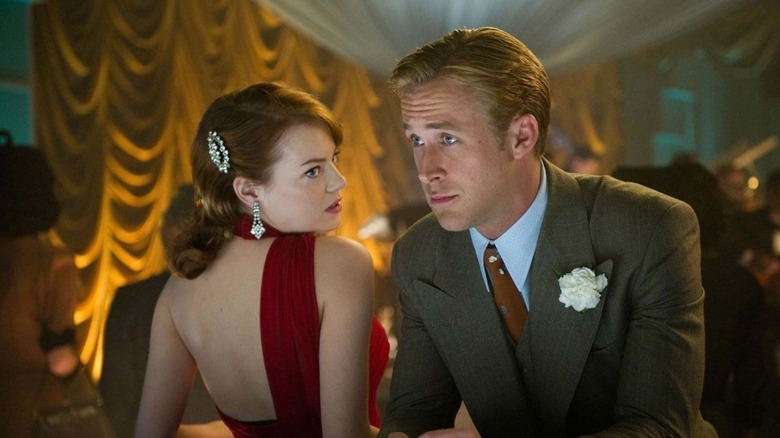 Warner Bros.
Who says that every gangster film needs to be serious? 2013's "Gangster Squad" may not be very realistic, but it sure is fun to watch. The film plays fast and loose with the facts. It was inspired by the real investigation by the Los Angeles Police Department into gangster Mickey Cohen (Sean Penn). To prevent Cohen from expanding his operation, LAPD Sergeant John O'Mara (Josh Brolin) puts together an elite group of cops.
Nicknamed the "Gangster Squad," O'Mara's team leaves their badges at home. They earn a reputation for being ruthless. O'Mara is already well-versed in violence. He is still traumatized by his military service in World War II. O'Mara bonds with his second-in-command, Sergeant Jerry Wooters (Ryan Gosling), over their shared experiences. Although Brolin and Gosling deliver grounded performances, Penn goes completely over the top. Cohen risks turning into a caricature, but Penn reigns himself in just enough to fit the tone of the film.
King of New York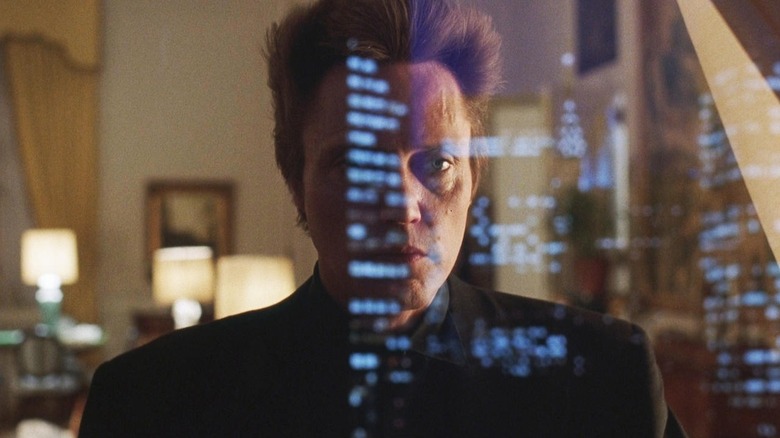 New Line Cinema
Christopher Walken is one of the most beloved character actors of all time. Even when he appears in a film for just a few moments, Walken is always memorable. He steals all of his scenes in classics like "Pulp Fiction," "Batman Returns," and "Catch Me If You Can." This doesn't mean that Walken is exclusively a supporting actor. He delivers a heartbreaking lead performance in Abel Ferrara's 1990 gangster film, "King of New York." 
Walken stars as drug lord Frank White, who has just been released from prison. Frank travels back to New York City to rebuild his empire. He discovers that the city has changed radically since he last visited. The streets are overrun with crime. Frank decides to change his ways and begins working for the city's people. However, the new generation of drug lords that replaced Frank don't share his goals. Frank is forced to defend himself from a younger class of criminals.
Trespass Against Us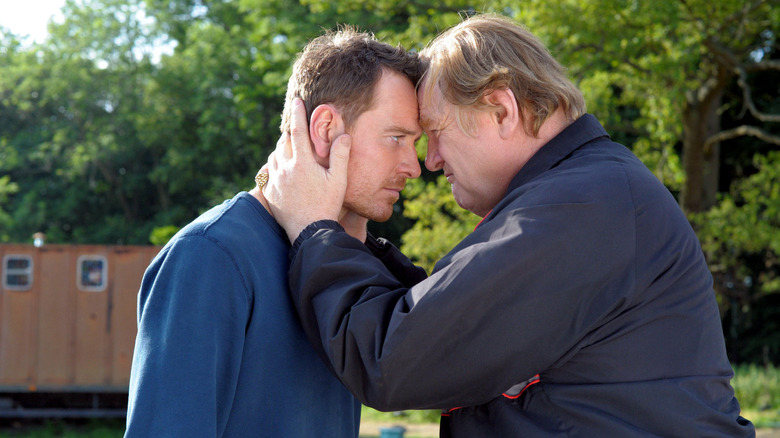 A24
The consequences of the gangster lifestyle can affect multiple generations of the same family. The 2016 independent gangster thriller, "Trespass Against Us," follows the trials and tribulations of a family caught up in their criminal past. Chad Cutler (Michael Fassbender) was raised to become a gangster. His father, Colby (Brendan Gleeson), considers it their family's legacy. Chad doesn't want his son to have the same experiences and tries to go straight.
This forces Chad to confront his father, who does not take kindly to his decision. Although Chad hopes that he can part with his father on good terms, he realizes that Colby will stop at nothing to control his grandson. Chad is forced to confront the harsh truth about his life. Even though his father is ruthless and violent, his actions are seemingly out of love. Chad wrestles with the feelings of guilt and confusion that he has felt ever since he was a child.
Romper Stomper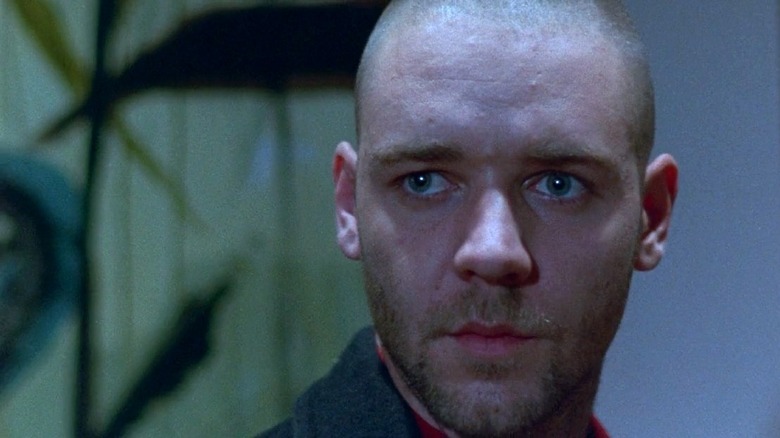 Roadshow Film Distributors
Gangster films rarely lionize the profession, but many of them are easy to misinterpret. You have to slightly empathize with characters like "The Godfather's" Michael Corleone or "Goodfellas's" Henry Hill to enjoy those films. This is not the case with 1992's "Romper Stomper." This Australian crime thriller follows a violent group of neo-Nazis that defend their territory. Instead of showing empathy for these detestable characters, "Romper Stomper" explores how fascism begins.
"Romper Stomper" features an early performance from Russell Crowe in what would become his breakout role. He has never been more terrifying. Crowe captures the animalistic rage of the skinhead Hando. Hando clings to his radical beliefs — even when it is clear that he needs to evolve to survive. His neighborhood is changing, and the police are finally cracking down on hate crimes. Sadly, the themes of "Romper Stomper" are just as relevant today as they were in 1992. Hando is raised in an environment of hate. He doesn't know how to do anything else.