Russell Crowe's 13 Best Movies Ranked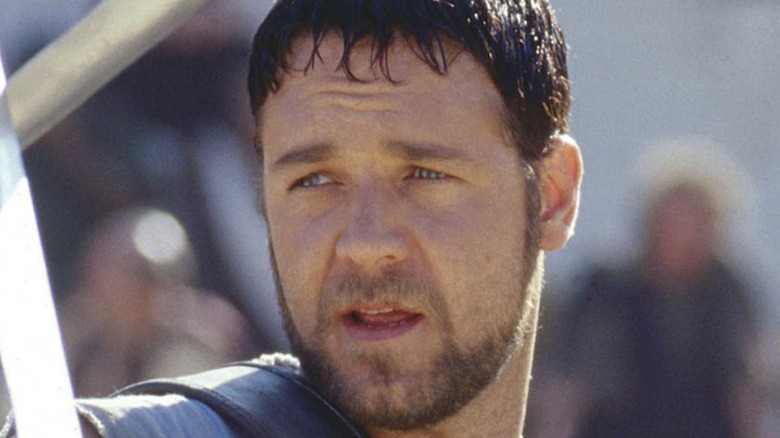 DreamWorks Pictures
Russell Crowe has a versatility that is rare among actors in the later stages of their careers. While the Australian first established himself as a leading man, he has comfortably stepped into supporting roles over the past few years. He recently made the transition to the small screen as Fox News mastermind Roger Ailes in Showtime's "The Loudest Voice," and made his directorial debut with the World War I epic "The Water Diviner." While his outlandish performance in 2020's road rage thriller "Unhinged" may have earned him some of his worst reviews ever, it showed a willingness to experiment that is refreshing.
Narrowing down Crowe's strongest work is no easy task. Not only is he the star of two back-to-back best picture winners, one of which also earned him a best actor trophy, but he's made historical dramas, romantic comedies, inspirational sports films, gritty crime thrillers, and everything in between. There's not just one type of Russell Crowe movie, and as a result his filmography is eclectic. With that in mind, here are his 13 greatest movies, ranked from best to worst.
13. Romper Stomper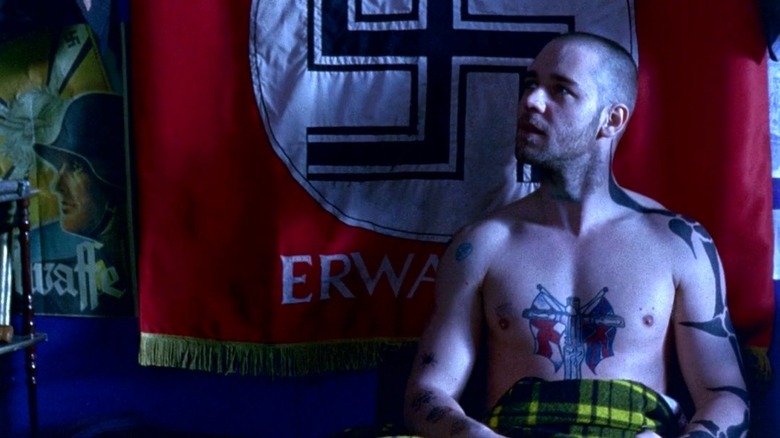 Village Roadshow
It's remarkable that Crowe found success as a charismatic lead given that his breakout role was as an absolutely unlikeable character. The 1992 Aussie drama "Romper Stomper" saw Crowe play a ruthless neo-Nazi who leads a violent skinhead group into skirmishes with rival gangs. Crowe is unsettling in this film, prone to psychopathic behavior and sudden bursts of aggression.
Crowe plays Hando as an insecure brute who's taken aback by the growth in diversity in his community. He's terrifying, and while there's no attempt to humanize him, Crowe's realism helps elevate the ensemble, which does feature a few characters who grow and change. Still, "Romper Stomper" is often difficult to watch because of how effective Crowe is at playing the white nationalist.
"Romper Stomper" is a flawed film that leans too heavily on "Reservoir Dogs"-like stylistic flourishes, but Crowe elevates the material, especially when Hando's insecurities are tested in the final act. Crowe would go on to star in brilliant films from acclaimed filmmakers, so "Romper Stomper" is interesting mostly because you can see Crowe save a film that wouldn't be nearly as interesting without him.
12. Boy Erased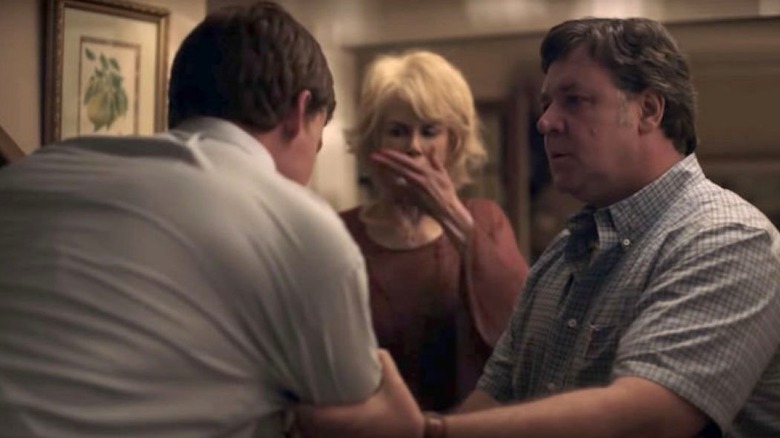 Focus Features
One of Crowe's most admirable qualities is his willingness to play smaller roles, making the most of limited screen time. "Boy Erased" is a great example. As a respected car dealer and Baptist preacher who sends his gay son Jared (Lucas Hedges) to conversion therapy, Crowe adds dimensions to a character that may initially appear to be one-note, delicately complimenting the younger stars at the center of the film.
The actions of Jared's father trigger the film's exploration of these horrific camps, but Crowe's character's lack of outward hatred towards his son makes him more complex. He's driven by misplaced empathy, setting up a nuanced father-son confrontation once Crowe witnesses the pain his child has endured. It's a thoughtful performance that never takes Jared's suffering for granted or feels like it's endorsing bigotry.
Crowe compliments his onscreen partner Nicole Kidman through his restrained yet effective threats when she attempts to get greater agency. His last conversion with Hedges is similarly mannered, as Jared's father expresses words of appreciation that ring hollow given his refusal to apologize. While not at the center of the film, Crowe makes "Boy Erased" better.
11. The Insider
Buena Vista Pictures
Crowe earned his first Academy Award nomination for best actor for his performance as whistleblower Dr. Jeffrey Wigand in Michael Mann's anxiety-inducing conspiracy thriller "The Insider." A leading expert within the tobacco industry, Wigand is hesitantly spurred into sharing damaging information with "60 Minutes" journalist Lowell Bergman (Al Pacino). As a result, his life is upended as he's spied on by malicious agents working for his former employers.
Initially, Wigand is deeply troubled by Big Tobacco's denial of the health risks surrounding its products and the industry's connection to government agencies, but the fear of disrupting his family life outweighs any aspirations for justice. Seeing a reluctant hero wrestle with the consequences of his actions is more interesting than watching one who is unabashedly valiant.
For the part, Crowe sheds his typically confident persona, turning in a performance that plays up the character's neuroses and anti-social tendencies. The depiction of Wigand's day-to-day responsibilities as a father makes it much more chilling when they're disrupted by spies and analysts, too. "The Insider" is a precise, suspenseful thriller, and Crowe blends seamlessly into its paranoid, high-stakes world.
10. Body of Lies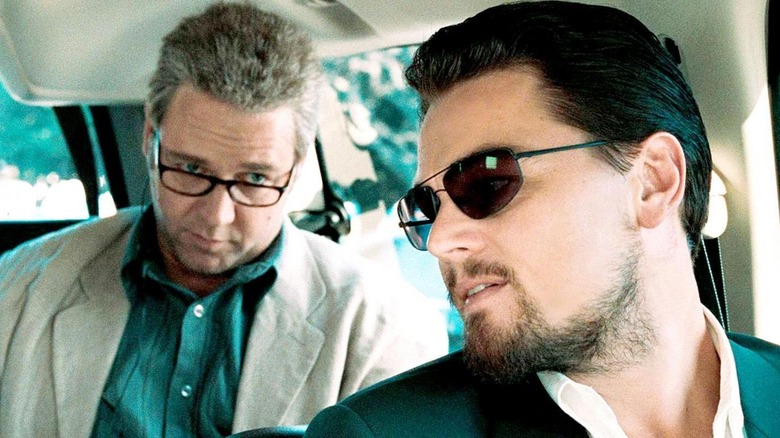 Warner Brothers
Crowe makes up one half of a memorable buddy duo in Ridley Scott's espionage thriller "Body of Lies." In the movie, Crowe plays CIA chief Ed Hoffman, who guides field officer Roger Ferris (Leonardo DiCaprio) as the latter embarks on a dangerous mission to infiltrate a terrorist sect in Jordan. Although Hoffman is generally steadfast and follows the rules, Ferris' rebellious spirit begins to rub off on him once he discovers that the U.S. government is intentionally spreading misleading information.
While DiCaprio is in the thick of the action, Crowe spends most of his time on the sidelines, overseeing operations from a base. Crowe leans into Hoffman's anxieties as he's forced to make tough calls, and fends off the powerful forces that hope to silence anyone who leaks the government's secrets. As a result, the grounded sequences with Crowe are just as exciting as the action-centric ones with DiCaprio.
Crowe adds an appropriate amount of comedy to the mix, as Hoffman is so focused on detail-driven data that he often takes the risks Ferris faces for granted. The relationship between the two leads is well developed, despite the fact that they rarely share the screen together. An underrated film, "Body of Lies" shouldn't be considered a lesser endeavor from either Crowe or Scott.
9. State of Play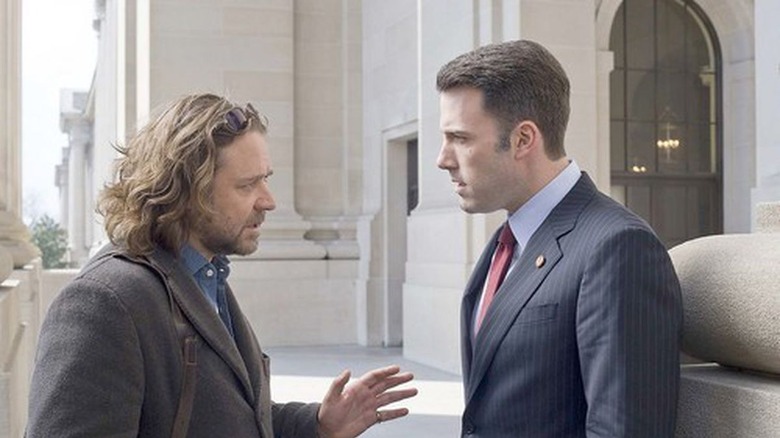 Universal Pictures
Crowe has no qualms about stepping into the shoes of iconic characters, and he brilliantly reimagined journalist Cal McCaffrey in the film adaptation of the acclaimed BBC limited series "State of Play." An idealist in a world of cynics, Cal grows fascinated with the suspicious death of Congressman Stephen Collins' (Ben Affleck) young mistress.
Crowe embodies the curiosity of a career reporter who is driven to pursue justice, even if he fears his impact will be minimal. Cal is skeptical of Collins' motivations, but he's willing enough to hear the politician's side of the story. Crowe doesn't make Cal so cynical that he loses the audience's empathy, either, while an engaging relationship between McCaffrey and his protégé Della Frye (Rachel McAdams) allows McCaffrey to show his expertise while exposing the human side of the austere character. With Crowe at the center, the American remake is a worthy companion to the original British version of "State of Play."
8. Cinderella Man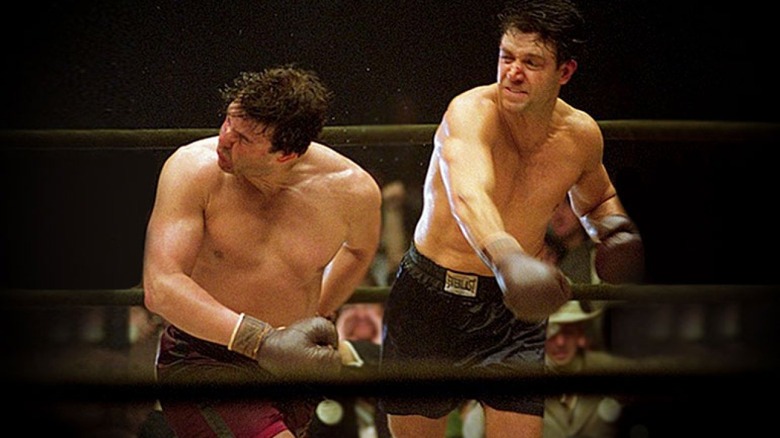 Universal Pictures
Boxing dramas never go out of style, and Ron Howard's "Cinderella Man" is one of the best in recent memory. Crowe stars as James J. Braddock, a mild-mannered light-heavyweight who comes back from injury to compete for a title shot. Previously, Braddock had abandoned the sport due to the burden it placed on his wife Mae (Renee Zellweger) and their young son Jay (Connor Price), and only reluctantly agrees to return thanks to the prodding of his lifelong friend and trainer, Joe Gould (Paul Giamatti).
Crowe brilliantly plays a figure who unexpectedly becomes an inspiration to his New Jersey community during the Great Depression. Even as Braddock advances to later rounds, Crowe retains his humility. A touching scene in which Braddock forces Joe to apologize for stealing depicts him as a stern, yet empathetic father.
Crowe transformed himself physically and made the boxing sequences exhilarating; while "Cinderella Man" is steadfast in its sincerity, its combat is brutal. By the end of Braddock's title fight, it's clear why his perseverance inspired so many during an era without much hope.
7. American Gangster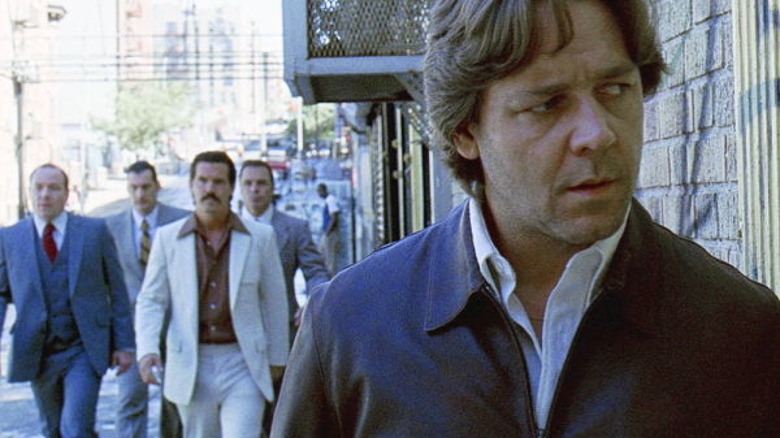 Universal Pictures
Another pairing with Ridley Scott, "American Gangster" is an epic cat-and-mouse game that remains compelling for its entire 157-minute runtime. Crowe appears as Newark detective Richie Roberts, a lawyer-in-training who becomes obsessed with Harlem mob boss Frank Lucas (Denzel Washington) and his rise to prominence as the rare Black gangster.
Crowe has the challenge of playing a character who is completely overwhelmed by Lucas' power, and he rightfully dulls his on-screen presence in order to let Washington's undeniable charisma shine. Robert's befuddlement with how "the Black Godfather" has been so successful in a typically bigoted community is exacerbated when his fellow law enforcement officers refuse to believe his informed insights.
A side plot sees Roberts sparring with his ex-wife (Carla Gugino) during divorce proceedings, adding to the sense that Roberts is overwhelmed. It's surprising to see the respect that grows between Robert and Lucas, two hard working professionals on opposite sides of the law; a film like this requires two dynamite leads, and, thankfully, Crowe and Washington are just as good as you'd expect. It doesn't hurt, either, that they're supported by a star-studded cast.
6. 3:10 to Yuma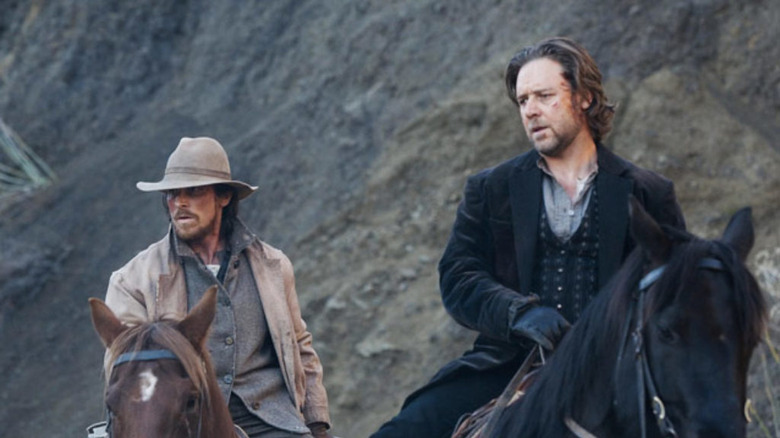 Lionsgate
Like "State of Play," James Mangold's reimagining of the classic western "3:10 to Yuma" is a remake worthy of the original. Crowe steps into the shoes of notorious gunslinger Ben Wade, a role originated by Glenn Ford in the 1957 film, to show what happens when Wade is captured by an unassuming rancher (Christian Bale), only to join forces with him as they avoid Wade's men on their journey to the titular train stop.
In "3:10 to Yuma," Crowe and Bale modernize archetypical Western characters. Bale brings the weariness of an injured veteran to the film, and Crowe paints Wade as a product of his environment. His crimes are the result of an unjust government that's too slow to dole out resources, allowing a criminal sect to flourish. Crowe isn't an over-the-top villain, but rather a pragmatist who has strategically cultivated his reputation.
Crowe's command of his men, chiefly his top lieutenant Charlie Prince (Ben Foster), is shown early on, and the gang's unflinching loyalty to Wade sets up an interesting showdown when the outlaw comes to the aid of the rancher and his son. Although it replicates key beats of the original, 2007's "3:10 to Yuma" stands as a western classic in its own right.
5. A Beautiful Mind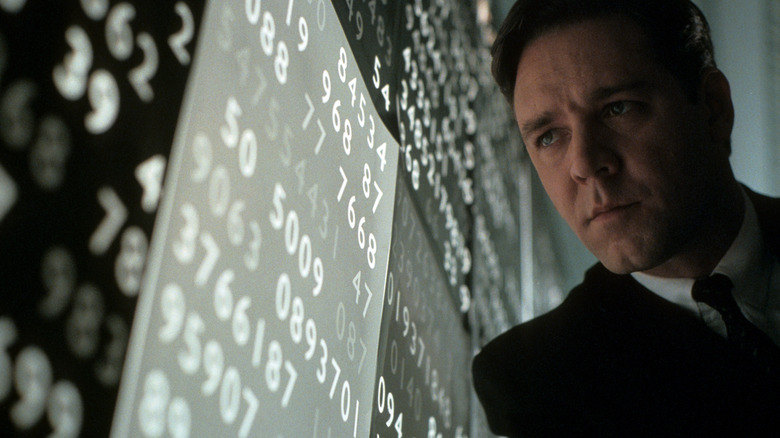 Universal Pictures
The second of Crowe's back-to-back best picture winners, "A Beautiful Mind" thoughtfully examines the troubled life of brilliant mathematician John Nash. Crowe shows again that he can portray austere characters with depth and empathy, as early on the neurotic genius is characterized by his social awkwardness, and later by his schizophrenia. 
Crowe respectfully doesn't lean into showy eccentricities that would devalue or demean the struggles that Nash endured. Instead, "A Beautiful Mind" treats mental health trauma thoughtfully, avoiding harmful stereotypes. We see Nash's decline through his own eyes; his shock at discovering that he's suffering from delusions is a twist for the audience too, as we've been led to believe that Nash's perception was accurate. Director Ron Howard brilliantly tells the story entirely from Nash's perspective, fleshing out the symptoms of his illness.
Crowe's sincerity guides the film through story beats that could feel like biopic clichés. Nash's his romance with his protégé — and later, his wife — Alicia (Jennifer Connolly) comes across as touching, not tacked on, and the quintessential "inspirational end speech" in which Nash calls Alicia's love his anchor point is genuinely moving. "A Beautiful Mind" feel light compared to other best picture winners, but Crowe's performance remains a standout.
4. Gladiator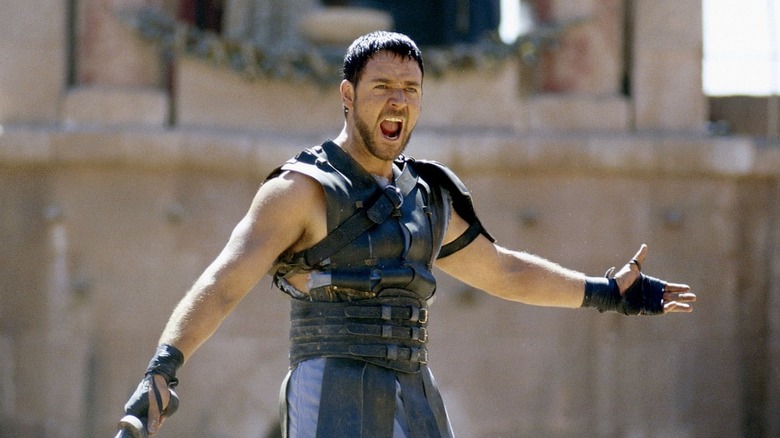 DreamWorks Pictures
Crowe earned his Academy Award for best actor for "Gladiator," one of the definitive screen epics of the 21st century. Crowe wrings all the dramatic potential out of Maximus Decimus Meridius, a humble Roman general promised the title of Emperor by the current ruler, Marcus Aurelius (Richard Harris), an act that spurs Marcus' vengeful son Commandus (Joaquin Phoenix) into murdering Maximus's family and selling him into slavery. As the title indicates, Maximus has to rise through the ranks of gladiatorial combat in order to achieve justice.
An old-fashioned approach to a classic story of loss and revenge isn't stale when it's this masterfully done. Despite the epic scope of Ridley Scott's riveting action sequences, Crowe keeps it grounded emotionally, as his loss drives him to engage in the violent games. Crowe perfectly plays Maximus's unfamiliarity with this style of combat; Maximus is used to noble campaigns, not gladiators' dirty, intimate violence.
The pain of Maximus's loss is never forgotten, and Phoenix's sniveling performance only heightens the suspense prior to the climactic final duel. "Gladiator" is more than the sum of its parts; with Crowe at the center, the detailed historical backdrop and nuanced language aren't a barrier to moments of both triumph and heartbreak.
3. The Nice Guys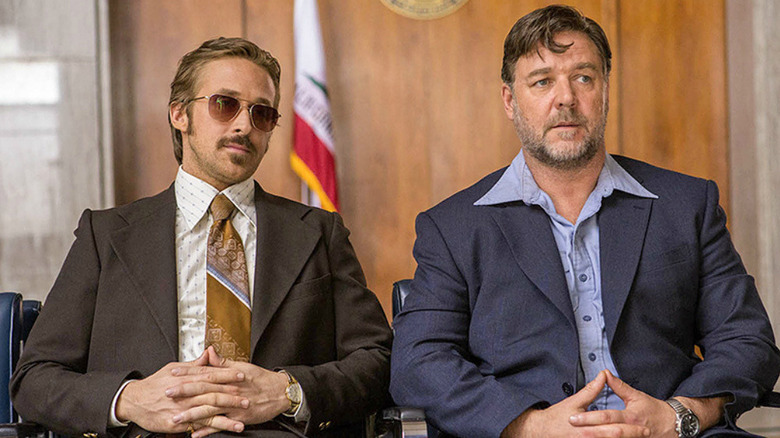 Warner Brothers
Crowe does not get enough credit for how funny he can be. The blunt staunchness he brings to dramatic roles also makes him the perfect straight man in comedies. No film demonstrates this better than Shane Black's incredibly underrated buddy cop film, "The Nice Guys." In the movie, Crowe plays an intimidating heavy named Jackson Healy, a troubled detective who reluctantly joins forces with an alcoholic private eye named Holland March (Ryan Gosling).
Gosling swings for the fences with a wild performance that aims for Buster Keaton-level physical humor, and Crowe is perfect as his deathly serious counterpart. If Gosling delivers Black's clever lines as eccentrically as possible, Crowe is dry enough to suck all the zest out of his enthusiasm. Crowe's physicality also distinguishes him from Gosling, who manages to injure himself in a variety of hilariously violent ways.
The performances don't descend into caricature, and Crowe shows real depth when interacting with Holland's daughter, Holly (Angourie Rice). Crowe makes these moments touching without being saccharine, and seeing the trio develop as a team makes the investigation more compelling. It's an absolute shame that the film's disappointing box office returns dampened the prospects for Crowe and Gosling to return to these characters in sequels.
2. L.A. Confidential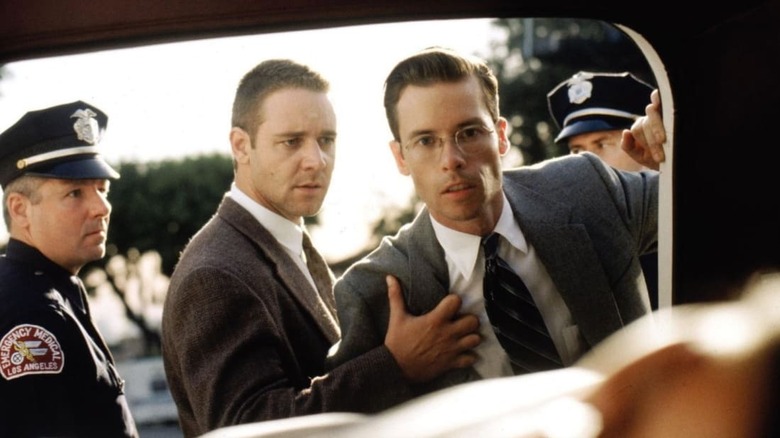 Warner Brothers
A more serious take on a Los Angeles-set noir story than "The Nice Guys," "L.A. Confidential" is still a ton of fun. The nostalgic approach to film noir is modernized through an exploration of police brutality, as well as the complex performances by Crowe as aggressive LAPD officer Bud White and Guy Pearce as geeky analyst Ed Exley.
There is some humor mined from the union of these clashing personalities, but "L.A. Confidential" plays their investigation into the blackmailing of prominent Hollywood figures pretty straight. Crowe's sudden and violent outbursts, particularly during the film's opening recreation of "Bloody Sunday," adds pressure to Pearce to reign him in. The characters are so duty-driven that they rarely acknowledge their appreciation for each other, but the subtle comfort that develops between the two comes as a bright spot during the ambiguous finale that indicates that, despite their efforts, corruption will continue.
Kim Basinger won an Academy Award for her performance as high-end prostitute Lynn Bracker, and her romance with Crowe is a timely update of the standard relationship between the femme fatale and the brooding detective that grants both characters agency. Crowe's emotionally stunted rule-breaker is just one of the noir archetypes that "L.A. Confidential" subverts.
1. Master and Commander: Far Side of the World
20th Century Pictures
There's a reason why, nearly two decades after its initial release, fans still clamor for a sequel to "Master and Commander: Far Side of the World." The Napoleonic epic may have underwhelmed at the box office, but it's among the most meticulous and gripping depictions of naval combat to ever grace the screen, and Crowe's performance as literary hero Jack Aubrey is one of the key reasons why the film has endured as a favorite.
The captain of the HMS Surprise is a respected veteran of the war campaign, but between unprecedented weather conditions and missions to capture French privateers, Aubrey is left vulnerable by his adventures. Crowe has an engaging repertoire with his crew, whom he shows a fondness for, yet he keeps at a distance in order to maintain his professionalism. Aubrey has seen men he cares for die in combat, and the loss of a single crew member weighs heavily on his heart.
The scale of Peter Weir's expansive sets and eardrum-shattering action sequences is truly awesome, but every combat decision is determined by the crew. Crowe's titular leader is tasked with providing instruction and inspiration during these chaotic sequences. It's a shame that "Master and Commander: Far Side of the World" didn't spawn a recurring franchise, but it remains the crowning achievement of Crowe's career thus far.