Clips Round-Up: Marc Maron's Snake From The Bad Guys Gets The Spotlight & More! [Exclusive]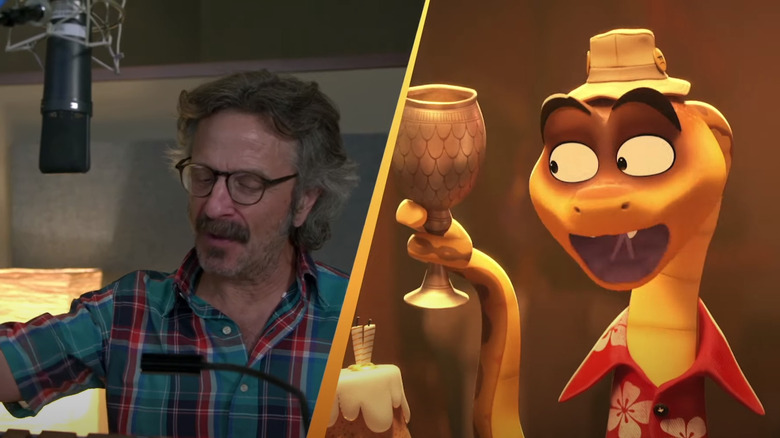 Universal Pictures
(Welcome to SlashClips, a series where we bring you exclusive clips from hot new Digital, Blu-ray and theatrical releases you won't see anywhere else!)
In this edition:
The Bad Guys
The Human Trial
Dawn Breaks Behind the Eyes
Bowen's Heart
The Bad Guys
First up, Universal Home Entertainment has provided us with a fun exclusive clip from the home video release of their latest animated offering "The Bag Guys," available on digital, 4K, and Blu-ray June 21, 2022. This one features a behind-the-scenes look at the recording process for the character Snake, voiced by "WTF" podcaster and comedian extraordinaire Marc Maron ("Maron," "GLOW")!
Here is the official synopsis: 
After a lifetime of legendary heists, notorious criminals Mr. Wolf, Mr. Snake, Mr. Piranha, Mr. Shark and Ms. Tarantula are finally caught. To avoid a prison sentence, the animal outlaws must pull off their most challenging con yet – becoming model citizens. Under the tutelage of their mentor, Professor Marmalade, the dubious gang sets out to fool the world that they're turning good.
The Human Trial
Next up we have an exclusive clip from "The Human Trial," a personal documentary about the search for a life-changing innovation for people suffering from diabetes. Abramorama will release the film in theaters on June 24, 2022.
Here is the official synopsis:
Directed by Lisa Hepner and her husband Guy Mossman, "The Human Trial" is informed by Lisa's own experience with Type 1 diabetes (T1D), looking at the people beyond the headlines to show the sweat, passion, and sacrifice at the forefront of an unprecedented breakthrough. Chronicling the intimate stories of 2 patients living with T1D, a physically and financially exhausting lifelong condition, the film calls for this overdue cure needed now more than ever. Maren Badger and Greg Romero are the guinea pigs in a radical stem cell trial to cure their T1D. After it seemed like this day would never come, they navigate their emotions as they undergo this life-altering treatment.
Dawn Breaks Behind the Eyes
Next is the gothic German genre-bending thriller "Dawn Breaks Behind the Eyes," which is coming to digital platforms June 24, 2022 from Dark Sky Films.
Here is the official synopsis:
Margo, who comes from a noble family, inherited a castle that she inspects with her ill-tempered husband Dieter. When they arrive at the run-down keep, their relationship is put to a test as their sanity slowly deteriorates. This opens up a new world. As time and space begin to shift around them, a reality that only exists within the walls of the eerie building is exposed – a reality full of warmth and excess. Things aren't as they seem in this genre-bending film, that shifts between different story layers in unpredictable ways. It is a love letter to European cinema of the sixties and seventies that will leave viewers guessing what will happen next.
Bowen's Heart
Finally, Global Digital Releasing has given us a clip from their moving new documentary "Bowen's Heart," which is now available on digital. 
Here is the official synopsis:
"Bowen's Heart" offers a deeply vulnerable view of how chronic illness impacts an entire family. This feature length documentary film follows, (a then eight-year-old Bowen), through his third major open-heart surgery as his parents struggle with the hope that the surgery could make his life better and the knowledge that it could make things much worse.