The Terrifying Aubrey Plaza Scene That Still Gives Us Nightmares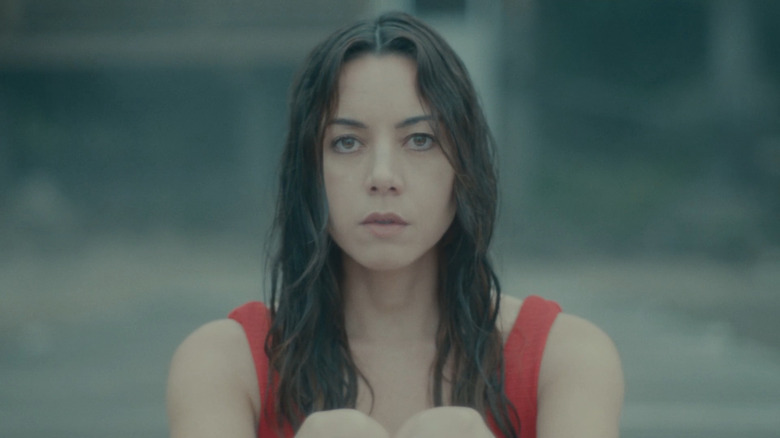 Momentum Pictures
Known by most for her memorable deadpan comedic delivery and sardonic attitude, comedian and actor Aubrey Plaza has a truly fascinating filmography.
Her breakthrough performance as April Ludgate on "Parks and Recreation" made her a household name, leading her to roles in comedy films like "Mystery Team," "Scott Pilgrim vs. The World," "Safety Not Guaranteed," "The To Do List," "Life After Beth," "​​Mike and Dave Need Wedding Dates," and even providing the voice as the titular star of "Grumpy Cat's Worst Christmas Ever." Despite her comedic roots, Plaza has been traversing across genres as of late, starring in edgy or downright scary projects like "Legion," the remake of "Child's Play," and the brilliant "Ingrid Goes West." When not played for laughs, Plaza's straight-faced delivery can easily read as threatening or scary, which makes her a perfect addition to the genre film scene.
With so many instinctively associating Plaza's usual conveyance with laughs, there's an unsettling aura that hangs above the viewer whenever she's on screen and there's no punchline to be found. Plaza is a genuine talent, and it's high-time that her non-comedic work is given the spotlight.
Debuting at Sundance in 2020, Plaza starred in Lawrence Michael Levine's disquieting domestic thriller, "Black Bear." Unfortunately, thanks to the start of the pandemic, the film was released in December 2020 to little fanfare and an even smaller marketing campaign, meaning most audiences missed out on Aubrey Plaza's most nightmarish film yet.
'I've been lying since the moment I got here'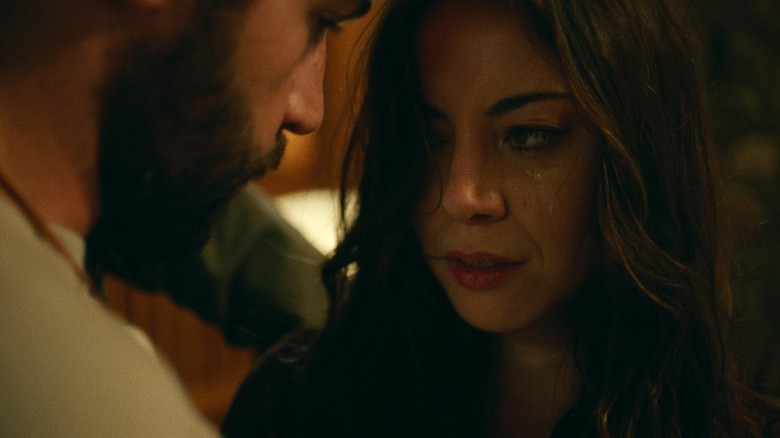 Momentum Pictures
"Black Bear" sees Plaza as Allison, a multi-hyphenate film creative who retreats to a remote lake house in an attempt to buckle down and complete her next screenplay. She's not alone, however, as the lake house is being shared by Gabe (Christopher Abbott) and his pregnant girlfriend Blair (Sarah Gadon). Almost immediately, Gabe's flirtatious interest in Allison becomes obvious, and Blair is forced to sit idly by as the father of her unborn child openly flirts with this stranger. The couple constantly bicker in front of Allison, delivering low blows like bringing up Gabe's struggling career as a musician and Gabe lambasting Blair over her drinking habits. Allison is caught in the middle, frequently shifting her alliances between Gabe and Blair, which only seems to heighten the conflict between them. Eventually, things come to a head and they all head back to their respective bedrooms for the night.
After Blair falls asleep, Gabe follows Allison for a night swim at the lake, and Allison admits that she's been lying to Gabe and Blair since she arrived, for no apparent reason. The two's sexual tension comes to a head, and the two begin to have sex. Blair catches them in the act and attacks Gabe, who violently shoves her against the couch, causing her to bleed. Gabe demands that Allison drive them to the hospital, but on the way, a black bear near the road scares Allison, who crashes the car into a tree. In any other movie, this would be the end of this trio's tale, but in the case of "Black Bear," things have only just begun.
Art imitating life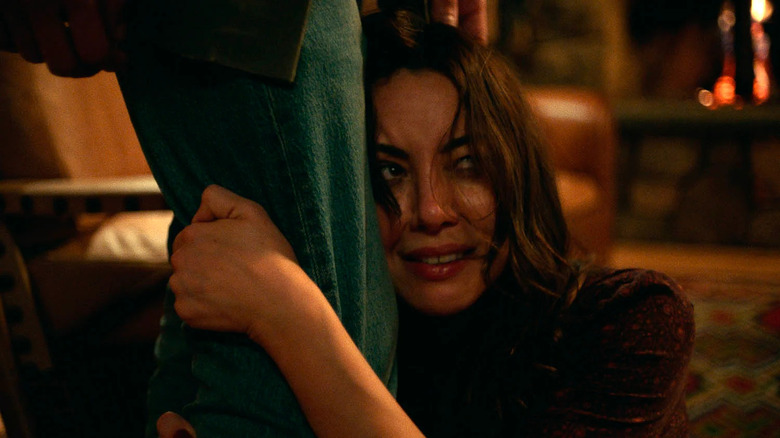 Momentum Pictures
"Black Bear" is broken into two segments, with the car crash signaling the end of the first and start of the second. When we return to the story, the lake house is now the set of a movie Gabe is directing, and Allison and Blair are actresses, albeit with their roles switched. Allison is the wife in an unhappy marriage, and Blair is the hot, new ticket. As it turns out, Allison and Gabe have been married for quite some time, but his on-set treatment of her is abrasive compared to the kindness he shows Blair, which makes everyone on set wildly uncomfortable. Allison accuses her husband of having an affair with Blair, which is sincerely happening as Gabe thinks it will provide the right amount of motivation for Allison's performance. During the film within a film's explosive argument scene, Allison eventually begins screaming and physically hits Blair for real, providing the performance Gabe had wanted.
The scene shows Plaza at her most unhinged and emotionally devastated, and knowing the behind-the-scenes truth of her character's marriage, it's difficult to decipher whether or not Allison is acting, or pushed to the brink of sanity. As the cameras stop rolling, it becomes more apparent that Allison is not acting, and is in fact having an uncontrollable emotional breakdown in real time. The tension in the room grows thicker, and the film that started out so calmly has progressed into an erratic nightmare. The ferocity in Plaza's delivery transforms this moment into a psychological hellscape, and a film that will stay with you long after watching.