What Stranger Things' Vecna Really Looks Like Under The Makeup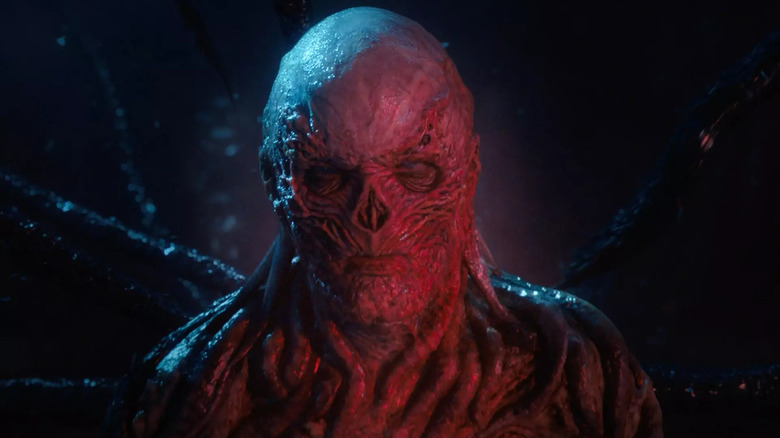 Netflix
Warning: there are spoilers for "Stranger Things" season 4 below.
Six months after The Battle of Starcourt, new horrors await the "Stranger Things" gang around every possible corner, and they're much more terrifying than the last. Since its debut, the Netflix series has been packed with creepy creatures and curling tendrils, and if you hoped the fourth season might relax the horror influences, then here's some bad news: the latest season of "Stranger Things" is easily the scariest. Naturally, this means introducing a terrifying new creature to haunt everyone's nightmares, fit with a design that'll make your skin crawl. This is where Vecna comes in — the show's most ambitious creature yet because he's more than just a scary creation of the Upside Down. As the seventh episode of the season reveals, Vecna was once a human.
That's right, turns out Vecna's not so different from the rest of us: he wakes up in the morning, sips some Starbucks, and puts his skin on, one layer at a time. After spending some time moonlighting at Hawkins National Laboratory, Peter Ballard reveals himself to be Henry Creel, the psychic kid later renamed One, as the first kid subjected to Dr. Brenner's experiments. After crossing Eleven, One was thrown into the Upside Down where the years would change him into the Freddy Krueger-esque Vecna, who lures the innocents of Hawkins into his clutches with visions of their past. When we see him haunting Max or setting his signs on Nancy, Vecna is made of fleshy veins and vine-like tendrils but believe it or not, once you peel back some of those layers, he's not that horrifying to look at.
Who is Jamie Campbell Bower?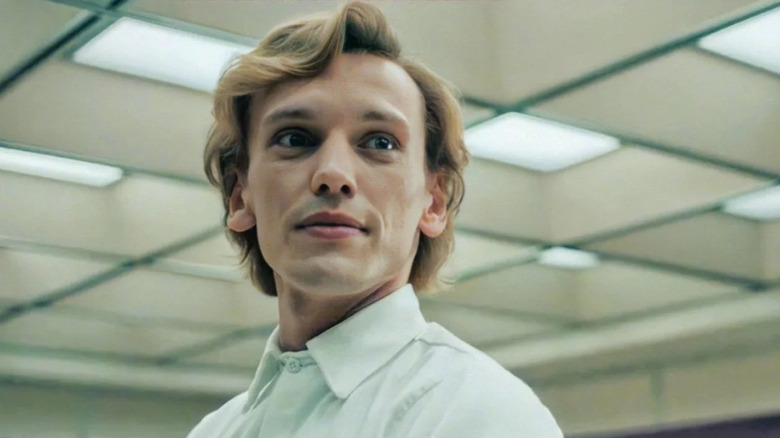 Netflix
Underneath Vecna's fleshy outsides is the familiar face of Jamie Campell-Bower, who spends the season deceiving El as one of Brenner's assistants. Whether or not he's a friend or foe is pretty hard to nail down throughout the season, but once his future as Vecna is revealed, everything falls right into place. With Vecna set to return for season 4 vol. 2 on July 1, now seems like the perfect time to get familiar with the man behind the monster.
Fortunately for any YA-connoisseurs, they'll already have a leg-up. Back in the Young Adult adaptation heyday of "Divergent," "The Hunger Games" and the likes, Jamie Campbell Bower made the crossover into three different popular franchises: "Harry Potter," "Twilight" and "The Mortal Instruments" (aka "Shadowhunters"). In the wizarding world, he played the young version of Gellert Grindelwald — a role he later returned to for the "Fantastic Beasts" franchise. It ended up working out really well for him — aging up to become Mad Mikkelsen is a solid deal (minus the whole super-villain thing). In the "Twilight" movies, he appeared as the ruthless vampire Caius and in "The Mortal Instruments," the half-angel hybrid Jace Wayland.
Playing mythical beings might be how Bower's star got launched, but his career goes back a little further. His first role was in Tim Burton's musical adaptation of "Sweeney Todd: The Demon Barber of Fleet Street" where he strolled down streets singing "Johanna." (Be warned — a single viewing of Sweeney Todd is all it takes to get his solo playing on an endless loop in your head.) Later, he played King Arthur in the Starz "Camelot" series, and for its single season on the air, he was Christopher Marlowe on "Will," a show best described as YA Shakespeare. All this to say that Jamie Campbell Bower has been around for quite some time, which might be why they went to so much trouble to hide him under layers of nightmare-inducing prosthetics.
How Vecna came to life
As you can probably imagine, creating Vecna was no simple task — especially because "Stranger Things" went the practical route with this particular monster. Vecna's body has distinctly creepy details built in —veiny skin, jagged edges, toothy appendages — most of which were created and applied to Campbell-Bower's body. It took nearly 20 separate prosthetic appliances to pull off. For a glimpse at the process, Netflix released a 40-second time-lapse of the practical effects team assembling the costume. Don't let its brevity fool you — the process takes a lot more time and patience than it seems.
watch Jamie Campbell Bower transform into Vecna in this timelapse from STRANGER THINGS 4 pic.twitter.com/TuNAqrkGZI

— Netflix Geeked (@NetflixGeeked) June 15, 2022
Special effects artist Barrie Gower (aka the man behind the design of "Game of Thrones" villain The Night King) was hired to bring Vecna to life. It was a painstaking process for his team that initially took eight and a half hours from start to finish, but eventually whittled down to six and a half hours. They began by creating a full-body cast for Bower, which was divided into 25 different parts that they made molds for and injected with materials like silicone and foam latex.
As shown in the time-lapse, the next step was gluing each piece together on Bower's skin, then airbrushing the smaller details to make it seamless. The wildest part of it is how calm and focused Jamie Campbell-Bower remains as they slowly glue individual pieces of the costume onto his body, drinking coffee and casually taking phone calls. Actually, scratch that — the wildest part is seeing Vecna sip Starbucks and chat on the phone. It's a big departure from the whole torturing the teenagers of Hawkins bit that usually takes up his time yet is somehow equally upsetting.
"Stranger Things" season 4 vol. 1 is currently available in its entirety on Netflix.