A Toned-Down Grindelwald Helped Mads Mikkelsen Make The Fantastic Beasts Character His Own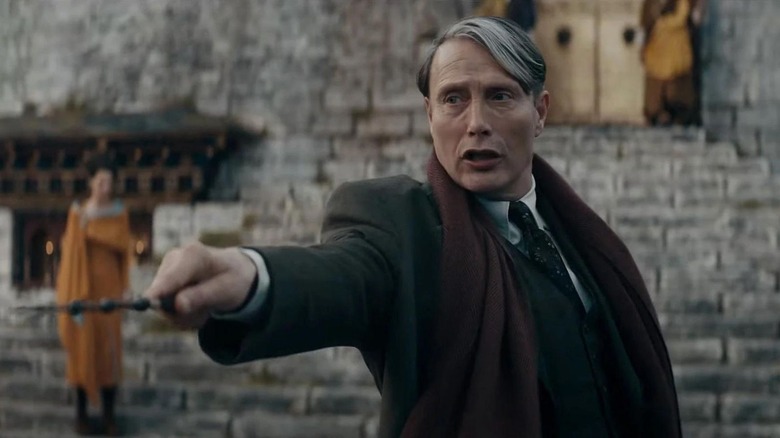 Warner Bros. Pictures
Mads Mikkelsen has made a lasting impression with his roles in "Hannibal," "Casino Royale," and "Doctor Strange," becoming something of a go-to villain for Hollywood. But when the actor replaced Johnny Depp as Gellert Grindelwald for "Fantastic Beasts: The Secrets of Dumbledore," Mikkelsen felt pressured to distinguish his version of the Potterverse supervillain from his predecessor's.
The Danish actor brings nuance and a kind of mysticism to every villain he has ever portrayed, which assured "Fantastic Beasts" fans that Mikkelsen's performance would be as terrific as Johnny Depp's. Still, the actor found it rather complicated to step into his shoes. With a role in two films, the controversial star had established himself as the franchise's big bad, and Mikkelsen felt burdened by the weight of a former performance and his desire to make the role his own. The easiest way to build a bridge between both performances and yet, allow Mikkelsen to put a spin on his version of the character was first to tone down Grindelwald's appearance.
The character was tailored for Mads Mikkelsen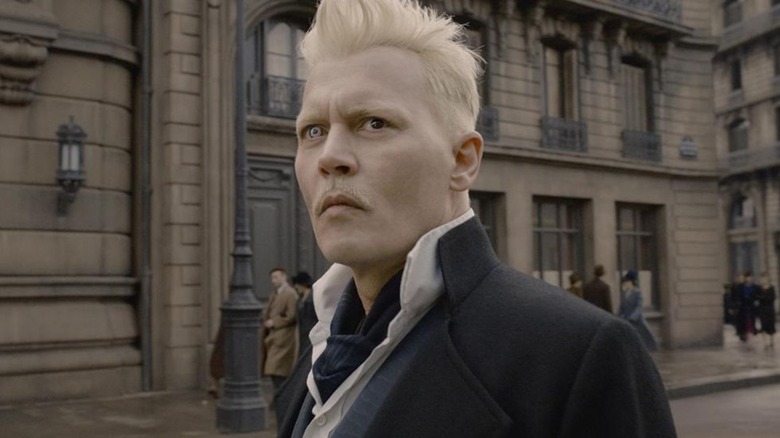 Warner Bros. Pictures
If you remember Johnny Depp's Grindelwald (he is hard to forget, to be honest), you know he had a mop of platinum hair that stood on end, a neatly trimmed mustache, and different colored eyes (a scary, misshapen grey, nearly blue eye and the other being dark brown). Grindelwald was frightening — and he looked the part.
When Mads Mikkelsen stepped in to take over the role, the film's crew decided to "tone down" Grindelwald's physical appearance at the actor's request (via The Hollywood Reporter). The Grindelwald we see in "Fantastic Beasts: The Secrets of Dumbledore" has only a hint of Depp's prominent platinum hair — and wears it slicked back. His albino eye has been dialed down to an almost-unnoticeable, "reptilian" grey, which updates Mikkelsen's tally of playing villains who have suffered from ophthalmologic trauma to seven.
It was a chaotic experience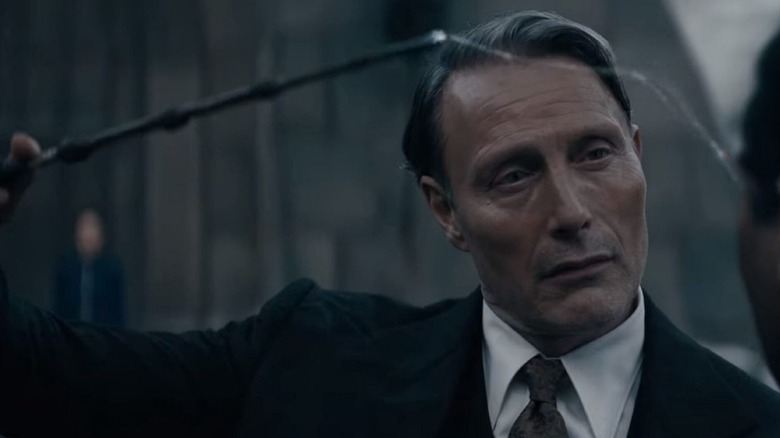 Warner Bros. Pictures
Mikkelsen described the process of taking over from Depp as "quite chaotic," explaining that it would be "creative suicide" to blatantly copy the former "Fantastic Beasts" actor's interpretation of the villain. He was convinced to bring his version of Grindelwald before fans, and the actor was successful in doing so.
In the same interview, the "Hannibal" star conveyed he wanted to understand why the fascist wizard hated non-wizards and wanted to wage war on their world. After being unable to have a conversation about the character with author-screenwriter J.K. Rowling, Mikkelsen invented his backstory for Grindelwald, deciding that the traumatic experiences in his childhood impacted him severely, kindling the "hate he carried around."
While Mikkelsen hopes he can reprise the role in another film, the future of the "Fantastic Beasts" franchise is in doubt. "The Secrets of Dumbledore" saw its lowest opening weekend of any "Harry Potter" franchise film, due to a myriad of factors (an uninspiring film, retconning, and J.K. Rowling's reputation as a TERF), spelling serious doubt for its future. Whether Warner Bros. will greenlight the fourth film remains to be seen. Maybe if the franchise had focused on its fantastic beasts instead of the dynamic between Dumbledore and Grindelwald, things would be different.