Fantastic Beasts' Grindelwald Has One Specific Trait In Common With Many Other Mads Mikkelsen Villains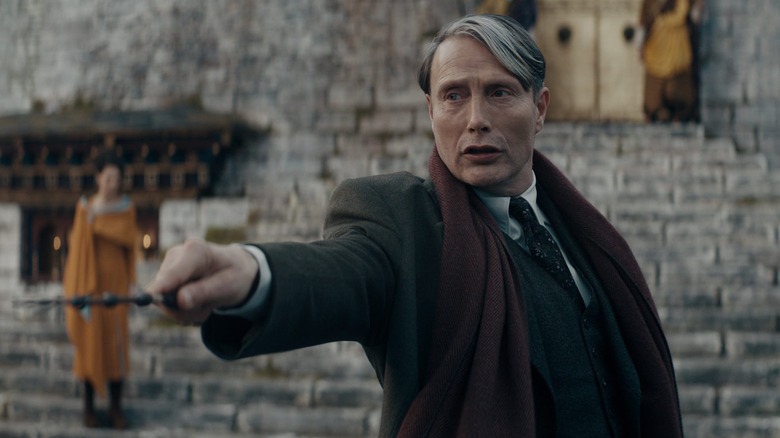 Warner Bros. Pictures
Mads Mikkelsen keeps getting typecast, but not in the way you may think. While the Danish actor has certainly amassed a resume full of big-budget villains, including roles in the James Bond franchise, the Marvel Cinematic Universe, and now, finally, the world of Harry Potter, the similarities in the roles he's taken on in the last few years don't end there. Sure, he breaks the mold every once in a while, like his character Martin in "Another Round" or Lucas in "The Hunt," but it's really starting to be a pattern now, Mikkelsen can't stop playing bad guys with eye problems.
Let's go down the list, shall, we? He plays a character who cries bloody tears in "Casino Royale;" he has one eye in "Valhalla Rising" (his character is also named One-Eye), "The Three Musketeers," and "Polar;" he plays a character with eyes damaged by magic in "Doctor Strange;" and in "Fantastic Beasts: The Secrets of Dumbledore," he's got one creepy lizard eye.
And it's all kind of weird, right? Like it's such a specific character element you would think it wouldn't pop up that much, but it does. Getting cast as villains over and over again, I understand. Americans are some how still very afraid of suave men with slight European accents as a part of those never-ending Cold War fears that sunk so deep into the pop culture consciousness they've just become run-of-the mill tropes now, so that part I get. But the eye thing? It's just so specific. What does it even mean?
Eye of the Mikkelsen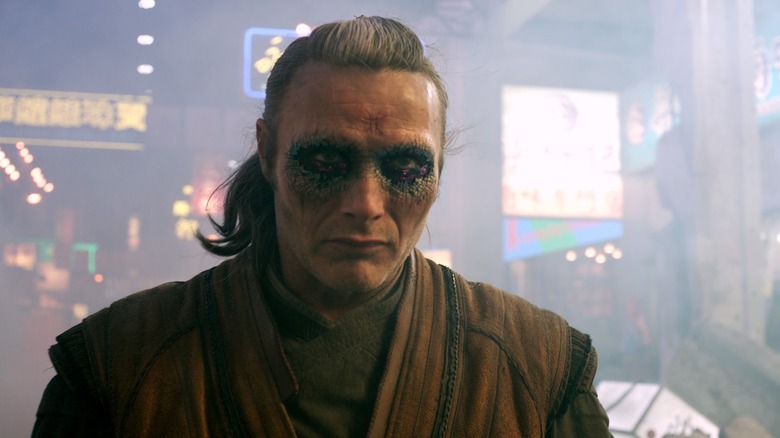 Marvel
According to Mikkelsen in an interview with The Hollywood Reporter, it doesn't mean much:
"We didn't really focus too much on the eye thing, no pun intended ... In general, doing something to an actor's face will often end up being something with the eye for a number of reasons: It's recognizable, they're the windows to the soul, it's easy to control while a prosthetic piece often will crack or fall off, and, finally, it's cool."
A dash of practicality, a whiff of sentimentality and a sprinkle of doing things because they look rad. That's the character cocktail combination that's give Mads Mikkelsen the weirdest eyes in the game. It certainly makes sense, it's practical and, like he says, identifiable, and it quite literally makes you take a second look at his villains, but I don't entirely buy it.
What other big bad in Hollywood is always having to put in weird contacts and double up on the eye cream? There has to be something about it, even subconsciously, that draws Mikkelsen in. I'll need a little more data to figure out what it is, but that shouldn't be a problem. If the saying is true and the best predictor of future behavior is past behavior, then we'll all have a slew of unusual eyed villains to watch soon.