Mads Mikkelsen Had To Write His Own Fantastic Beasts Backstory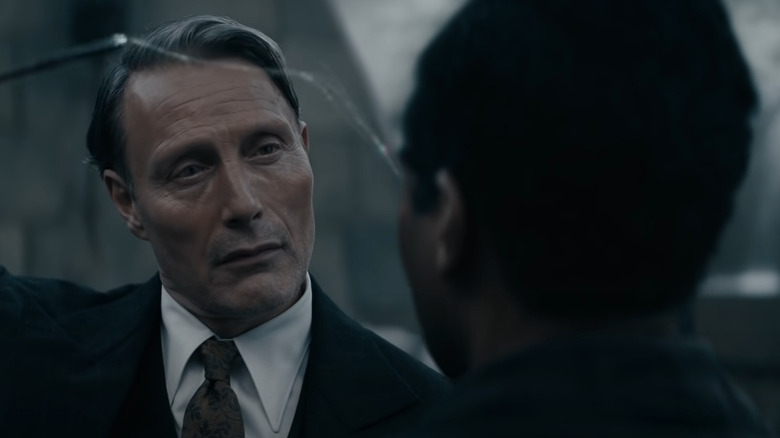 Warner Bros.
After a number of complications, "Fantastic Beasts: The Secrets Of Dumbledore" is finally upon us and in theaters. The third in the "Fantastic Beasts and Where To Find Them" series of "Harry Potter" spin-off films, the movie had been beset by a number of controversies and complications that ultimately saw "Hannibal" star Mads Mikkelsen take on the mantle of series antagonist Gellert Grindelwald from Johnny Depp.
Mikkelsen faced a number of challenges here in taking on the role. For one, he's following up on Depp's performance when the latter was asked by Warner Bros. to exit the franchise amid legal troubles at the same time series creator J.K. Rowling both supported Depp and has herself become controversial as a very public TERF. What's a consummate professional like Mikkelsen to do when he can't consult Depp or series creator Rowling about his character? Simple — he made his own complex backstory for the muggle-hating wizard in order to flesh out his character, and with it his performance. 
Fantastic character backstories and where to find them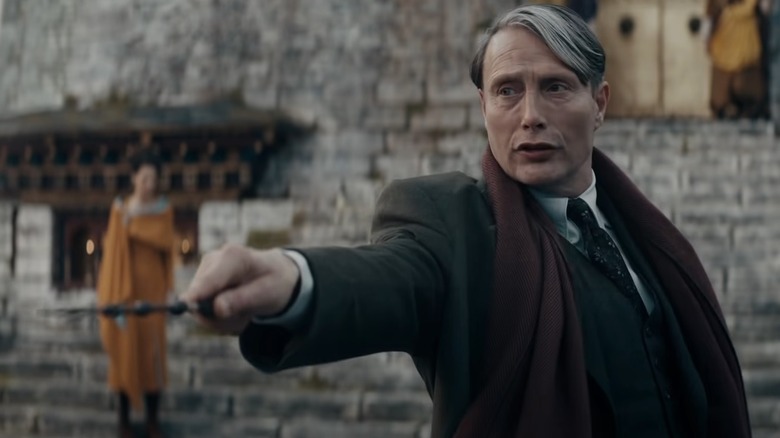 Warner Bros.
Earlier we covered Mikkelsen's approach to the character, shaping his performance in a way that its intended to be inspired by Depp's character interpretation and yet has its own unique flair. Grindelwald is also a complicated villain to crack, as the villain's stated motivation is literally the genocidal elimination of all muggles — that is, everyone outside the community of wizards in the "Harry Potter" world. In less skilled hands, such a character could easily become a shallow, boring caricature of an a character archetype that we've seen so many times before. That's exactly what Mikkelsen hoped to avoid.
In a new interview, Mikkelsen reveals that he created his own complex backstory for the villain in lieu of Rowling's involvement. His motivation was a desire to find a more complex motivation that mere evil for the muggle foe rather than be "instantly demagogic": 
My reason is that something happened to his entire family when he was a child that explains the hate he carries around [...] It's a fantastic, detailed, complex universe [Rowling's] created, and I'd love to hear her thoughts on it. I hope I will do more than this one [film].
It's an excellent choice to ground his take on the character with a deeper backstory and set of motivations, and that level of preparation speaks to Mikkelsen's unsurprising dedication to his craft.
The future of his turn as the character is in doubt, his desire to return to the character notwithstanding. His considerable talents unfortunately couldn't save a joyless and deflated sequel, and it's premiere saw the lowest opening weekend of any "Harry Potter" franchise film, a prospect that spells serious doubt about the franchise's future given the myriad other complicating factors it suffers. Whether or not it will get a sequel (however unlikely that may now be) has yet to be seen.