Cassandra Peterson Originally Had A More Colorful Design In Mind For Elvira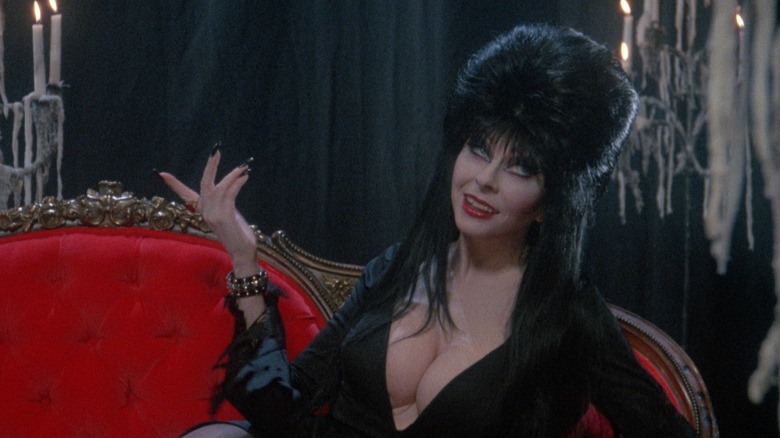 New World Pictures
Cassandra Peterson laid out the origin of Elvira right at the start of her 2021 autobiography "Yours Cruelly, Elvira: Memoirs of the Mistress of the Dark." Without much romance or magic involved, Peterson merely auditioned to play a "sexy" horror hostess for KHJ Channel 9 in L.A. in the summer of 1981. She didn't necessarily want to audition — she was on her honeymoon when she got the call — and was embarrassed that her potential rivals all bothered to come in costume when she didn't, but audition she did, ad-libbing comedy bits, attempting to make the part funny. She got the job. Elvira was born. 
Way back in 1988, right around the release of the first Elvira feature film, "Elvira: Mistress of the Dark," Peterson was interviewed by The Hollywood Reporter about the audition, and she recalls some of her potential rivals specifically, the costumes they wore, and how many potential actresses assumed they would be hired for their look alone. She also recalls some of her original ideas of how she wanted Elvira to look, which ended up being a far cry from the finished product. 
The Fearless Vampire Killers, or: Pardon Me, But Your Teeth Are in M Neck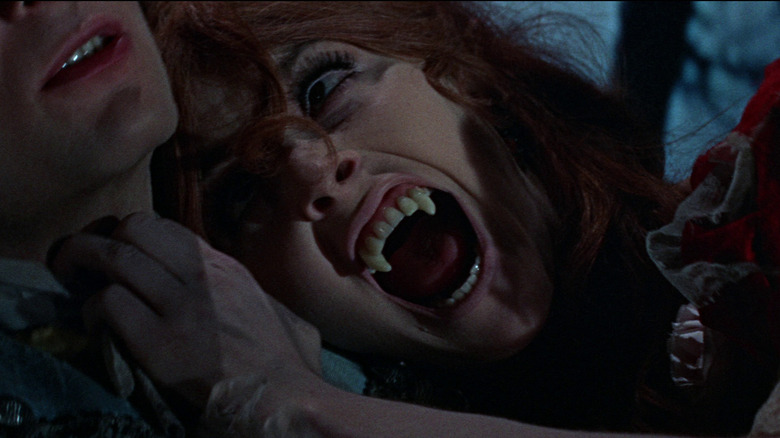 Metro-Goldwyn-Mayer
If one is an aspiring TV horror hostess in Los Angeles in 1981, what does one wear? If Peterson's overconfident rivals are to be trusted, something revealing: 
"I went to a casting call, but no one had told me to dress in vampire drag. Two other girls with the biggest busts I'd ever seen were wearing tight, sexy leotards and plunging necklines. One of them sported fangs installed by a dentist. They both wore black wigs like Lily Munster. One of them looked at me and said, 'You might as well leave now. I've got the job.' The others went in for auditions and then it was my turn to take what they called a scream test."
The "black leotard" look for a vampire character was in vogue as long ago as the 1940s. The look was something of a cliché. After Peterson secured the role, she was given a template of what KHJ wanted her to look like, which was in contrast to what Peterson envisioned. Like another Hollywood starlet who appeared in a vampire movie, Sharon Tate, Peterson had red hair, and wanted to model her look on Tate's look in a notable 1967 horror-comedy. 
"I had a friend draw me a picture of Sharon Tate as she looked in 'The Fearless Vampire Killers' with long red hair and pink diaphanous gown. It was sexy, but KHJ insisted on black hair and gown, black fingernails and big cleavage. I objected, but they knew what they wanted."
Elvira's love of pink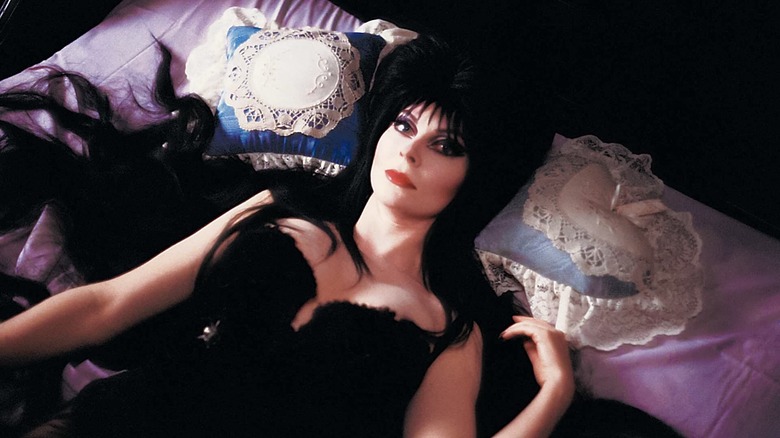 New World Pictures
Despite the black gown and nails, Peterson has always been careful to keep Elvira light, bubbly, even ditzy. She is a lover of pink, of lace, of traditionally "girly" things. In "Mistress of the Dark," Elvira moves into a dilapidated haunted mansion, and — rather than feeling at home a la The Addams Family — she gives the house a makeover, turning it into something more akin to Barbie's Dream House. Elvira may be Mistress of the Dark, but she is no nihilistic thanatophile.
The notion of inventing a "funny character" was a philosophy taught at The Groundlings, a comedy troupe that Peterson was once a member of. The Groundlings had a simple idea: Invent a unique character, and comedy will arise from any situation you put them in. Many members of "Saturday Night Light" abide by this ethos. Elvira was a "funny valley girl witch" character that Peterson's comedic talent lifted into something above and beyond a mere role. Elvira became an institution, easily inserted into any humor/horror situation, with Peterson comedy chops making her transcend.
At age 70, Peterson is still transcending to this day. She will next appear as the realtor behind 1313 Mockingbird Lane in Rob Zombie's upcoming film "The Munsters."