Chris Hemsworth Had One Condition For Making Thor: Love And Thunder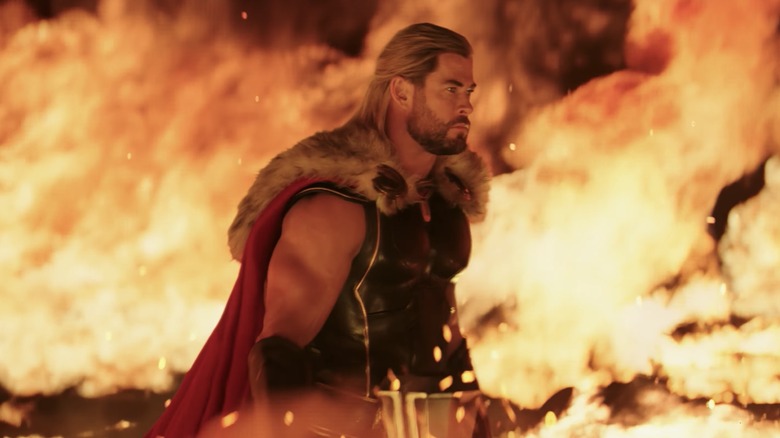 Marvel Studios
Chris Hemsworth made his debut as the God of Thunder in the Marvel Cinematic Universe more than a decade ago in 2011's "Thor." The actor has had quite the career since, but during that span of time, he has spent the vast majority of his time as the godly superhero in a trio of solo films along with four "Avengers" appearances. He's been busy. Yet, while several of his MCU co-stars such as Robert Downey Jr. (Iron Man), Chris Evans (Captain America), and Scarlett Johansson (Black Widow) have moved on, Hemsworth is gearing up for another go-around in this year's "Thor: Love and Thunder."
So, how is it that after all these years, an A-list actor who could surely find work in any number of films was convinced to return to the Marvel fold yet again? It turns out that Hemsworth had one very important condition when it came to picking up the hammer once more.
It all came down to Taika Waititi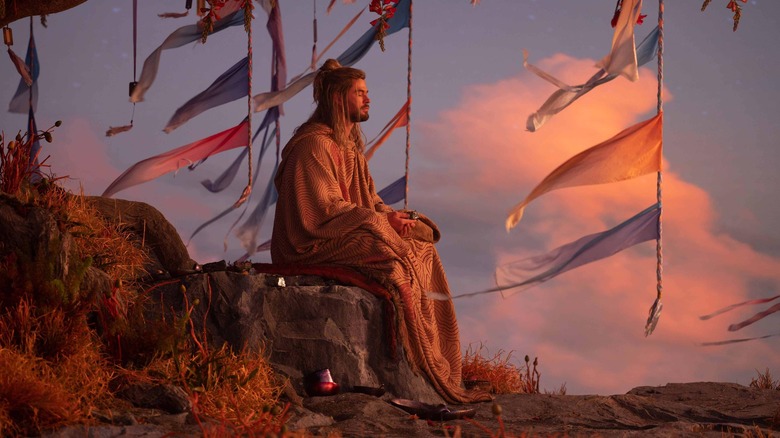 Marvel Studios
Hemsworth recently sat down with Vanity Fair to break down his career up to this point. As anyone might expect, there was a decent amount of talk about Thor and his time in the MCU. When the subject of "Love and Thunder" came up, Hemsworth explained that he may not have signed on the dotted line were it not for director Taika Waititi, who opted to return to the director's chair after helming 2017's very successful "Thor: Ragnarok."
"I don't know that I would've done another if Taika hadn't said yes, he was going to do it. And he had written this beautiful script which was a wacky, crazy, romantic comedy set in space and that I hadn't seen before."
Hemsworth's solo turns in the MCU were a bit of a mixed bag up until "Ragnarok" become one of the most cherished movies in the entire franchise. The first "Thor" was a fine enough origin story but "Thor: The Dark World" is still viewed as one of the worst movies Marvel Studios has produced to date. Waititi and his unique vision is a big part of the reason the tide turned and, that being the case, it's no wonder Hemsworth felt a lot more comfortable returning with him back on board.
Parallel journeys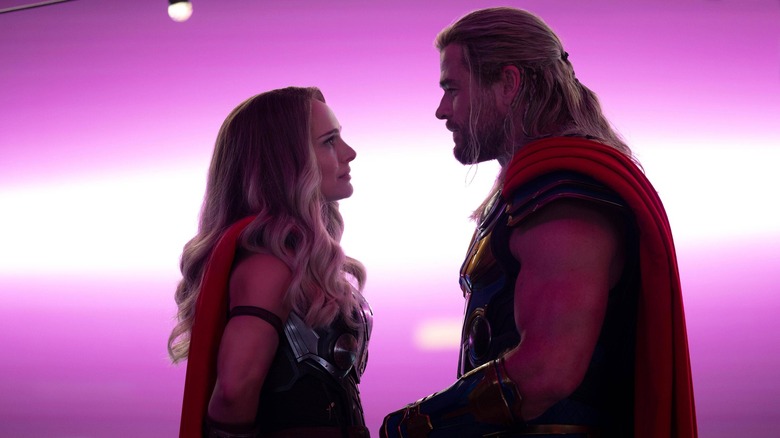 Marvel Studios
Unlike Captain America, who finally found his way to old age in "Avengers: Endgame," or Iron Man and Black Widow who (spoilers) died, Thor doesn't really have a logical jumping-off point in the MCU. He's hundreds of years old, is a literal god, and isn't as likely to perish in combat. That being the case, it's admirable that Hemsworth remains so committed to the character while also looking to maintain a certain quality with the films heading into these later sequels. The actor also explained in the same interview that his personal journey over the last decade in real life has been tied inherently to that of Thor's.
"I just love playing [Thor.] I love the journey I have been on with him. Not only as Thor, but just my life. The two have been side by side for 10, 11 years now and have both crossed over into each other's world from time to time."
As for what the future holds? Who knows but, thanks to Waititi, we're at least getting one more solo "Thor" film with Hemsworth.
"Thor: Love and Thunder" is set to hit theaters on July 8, 2022.
Thor: Love and Thunder finds Thor (Chris Hemsworth) on a journey unlike anything he's ever faced — a search for self-discovery. But his retirement is interrupted by a galactic killer known as Gorr the God Butcher (Christian Bale), who seeks the extinction of the gods. To combat the threat, Thor enlists the help of King Valkyrie (Tessa Thompson), Korg (Taika Waititi), and ex-girlfriend Jane Foster (Natalie Portman), who — to Thor's surprise — inexplicably wields his magical hammer, Mjolnir, as the Mighty Thor. Where will this quest take them? On a trek to Olympus where Zeus (Russell Crowe) reigns supreme, for starters.