Why Ethan Peck Shaved His Actual Eyebrows To Play Spock On Star Trek: Strange New Worlds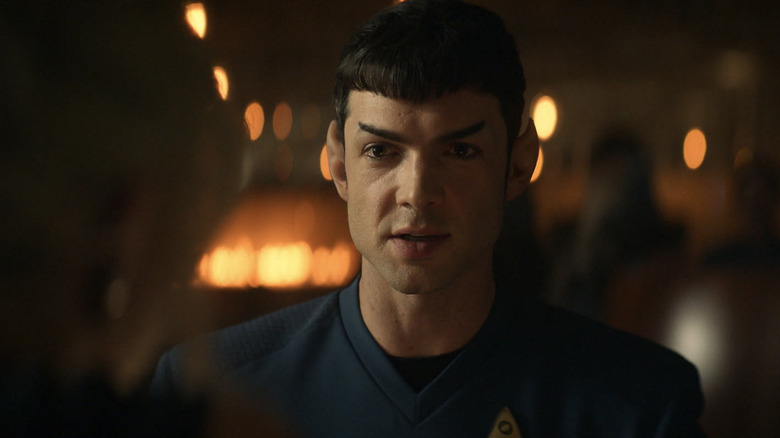 Paramount
In an interview with the Archive of American Television, the late Leonard Nimoy told the story of how he and executives at CBS first conceived of the make-up for the character of Spock on "Star Trek" back in 1966. Being an alien, Spock was to have pointed ears — that was decided early on — and his skin was meant to be red. Nimoy was game to be painted red, but wanted to consult with "Star Trek" make-up guru Fred Phillips (who had worked on "The Wizard of Oz" and many films besides) to brainstorm ideas. Nimoy and Phillips ended up nixing the red skin idea because they knew that many TV sets were still black-and-white models, and a bright red would read as mere black on screen, certainly not their intention. 
Nimoy wanted Spock to look crude and, in his words, "jagged." In the first Trek pilot, Spock was equipped with a rough haircut and big bushy, angled eyebrows. For the second pilot, Phillips refined the eyebrows to be sharper, shaving the outer edges of Nimoy's own brows, and replacing it with yak hair (a medium for make-up artists). A look was born, and every Vulcan on "Star Trek" was to follow that template. 
The most recent actor to undergo the pointed-ears-and-shaved-eyebrows process was Ethan Peck, who plays Spock — just prior to the events of the original "Star Trek" — in the Paramount+ series "Star Trek: Strange New Worlds." Peck originated his version of Spock on the second season of "Star Trek: Discovery," and found that he, like Nimoy, had to think about the make-up a little bit. In Peck's case, he was torn as to whether or not to shave half of his eyebrows. 
The Discovery make-up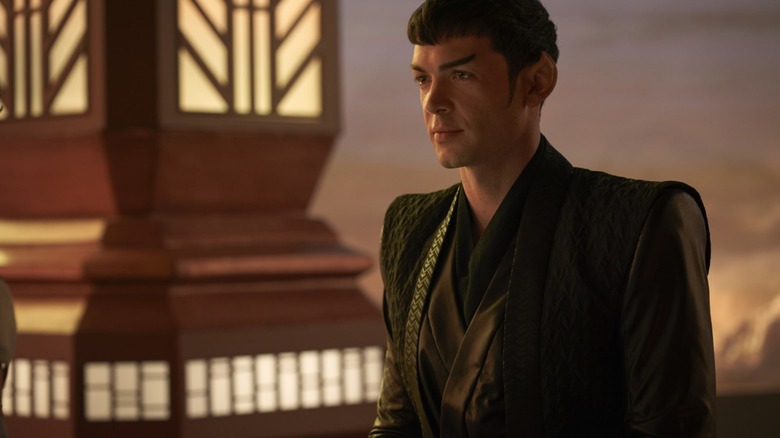 Paramount
In "Discovery," Spock was introduced on the lam, fleeing "Star Trek" police after allegedly murdering someone at a mental institution. Given the character's dire circumstances, his look was waltered to match: Spock had longer hair, bigger eyebrows, and a full beard (although he was not proven to be from the evil Mirror Universe). The look was created by make-up artist Chris Bridges, who explained his rationale in a recent article in Variety: 
"When we see Spock starting off on 'Discovery,' he's sort of in a state of madness. The makeup itself was different, because Ethan wasn't sure he wanted to shave off his brows, which would have made the whole process way easier. We spent two hours with him every morning. A brow prosthetic would cover his brow, and then we put on a lace brow."
The yak hair seems to have been replaced by a thinner, more lightweight "patch." This technique worked throughout the second season of "Discovery," whereon Spock was intended to be only a guest character. The revamped versions of Spock, Captain Pike (Anson Mount), and Number One (Rebecca Romijn) were so popular, however, that "Strange New Worlds" was conceived, and Spock was a regular character on televised "Star Trek" for the first time since 1969. The "patch," which took about two hours to apply properly, would have to be replaced with something more streamlined.
They'll grow back, I promise.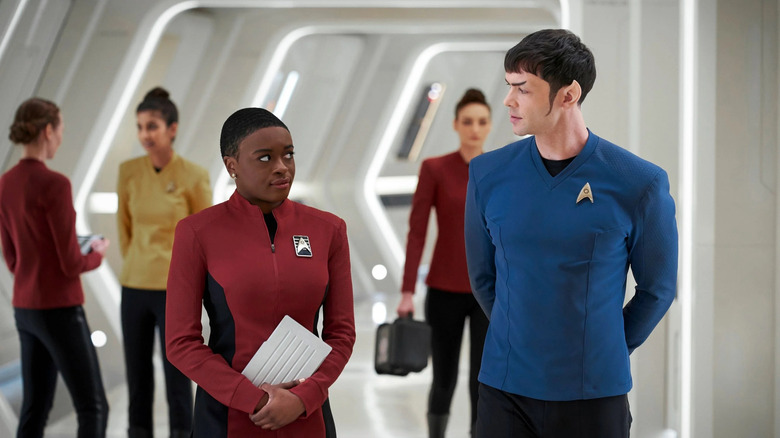 Paramount
Bridges recalls having to sitting down with Peck, explaining that he could cut down on time in the make-up chair just by removing his eyebrows. Peck required some convincing, and explained to Peck that he would be gentle: 
"I remember sitting down with Ethan and saying, 'Let me shave your brows. They'll grow back. I promise. As long as they don't wax them or damage the follicle, they'll grow back.' So, he was like, 'All right, let's do it.'"
After Peck's outer eyebrows were shaved, the application of the Spock brows, according to Variety, now took exactly 72 minutes. That's in addition to the usual 30 minutes of regular makeup that most of the human characters would go through. Spock has the second most dramatic makeup on the show, following the character of Hemmer (Bruce Horak), who wears outsize facial prosthesis, a wig, and antennae. Peck, meanwhile, is at peace with having his eyebrows shaved: 
"[Bridges] usually cleans up my eyebrows. He shaves if there's been any regrowth on the edge."
The first season of "Star Trek: Strange New Worlds" is currently airing on Paramount+.