Michael Bay's Movie Career Started With A Job At Lucasfilm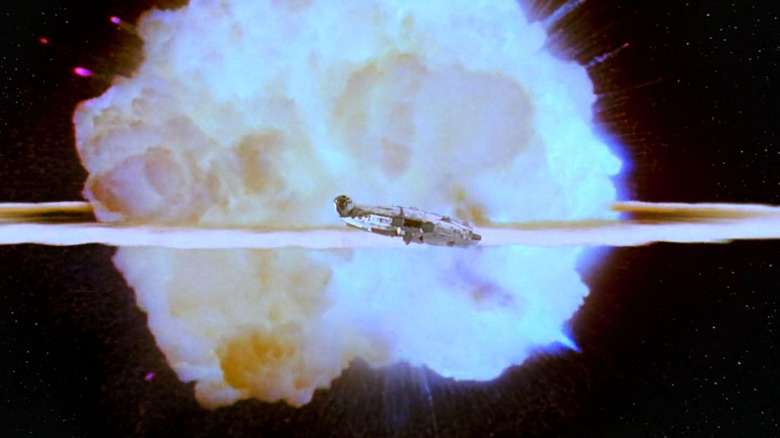 20th Century Fox/Disney
Many big-time directors got their start with small jobs working for name studios and/or personalities; take James Cameron, for instance, who famously worked in the scene shop and special effects department of Roger Corman's studios before he broke out with "The Terminator" and other hits.
Director Michael Bay is certainly no different, but where Cameron had his beginnings with a relatively humble low-budget production company, the man who would go on to make films like "Armageddon," "Transformers," and "Ambulance" got his start at the company that changed the face of cinema forever: Lucasfilm. While the company founded by George Lucas had independent beginnings, the massive worldwide success of "Star Wars" turned it into a dream factory practically overnight. And it was in its offices filled with development materials of would-be blockbusters where Bay learned to love movies — and couldn't wait to make them.
Explosion-meister Bay gets his own teenage mind blown by Lucasfilm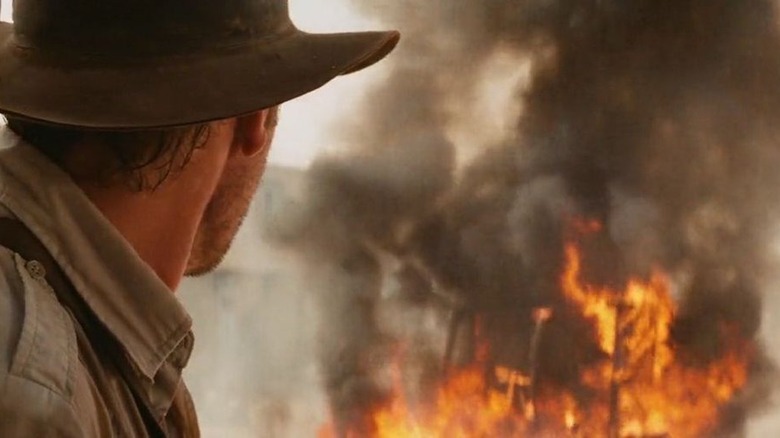 Paramount
Born in Los Angeles, Bay seemed destined to the big screen from an early age. As he recalled in 2009, he used to make his own home movies as a boy, and in one particular instance where he set off "little firecrackers on the train set" he set his bedroom on fire, an accident for which he was grounded by his parents for two weeks.
Given that the bar of spectacle was already raised for young Bay, the budding filmmaker was eager to get a gig at Lucasfilm upon seeing "Star Wars," a movie that Bay recalled being "awestruck" by. At the age of 15, Bay was living every teenage boy's dream, "filing 'Star Wars' photos and spaceship drawings" and seeing "how the magic was created," as he recalled this past April.
Yet the snot-nosed teen found himself unimpressed when the materials for a new film to be directed by Steven Spielberg crossed his path. "I filed the 'Raiders of the Lost Ark' storyboards," he explained. "They were big, beautiful, like a cartoon. I'm looking at them and saying, 'Steven's doing this movie called 'Raiders of the Lost Ark,' and it's going to suck."
Yet a year later, when the film opened, the teenage Bay had his mind blown by the final product. Seeing "Raiders" at the Grauman's Chinese Theatre with his parents, he remembers thinking, "Oh my God, this movie is awesome. This is what I want to do."
Bay is guided toward his destiny and eventually works with Spielberg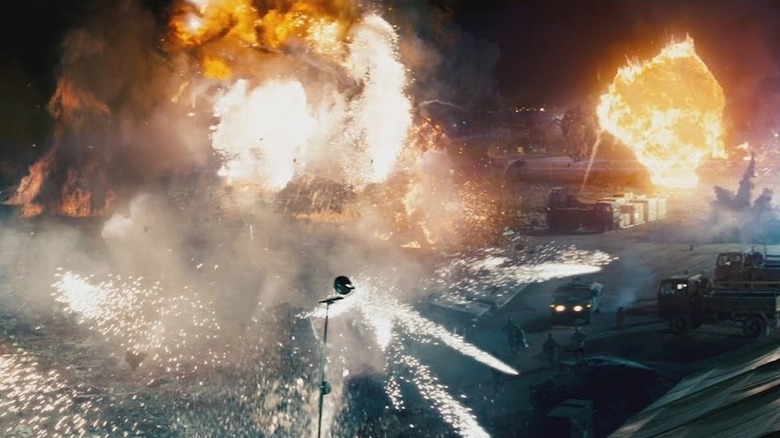 Paramount
That fateful screening of "Raiders of the Lost Ark" made a huge impact on Bay. As he explains, "Movies can be huge memories for kids growing up. They're markers in life."
Young Michael Bay was so inspired from his Lucasfilm job that he applied to Wesleyan University in Middletown, Connecticut, expecting to study photography. Yet upon meeting the teacher Jeanine Basinger, his fate as a filmmaker was sealed. Bay still espouses about how Basinger's extensive knowledge of film theory and history is "unmatched, from musicals to Westerns to comedies." It was Basinger who pushed Bay to refuse to accept another professor's "no" for an answer when it came to his senior thesis film, telling the boy, "You go back in that room right now and you tell him you're making your f***ing movie."
Bay took Basinger's advice, and it led to a long and fruitful career of numerous blockbuster films that are certainly anything but meek and compromised. He even applied the advice to dealing with one of his heroes as a child, Steven Spielberg, turning the producer down when he was offered the chance to make "Small Soldiers." Bay eventually said "yes" to Spielberg when the chance to make "Transformers" came his way, a choice which resulted in not one film but four sequels that followed.
While Bay's films are often derided for being noisy, extravagant and filled with just too many explosions, his reliable box office success and a growing wave of critical reappraisals of his work is continually recapitulating the lesson he'd learned at that screening of "Raiders" all those years ago: don't judge a Bay — er, book — by its cover.