Michael Bay Delayed His Directorial Debut By Saying No To Steven Spielberg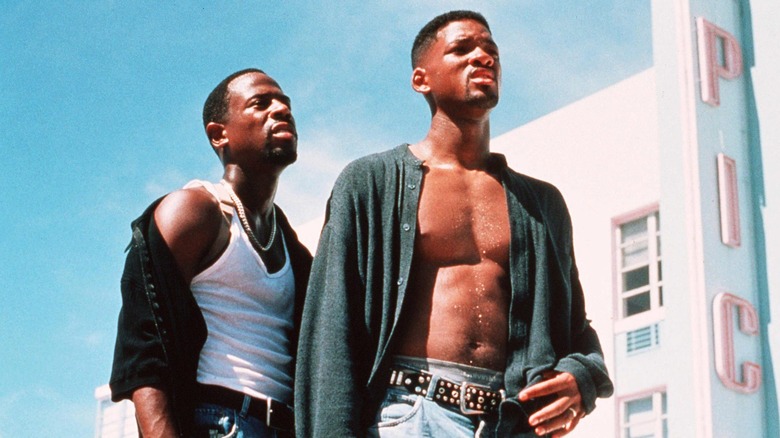 Sony Pictures Releasing
Prior to his 1995 feature film debut, director Michael Bay helmed multiple notable music videos, including The Divinyls' "I Touch Myself," Meat Loaf's "I'd Do Anything for Love (But I Won't Do That)," and Wilson Phillips' "You Won't See Me Cry." He also directed a notable ad in the "Got Milk?" ad campaign wherein a museum curator was unable to answer a trivia question about Aaron Burr due to a lack of the liquid in question. Looking back from 2022, it seemed inevitable that Bay should transition into feature films. He had a unique way of moving a camera, an eye for oversaturated photography, and skill with closeups and slow-motion. These things don't necessarily make for good movies in themselves, but they reveal a certain visual dynamism and filmmaking confidence. 
Bay, being more of a stylist than a writer — he has written no screenplays, at least that the public knows about — and had no dream feature film project waiting. Instead, studios and producers would come to him, offering projects that were already written. 
Some of the scripts pitched to Michael Bay in the 1990s seemed appropriate to what he would become known for. According to an interview in Collider, prior to making "Bad Boys," Bay was offered at least one notable action hit, a mayhem-heavy and kid-friendly "Gremlins" knockoff, and even a high-profile war film. At least two of those films would involve Steven Spielberg, who acted as producer on said projects, and that Bay, with colossal temerity, turned down. 
Speed and soldiers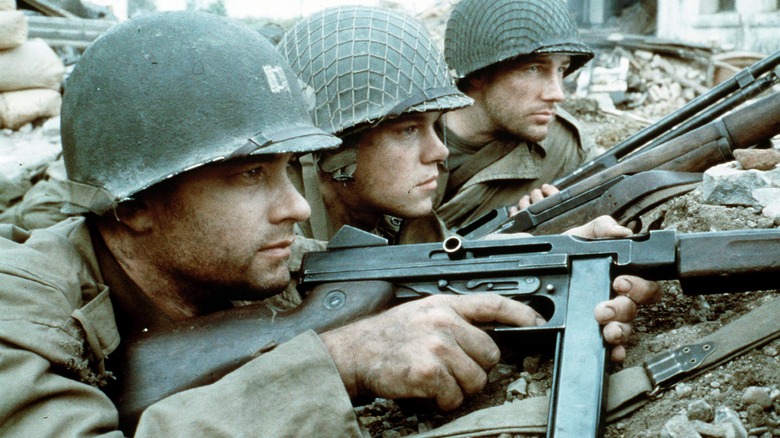 DreamWorks
According to the Collider interview, Bay was once offered "Speed," which sounds like it would be right up his alley. "Speed" — a wild and fun Keanu Reeves actioner about a bomb on a public bus that will explode if the bus slows below 50 mph — would eventually be the directorial debut of cinematographer Jan de Bont ("Cujo," "Die Hard," "Back Rain," "Basic Instinct"). Bay says that he really wanted that project, but ultimately wasn't hired. Bay mentions his experience briefly enough to point out there is no bitterness. 
"The first movie I was going for with a vengeance was 'Speed.' I lost that movie. Okay? Jan de Bont did a great job."
Prior to "Speed," however, Bay was being courted by Spielberg's production company to direct a feature. Perhaps surprisingly, Bay was offered several notable war pictures. It's difficult to see someone other than Steven Spielberg directing "Saving Private Ryan," the 1998 WWII rescue film that would be nominated for Best Picture, but that was once pitched as a Bay film. Bay was also quick to point out that he was also once attached to the "Black Hawk Down," based on the 1999 book (the final film was to be directed by Ridley Scott in 2001). For however violent Bay's films can be, he admits the war violence was too much for him: 
"There are a couple movies where ... I was given 'Saving Private Ryan' before Steven. Steven, when I saw it ... That's the greatest first scene of any movie I've ever seen. I would've never done a better job. Steven was perfect for that. I was given 'Black Hawk Down.' I'm like, this is way too violent, there's no way anyone's going to go to this movie. I am so glad Ridley Scott did that movie. So I'm glad they didn't pick me, thank God, and I didn't say yes."
Even more soldiers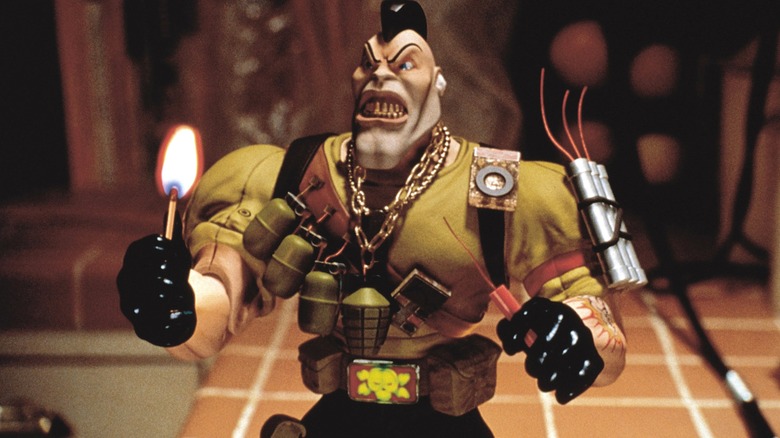 DreamWorks
Bay's shying away from military projects may seem odd to those familiar with the filmmaker's oeuvre, as many of his films feature a powerful streak of military fetishism. Perhaps Spielberg sensed this streak in him early on, as Bay revealed that Amblin once approached him to direct a film all about soldiers. Specifically, Bay was offered "Small Soldiers," the 1998 fantasy film that would ultimately go to Joe Dante. Bay recalled going to Spielberg's office, facing a personal hero of his ... and saying "no" to the project:
"I think my first movie I was ever given — and when I went to meet Steven when I was a kid, at the desk, the 'Raiders of the Lost Ark' story — he gave me 'Small Soldiers.' I said no to that. It's kind of weird."
"Small Soldiers" is about an experimental A.I. computer chip that, thanks to corporate malfeasance, is implanted in a series of sophisticated solider toys who break out of their packages and lay siege to a suburban neighborhood. Benevolent fantasy monster toys will eventually rise up to stop them. It's likely due to Dante's presence that "Small Soldiers" bears some similarities to 1984's "Gremlins."
Bay would ultimately make his directorial debut with "Bad Boys," a sizeable hit in 1995, and one that would lead to directing gigs on other '90s ultra-smashes like "The Rock" and "Armageddon," the latter of which came out the same year as "Saving Private Ryan."
Although Bay ultimately turned down "Small Soldiers," there seemed to be no animosity. Indeed, Bay would end up being hired by Spielberg's production company to direct another film about robotic toys, "Transformers," in 2007. The success of "Transformers" was overwhelming, and Bay would go on to direct four additional sequels in 2009, 2011, 2014, and 2017. A spinoff called "Bumblebee" was released in 2018, and a seventh film, "Transformers: Rise of the Beasts" is set for release in 2023. Bay's most recent film was the hyperkinetic L.A. love letter "Ambulance."