Sean Connery's Legendary Bravado Helped Save Michael Bay While Filming The Rock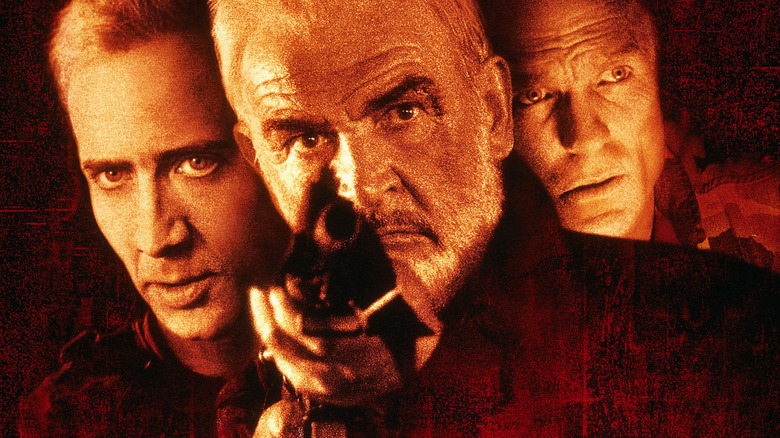 Buena Vista Pictures
When Sean Connery passed away in October of 2020, there was an outpouring of affection for the actor's decades of work. Connery rarely played timid or soft-spoken characters, largely because the man was so forthright and outspoken himself; there's a reason he became so indelible as James Bond in the 1960s and 1970s. 
By the 1990s, Connery's legend had already been cemented, and his confidence on set was notoriously helpful to a 30-year-old Michael Bay, the filmmaker who was, at the time, working on his second feature film. In 1996, Bay and Connery made a big, brainless, brassy action spectacular called "The Rock" about a rogue soldier (Ed Harris) who had stolen a store of deadly nerve gas, and who was holding the city of San Francisco hostage from his base on Alcatraz. In order to stop Harris, a pencil pusher (Nicolas Cage) teamed up with the only living Alcatraz inmate (Connery) to break into the prison and disable the nerve gas rockets. Explosions ensue. 
Despite how gigantic and unusually assured Bay's chaotic action direction tends to be, he claims to have had something of a crisis of confidence on the set of "The Rock." In a tribute Bay wrote for The Hollywood Reporter, he recalls the times when Connery's smile, and in some cases his actions, kept "The Rock" on track. 
Do that less charming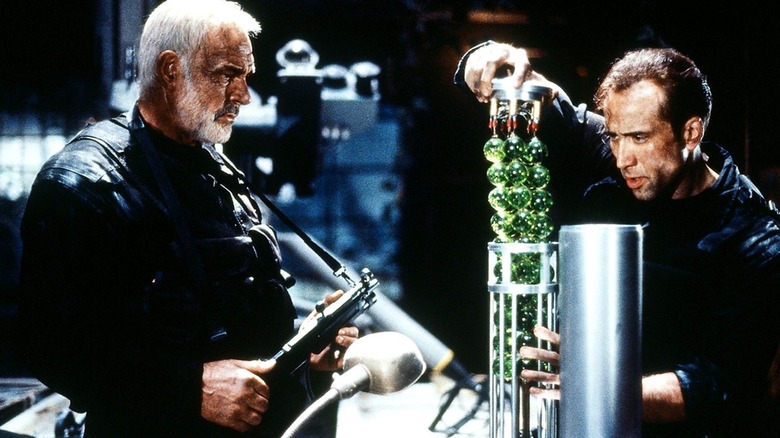 Buena Vista Pictures
Bay recalls his first direction he gave to Connery: "Uh, Sean can you please do that less charming?" Give the Connery's natural on-screen affability, this might have been a common problem with many directors. Bay also recalls a scene wherein he directed Connery to flip a coin. Bay, however, required an oversize coin to get the shot he needed: 
"Sean was notoriously thrifty and practical. I will never forget that first day he was on set, I shot a coin that helps Mason escape. We used a fake quarter from a Hollywood magic shop, triple in size, attached to a rod that I spun in front of the lens. I was laying down on the floor below Sean's chair, spinning the quarter. I felt so stupid. This man had done 75 movies, and I didn't think he was going to let me get this silly 'film school' shot. And then I looked up at him. I will never forget the amazing James Bond smile he gave me in approval. He taught me so much about acting and the craft."
Sometimes, it seems, having an assured movie star on set can set the entire production at ease. 
Two days over schedule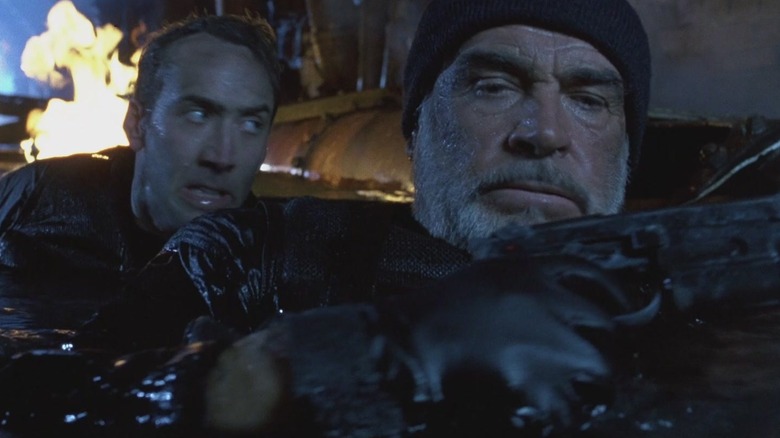 Buena Vista Pictures
But it wasn't all dazzle and confidence on "The Rock." Buena Vista, the Disney-owned company that was distributing the film was constantly breathing down Bay's neck about budget and schedule. Although Bay's previous film "Bad Boys" (which he made for Sony) was a hit, he had not yet gathered enough clout to escape a certain level of executive oversight, espeically on a film with the budget of "The Rock" (the film reportedly cost $75 million). This led to Bay's distraction, which became noticeable during the shooting of a car chase sequence. Bay relates it:
"Car chase: Sean driving and I'm alone filming him. He slams the brakes; my head hits the window. He says, 'You OK?' I say, 'No! The Disney folks are here to kick my butt for being two days over schedule.' Sean, with that sly look, says, 'You want me to help?'"
The help came in the form of a meeting with moneymen in a nearby classroom, and there was some cussing involved:
"Cut to: Having lunch with the Disney execs in a third-grade classroom, sitting at tiny tables and chairs. We looked like giants. I announce that Mr. Connery would like to visit and say hi. Sean comes in, sits down across from the open-mouthed executives.

In classic Sean Connery style, he belts out in his Scottish brogue: 'This boy is doing a good job, and you're living in your Disney F***ing Ivory Tower and we need more f***ing money!!' Without missing a beat, they responded. 'O.k. How much?'"
It was certainly comforting for Bay to have Connery in his corner.:
"He did it because he loved movies. He loved excellence and doing the best he could. His work ethic was bar none, the best I've ever experienced."
"The Rock" ended up making over $335 million worldwide, and cemented Bay's reputation as a hit action filmmaker. His next film, 1998's "Armageddon," made half a billion dollars worldwide, and that's not adjusted for inflation. Bay has been an institution ever since, and it was Connery that assured "The Rock" would be made in spite of complaints of the paper-pushers. 
In this case, Rock beat paper.