'The Rock' Sequel: Michael Bay Wanted To Send Goodspeed And Mason On The Run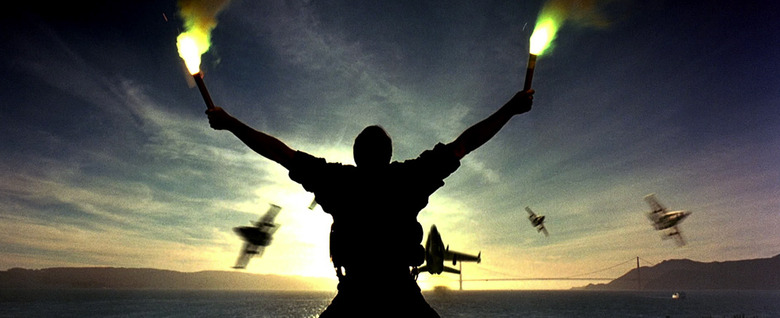 Michael Bay directed three Transformers movies about Sam Witwicky, and two about Cade Yaeger, but only one about maybe his most likable action heroes, Stanley Goodspeed (Nicolas Cage) and John Patrick Mason (Sean Connery). Over 20 years after The Rock opened in theaters, sadly Bay isn't attempting to reunite Cage and a retired Connery, but he did have an idea for how to get them back together. The Rock sequel would've picked up where the first movie left off, with Goodspeed and Carla (Vanessa Marcil) hitting the road with government secrets in hand.
Below, learn more about Bay's idea for The Rock sequel.
After saving the big day at Alcatraz, Bay would've put Beatles maniac Stanley Goodspeed on the run. The one person who could help him survive? Mason. On the terrific audio commentary for The Rock, which has a thoughtful Nicolas Cage talking about chimps and Elvis and channeling Richard Dreyfuss, Bay discussed how the sequel would've been more of a thriller than a full-blown action movie:
The sequel that I have in my mind for this movie is basically after Nic Cage is married to Carla, they drive off. Nic Cage has this microfilm of all this bad government confidential [info], like, who killed JFK? The government comes after Nic Cage with a vengeance. We're talking out to kill. It turns into more of a thriller. Nic Cage has nowhere to turn, because he's been stabbed in the back by the government, and they're after him. Maybe he takes Carla, I'm not sure. Maybe they separate. I'd really like to separate Nic and Carla, and have Nic try to employ the help of Sean Connery. Basically, taking The Rock off exactly where it left off.
Where the film left off was producer Jerry Bruckheimer's idea. He was adamant about it being in the movie, although Cage had some reservations initially:
I was not a fan of the last scene in the movie when we shot it. I really didn't want that scene in the movie. But it is a coda, and it is a tag to the whole thing. It smacks of sequel in some way. But then I saw the movie, and I could see how much fun the audience got from this scene. It didn't offend me. It worked, somehow. That's the great magic of Jerry Bruckheimer: he knows what he's doing and what he wants.
Whether Bruckheimer wanted a sequel to The Rock or not, it's probably for the best it didn't happen, considering Bay's track record with sequels (minus Bad Boys II) has been disappointing. The 1996 action movie was profitable enough at the box-office to make another movie with Goodspeed and Mason not appear outside of the realm of possibility, at least before Connery retired. The action movie, which cost $75 million, made $335 million worldwide.