Why The Saving Private Ryan Cast Nearly Quit Before Filming Even Started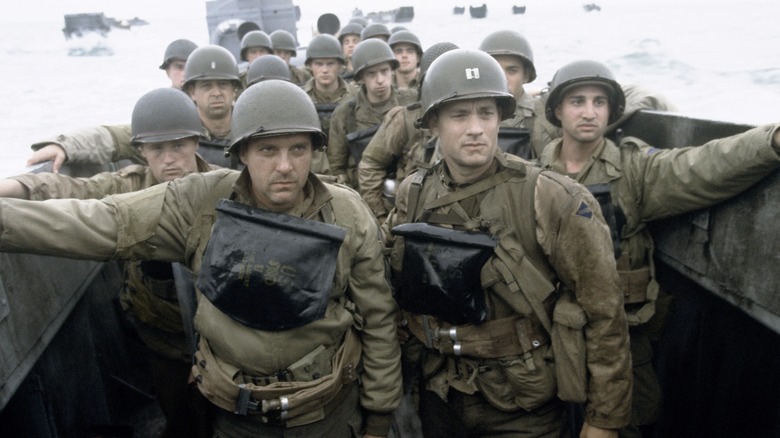 DreamWorks Distribution
When Steven Spielberg made "Saving Private Ryan, he wanted to portray the terrors of D-Day as genuinely as possible — not only visually, but also through the actors' performances. To help with the authenticity, the director sent his ensemble cast to a boot camp led by U.S. Marine Corps Captain Dale Dye, Hollywood's top military consultant who worked on other significant war films such as "Platoon" and "Casualties of War." 
In the woods behind an old British aerospace plant in Hatfield, England, Dye led Tom Hanks and his co-stars (including Vin Diesel and Barry Pepper) in daily physical training taken from "the same sort of syllabus that would have been given to basic infantrymen" during that time (via Yahoo). The rigorous exercise was taxing, and they ate the same army rations during that time period as well. After sleeping on the ground, the actors woke up at five every morning to Dye's vicious screams and possible punishments of push-ups and sit-ups. Even worse, it began to rain, soaking and freezing the actors to the bone and submerging them in mud when they had to crawl on the ground. Under these awful conditions, they still had to hike "five miles a day with 40 pounds of gear on our backs, getting about three hours of sleep," Giovanni Ribisi recalled.
One of the stars called the training the 'worst experience' of his life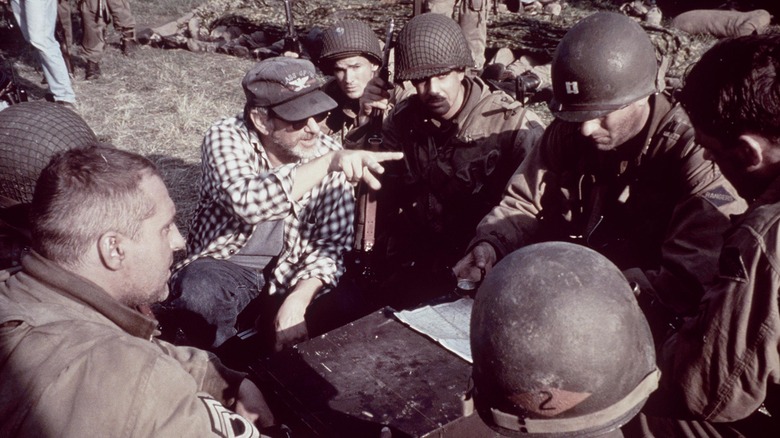 Getty Images/Getty Images
Having to participate in combat training angered many of the "Saving Private Ryan" stars. Edward Burns called it "the worst experience of my life." The arduous preparation also clashed with some of the actors' more relaxed performing styles: Adam Goldberg resented that they were being "forced to be 'method', whether we wanted to or not. The only way I could get through it was to shut myself down and become this soldier." Co-star Tom Sizemore added, "The way I looked at it, just because I had to act like a soldier, why did I have to be a soldier?"
Only three days into their instruction, many of the actors voted to quit, and Tom Hanks voiced their concerns to Spielberg. The director left the decision up to Hanks — perhaps as a way to prepare him for his leadership role as Captain Miller. Dye tells Yahoo that Hanks appealed to his fellow actors, "You owe it to these people you're representing on film to get this right. And in order to get it right, you've got to experience some of what they experienced."
Although they were very close to resigning, the actors were ultimately glad that they stayed. The film's success rests on the deep bond they built during their strenuous preparation, as well as the physical truth they bring to the battle scenes, especially the harrowing D-Day sequence that occurs mere few minutes into the film. But the performances are only one part of Spielberg's quest for authenticity in "Saving Private Ryan."
Spielberg's commitment to realism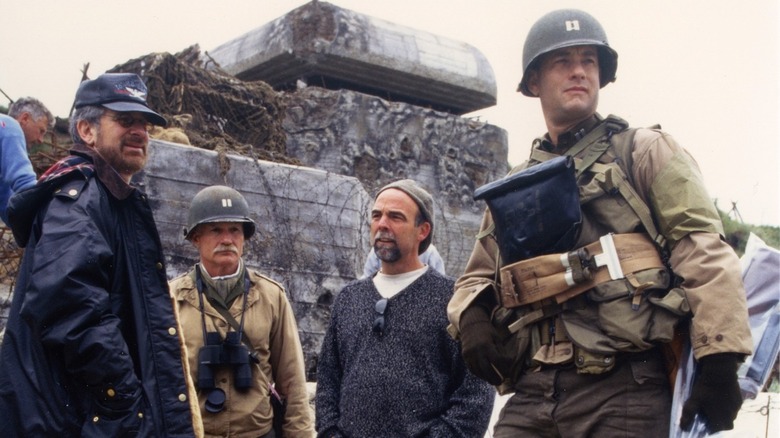 DreamWorks Distribution
Just as Spielberg made the actors experience similar conditions to real Word War II battles, he wanted to immerse audiences in the visceral horrors of combat. For the 25-minute D-Day sequence that ended up costing $12 million, Spielberg requested exact replicas of the machinery used and Omaha Beach landscape — down to the exact grain of sand. The choreography of the battle was as close to historical record as possible, and it felt eerily real to Tom Hanks, who recalled to Roger Ebert:
"The first day of shooting the D-Day sequences, I was in the back of the landing craft, and that ramp went down and I saw the first 1-2-3-4 rows of guys just getting blown to bits. In my head, of course, I knew it was special effects, but I still wasn't prepared for how tactile it was."
Spielberg did not storyboard the unsettling D-Day sequence, choosing instead to follow the action spontaneously. "I just went to war and did things the way I thought a combat cameraman would have," the director revealed in the book "Steven Spielberg: Interviews." 
Blood splatters on the camera lens and the jostled images make "Saving Private Ryan" feel as if it were being intimately shot by a solider trying to dodge bullets. Spielberg and cinematographer Janusz Kamiński did not want the film to be a "Technicolor extravaganza" either, so they removed the protective coating on the camera lens to produce a darker, desaturated look; they also used a different shutter timing, creating a staccato in the actors' movements and gritty, crisp images (per Far Out Magazine). 
Many World War II veterans praised "Saving Private Ryan" as one of the most realistic portrayals of combat they had ever seen. The actors' riveting performances anchor Spielberg's visual realism and allow the audience to psychologically identify with them. Although the actors' training was incredibly strenuous and caused them to nearly quit, it allowed them to connect to their characters' struggles. Led by Tom Hanks, the remarkable group of young men experienced a small taste of what so many brave young men unfortunately endured in real life during the invasion of Normandy on June 6, 1944.