The 14 Best Vin Diesel Movies (That Aren't The Fast And The Furious)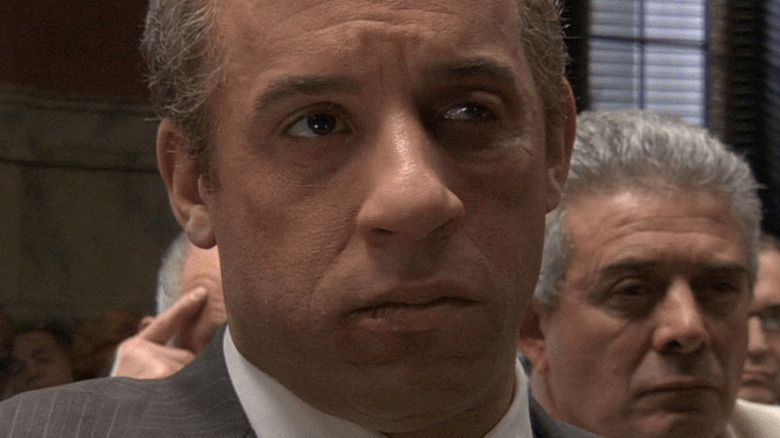 Freestyle Releasing
For years now, one question has burned bright in the hearts of "Fast and the Furious" fans: Team Diesel or Team Johnson? Given the latter's impressive career as an action star and family-film icon, one could make a compelling case that Dwayne Johnson — not Vin Diesel — is the Fast Saga's biggest star. But while Diesel's career may lack the critical successes of his onscreen counterpart's, the actor and producer has developed a body of work that is no less fascinating for its occasional misfires.
Who else but Vin Diesel could walk away from two successful franchises ("The Fast and the Furious" and "xXx") only to return and become their most important creative force behind the scenes? Diesel is an underrated performer, especially when compared to some of his co-stars, and the relationship between Diesel-the-actor and Diesel-the-producer is endlessly intriguing. Even beyond his stint as Dominic Toretto, Diesel's willingness to trust his instincts and pursue characters others have written off has led to more successes than you might think. Just look at his filmography. You may be surprised at how much good stuff there is to enjoy.
Guardians of the Galaxy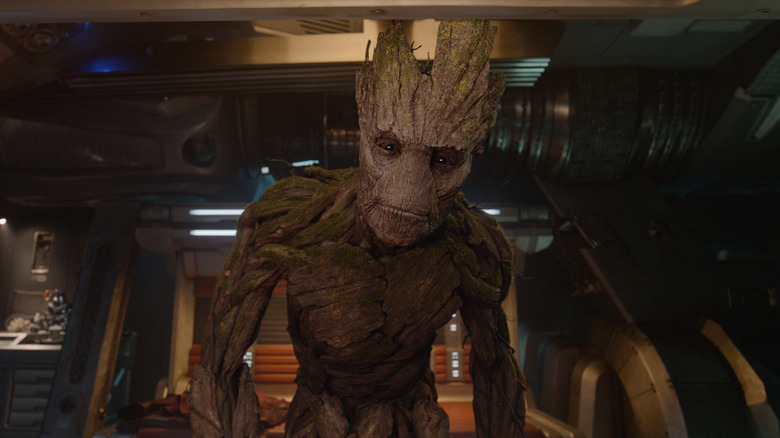 Marvel
If Vin Diesel had never made a single film outside the "Fast and the Furious" franchise, his career would still be considered a success. Most actors aren't lucky enough to find one hit franchise to bear their name, and yet, thanks to James Gunn's "Guardians of the Galaxy," Diesel now has Marvel bona fides in addition to all of his other successes. Many actors could probably find both variety and poignancy in Groot's three-word sentences, but it is hard to imagine someone other than Diesel doing so much with so little (even when asked to play a teenage Groot in the later films).
Much like "The Iron Giant," "Guardians of the Galaxy" showcases Diesel's underrated voice actor talents, making great use of his signature growl. There is something both inhuman and human in Diesel's voice; we buy him as an alien creature and a living robot, and we also believe in the characters' ever-growing compassion. For the "Guardians of the Galaxy" finale to work, we must accept Groot as both a killing machine and a gentle spirit. That balancing act — crunchy exterior, chewy interior — is a skill that Diesel has made into an art form.
xXx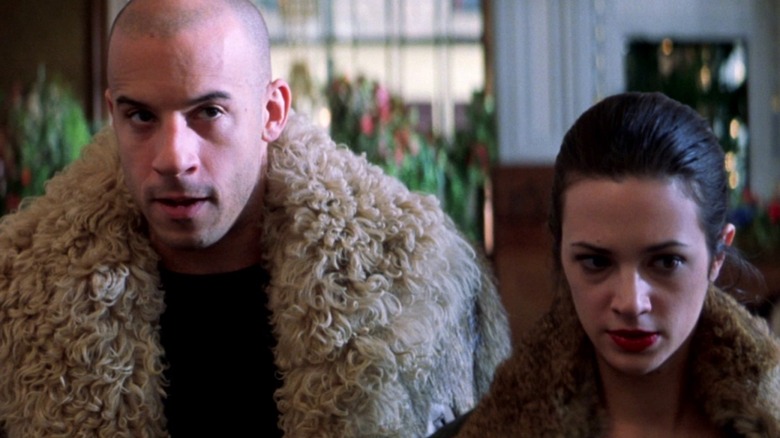 Sony Pictures
It took the Fast and the Furious franchise five films to throw Dominic Toretto off a bridge in a convertible. Rob Cohen's "xXx" accomplished the same thing in its first ten minutes. What felt like a clumsy attempt at co-opting youth culture in 2002 — Xander Cage is both an extreme athlete and an underground video icon! — feels like an indispensable chapter in action-movie cinema in 2021, given how clearly it defines Diesel's on-screen persona. After all, in its more self-indulgent moments, "xXx" helped pave the way for the more-is-more approach Diesel would perfect in the Fast and the Furious series.
Admittedly, "xXx" spends about 20 minutes struggling to deliver on its promise of an X Games-style thriller. But once Diesel's character dives into the world of global terrorism and souped-up cars in earnest, "xXx" unlocks that same over-the-top, superhero energy that defines so much of Diesel's work. Even though Diesel opted out of the second film in the series, paving the way for Ice Cube to star in the disappointing "xXx: State of the Union," "xXx: Return of Xander Cage" proves that the star is unafraid to bet on himself. And more is undoubtedly on the way: Diesel and his production company purchased the rights to the "xXx" franchise in 2018.
Knockaround Guys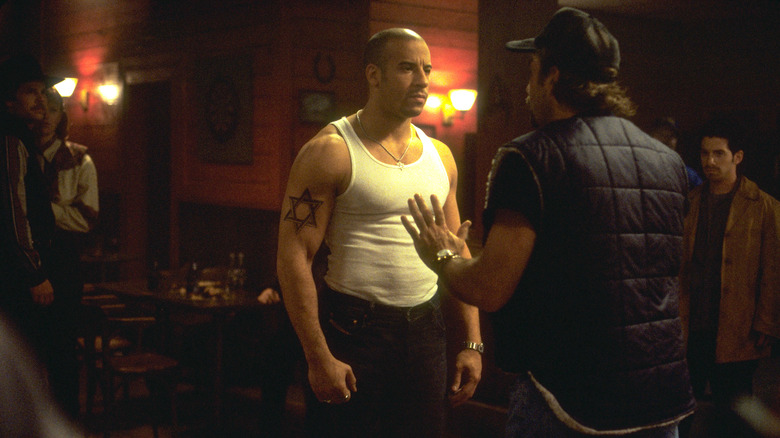 New Line Cinema
As Quentin Tarantino's long-time producer, Lawrence Bender knows a thing or two about talkative movies centered on organized crime. "Knockaround Guys," the first film from co-directors Brian Koppelman and David Levien, certainly fits that bill. In the movie, Diesel plays a New York-based heavy who accompanies his childhood friend to rural America to recover a bag of stolen mob money. Despite a cast that features acting heavyweights like Tom Noonan and John Malkovich, Diesel turns in the film's strongest performance.
As the muscle in a post-modern gangster film — in "Knockaround Guys," New York City's organized crime is drying up, with only a few aging mob bosses keeping the old traditions alive — Diesel's Taylor Reese is cut from a different cloth. Every other character is driven either by tradition or family (or, sometimes, both), but Reese is simply trapped. He has always been destined for a life of violence. Keep an eye out for the bar scene depicted in the above image, during which Diesel delivers a crackling monologue about winning 500 street fights and losing himself somewhere along the way. The character may not stretch Diesel's range, but that doesn't make him any less fun to watch on screen.
A Man Apart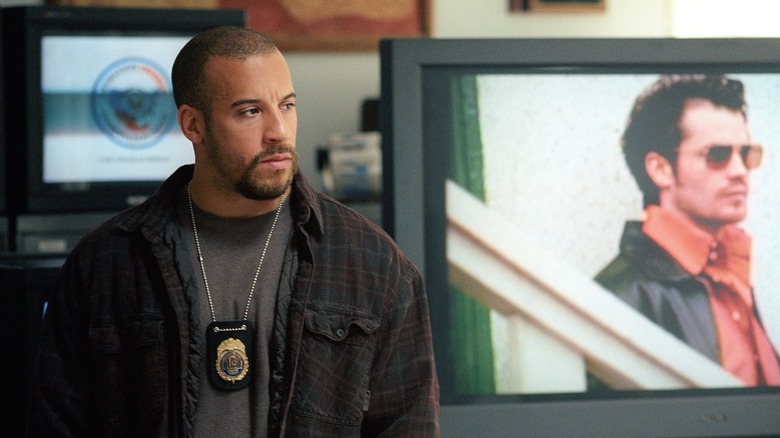 New Line Cinema
As long as there have been cop movies, there have been movies about cops taking the law into their own hands. For the most part, "A Man Apart" is a serviceable thriller that gives Diesel an opportunity to blend his action star prowess with some more substantial dramatic work. Diesel himself is more than game; the actor ramps up the cynicism as Sean Vetter, a DEA agent teetering on the edge of self-destruction. In doing so, Diesel delivers a shell-shocked performance that elevates an otherwise pedestrian B-movie thriller about the Mexican cartel.
But even though "A Man Apart" is only a so-so movie, it's a pivotal moment in the Diesel Cinematic Universe. This movie marked the first collaboration between Diesel and director F. Gary Gray, who eventually directed "The Fate of the Furious," and continues to develop projects with Diesel. If, as Diesel's career seems to indicate, you need to understand Diesel as a producer in order to truly understand Diesel as a performer, then "A Man Apart" was a big step forward for Diesel as his behind-the-scenes influence began to grow.
Boiler Room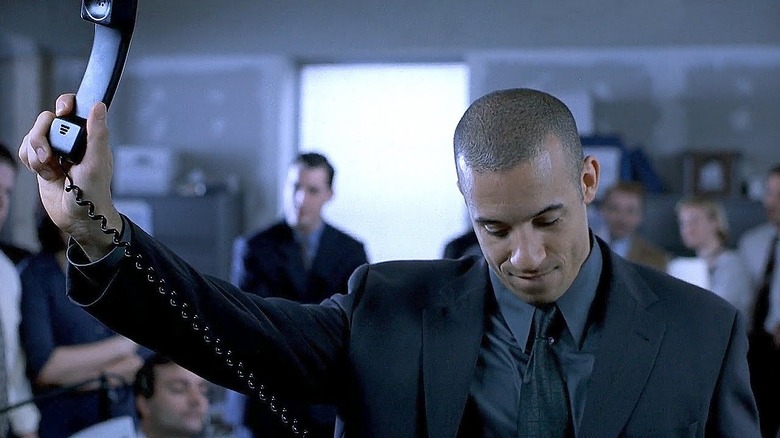 New Line Cinema
It probably says something about America that one of the most prevalent topics in our films is the stock market. Movies like "Wall Street," "The Wolf of Wall Street," "The Big Short, and "Margin Call" are all in-depth explorations of a system that was designed to help those with money make even more. "Boiler Room," a crime thriller about fictitious brokerage firm J.T. Marlin, deserves a spot alongside those greats.
If "Boiler Room" tells us anything about Diesel, it's that his tough exterior is always undercut by empathy lurking just under the surface. We believe without question that most of the "Boiler Room" characters are men who idolize "Wall Street," completely missing that film's satire. But, in the final minutes of the movie, Diesel's senior broker makes a decision to put money back in the hands of a struggling client. His ruthless exterior does not hold up against an opportunity to do the right thing. Once again, Diesel proves that his real star power comes from playing gruffest of teddy bears. 
The film is also another important moment in Diesel's post-"Saving Private Ryan" career: As in "Knockaround Guys," Diesel plays against a former "Saving Private Ryan" co-star in "Boiler Room" (in this case, Giovanni Ribisi), solidifying his status as a Hollywood rising star.
Bloodshot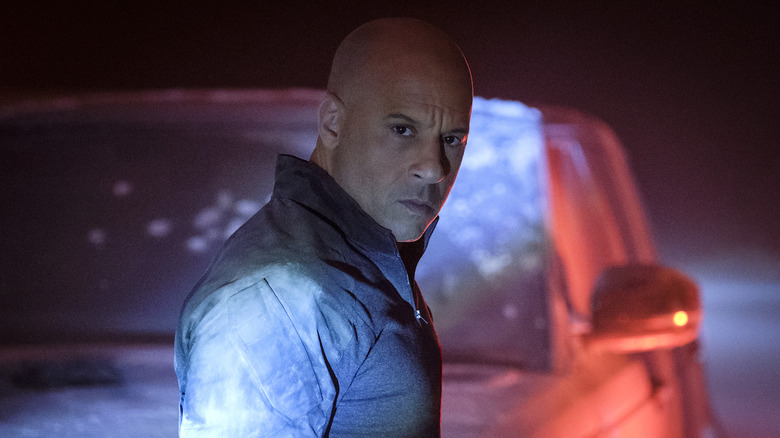 Sony Pictures
As an unapologetic nerd who seemingly spends most of his free time collecting action franchises, Vin Diesel was probably always destined to star in a comic book adaptation. "Bloodshot," David S. F. Wilson's adaptation of the popular Valiant Comics title, draws heavily on the director's special effects background, pitting an unstoppable, undead super-soldier against another evil conglomerate with paramilitary aims. The fight scenes alone make the movie worth watching, but "Bloodshot" should hold a special place in the hearts of action fans thanks to its creatively staged — and even more creatively lit — underground fight sequence (more reds and blues in action sequences, please!).
"Bloodshot" also signifies a slight departure for Diesel, who usually favors characters who live by a clear moral code. By making his character in "Bloodshot" more "Memento" than Toretto, Diesel plays against type, at least a little. It's also worth noting that "Bloodshot" was one of the last films to hit theaters prior to the 2020 pandemic, making it the last wide release a lot of moviegoers had the opportunity to enjoy on the big screen. In a world where most superhero movies are cut from a similar cloth, it's nice to know we hit the pause button with something a little different.
The Iron Giant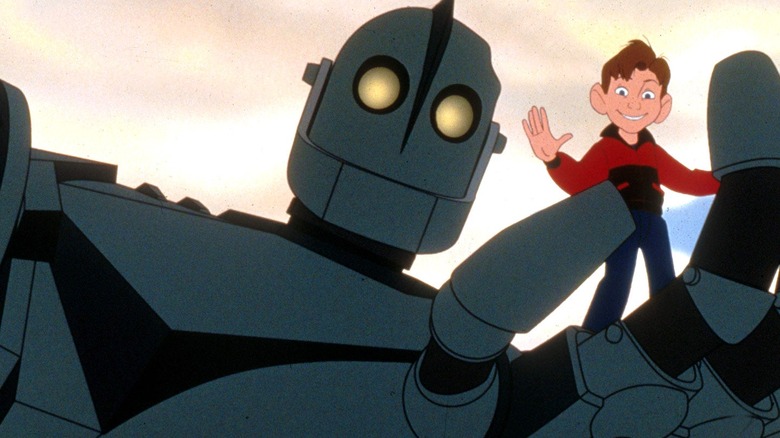 Warner Bros.
If life deals you a pair of gravel-lined vocal cords, you owe it to yourself to explore voice acting. Thankfully, Vin Diesel is no stranger to the voice studio. While the actor may be best-known for his vocal work in the MCU, he previously plied his vocal wares in a handful of video games (including "The Chronicles of Riddick: Escape from Butcher Bay"), as well as Brad Bird's "The Iron Giant." The latter is an animated film that revisits the Cold War through a pacifist lens.
In the film, Diesel voices the titular giant, a war machine who learns that he can choose to be something besides a weapon. Much like "Guardians of the Galaxy," Diesel's work here is limited; the Giant only speaks in fragments, and Diesel only says a total of 53 words over the course of the movie. But, like Groot, the Giant does not need to say a lot to have a lasting impact on audiences. Diesel's voice lends itself to a blend of the human and the machine, allowing him to craft an empathetic character out of alien tones. Thanks in no small part to Diesel's work, "The Iron Giant" is now rightfully regarded as one of the greatest animated movies of all time.
The Pacifier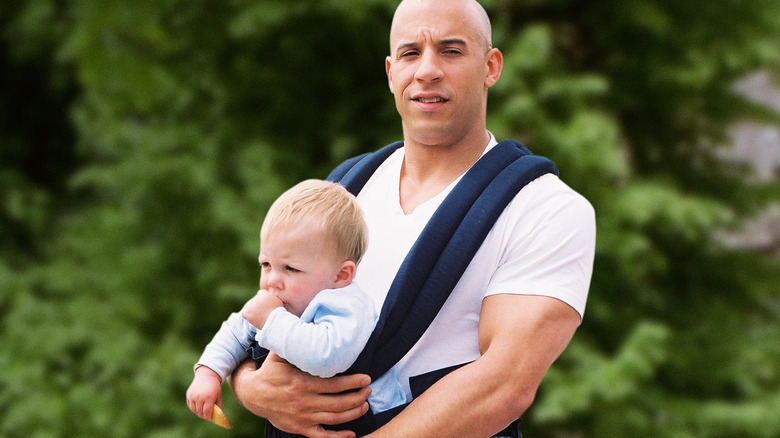 Buena Vista Pictures
It is an unspoken truth in Hollywood that every up-and-coming tough guy must take a turn as the lead in a children's movie. Arnold Schwarzenegger has "Kindergarten Cop." Dwayne Johnson has "Tooth Fairy." More recently, Dave Bautista — he of the giant muscles and the tiny glasses — showed off his soft side in 2020's "My Spy." So, it's only natural that an early-career Diesel would make a movie like "The Pacifier," in which he plays a Navy SEAL tasked with protecting the family of an American scientist. The only difference? Unlike the other movies mentioned above, this one actually works.
Much of this is thanks to writers Thomas Lennon and Robert Ben Garant, who also co-created of "Reno 911!" Their script keeps the focus on the children, downplaying awkward, adult-oriented fish-out-of-water gags in favor of a genuine relationship between Diesel's Shane Wolfe and his new wards. The result is a film that creates moments of real empathy, especially when Wolfe is tasked with directing a community theater production of "The Sound of Music." The way "The Pacifier" sets this up — with a neo-Nazi fake out that teeters on the edge of inappropriate — is almost entirely worth the price of admission on its own.
Pitch Black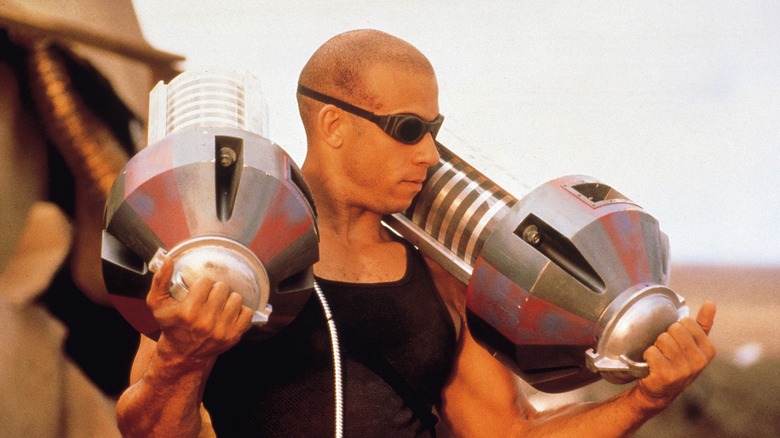 Gramercy Pictures
Dominic Toretto will always be Vin Diesel's most popular character, but Richard B. Riddick will always be his most interesting. If you weren't there, it's hard to appreciate why "Pitch Black" was such a hit among science fiction fans in the early '00s. At the time, the box office was full of sequels to hit franchises and foreign horror films. By contrast, sci-fi struggled, meaning that a smart, low budget thriller like "Pitch Black" was bound to stand out. In seeing the world through Riddick's light-enhanced pupils, Diesel also found the perfect antihero for his unique set of skills.
Like the best B-movies, "Pitch Black" wastes very little time getting to the point. We're introduced to a spaceship crew as they crash to the ground, and what little background we get on each of the characters only hints at a bigger world around them. Riddick himself is the archetype of a Vin Diesel character: gruff exterior, soft interior, and a sense of humor sharpened by a lifetime of hard knocks. Diesel clearly fell in love with the character at first sight; he's spent his entire career since doing everything in his power to keep Riddick alive (more on that in a minute).
Saving Private Ryan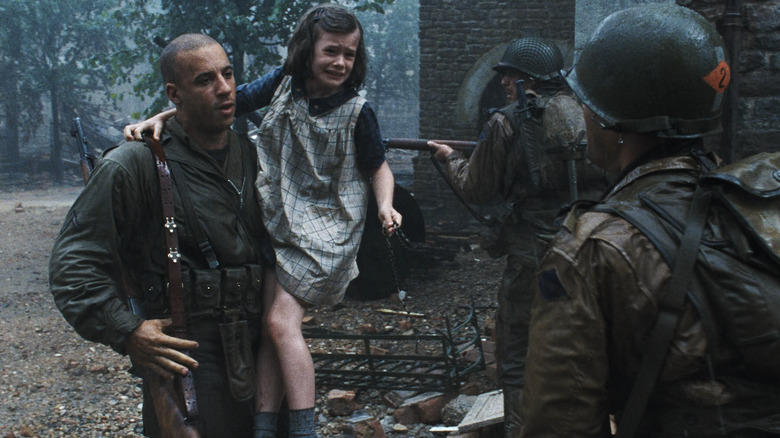 DreamWorks Pictures
There is no shortage of traumatizing deaths in Steven Spielberg's "Saving Private Ryan." Hell, the entire film is an exercise in sadness for anyone who's brave enough to revisit it. And yet, the death of Vin Diesel's Adrian Caparzo has always been the hardest to shake. Caparzo's death at the hands of a German sniper is a perfect piece of Spielbergian emotional manipulation: A dying man knows he's dying, but must wait for others to clear the battlefield before his letter to his father can be recovered. It's beautiful and horrifying in equal measure.
Famously, Diesel was cast in "Saving Private Ryan" because of Spielberg's appreciation for "Multi-Facial," Diesel's heartfelt 1995 short about an actor struggling to code-switch to satisfy the casting directors of New York City. While Diesel's screen time in "Saving Private Ryan" is limited, his role is essential, and sets the stage for the violence of the final act. Caparzo's death shows that anyone in the cast can die at any time; it also means that they can die trying to do the right thing (Caparzo exposes himself to the sniper when trying to rescue a little girl). When we talk about small performances that make a difference, this is as good as it gets.
Strays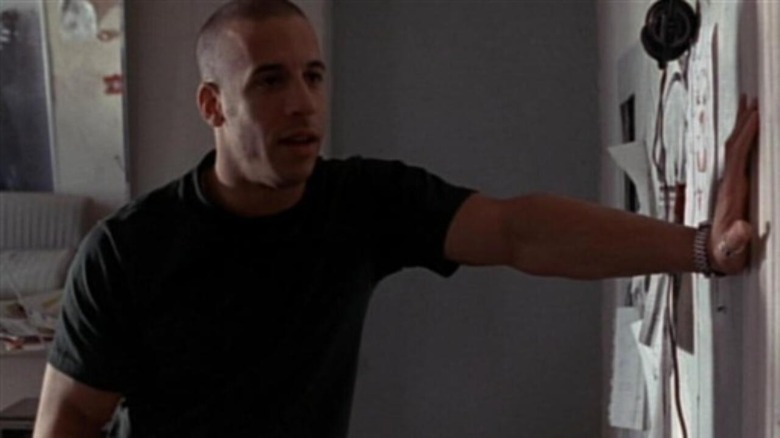 First Look International
In 2020, Vin Diesel shared an anecdote that turned a few heads. According to Diesel, he'd recently crossed paths with Spielberg, and was told by the venerated director that it was a "crime against cinema" that he had not directed a feature film in two decades. And while Diesel was probably embellishing a little, Spielberg is not wrong about Diesel's directorial skills. If "Multi-Facial" and "Strays" are any indication, Diesel was once on a very different path, one that might've seen him emerge as the New York-based equivalent of "Swingers"-era Jon Favreau.
In "Strays," Diesel plays Rick, a 25-year-old New Yorker who sells weed to keep his deadbeat circle of friends afloat. When Rick falls for his uptown neighbor, he is forced to come to terms with his unresolved family issues and his self-image. For the most part, "Strays" is a very conventional hangout film, but Diesel uses this well-known framework to dissect his testosterone-driven persona (in one memorable scene, Rick tries to win over a reluctant neighbor with a few verses from the Tin Man's signature song, "If I Only Had a Brain"). Given that Diesel also wrote the script, it is fascinating to see Diesel grapple with the same hyper-masculinity that eventually became his Hollywood meal ticket.
The Last Witch Hunter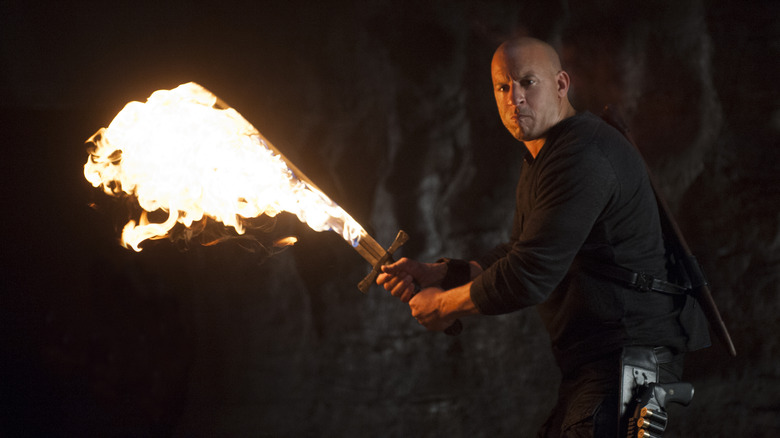 Lionsgate
Anyone with a passing knowledge of Vin Diesel's career knows that the man is a fan of "Dungeons & Dragons." YouTube is full of old interviews with the actor in which he discusses his adolescent campaigns and the role D&D played in shaping his approach to storytelling. But being a fan of D&D is one thing. Using your D&D character as the basis for a $90-million fantasy blockbuster is something else entirely. Famously, "The Last Witch Hunter" is based on the D&D character Diesel played in his home games, and the final product bears all the complicated world-building and spell-casting one might encounter during a long-running campaign.
It's hard not to love the movie for this, even if it's a little hit-or-miss. Still, with a talented supporting cast that includes Elijah Wood and "Game of Thrones" alumni Rose Leslie, "The Last Witch Hunter" is certainly not light on its fantasy bona fides, and many films in Diesel's body of work introduce elements of intertextuality, casting actors best-known from related projects and banking as much on their celebrity as their onscreen talent. Love it or hate it, "The Last Witch Hunter" is the kind of passion project that only exists because Diesel made it so.
Find Me Guilty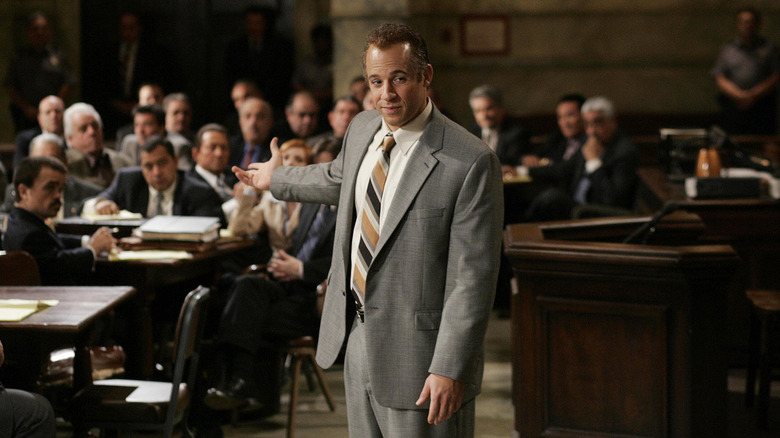 Freestyle Releasing
Even if you have seen every other film on this list, you cannot truly judge Diesel's ability as an actor until you've seen "Find Me Guilty." This 2006 feature was the penultimate film in the career of storied director Sydney Lumet, whose body of work includes everything from "Dog Day Afternoon" to "Network." "Find Me Guilty" itself is a fitting bookend to Lumet's first feature, "12 Angry Men," which also used a courtroom drama to examine the potential (and the shortcomings) of the United States legal system. And Vin Diesel's Jackie DiNorscio is a great character, resulting in what is unquestionably the finest performance in Diesel's action-heavy career.
Based on true events, "Find Me Guilty" depicts the high-profile trial of 20 members of the Lucchese crime family, New York's biggest at the time. Diesel's DiNorscio, a low-ranking member of the syndicate, fires his lawyer and decides to represent himself. Soon, both the prosecution and the defense find themselves caught in DiNorscio's destructive wake. "Find Me Guilty" offers up a nuanced character for Diesel — he is stuffed to the brim with swagger and yet yearns for respect from the rest of his family — and Diesel owns his performance as the film's sad clown. While one can't fault Diesel for choosing to make billion-dollar action movies over arthouse indies, let's hope he takes more risks like this in the second half of his career.
The Chronicles of Riddick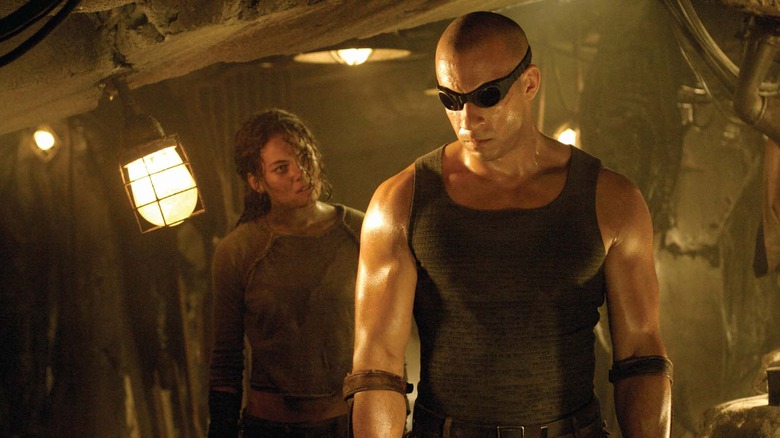 Universal Pictures
Which sequel deserves the final spot on this list? One could make a compelling argument for "xXx: Return of Xander Cage," Diesel's attempt to "Fast and the Furious" up his other blockbuster franchise. But, with all due respect to that film, if we are going to find room for one follow-up, it must be "The Chronicles of Riddick," the 2004 "Pitch Black" sequel that has slowly worked its way to cult classic status. Returning as Richard B. Riddick, Diesel and writer-director David Twohy switch from low-budget scares to high fantasy. If you thought the mythology in "Dune" was a little mundane, then this is the film for you.
For those who love the film, what makes "The Chronicles of Riddick" great is its approach to world-building. All the pieces are there: dying empires, ancient prophecies, and a sense of scope and scale that rivals even the most expensive science fiction franchises. This film may very well be the culmination of Diesel's career, combining his fondness for passion projects with grand mythology and over-the-top spectacle. And while Twohy and Diesel would return for a back-to-the-basics approach in 2013's "Riddick," "The Chronicles of Riddick" remains the perfect encapsulation of how actor-Diesel and producer-Diesel work beautifully together.