Here's Where You Can Stream Or Rent Every Transformers Movie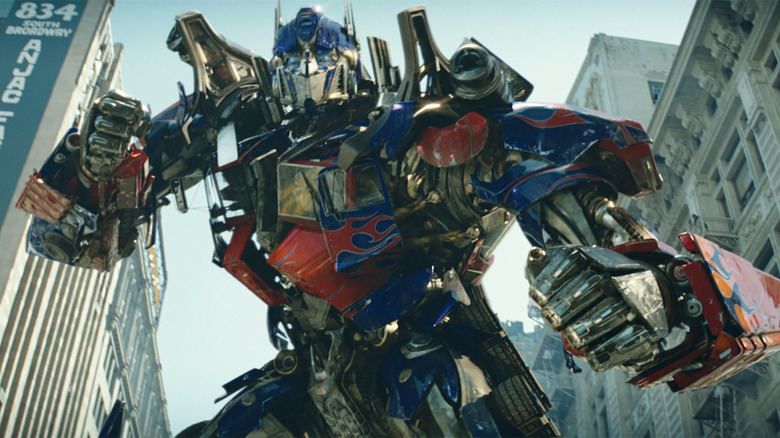 Paramount Pictures
(Welcome to Where to Watch, which provides a clear and simple answer to the question, "Hey, where can I watch this thing?" In this edition: the Transformers franchise.)
Now that Paramount Pictures has announced the new direction for the "Transformers" franchise, starting with "Transformers: Rise of the Beasts," it might be time to take a look back at the rest of the franchise. Honestly, most of the movies aren't worth looking back at, especially when it comes to the sequels. That's why we've broken down where you can stream or rent every movie in the "Transformers" franchise, and offered some insight as to which ones are actually worth watching. It'll save you many hours of excess shenanigans by director Michael Bay.
Transformers: The Movie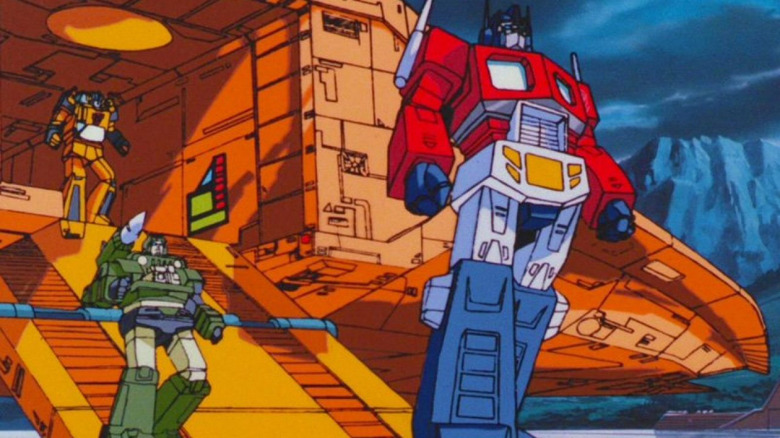 De Laurentiis Entertainment Group
Where to stream: N/A
Where to rent: Apple TV ($3.99 for HD), Amazon ($1.99 for SD)
Long before Michael Bay brought "Transformers" to the big screen in live-action form, there was an animated movie that captured the imagination of children everywhere and resulted in plenty of toys and merchandise being sold over the years.
In this movie, Optimus Prime and the Autobots must stop the colossal planet-consuming villain Unicron, who goes after the Autobot Matrix of Leadership. At the same time, they must defend themselves against an all-out attack from the Decepticons. The film features Peter Cullen as Optimus Prime and Frank Welker as Megatron, as well as the legendary Orson Wells as Unicron, Leonard Nimoy as Galvatron, and Judd Nelson as Hot Rod. It's got "The Touch."
Transformers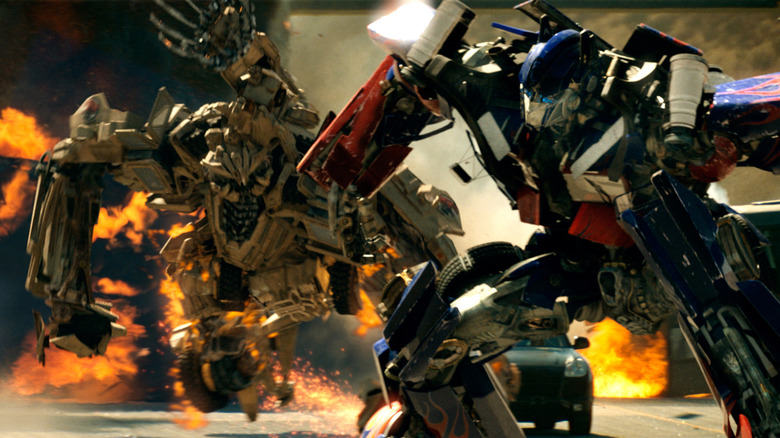 Paramount Pictures
Where to stream: HBO Max
Where to rent: Apple TV ($3.99 for 4K), GooglePlay ($2.99 for HD)
Director Michael Bay brought his blockbuster action sensibilities to Paramount Pictures to kick off the live-action "Transformers" franchise in 2007. Executive produced by Steven Spielberg, the non-stop action was accompanied by a surprising dose of heart, largely thanks to a fantastic performance by Shia LaBeouf as the human lead Sam Witwicky. The story of a boy and his first car turns into a massive spectacle when the car turns out to be a robotic alien being called Bumblebee, who is on the run with his Autobot allies from a race of villainous robots called Decepticons that are hellbent on destroying them. With the help of Bumblebee's leader Optimus Prime, Sam and his new massive, metal mates must figure out how to keep the Decepticons from destroying the last of the Autobots. Plus, Sam is super horny for Mikaela (Megan Fox), who is almost always shot as if Michael Bay is shooting a music video that the rest of us don't know about.
Transformers: Revenge of the Fallen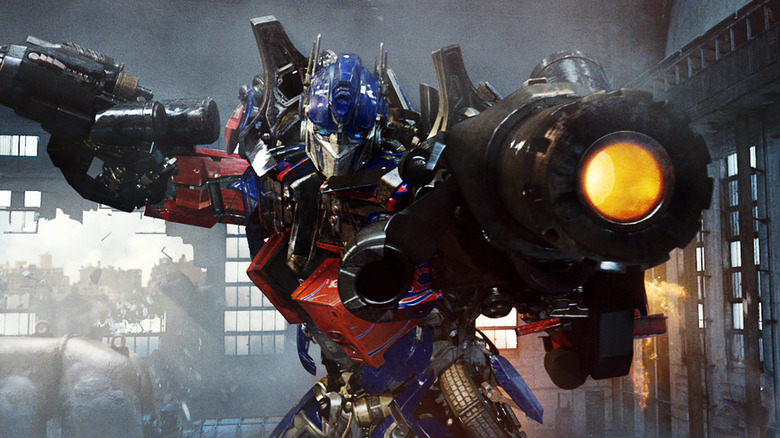 Paramount Pictures
Where to stream: AMC+
Where to rent: Apple TV ($3.99 for 4K), GooglePlay ($2.99 for HD)
Two years after he and his Autobot friends saved the Earth from the Decepticons, Sam Witwicky (Shia LaBeouf) has to deal with college and a long distance relationship with his girlfriend Mikaela (Megan Fox). Meanwhile, Optimus Prime and the Autobots are working with a secret military organization and trying to make a home for themselves on Earth. When an ancient Decepticon known as The Fallen rises up to wreak vengeance, a totally nonsensical plot unfolds involving a shard of Transformers technology, a Decepticon who takes on the form of a human and tries to seduce Sam, and new robots called Constructicons who form a larger robot called Devastator that has wrecking balls as testicles. This movie is bad!
Transformers: Dark of the Moon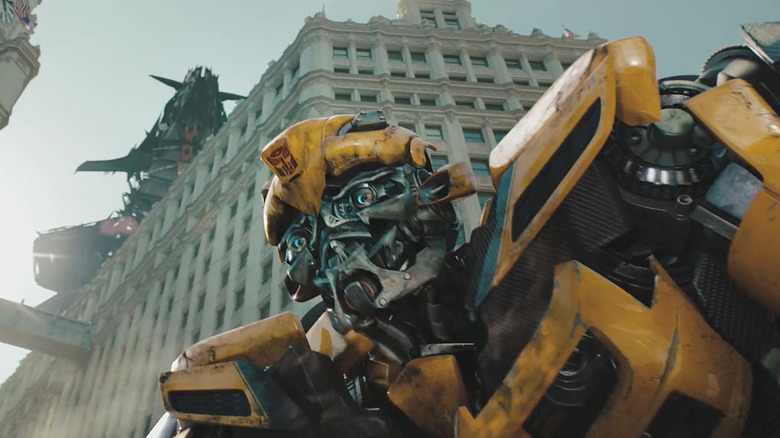 Paramount Pictures
Where to stream: Paramount+
Where to rent: Apple TV ($3.99 for 4K), GooglePlay ($2.99 for HD)
"Transformers: Dark of the Moon" isn't any less ridiculous than "Revenge of the Fallen," but it's a superior sequel in its utilization of Transformers mythology and blockbuster setpieces. When Optimus Prime and the Autobots discover that their predecessor Sentinel Prime has been lying dormant on the moon, they bring him to Earth in order to revive him. What they don't know is that Sentinel Prime has actually struck a deal with Megatron to help them use Earth's resources to rebuild their planet and ensure the survival of Cybertron. Destruction and chaos ensue. It's all a rather complicated plot that doesn't make much sense, but there's an incredible scene where Bumblebee transforms from a car into his Autobot form and back into a car, all while Sam Witwicky flies from the seat of the car, through the air, into Bumblebee's hands, and back into the car. That alone is worth the rental price.
Transformers: Age of Extinction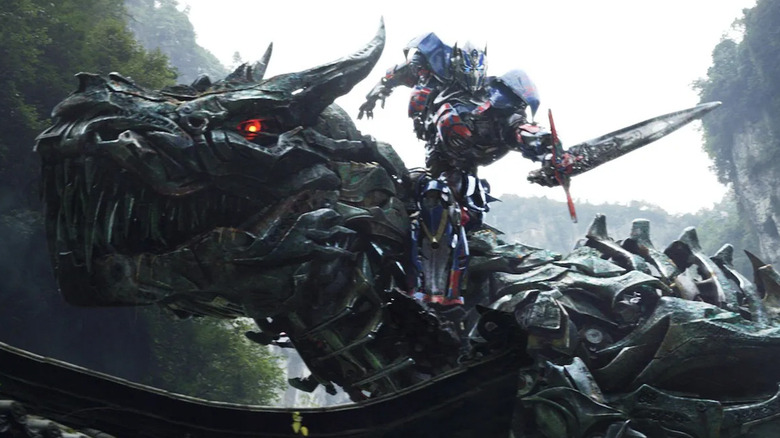 Paramount Pictures
Where to stream: Paramount+
Where to rent: Apple TV ($3.99 for 4K), GooglePlay ($2.99 for HD)
This is where the Transformers franchise really starts to derail, and that's saying something. Gone is Shia LaBeouf as Sam Witwicky, and instead we have Mark Wahlberg as a father and inventor named Cade Yaeger who discovers Optimus Prime trying to hide out in a junkyard after the Autobots have been labeled public enemies in the wake of "Dark of the Moon." A company called K.S.I. Industries is trying to build Transformers of their own, and they accidentally reincarnate Megatron, who flips the script and uses their resources to try conquering Earth yet again. These Decepticons never learn. Lots of metal clashes, the human characters are worthless, and everything continues to make zero sense. The only upside is the Dinobots have arrived, so we get to see Optimus Prime brandishing a sword on top of a metal tyrannosaurus rex. So I guess that's cool?
Transformers: The Last Knight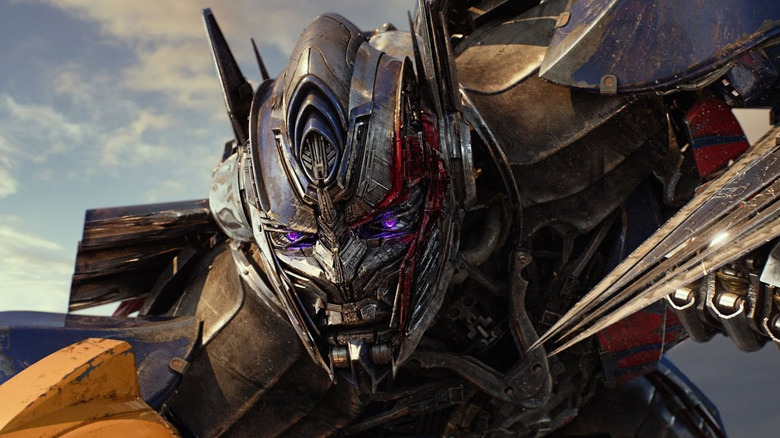 Paramount Pictures
Where to stream: N/A
Where to rent: Apple TV ($3.99 for 4K), GooglePlay ($2.99 for HD)
Just when you thought the Transformers franchise had played all their cards, "Transformers: The Last Knight" turns Optimus Prime into the bad guy. After returning to Cybertron to confront the Creators who tried to have the Autobots destroyed, Optimus is brainwashed and turned into Nemesis Prime and is sent to Earth to retrieve an ancient alien staff that can absorb Earth's energy and restore Cybertron. It's tied to the King Arthur, there's a robot butler, some tiny Dinobots, and it's honestly one of the worst blockbuster movies that I've ever seen. Not even the drama of Optimus Prime fighting Bumblebee can save it. There have been drawings by toddlers that make more logical sense than this movie. At this point we shouldn't be surprised, but this movie is truly the epitome of malarkey.
Bumblebee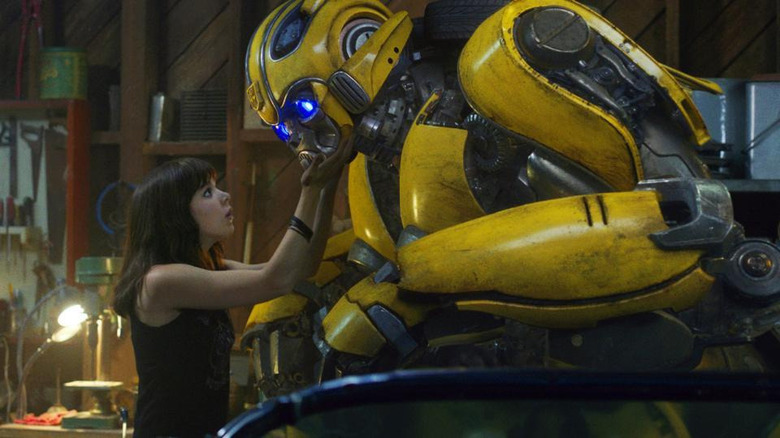 Paramount Pictures
Where to stream: Paramount+
Where to rent: Apple TV ($3.99 for 4K), GooglePlay ($2.99 for HD)
Of course Paramount Pictures decides to come out with a good "Transformers" movie after much of the audience has stopped paying attention. Getting back to the roots of the original Transformers movie, this spin-off brings fun back to the series by creating a charming relationship between a struggling teen girl (Hailee Steinfeld) and the "Iron Giant"-esque Autobot that is Bumblebee. Thanks to a much-needed dose of heart and a more focused plot that doesn't include dozens of Autobots and Decepticons, this movie reminds us how good a "Transformers" movie can be, especially without Michael Bay making things more complicated than they need to be.