Jurassic World Dominion Bizarrely Helped A Box Office Bomb Make A Little More Money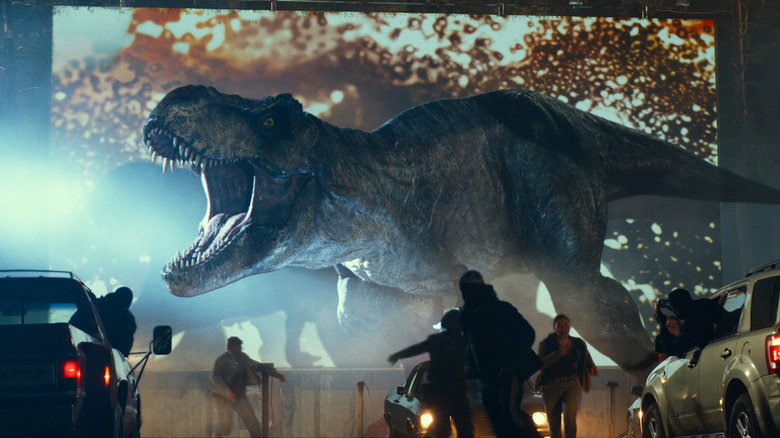 Universal Pictures
Box office earnings are a lot like sports statistics. It's a fun measuring stick that can be incredibly revealing for those who follow the movie business. Sure, movies that fail at the box office can eventually go on to find a great deal of love or success in other ways, but the financial realities of the business being what they are, it's an important measuring stick — particularly in a streaming-dominated world where Blu-ray sales have all but dried up. Bearing that in mind, studios are getting creative when it comes to finding ways to boost revenue streams for certain movies, and Universal just got very creative by attaching a recent bomb directly to "Jurassic World Dominion."
The third entry in the "Jurassic World" franchise has been viewed as a surefire hit ever since it officially got the green light, given that the first entry in this new trilogy remains one of the highest-grossing movies ever. That being the case, the studio decided to do something rather interesting on the film's opening weekend by crafting a double feature of both "Dominion" and the recent "Firestarter" remake, which helped to bolster the latter movie's numbers a great deal.
Universal's sneaky bit of good business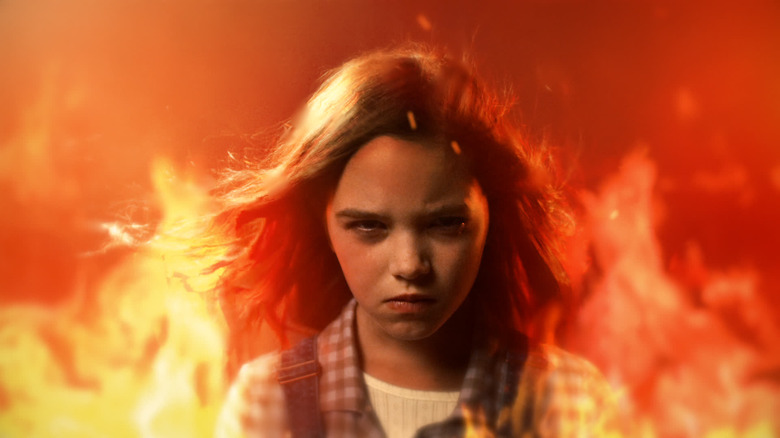 Universal Pictures
As noticed by the folks at Bloody Disgusting, "Firestarter," which initially hit theaters on May 13 and had pretty much been forgotten entirely a month removed, saw a shocking 732.8% boost to its box office earnings in its fifth weekend, taking in $833,340 from 150 venues on the very same weekend that "Jurassic World Dominion" finally roared to life, earning $145 million and dethroning "Top Gun: Maverick" for the top spot on the charts. It turns out, these two numbers are directly correlated as Universal sold tickets for what was being billed as a two-for-one double feature on ticketing sites such as Fandango.
So, as a result, "Firestarter" added nearly $1 million to its total seemingly out of nowhere, leaving it with just over $14 million worldwide. The movie was met with terrible reviews out of the gate and was streaming on Peacock the same day it hit theaters. On the surface, it seemed like Universal was prepared to write this one off as a loss and move on. But they decided to make one last little creative cash grab before packing it in.
The really interesting thing is that the double feature was carried mostly by drive-in theaters around the country, which explains the solid $5,555 per-screen average from just 150 screens. Bigger theater chains almost certainly wouldn't agree to double features such as this on the opening weekend of a major blockbuster as the goal is to fit in as many screenings as possible to get the most money out of it. Drive-ins, on the other hand, have a bit more flexibility. Universal used that to its advantage rather cleverly.
Drive-ins to the rescue again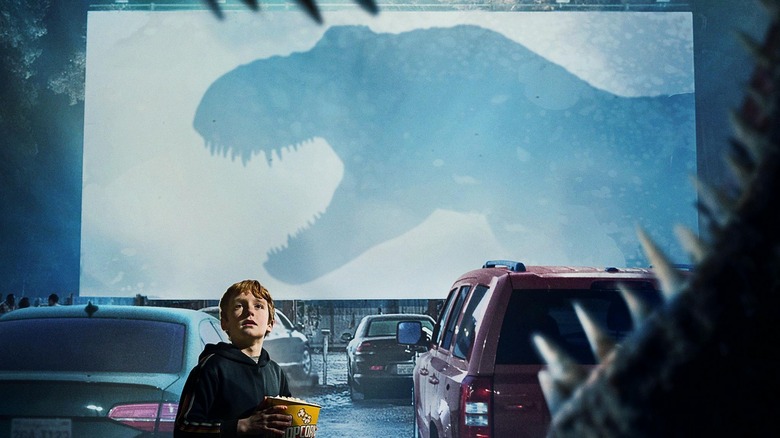 Universal Pictures
What's kind of remarkable about this is the fact that drive-ins once again came to the rescue when they were needed. At the height of the pandemic, movie theaters all around the U.S., and throughout much of the world, were shut down for months on end. Prior to that, drive-in theaters were a relic of the past that were scarcely found throughout the country and were, at best, a novelty. They had little importance to the box office or the movie business in general. Yet, when everything else was shut down and people were desperate for things to do while staying socially distant, drive-ins offered a solution. Old blockbusters and new indie films managed to find success at these old-school theaters throughout 2020 and that helped give new life to the business in general.
To add even more of a full-circle quality to this story, the prologue to "Dominion" that was released online earlier this year (that did not actually make it into the movie itself) featured a T-rex rampaging through a drive-in movie theater. That makes it all the more fascinating that, in the end, this movie helped to prop up "Firestarter" using drive-ins almost exclusively to do so. You can't make this stuff up.
"Jurassic World Dominion" is in theaters now.