Billion Dollar Babies Review: How Cabbage Patch Kids Helped Ignite Consumerism And Chaos [Tribeca]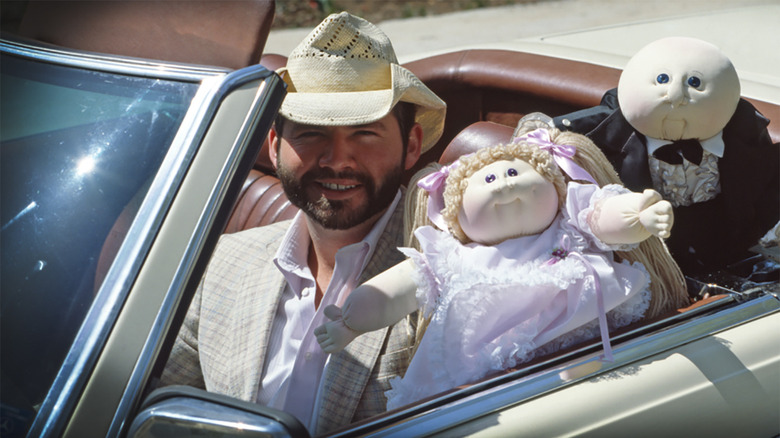 Tribeca Film Festival
As nostalgia has enveloped pop culture over the years, audiences have found satisfaction in retrospective looks back at the things they loved once upon a time. That's especially true when it comes to childhood toys that have since become coveted collectibles, as evidenced by the success of Netflix's television series "The Toys That Made Us." But the story of one particular trendsetting toy was simply too big for an episode of TV, and that's because it not only made history for flying off the shelves to the tune of billions of dollars, but it also began the unsettling trend of sending consumers charging into those shelves in a mad dash to get the hottest holiday items. 
"Billion Dollar Babies: The True Story of the Cabbage Patch Kids" is a new documentary playing at the 2022 Tribeca Film Festival that digs into the meteoric rise of the chubby, cuddly dolls. Actually, they're not even supposed to be called dolls, because each of the unique Cabbage Patch Kids was seen as being adopted by kids and adults alike, not sold like your average toy. In fact, a huge part of the appeal came from the toy's early origins when the round-faced soft-sculpted children began as "Little People" at BabyLand General Hospital in Cleveland Georgia. But the creation of Cabbage Patch Kids comes with some shady, albeit legal, dealings behind the scenes, making the history of this particular collectible quite intriguing, even if the documentary chronicling it sometimes tries a little too hard to be stylish and hip.
The birth of Cabbage Patch Kids
Directed by Andrew Jenks, "Billion Dollar Babies" opens with an old tube TV and the voice of Neil Patrick Harris providing an abridged tease of the Cabbage Patch Kids craze that shook store shelves in the 1980s, sparking the first truly unhinged packs of wild shoppers who would stop at nothing to get the hottest toy of the season. It's a small sampling of the full story to come, with only vague hints of the third-act revelation that takes the documentary from being a story of incredible success in the toy industry to being a shady tale of betrayal and opportunity.
From the beginning, Cabbage Patch Kids have a weird vibe to them. Created by Xavier Roberts, Cabbage Patch Kids first became all the rage in rural Georgia, where a large property was created to resemble a real hospital that gave birth to these odd-looking dolls, then branded Little People, and prepared them to be adopted by kids and/or their parents. There's a whole video showcasing how seriously BabyLand General Hospital took the whole gimmick, and it's supremely weird. There's even a whole birthing moment where a naked plush Cabbage Patch Kid is pulled from a faux cabbage patch by one of the hospital's "doctors." Among them is Roberts, a bearded man who always seems to be donning a cowboy hat. It's certainly not the kind of guy you'd expect to be behind such an endeavor, even with a company called Appalachian Artworks Inc., and there's probably a good reason for that. But we'll get to that later.
"Billion Dollar Babies" runs through all the business dealings of turning Little People into Cabbage Patch Kids, including the struggle of actually getting the license picked up by a major toy manufacturer. In the beginning, no one believed that this was a winning idea, mostly because the concept of creating "one-of-a-kind" dolls produced for the mass market seemed like a contradictory fool's errand. But Caleco Industries stepped up to the plate, and it wasn't long before Cabbage Patch Kids were flying off the shelves in the summer of 1983, eventually becoming a must-have toy for the holiday season, maintaining plenty of popularity for the next few years. Of course, this success story comes with a caveat. 
Things get fuzzy
After "Billion Dollar Babies" takes you through all the ups and downs of Cabbage Patch Kids, from the record-breaking sales to the Black Friday chaos, it reveals that Xavier Roberts may not be the true creator of Cabbage Patch Kids. Interestingly enough, it's not done in a way that paints Roberts as a straight-up villain, but this revelation will no doubt have viewers shaking their heads in disapproval. It makes you see the rest of the upbeat documentary in a whole new light, especially since there are so many talking heads with Roberts being so oddly specific and endlessly proud about what he's created. With participation from key people who knew the seemingly original creator of Little People before she passed away, the film lets the audience (and a few of the other interviewees) come to their own conclusions about this precarious scenario that has already had its day in court.
Though the doc's story is engaging, "Billion Dollar Babies" sometimes suffers under the weight of its own ambitions, especially when it comes to style. Far too often is there a specific transition used between cuts, so much that it becomes an annoying distraction. Utilizing the old school TV/VCR aesthetic, there's a visual shift that uses static and TV calibration graphics that slowly dissolve into crisp imagery. But the dissolve is so slow that it makes it feel like the image is buffering a video stream. And again, it's used far too liberally and becomes more of a nuisance than a clever stylistic touch. Furthermore, though Neil Patrick Harris helps the proceedings feel light and fun, the humor injected into the narration feels contrived and lacks cleverness. Thankfully, that's far less invasive than the aforementioned transitional annoyance.
Though the film's presentation isn't always the best, you couldn't ask for better interview subjects for the topic in question, especially since they provide first-person accounts of this moment in pop culture history, as well as colorful commentary that fits their own narratives. Journalist Connie Chung's retrospective commentary on her own reporting during the consumer chaos is also insightful, amusing, and even self-reflective.
Though it seems like this topic could have easily been covered in an episode of "The Toys That Made Us," there are enough moving pieces in the narrative to justify a feature-length documentary. That's largely because of how Cabbage Pitch Kids can be pinpointed as the first toy craze to spark Black Friday riots, beginning a long sad history of shameful shopping across America. In the end, "Billion Dollar Babies" is a thoroughly enjoyable and entertaining documentary in spite of its shortcomings, and it makes a meal out of a major moment in pop culture history.
/Film Rating: 7 out of 10