For Ms. Marvel's Head Writer, The Show Is Intensely Personal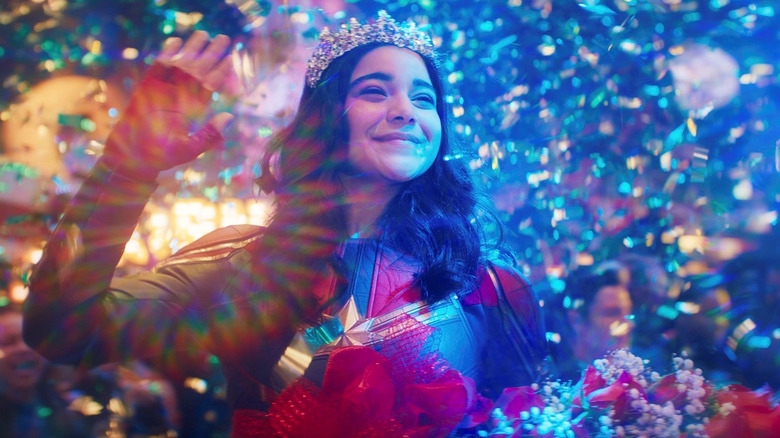 Disney+
A lot like the bubbly teenager currently taking the Marvel Cinematic Universe by storm, "Ms. Marvel" head writer Bisha K. Ali wastes no time when it comes to shooting her shot. For Kamala Khan (Imani Vellani), this determination has mixed results at best — on one hand, she ends up getting some sweet superpowers out of the deal, but so far, it's at the expense of upsetting her parents. Not to mention all the other dangers that await young Marvel heroes. Thankfully, Ali isn't a teenage girl on the verge of becoming a superhero — she's the writer bringing that story to the screen.
Ali was in the writer's room for "Loki" when the possibility of adapting "Ms. Marvel" first arose. Knowing that Kamala would mark the MCU's first Muslim superhero and having such a love for the character herself, Ali was quick to get herself in the running. Speaking with The Hollywood Reporter, Ali explained:
"I said to my [Loki] exec Kevin Wright, "If you guys are doing an adaptation of Ms. Marvel and you don't put my hat in the ring, none of us are leaving with hats or heads.' So he went away and came back with my first meeting on it, when it was still percolating amongst the brains of the Marvel overlords and timekeepers."
This is when the British-Pakistani writer began developing her pitch for a show that she hoped would make Pakistani-American teenage hero Kamala Khan a household name. It wasn't too long ago that characters like Iron Man and Thanos were known to Marvel comic devotees alone, but now you can't take two steps without stumbling on fan art and action figures. As Kamala, herself says in the first episode, "it's not really the Brown girls from Jersey City who save the world." But "Ms. Marvel" helps to change that.
How Bisha K. Ali got the job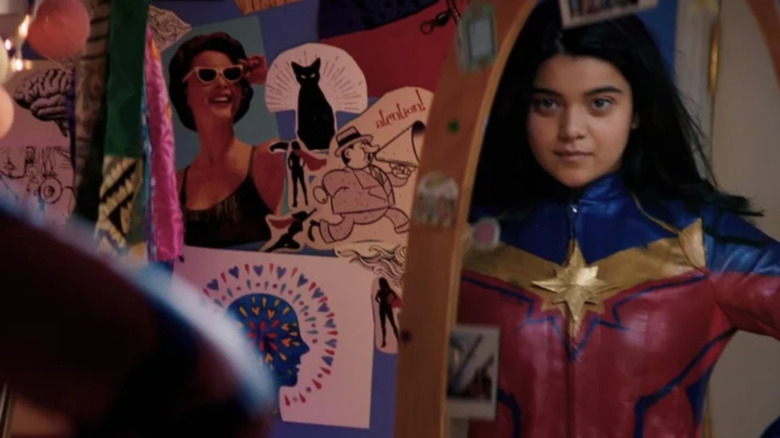 Disney+
Determined to get Kamala onscreen, Ali worked on the two shows at the same time. She told THR that while continuing to work in the "Loki" writer's room, "I would actually take lunch away from everybody else so I could work on my approach for Ms. Marvel." When her part on "Loki" wrapped, Ali decided not to extend her tenure on the show so she'd have more time to solidify her pitch:
"The actual pitch was so bonkers and bananas, and they were like, "Yes, you, but maybe not the thing." (Laughs.) But I think they really responded to the fact that this story was intensely personal. I had a real sense of who this character was as a fan because that's who she's representing. She represents Marvel fans in the real world, and she's an Avengers fan within the MCU."
That personal aspect is one of the most noticeable and refreshing aspects of the show; Kamala's culture and complicated relationship with her family, traditions, and newfound superhero identity are all woven into her coming-of-age tale. As Ali says:
"I was able to share with them why I thought this show was important for me personally, as a fan, as a South Asian person, as a Pakistani woman, as a woman from a Muslim background. I explained why those things were important, but also how we could marry them in a way that's specific and universal. So I laid it out for them and what my way into it would be."
Ali gets bonus points for experience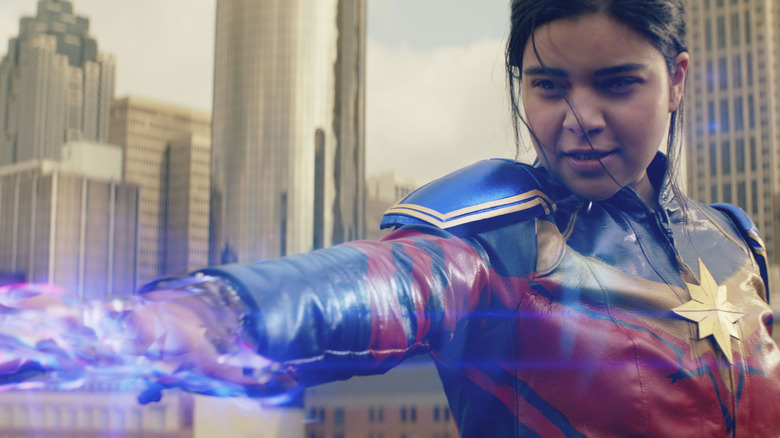 Disney+
Now that we can finally watch the fruits of Ali's labors, it's not hard to see why she was the perfect person for the job. It also helps that she was no stranger to the Marvel process, and already had a solid idea of how to weave in the bigger MCU world-building with the smaller-scale story of the teenage hero. Plus, Ali had the support of other writers from the first wave of Disney+ series:
"I also had bonus points in that I'd worked on Loki. I'd worked on that first round of shows, and I knew how they operated and how they were making television. So being on the ground during that first wave was incredibly helpful to me in terms of how to navigate it. I also received advice from [head writer] Malcolm Spellman on The Falcon and the Winter Soldier and [head writer] Jac Schaeffer on WandaVision, so all of that really helped me. We kind of knew each other creatively, and they understood who I was and vice versa. So all of those elements combined to make perfect sense."
The first two episodes of "Ms. Marvel" are currently streaming on Disney+.