Here's What You Won't See In Guillermo Del Toro's Pinocchio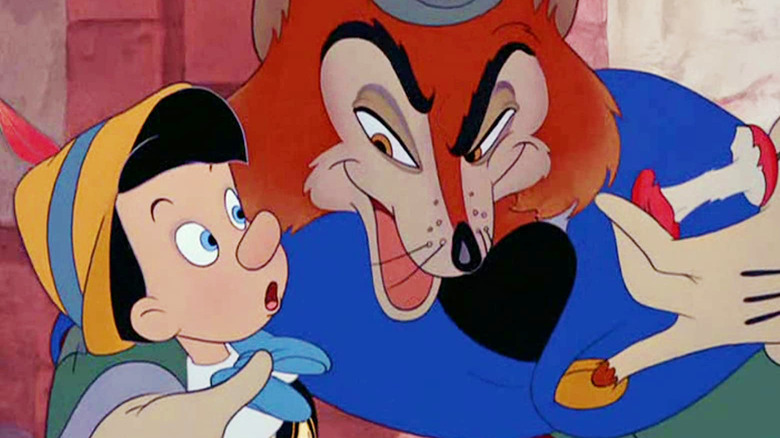 Disney
We've had dual movies about ants, giant asteroids, super-villains — heck, we've even had dual "'Die Hard' in the White House" films. This year, though, we're getting dual "Pinocchio" movies. Up first is director Robert Zemeckis' "Pinocchio," a CGI-heavy, live-action remake of Disney's classic 1940 animated film adaptation of Italian author Carlo Collodi's 19th century fantasy novel, "The Adventures of Pinocchio." More excitingly, though, we're also getting "Guillermo del Toro's Pinocchio," a stop-motion animated re-imagining of Collodi's fairy tale that's been more than a decade in the making.
Like most of Disney's previous live-action reboots of its animated movies (with exceptions like David Lowery's lovely re-telling of "Pete's Dragon"), Zemeckis' "Pinocchio" looks to tell more or less the same story with the same characters as its predecessor did. Tom Hanks is starring in the film as the kindly toymaker Geppetto opposite a cast that includes Joseph Gordon-Levitt as the voice of Pinocchio's mentor and "conscience," Jiminy Cricket. Keegan-Michael Key also costars as the voice of "Honest" John Worthington Foulfellow, the trickster red fox who swindles the naive Pinocchio to serve his own ends.
By comparison, Ewan McGregor is lending his voice to "Guillermo del Toro's Pinocchio" as Sebastian J. Cricket. In its preview article for the film, Vanity Fair describes the character (seen below) as an "eloquent purple insect" who finds what del Toro calls "the perfect home" in the trunk of a tree that Gepetto (David Bradley) cuts down to make Pinocchio. As for "Honest" John and his mute associate, "Giddy" Gideon the Cat? They're not a part of the movie at all.
Bringing Pinocchio into 'the real world'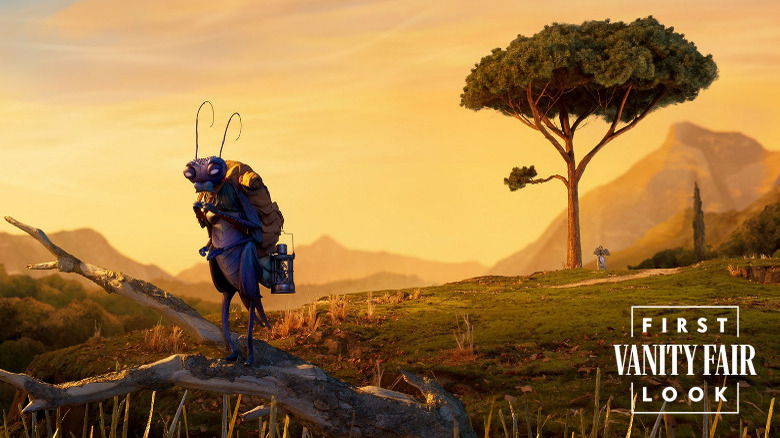 Netflix/Vanity Fair
It's not just "Honest" John and "Giddy" who have been left out of "Guillermo del Toro's Pinocchio." Other than Sebastian, the magical spirit that brings Pinocchio to life, and, obviously, Pinocchio himself, the film drops all the other famous fantastical elements associated with the fairy tale (including that horrifying bit about little boys being turned into donkeys and enslaved on Pleasure Island). As del Toro explained to Vanity Fair:
"I didn't want magical creatures other than the wood spirit that gives him life, and Pinocchio himself. I didn't want a talking fox and a talking cat and the magic of transforming him into a donkey. I wanted everything else to feel as close as we can to the real world."
Indeed, "Guillermo del Toro's Pinocchio" brings the classic story into 1930s Italy, setting it against the real-world historical backdrop of the National Fascist Party and dictator Benito Mussolini's rise to power. The intent is to evolve the ages-old fairy tale from what del Toro described as a fable "in favor of obedience and domestication of the soul" to one that champions disobedience against the rising tide of fascism. It not only sounds like a great way of making "Pinocchio" feel timelier than ever, but it also reads as a welcome carryover of the motifs in del Toro's fantastic Spanish-language films about the Spanish Civil War, "The Devil's Backbone" and "Pan's Labyrinth."
"Guillermo del Toro's Pinocchio" will begin streaming on Netflix in December 2022.