Cool Stuff: Squid Game's Watchful Young-Hee Doll Is Getting A Jumbo Funko POP At Comic-Con [Exclusive]
Netflix / Funko
"Squid Game" was all the rage last year after the South Korean survival drama series debuted on Netflix. The series focuses on a brutal series of challenges featuring down-on-their-luck contestants vying for a big cash prize that will hopefully wipe out their massive financial debts. Right out of the gate, the show shocked viewers with a brutal game of "Red Light, Green Light," which also happened to be the name of the first episode. At the center of the game was the deceptively innocent Young-Hee Doll, a massive robot girl with precise cameras for eyes that would pinpoint contestants who didn't stop moving once the red light signal was given and thus sealing their fate.
In case you didn't know, the Young-Hee Doll is actually a real artifact residing in a horse carriage village in Jincheon County in Chungcheongbuk-do, South Korea. Now the Young-Hee Doll can be situated on your shelf in the form of a new jumbo Funko POP that will be released this summer as a San Diego Comic-Con exclusive, and we're proud to debut a first look at the new collectible. 
Red light, green light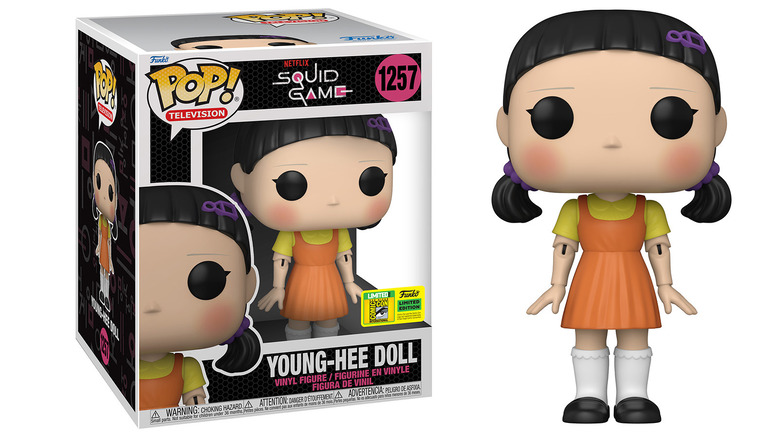 Funko
POP Super: Squid Game – Young-Hee Doll – Green light, Go! Capture this Pop! Young-Hee Doll, featured in the first round of the Squid Game games. What happens when a mysterious invitation is sent to people at risk who are in dire need of money? The games begin. Complete your Squid Game set with this limited-edition, Funko-web exclusive Pop! Young-Hee Doll. Vinyl figure is approximately 6.38-inches tall. Customer may purchase up to two pieces per household. Please note this item does not qualify for discounts or promotions.
The Young-Hee Doll jumbo Funko POP will be for sale during San Diego Comic-Con, which runs from July 21 – July 24 this summer. While attendees on the show floor will be able to snag the collectible vinyl figure at the Funko booth, fans at home will also have a chance to get their hands on it through the online Funko shop. But since this is a Comic-Con exclusive, the exact timing for purchase online has not been revealed, so you'll have to stay tuned to Funko on social media to find out when you can get it.
Typically, there are some Comic-Con exclusives from Funko that will also be made available at certain retailers like Target, Walmart, Barnes & Noble, FYE, and more. That's why the boxes pictured above have different stickers on the front designating where the Funko POP came from. In this case, when you purchase the Young-Hee Doll Funko POP at Comic-Con, it will either have the Comic-Con sticker or the more generic "Summer Convention" sticker. Otherwise, if you purchase online through Funko, it should have the shiny Funko sticker on it. 
"Squid Game" will return for a second season, and the first season is available on Netflix now.