How Mark Hamill Turned A Quick Cameo Into A Career As The Joker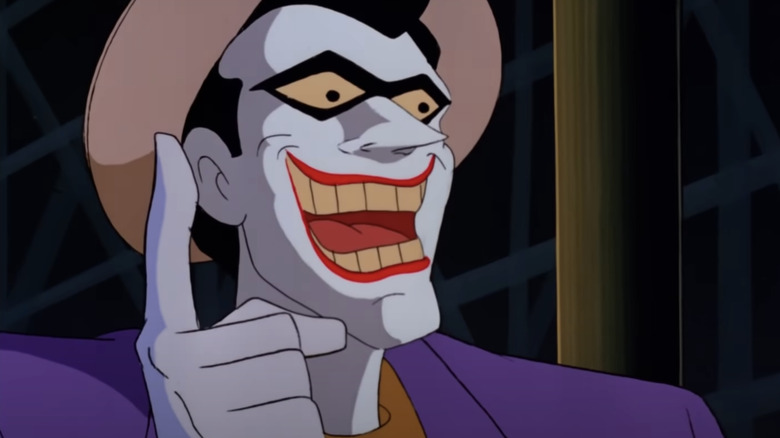 DC/Warner Bros. Television
After his hero's journey as Luke Skywalker in the original "Star Wars" trilogy, Mark Hamill's second act saw him adopting a more villainous persona as the voice of the Joker in "Batman: The Animated Series." Say what you will about who is the best live-action Joker, but in the animated world, Hamill unquestionably reigns supreme as the Clown Prince of Crime. For some Batman fans, Hamill's maniacal turn as "Mistah J" (as his main squeeze Harley Quinn likes to call him) might be the definitive portrayal of the Joker across both mediums.
It's hard to believe now, since Hamill's Joker has become somewhat iconic, but it almost didn't happen. Production on "Batman: The Animated Series" was already well underway, and animators had already drawn episodes around a different actor's voice performance, when Hamill became involved in the show.
Any fan who has watched enough episodes of "Batman: The Animated Series" is sure to recognize the name of casting and voice director Andrea Romano from the credits. In an interview with ComicBookMovie.com, Romano explained that when a new producer boarded the series, they "didn't care for" the first Joker the show had put in place and asked for the role to be re-cast. She said:
"The problem was, we'd already made six or seven episodes which meant that whoever was going to get the job as the replacement voice was going to have to ADR and match the timing of the previous actor. Simultaneously, just before this, Mark's agent had reached out and said, 'Mark is an enormous comic book fans [sic], a huge fan of Batman, and would love to be part of the series. So, I brought him in as a guest and he did a great job, telling all sorts of fabulous stories to everybody in the room and was wonderful in the role."
'He came up with this terrifying voice and an iconic laugh'
Romano didn't elaborate on who was originally supposed to play the Joker in "Batman: The Animated Series," but as it turns out, it wasn't some unknown actor. Tim Curry, who had already insane clown experience playing Pennywise in the TV miniseries adaptation of Stephen King's "It," told ScreenGeek that he voiced the Joker ahead of Hamill, but that he was fired after developing bronchitis.
This obviously left some big clown shoes to fill. Though Hamill was intended only as a guest star, Romano recalled that he pulled her aside after his initial recording session and said, "Thank you for this gig, Andrea, but I really want to be a part of Batman." As she remembered it:
"The auditions for The Joker replacement came up, we gave [Hamill] a shot, and he was stunning! Absolutely remarkable. His timing was right on, he came up with this terrifying voice and an iconic laugh and I think that's the voice everybody hears when they think of The Joker. Even when they're seeing on camera performances, they can't help but reference Mark Hamill in their minds."
In a world of cut-mouth Jokers and posers with silver teeth, Hamill's Joker manages to be both funny and scary, the way that Mistah J should be. Hamill would go on to make other appearances as the Clown Prince of Crime in the "Arkham Asylum" video game and elsewhere, but if you're looking for that pure grain Joker, "Batman: The Animated Series" has it, thanks to one pivotal recording session that turned a guest stint into a career legacy as one of the greatest supervillains of all time.